Yankees Hot Stove: 3 Reasons to Be Very Worried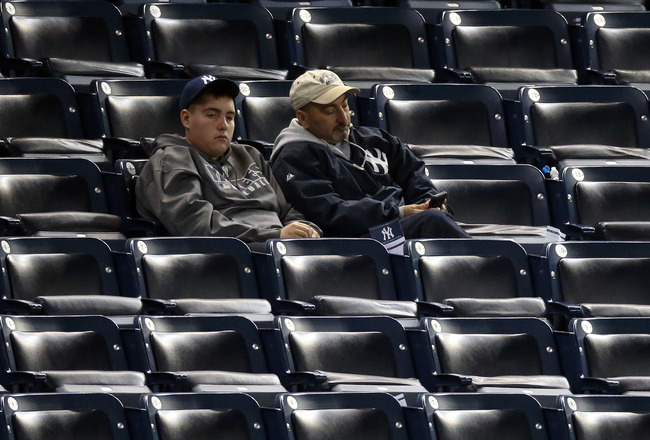 Bruce Bennett/Getty Images
There was a time not so long ago when the MLB hot stove headlines were, some would say, greedily hogged by the New York Yankees (aka. the Bronx Bombers) with news of the team's latest, big-name free-agent acquisition.
Well my friend, those days are long gone, as it is safe to say that I am not very confident about heading into this 2013 season.
And any fan who disagrees with me, should either be considered delusional, or can call me crazy come October when the Yankees make the postseason.
Now, where do I start?
The justification behind my uncertainties are countless, as I could go on forever.
So instead here are three of the most obvious and undeniable reasons all of Yankee Universe should start to lower their expectations....pronto.
Russell the Muscle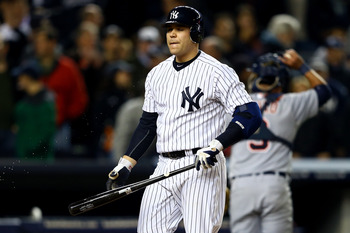 Monsieur Martin
Al Bello/Getty Images
The catching situation is meager at best, as the Yankees let Russell Martin walk which I think will be deemed a huge mistake when looking back on the 2013 season.
Fans that were hoping that top prospect Austin Romine would win this pathetic battle will be disappointed, as after reading NY Daily News I learned that Romine will start the season in AAA Scranton, and this is a direct statement from GM Brian Cashman. So, Yankees are left with a concussed Francisco Cervelli who spent last year in the minors and Martin's backup Chris Stewart. Stewart is a better option than Cervelli who can be erratic and cannot hit at all; not that Stewart can, but he had a few hits in big spots last season and he knows the staff. Also, Sabathia likes Stewart and it's better to keep the big man happy.
Injured + Age = ?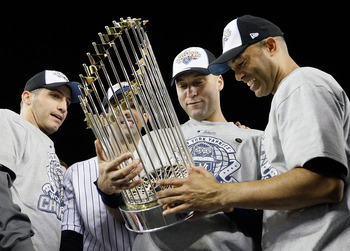 Pettitte, Jeter and Mo in 2009.
Pool/Getty Images
Injury-prone, veteran players tend to get injured as Father Time inevitably creeps up on all of us and baseball players are not immune to this. And the Yankees have a significant number of 'passed-their-prime' players who are coming off recent injuries, like Derek Jeter, Mariano Rivera and Andy Pettitte whose aliments all required surgery.
The everyday catching position battle involved prospect Austin Romine who missed most of 2012 Triple-A season after he needing surgery on his lower back; and Francisco Cervelli who has been sidelined due to numerous concussions suffered behind the backstop.
Also, ace CC Sabathia needed surgery during the offseason to remove bone spurs for his throwing elbow. CC seems to be fine but not having surgery on your team's ace's throwing arm is always better than needing it.
HELP WANTED: Power-Hitting Outfielder (Righties Preferred but Lefties Can Apply)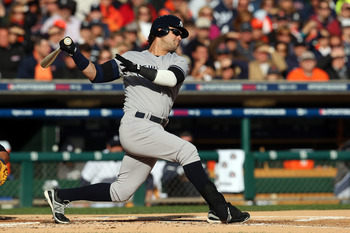 Switch-hitting Swisher.
Jonathan Daniel/Getty Images
Still searching for a right-handed hitting outfielder/designated-hitter, as the current batting lineup is lefty-dominate with the loss of switch-hitting Nick Swisher, the outfield is all righties and only Curtis Granderson is a home-run hitter.
Also, the absences of lefties Eric Chavez, clutch hitter Raul Ibanez and with no exact timetable for Alex Rodriguez's return, the Yankees have lost a lot of power at the plate in general.
Sports Illustrated reported that A-rod is scheduled to have hip surgery on January 16th, and his surgeon said he could return right after the All-Star Break, so sometime in August. But who knows if he will be even good again. One thing is for sure is that A-Rod, the dominate version is not ever coming back.
Now the Washington Nationals are listening to trade offers on Mike Morse, who posted a .291 batting average, with 18 home runs and 62 RBI in 406 at-bats last season. Getting Morse would be a godsend for this team, but the problem is the Yankees don't have the players to make this work down in their farm system. Rumors have spread that reliever Boone Logan would be a fit for the Nats but according to the New York Times, the Nats are going to want more for Morse as there are other teams very interested in making this deal as well.
Every Day Will Feel Like Old-Timers' Day in the Bronx.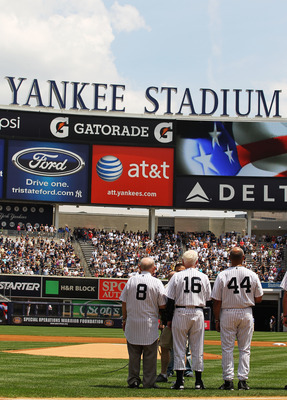 Old Timers Day at Yankee Stadium.
Al Bello/Getty Images
Now those three facts are just the tip of the iceberg, but there is plenty to swallow there already, as all three above have the potential to cause serious implications if not solved/fixed before the 2013 season.
Oh and the Yankees might officially cancel Old-Timers' Day as now fans can get that nostalgic feeling every day in the Bronx.
That was supposed to funny, but the joke became a tad scary after re-reading it.
Keep Reading

New York Yankees: Like this team?