Strikeforce Results: 5 Fights for Josh Barnett in the UFC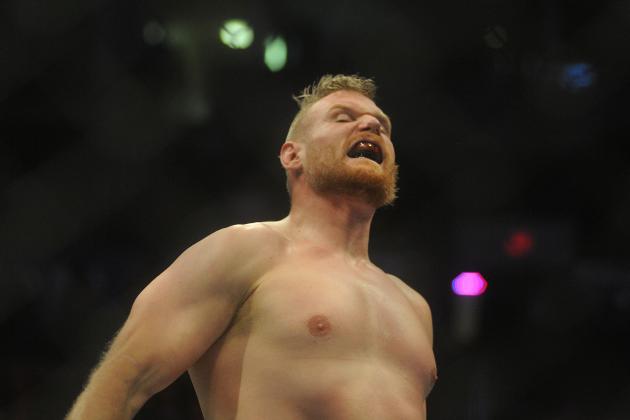 USA TODAY Sports

On Saturday night, former UFC champion Josh Barnett quickly dispatched opponent Nandor Guelmino in a fight that helped us wave goodbye to the Strikeforce organization.
With an unspoken belief that fighters successful on the card would receive UFC contracts, many assume that Barnett will kiss and make up with UFC president Dana White in hopes of mutually making a lot of money in the future.
Considering that White has allowed other "banned" fighters to reenter the Octagon, it's hard to imagine "The Warmaster" finding himself without a UFC contract in the near future.
Here is a look at five fights that are waiting for Barnett in the UFC.
Begin Slideshow

»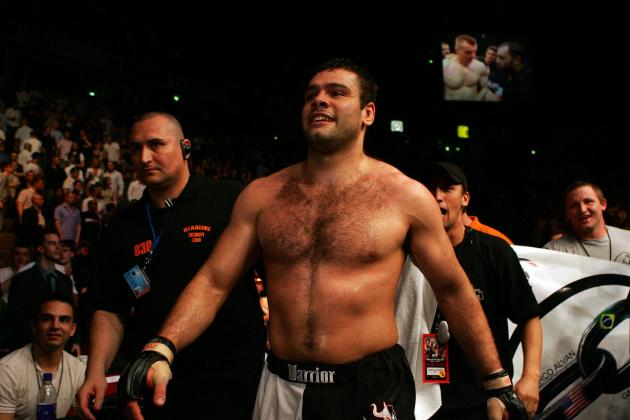 Gary M. Prior/Getty Images

Barnett is known for his catch-wrestling, so a matchup against a high-level grappler like Gabriel Gonzaga is exactly the sort of fight that will allow us to see where "The Babyfaced Assassin" fits into the heavyweight picture.
Gonazga has excellent jiu-jitsu skills, however, he is known primarily for his power striking. Most notably, "Napao" head-kicked Mirko Cro Cop into a coma at UFC 70 and has eight stoppage victories inside the Octagon.
Currently, Gonzaga is scheduled to meet Ben Rothwell next Saturday at UFC on FX 7. If he is successful, this would be my first choice for a booking.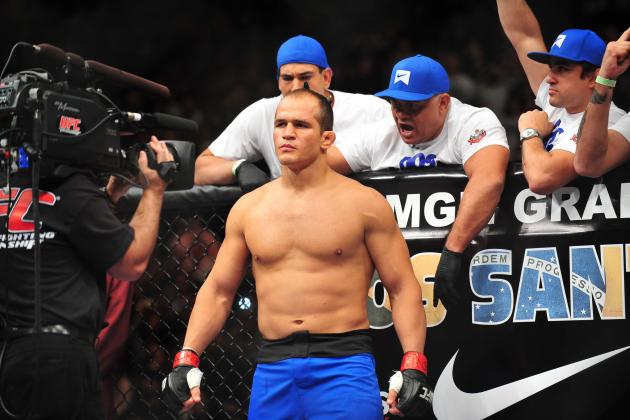 Gary A. Vasquez-USA TODAY Sports

Josh Barnett and Junior dos Santos are former UFC champions who couldn't be on further ends of the spectrum. dos Santos is a soft-spoken standup artist who prefers to end fights with vicious knockouts. Meanwhile, Barnett is a trash-talking bad boy who relies on his submission skills to pick up wins.
While dos Santos sits higher on the ladder than Barnett, this fight is something that should interest "Cigano." Following a cancelled matchup against Alistair Overeem, the Brazilian called for random drug tests as a way to get cheaters out of the sport.
Considering that Josh Barnett has thrice tested positive for steroids, there is a decent likelihood that dos Santos would name The Warmaster near the top of his hit list.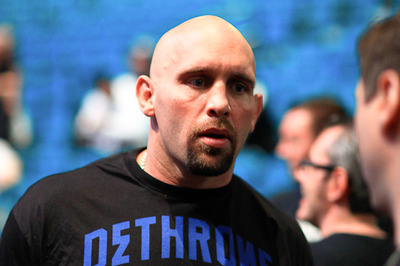 Photo: Sherdog.com
Shane Carwin may not have competed since 2011, however, the UFC recognizes that he is a former champion who has both name value and dangerous skills anywhere that the fight goes.
Typically, the UFC doesn't match up fighters coming off of a win vs. those coming off of a loss, but in the case of Carwin, I think that they will make an exception.
Although Barnett hasn't been knocked out in more than a decade, Carwin has enormous hands and enough power to knock out a rhinoceros.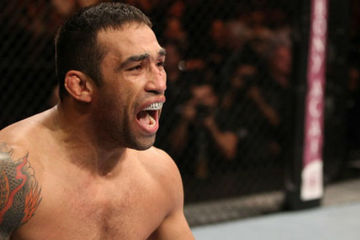 Photo: fightday.com
The next heavyweight on our list is tremendous submission specialist Fabricio Werdum. Like Josh Barnett, he prefers to play on the ground, however, the Brazilian has ADCC credentials that Josh simply can't replicate.
Despite both men having tenures with the UFC, PRIDE and Strikeforce, somehow, world-ranked heavyweights Werdum and Barnett have never done battle.
Currently, Werdum is coaching The Ultimate Fighter: Brazil opposite Big Nog. If he is successful in that contest, "Vai Cavalo" will be inches away from claiming a title shot. However, if the UFC declares that he isn't next in line for a title shot, a fight against Barnett makes a lot of sense.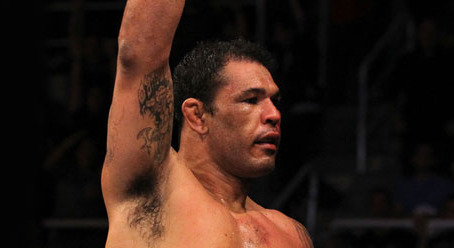 Photo: cagedinsider.com
While most of the fighters in this list have no previous history with Josh Barnett, our final member has actually faced him twice.
Fighting under the PRIDE banner, Barnett and Big Nog spent the latter half of 2006 trying to establish dominance over one another. While Barnett won the first encounter via split decision, Nogueira was able to avenge the loss later in the year by unanimous decision.
Trilogies aren't terribly common in MMA, but Barnett and Nogueira have the potential to complete theirs seven years after the first meeting.
Nogueira will meet Fabricio Werdum later this year. Regardless of the outcome that emerges, this is a fight that the UFC should consider.