2013 NFL Draft: 10 Players Who Will Regret Declaring Early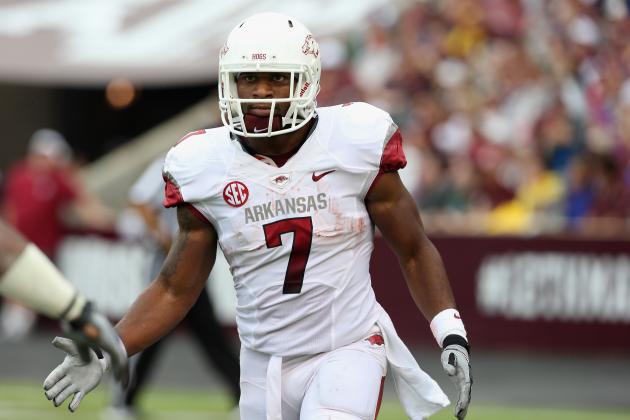 Ronald Martinez/Getty Images

The NFL Draft provides a unique opportunity for college football players to make a huge decision that could impact the rest of their careers, and their lives.
With the deadline for underclassmen declare for the NFL Draft already here and gone, we can take a look at which players are going to regret their decisions to leave early.
While the opportunity to move on to the next level of competition and make some money seems too good to pass up, there are some players that declared early in 2013 that are going to struggle to even make an NFL roster, much less contribute.
The ten guys on this list could have boosted their stock by staying, or they have no future in the NFL.
Either way, when looking back on this decision, they will realize it was not the best choice they ever made.
Begin Slideshow

»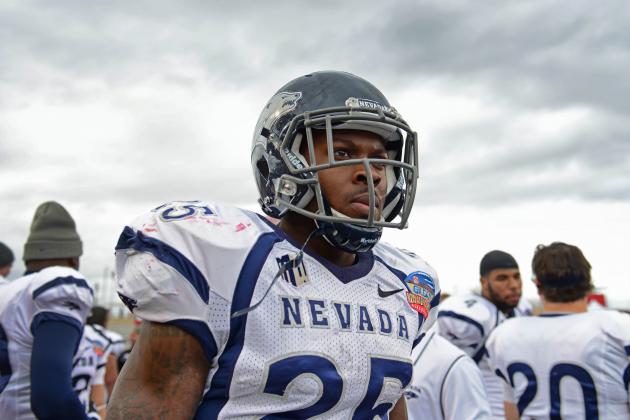 Mark J. Rebilas-USA TODAY Sports

Jefferson's 2012 was excellent, and with head coach Chris Ault retiring, the decision to leave Nevada a year early is understandable.
He finished the season as the FBS' second-leading rusher with 1,883 yards and a five yards per carry average.
But he doesn't possess elite speed, great lateral movement, or the ability to pull away from defenders at the second level.
Much of his collegiate success in 2012 was due to the pistol system in which he played, as well as the threat of quarterback Cody Fajardo and his rushing skills.
Jefferson is going to be drafted very late, if at all...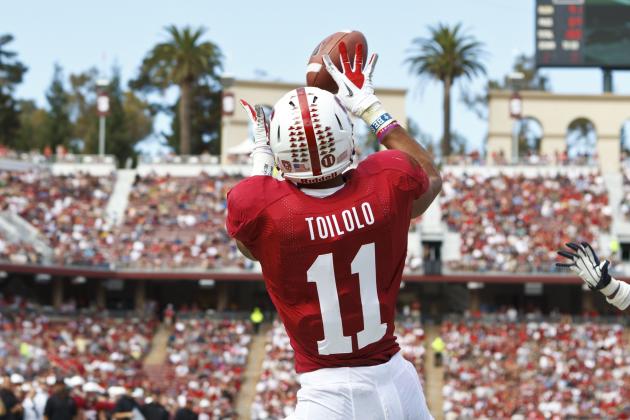 Jason O. Watson/Getty Images

It may be time to recognize that Stanford is not going away.
The team is going to be incredibly good again in 2013, after coming off a Pac-12 title and Rose Bowl win in 2012.
With fellow tight end Zach Ertz leaving for the NFL, Toilolo would have played a monster role in the Cardinal offense, and his draft stock could have climbed significantly.
As it is, he's projected to go very late, if at all.
If things don't work out at the next level, Toilolo will be missing his Stanford days, especially if the Cardinal have a huge season.
Justin K. Aller/Getty Images

TCU appears to be set for a very good season in their second as part of the Big 12.
The defense looks stout, as always, and Casey Pachall is returning to the program to play quarterback.
Wide receiver Josh Boyce would be the primary beneficiary of Pachall's return, and the focal point of the receiving game whether Pachall or Trevone Boykin win the starting job.
His decision to leave early for the NFL is not puzzling. He has the talent to be a contributor in a few years.
That said, another year to boost his numbers, which in turn helps draft stock, will look like a missed opportunity next year.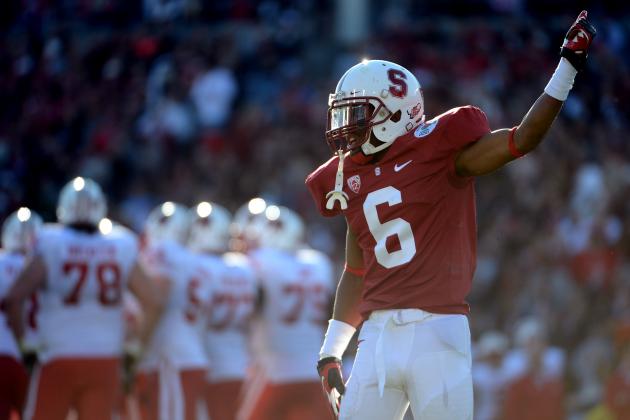 Harry How/Getty Images

Brown is on pace to graduate in June but still has eligibility remaining, and the chances of him making an NFL roster are not that great.
He's projected as a seventh-round pick, and there is a chance that he could remain undrafted in April.
It makes sense to enter the draft, but it also makes sense to stay, as the Cardinal are primed for another excellent season, and Brown would be able to improve his numbers and ability with another year under David Shaw and his staff.
Christian Petersen/Getty Images

Listen, Kruger is a decent player, and has the skill to play at the next level with one more year of grooming.
But he benefited during his time a Utah from playing alongside All-American tackle Star Lotulelei.
And he will miss playing along such an impact player when he reaches the NFL.
He had a decent season in 2012, racking up 5.5 sacks and an interception on the season.
That said, he's not going to blow anybody away with his pass-rushing ability, and will likely struggle to make an impact on an NFL roster.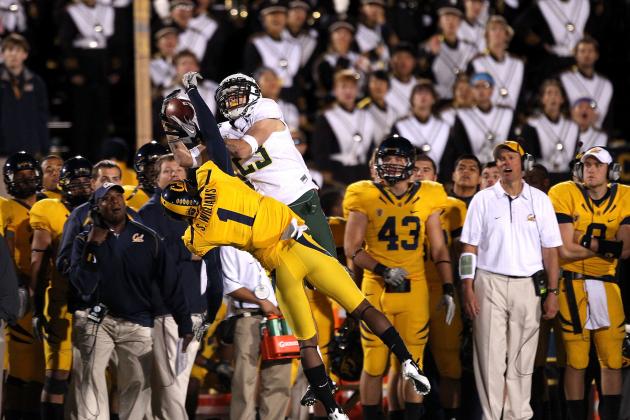 Ezra Shaw/Getty Images

Williams is projected to go late in the draft, or remain undrafted when April rolls around.
He has the size and physical tools to succeed, but hasn't quite played up to his athletic ability.
Another year in school would be beneficial for him, but the decision to leave the program, especially with a new coaching staff coming in, is understandable.
But with a slim chance of making an active NFL roster, Williams should stay and work for another year on his coverage skills, and see if he can't move up in the draft.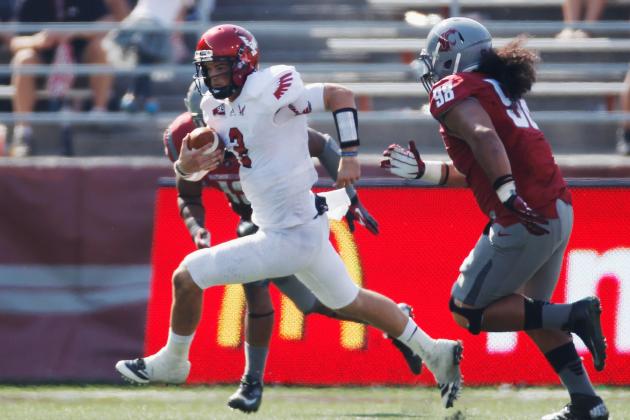 William Mancebo/Getty Images

Padron took the circuitous route to Eastern Washington and the FCS title game.
He transferred from SMU after losing his starting job, in spite of the opportunity to continue working under June Jones, who has been a wizard with quarterbacks for quite some time.
He has some of the tools to be an excellent quarterback, including mobility, arm strength and accuracy, and may just be sick of hanging around the collegiate ranks.
But with one more year of eligibility remaining, Padron could improve his stock. As of now, he is not likely to be drafted or signed.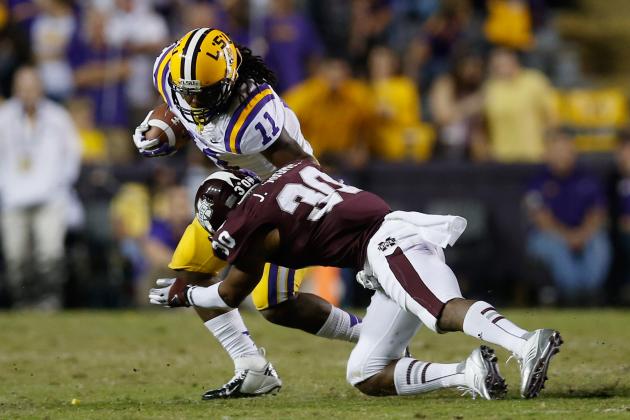 Chris Graythen/Getty Images

Um, what?
Ware will probably not regret the decision to leave LSU, as the backfield is crowded, his carries were limited in 2012 and he didn't get to produce at the level he was able to in 2011.
But why not transfer and boost your draft stock?
Ware's season was pedestrian, at best, as he only totaled two touchdowns—one receiving and one rushing—and gained fewer than 400 yards on the ground.
He's projected to be a late-round pick, but could have seen his stock shoot up with one more season as a feature back somewhere other than LSU.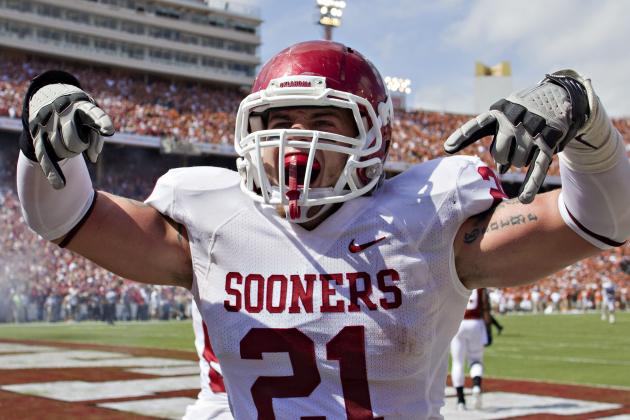 Wesley Hitt/Getty Images

The Oklahoma defense has not exactly been stout over the past two season, and Wort is going to find out, if he hasn't already, that his chances of being drafted are slim to none.
He is obviously entitled to make his own decisions, as are all the players on this list, but why leave a great college program early when there is little to no shot of making an NFL roster?
Wort is projected as an undrafted free agent just about everywhere you look, and has never demonstrated the tools at the collegiate level that might help him succeed on Sundays.
Normally, that would mean using up all eligibility, but for some reason, Wort has decided to pass up on another year with one of the elite programs in the nation.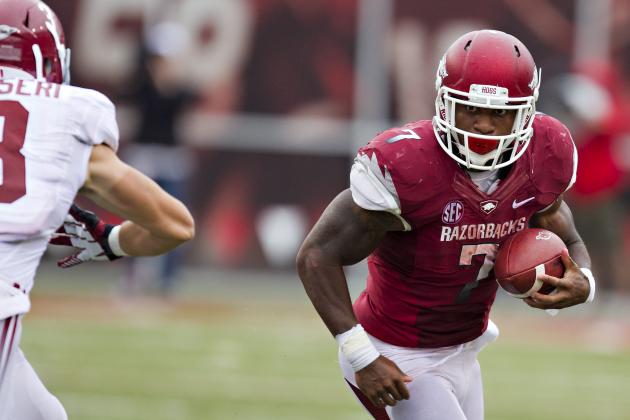 Wesley Hitt/Getty Images

Davis' decision to enter the draft this season is somewhat of a puzzle.
He led the SEC in rushing in 2010, then suffered a season-ending injury in fall practice just prior to the start of the 2011 season.
His return to the Hogs in 2012 was less than stellar, as his yards per carry average dropped from over 6.5 in 2010 to just 3.4, and he only carried the ball 112 times for 377 yards.
There is little question that there is some talent in this young man, but he should have waited a season to leave.
Say what you will about new Arkansas head coach Bret Bielema, the man has helped churn out some pretty impressive running backs over his time at Wisconsin, and he knows how to make a gameplan predicated on the rushing attack successful.
It would have been interesting to see what Davis' draft stock looked like after a season under Bielema and his new staff.