Detroit Red Wings: 5 Biggest Questions in 2013 Training Camp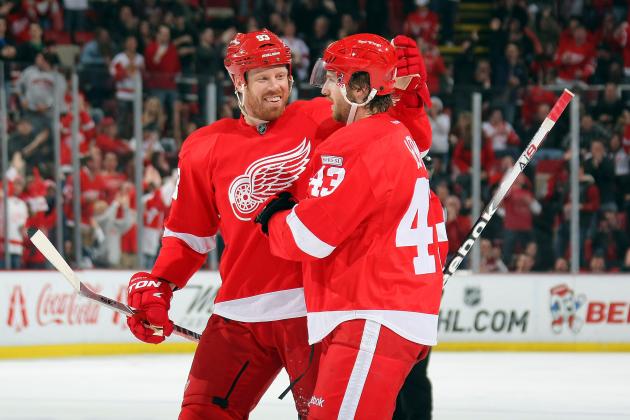 Dave Sandford/Getty Images

With the Detroit Red Wings training camp kicking off this week ahead of the season opener on January 19, there are still a few questions that need to be answered, though that will be extremely difficult in an abbreviated training camp with no exhibition games.
Here are five questions that the Detroit Red Wings' management needs to address in training camp.
Begin Slideshow

»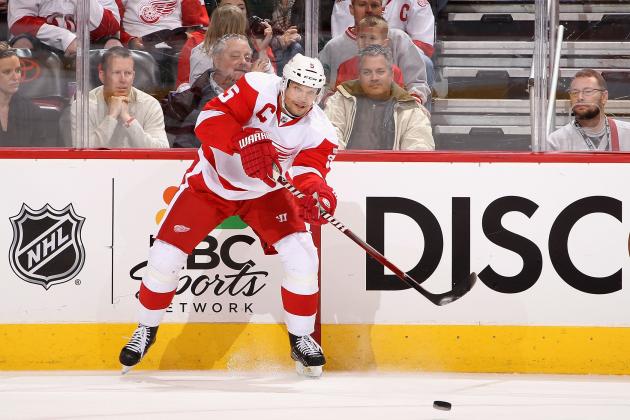 Christian Petersen/Getty Images

Without exhibition games to play, it will be remarkably more difficult to tweak the power play effectively.
The Detroit Red Wings lost their power-play quarterback, Nick Lidstrom, due to retirement. His "replacement" (nobody can replace Lidstrom per say) will have to do something that Lidstrom could not do in his final NHL season: find a way to get the puck to the net on the power play.
Last season, Ian White was the only right-handed shooter in the lineup on a consistent basis. The lack of diversity in the lineup manifested itself in the Red Wings' failure to get any consistent one-time shots on the power play.
The power play plummeted to 22nd in the league at 16.1 percent.
The Red Wings went into the off-season and picked up three right-handed shooters: Damien Brunner, Mikael Samuelsson and Jordin Tootoo.
Samuelsson will likely be put on the power play because he has a rocket shot that can be used on the half boards for a one-timer on the power play.
Brunner could be put on the power play because he has shown immense offensive prowess in the Swiss leagues.
The question is, how will this power play fair throughout the early season?
That will be ultimately determined by how well the Red Wings can move the puck while still taking quality shots on the power play.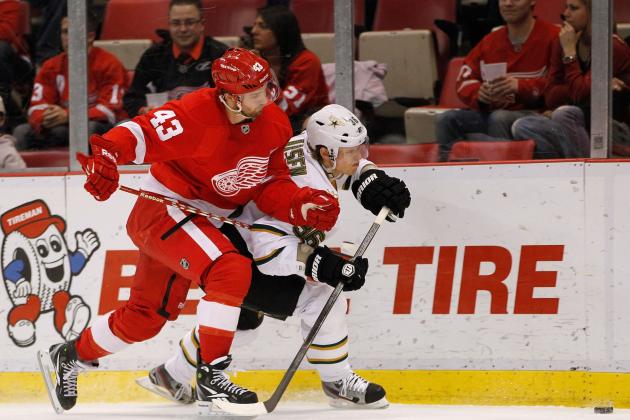 Gregory Shamus/Getty Images

When taking Nick Lidstrom and Brad Stuart out of the lineup this season, the Red Wings lose a combined 4:51 of ice-time on the penalty kill.
The Red Wings ranked 18th last season in the penalty kill department killing off 81.8 percent of the opposition's power plays.
How will they cope defensively and on special teams with the departure of two of their top three defensemen from last season?
The answer is simple.
Everybody pitches in.
New No. 1 defenseman Niklas Kronwall cannot play all situations all the time, so some defensemen will have to step up and play more minutes.
Jakub Kindl averaged only 16 seconds of penalty kill time per game last season, but with the shortened season and Kindl's big 216-pound frame, look for the young Czech defenseman to start logging more minutes on the penalty kill.
Jonathan Ericsson is another player who needs to step up on the penalty kill. While Ericsson averaged over two minutes on the penalty kill per game last season, he only had 43 blocked shots over the entire season.
This number needs to rise, especially since Brad Stuart will not be killing penalties for Detroit this season (Stuart blocked 115 shots last season).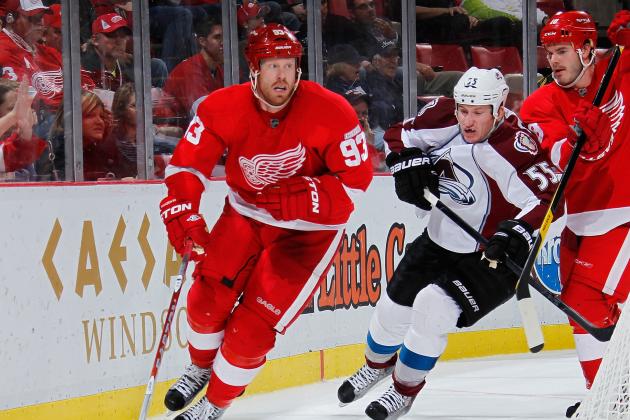 Gregory Shamus/Getty Images

Johan Franzen needs to be more involved in the Red Wings' offense this season. In order to be more involved, Franzen needs to shoot more.
Franzen had just 211 shots last season, compared to 248 and 246 shots in his previous two full seasons.
When he is at his best, Franzen is driving towards the net, getting physical and carrying the play to the net.
It isn't like Franzen wasn't involved offensively last season with 29 goals and 56 points, but he could be a 70-point player if he put more effort in every game.
To get more out of Franzen, Detroit simply needs to put him down the middle at the second-line center position. This allows Filppula to play the wing on the second line, where he put up career numbers last season.
This will force him to get involved physically and get his big body to the net more often. Franzen is far too talented when in close to the net to be wandering around the offensive zone aimlessly.
If Franzen engages himself in training camp, he will be difficult to contain during the season.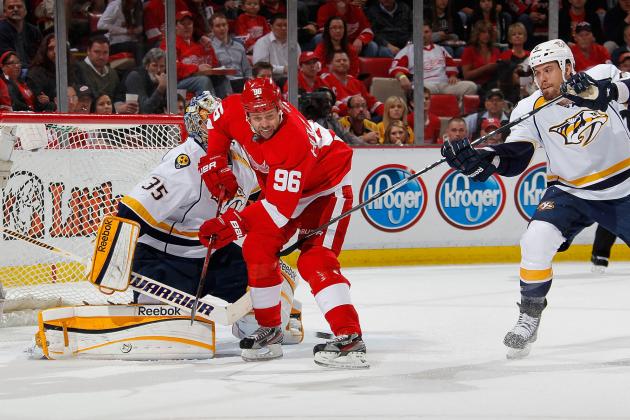 Gregory Shamus/Getty Images

The first slide discusses how the power play will be different with right-handed shooters added to it, but it does not discuss the main change power play difference.
That difference will be the lack of a true net-front presence when Tomas Holmstrom retires at some point this week.
Holmstrom is expected to retire before the start of the season, according to Ansar Khan of MLive.com.
This is no surprise as he turns 40 on January 23.
The surprise for most fans comes in terms of how little his impact on the Red Wings power play and offense has been discussed this offseason.
Holmstrom accounted for 10 of Detroit's power play goals last season with 24 points overall.
Who will replace the "Demolition Man" in front of the blue paint on offense and the power play?
Will his retirement completely shift the way the Red Wings go about their power play?
These questions will need to be answered in order to move forward offensively and on the power play.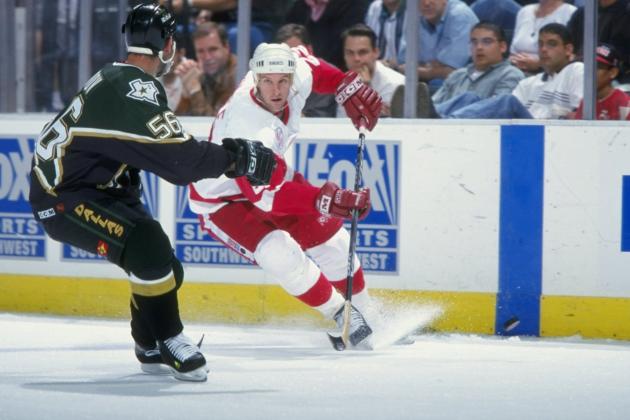 Stephen Dunn/Getty Images

This is possibly the most intriguing question in the Red Wings' training camp this week.
Mike Knuble has been given a professional try-out contract by Detroit.
The 40-year old right-wing was drafted by the Red Wings in 1991 and has 276 goals in 1,040 career NHL games, but the Red Wings already have 14 forwards signed to contracts (not counting Patrick Eaves, who could be on injured reserve if he cannot start the season healthy).
Don't expect the right-handed shooting Knuble to be seriously considered for a roster spot in Detroit, but his grit and size could be considered assets over younger Red Wings' forwards such as Cory Emmerton and Jan Mursak.
If Jordin Tootoo was moved up to the third line right wing position, Knuble could be an effective hitter on the fourth line. This is highly unlikely given Knuble's age, but stranger things have happened in Detroit.
For more article updates, follow @isaacesmith91