Texans vs. Patriots: Live Score, Analysis for AFC Divisional Matchup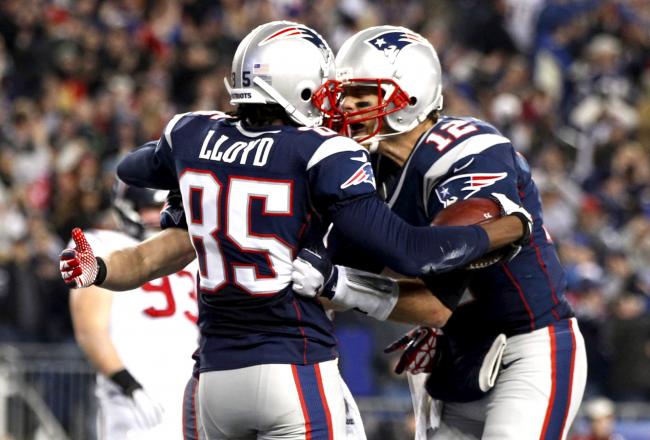 Tom Brady throws for 344 yards and three touchdowns to lead the Patriots to a 41-28 victory over the Houston Texans. Brady's win gives him an NFL record 17 postseason wins as a quarterback. New England will play the Houston Texans in the AFC Championship next weekend.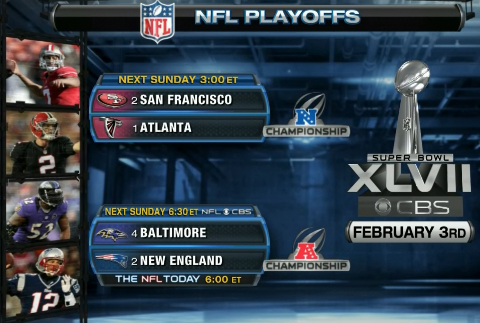 Here are your AFC and NFC Championship games.
Tom Brady gets NFL-record 17th postseason win as Patriots advance to AFC championship game for 7th time under Bill Belichick.

— SportsCenter (@SportsCenter) January 14, 2013

Game over. The Patriots will host the Baltimore Ravens in the AFC Championship next Sunday.
Who realizes that all the bye teams won this weekend but Denver?

— Omar Kelly (@OmarKelly) January 14, 2013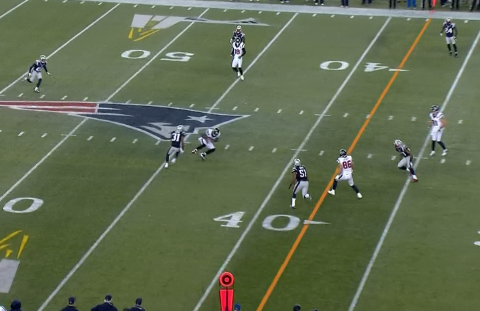 Andre Johnson makes the grab for the first down.
No team scored more than 24 points in the Wild Card games. All 8 teams scored at least 28 points in the Divisional Round.

— ESPN Stats & Info (@ESPNStatsInfo) January 14, 2013
The #Texans have a lot of good players, and more that were hurt. I think question is: Is their QB good enough to take them to next level?

— Mike Greenberg (@Espngreeny) January 14, 2013

Stephen Gostkowski sneaks it through the uprights from 38 yards and the Patriots look to have sealed this one.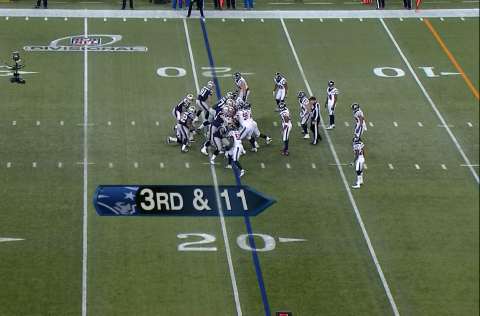 Tom Brady and the Patriots take a knee on 3rd-and-11 to run 40 seconds off the clock. There's now 1:18 left to play with Gostkowski coming on to the field to attempt the field goal.

We're at the two minute warning. The Patriots lead by 10 and face 3rd-and-11 on the 19.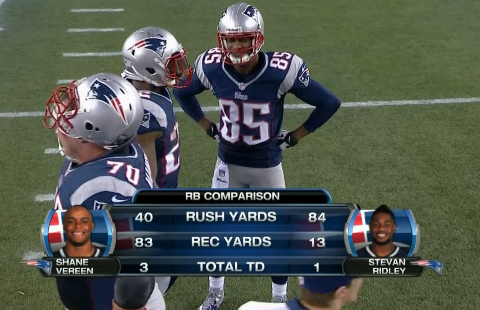 Huge day from the Patriots' two running backs.
#Texans bat down a pass on 3rd & 2 with 4:13 remaining but Kareem Jackson is flagged for holding on Wes Welker

— Nick Scurfield (@NickScurfield) January 14, 2013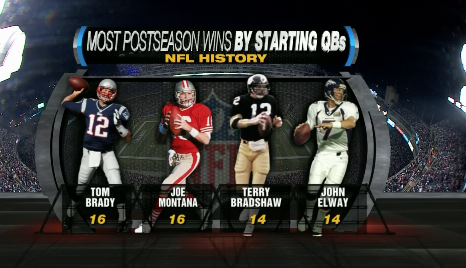 With a win today, Tom Brady would be alone at the top for most postseason wins by a QB.
#Texans score a TD & convert a two-point conversation. Now 15 unanswered points for Houston. #Patriots lead 38-26.

— Derek Havens (@PatriotsHaven) January 14, 2013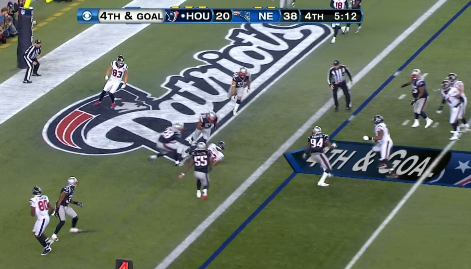 Arian Foster catches the 1-yard touchdown on 4th & goal. Matt Schaub follows it up by hitting Andre Johnson for the two-point conversion.
Touchdown, Arian Foster! 1-yard TD pass from Schaub on 4th & goal #Namaste

— Houston Texans (@HoustonTexans) January 14, 2013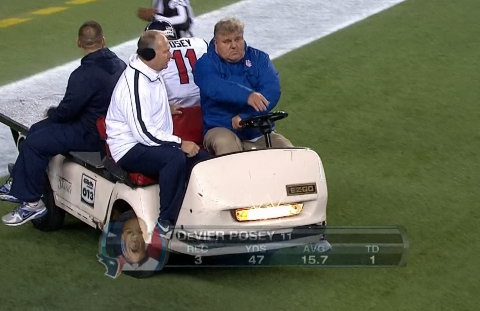 Houston WR DeVier Posey, who scored their last touchdown, is carted off the field.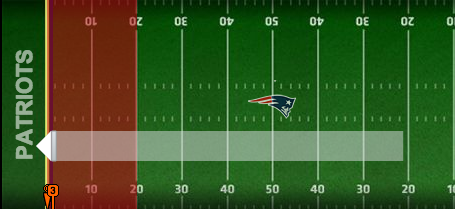 Schaub runs the draw play and is stopped short of the first but New England's Justin Francis is called offsides to put the ball on the one.
WHY are the Texans huddling?? You're down 18 points. My gosh.

— Krissy B. (@krissybri) January 14, 2013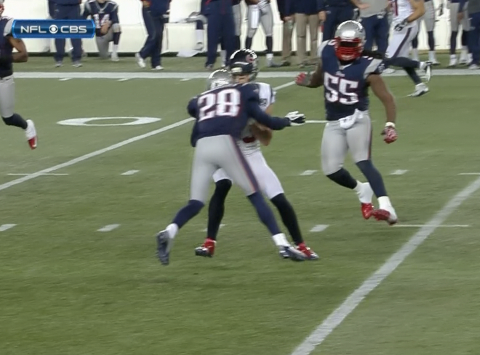 New England's Steve Gregory hits Kevin Walter with the helmet-to-helmet contact and is called for the 15 yard penalty.
Spikes left field (nearly) jogged back on and hit Daniels in stride as he rejoined defense. #PatriotsTalk

— Tom E. Curran (@tomecurran) January 14, 2013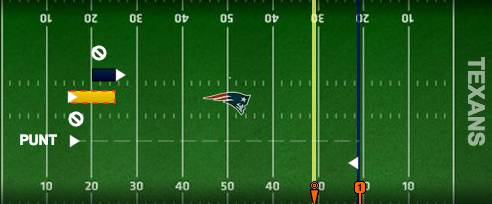 The Patriots get a 64-yard punt and the Texans will start at their own 21-yard line.
This article is
What is the duplicate article?
Why is this article offensive?
Where is this article plagiarized from?
Why is this article poorly edited?