8 Takeaways from Saturday's NBA Action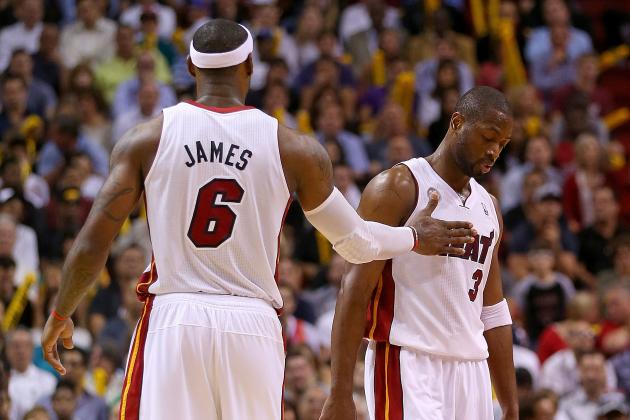 Mike Ehrmann/Getty Images

Saturday night's NBA action included a handful of blowout games, all of which featured an endless array of highlights, and some interesting tidbits to think about for the next few nights, until something else comes along to contradict that new thought.
It was a strange night for gamblers, as favorites went down left and right.
Atlanta was favored by three points but lost by 10 to the Washington Wizards, the Detroit Pistons were favored by two points but lost by three to the Jazz, Chicago was favored by 8.5 points but lost by 16 to the Suns, Memphis was favored by a point but lost by 21 points to the Dallas Mavericks, and the Los Angeles Clippers were favored by 13 points but ended their afternoon losing by three to the Magic.
So with such a strange night in the league, there's a lot that's just got to be left up to the old adage, "Anybody can beat anybody else on any given day." It's just that most of those games decided to fall on this day.
Let's take a look at just what did happen Saturday night and figure out what we should be able to take away from this weird day of basketball.
Begin Slideshow

»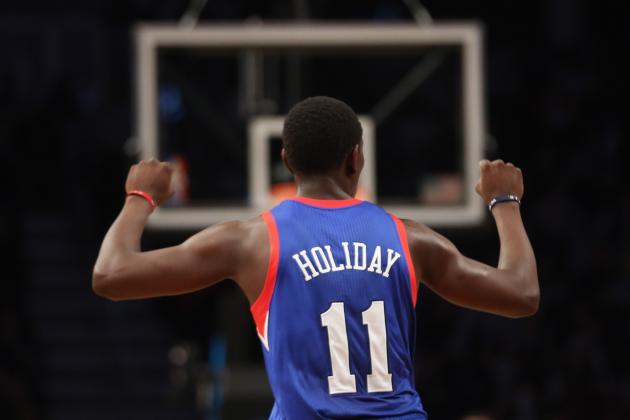 Bruce Bennett/Getty Images

The Philadelphia 76ers may be sitting on a mediocre 16-22 record, but without Jrue Holiday, they might only have won half as many games.
His game has experienced a renaissance this season, and even though Philadelphia has been going through a rough patch lately, Holiday has continued to prove that he's good enough to be included with the All-Star bunch.
Philly's win over the Houston Rockets displayed just that, with Holiday scoring 30 points to go with three rebounds, nine assists, four steals and a block, all on 11-of-22 shooting.
He's what makes Philadelphia's offense hum, and he deserves the recognition.
With Dwyane Wade and Rajon Rondo leading the rest of the backcourt guys by a ton of votes, that leaves (presumably) two bench spots for backcourt players.
Deron Williams has the third-most votes, but he's having such a subpar year that it would be an insult to see him on the team.
Holiday and Kyrie Irving must have those two bench spots, if that's all that ends up being open for the backcourt reserves.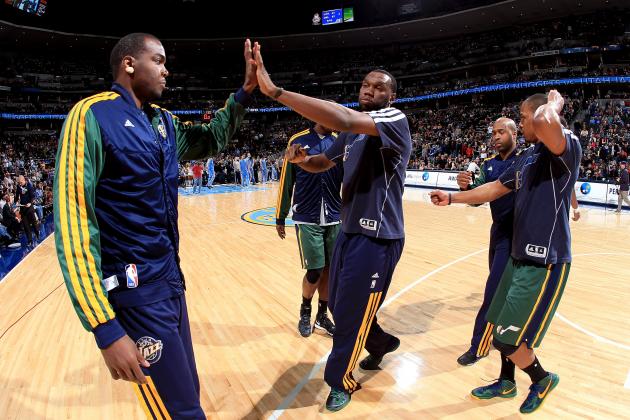 Doug Pensinger/Getty Images

With it nearly a foregone conclusion that the Utah Jazz are going to be trading either Al Jefferson or Paul Millsap by the trade deadline, neither guy is giving the team a reason to trade them.
Before its win over the Detroit Pistons, Utah had won four of its past six games, inserting the team back into the playoff conversation.
Over that period of time, Jefferson averaged 18.2 points, 8.3 rebounds and 2.7 assists, combined for 1.7 blocks and steals and shot over 48 percent from the floor. Millsap averaged 16.8 points, 7.3 rebounds and 3.5 assists, combined for four total blocks and steals and shot nearly 54 percent.
Against the Pistons, Jefferson had 20 points, 10 rebounds, three assists and four steals on 10-of-18 shooting. Millsap had 17 points on 6-of-13 shooting, seven rebounds and an assist.
Who the heck do you trade from that duo?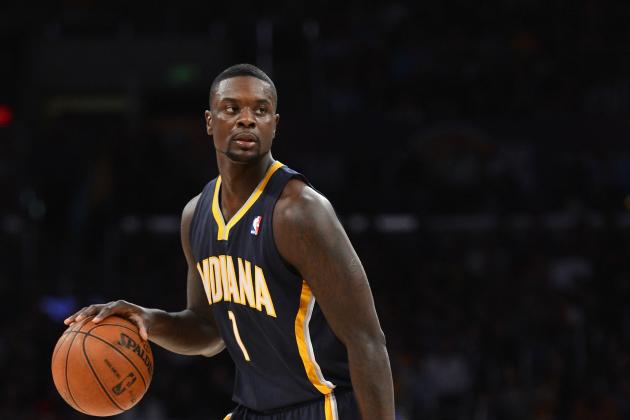 Harry How/Getty Images

A handful of games into the season, the Indiana Pacers realized that they needed to do something with their lineup in order to help out their woeful offense.
The solution? Nonchalantly stick in Lance Stephenson, the dude with a career field-goal clip at 36.6 percent and just 11.4 percent from downtown.
Since grabbing the starting-shooting-guard spot, Stephenson has shot 48.6 percent from the field and 40 percent from the three-point line while averaging 7.8 points, 3.5 rebounds, 2.8 assists and just under a steal per game.
In Indy's 96-88 win over the Bobcats, Stephenson put up a season-high 17 points to go along with seven rebounds, two assists and four steals, shooting 8-of-13 for the night.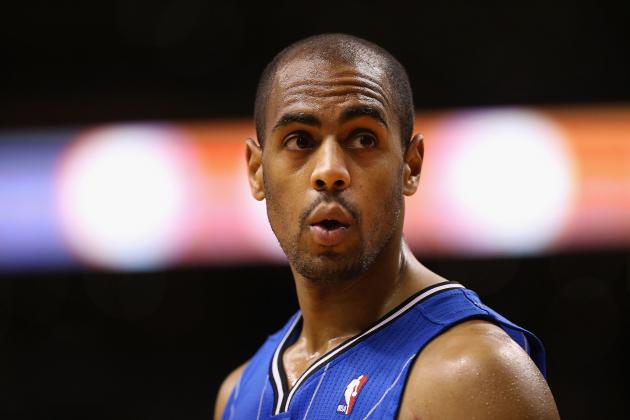 Christian Petersen/Getty Images

The Orlando Magic aren't making the playoffs this year, and they're probably going to end up with a pretty good lottery pick, but they're not the desolate franchise that others have been after seeing their superstars take off.
Aside from the fact that Jameer Nelson, Glen Davis and J.J. Redick have stuck around to have somewhat effective years, they've got a few new guys on staff who have absolutely blossomed with more playing time.
The two that stick out the most have to be Arron Afflalo and Nikola Vucevic, with the former proving to be the team's best scorer, averaging 17.5 points per game, and the latter its best rebounder, at 10.9 boards per game.
Each guy showed off his chops in Orlando's impressive 104-101 win over the Los Angeles Clippers.
Afflalo went off, scoring 30 points on 10-of-19 shooting, adding seven rebounds and seven assists, while Vucevic had another magnificent night, shooting 7-of-9, scoring 18 points and pulling down 15 rebounds against a formidable Clippers frontcourt.
They seem to be in prime shape for the future, given a solid draft and sound management.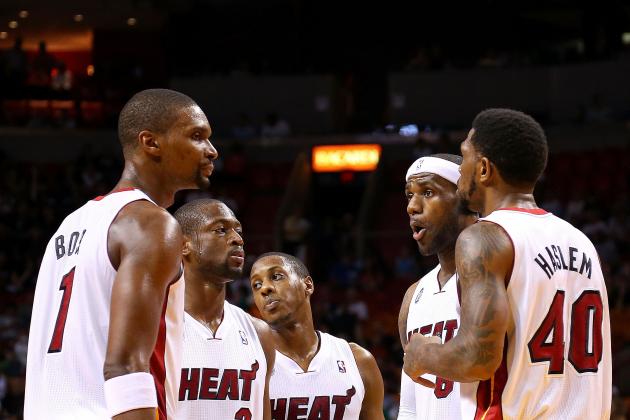 Mike Ehrmann/Getty Images

Normally, the thought of Mario Chalmers taking off and scoring a ton of points seems upsetting. Something about seeing such an average player getting as big-headed as Chalmers does at times is just downright upsetting.
However, when he has it going like he did in Miami's 128-99 demolition of Sacramento, I found myself reluctantly cheering him on.
There was never a need for him to pass the ball; LeBron, Wade and Bosh had his back on that one, and Miami's offense was good enough not to worry about playing too much defense, so there was no need to pay any attention to that. All he had to do was shoot.
Boy, did he ever do that Saturday night.
Chalmers went ahead and made 2.5 times as many three-pointers as his career high, making 10 of his 13 attempts en route to Miami sinking 17 three-pointers on the night.
At least one of these teams was having fun out there.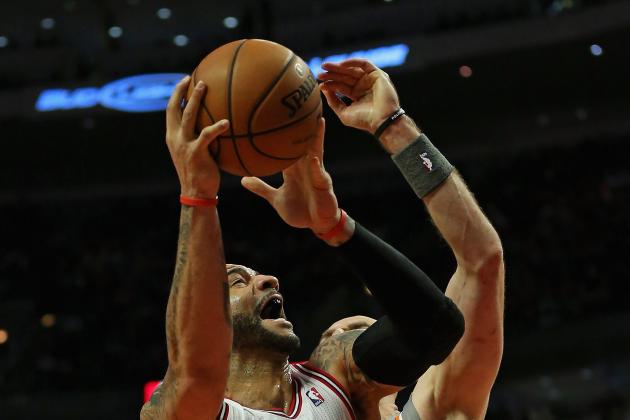 Jonathan Daniel/Getty Images

It would take a substantial raking of teams' schedules to really figure out the numbers on this one, but common sense says that teams aren't going to play well in the second game of a back-to-back. Even worse, when the two games of the back-to-back are in different cities.
That theory did not disappoint in this chunk of games.
There were an inordinate number of teams playing the second half of a back-to-back after playing in a different city the night before. The night included Chicago, Phoenix, Memphis, Atlanta, Charlotte, Houston, Detroit and Utah all on the second night of back-to-back games in a new city.
Obviously, some of the teams played each other, so a few wins would have to be had.
These teams ended up going 2-6 on the night, and when they were up against rested teams (who had at least Friday off), they went 0-4.
Beware of the separate-city back-to-back; it can be a killer.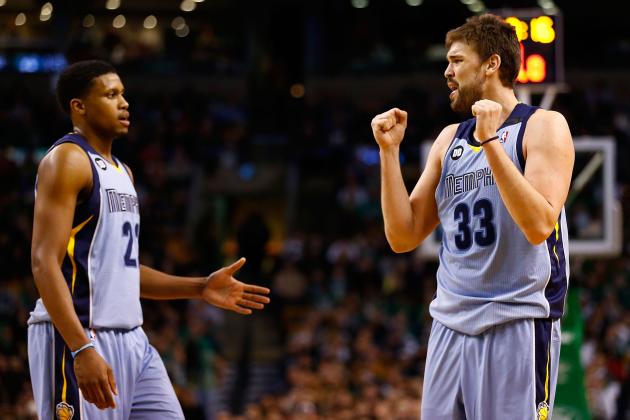 Jared Wickerham/Getty Images

It's weird that it takes a horrible loss for us to really notice what's going on in Memphis, but the Grizzlies' defense is nothing short of magnificent this season.
They ended up allowing the Mavericks to score 104 points after their big win over the San Antonio Spurs, nearly 15 more points per game than their average.
Seeing them give up over 100 points seemed incredibly unusual for some reason, so I decided to take a deeper look into their defensive prowess.
Dallas' 104 points are the second-most they've given up all year long (Houston victimized the Grizzlies back on Dec. 22, putting up 121 points), and just the third time they've allowed 100 points or more this season.
Comparing that to the previous few seasons, Memphis gave up 100 points or more in 31 games in 2010, shaking out to 38 percent of its games. Last year, the team gave up 100 points in 12 games out of 66, or 18 percent of its games.
The three games of 100-point scoring from opponents equate to just nine percent of the games the Grizzlies have played so far.
That's pretty darn good.
For three quarters, it looked as if John Wall's comeback was going to be rather pedestrian. He had eight points and converted just two field goals, turning the ball over three times and tallying just three assists.
Then came the fourth quarter.
The Wizards were up but starting to falter, and it looked as if they were going to give it up to the Hawks quietly, until Wall decided that he wanted to win in his comeback.
Wall got to the rim and put in a layup on three straight possessions, and then dropped in a behind-the-back pass to Trevor Ariza, putting plenty of space between the Wiz and the Hawks for the win to be imminent.
Before Wall took over, the Wizards were up by just six points and faltering. After a three-minute stretch of Wall refusing to lose, Washington was up by 12 points and ready to coast into the home stretch.