10 Teams That Could Derail Alabama's Dynasty in 2013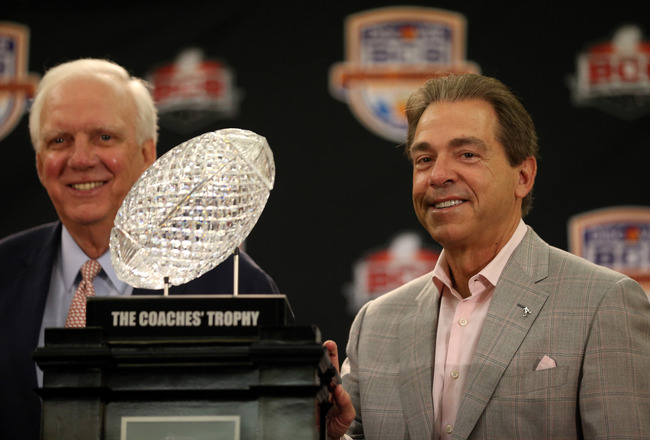 Streeter Lecka/Getty Images
Don't look now, but Nick Saban has just made history by winning two national championships in a row as well as three within four year.
Both of those are firsts in the BCS era.
Saban and the Crimson Tide are also favorites to make it an unprecedented three in a row in 2013. Several "Way Too Early Top 25" lists, including these from ESPN and USA Today place Alabama as the favorite to win it all in 2013.
But Alabama isn't the only team out there that can play football, and these 10 teams just might have what it takes to take the crystal football from Saban.
Who are they? Read on.
No. 10: Clemson Tigers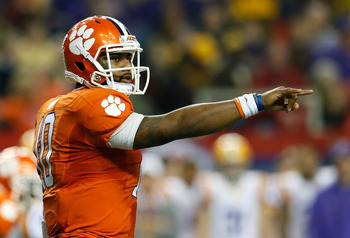 Kevin C. Cox/Getty Images
Tajh Boyd and Clemson took a huge step forward in becoming a national power by taking down LSU in the Chick-fil-A Bowl. While they had taken down Auburn before, this was the Tigers' first real win against a top-notch SEC team.
Could the likes of Alabama be next?
This victory has given the Tigers some valuable experience against a SEC-level defense, but they'll need to run the table to make it to the championship game. Also, they'll need to develop more on defense themselves if they want to stop a veteran Crimson Tide offense.
No. 9: LSU Tigers
Kevin C. Cox/Getty Images
Oh, to think that Les Miles and LSU were the No. 1 team in the land coming into the 2012 BCS National Championship Game.
Two losses to Alabama and a shocking loss to Clemson in the Chick-fil-A Bowl later, LSU has plenty of soul searching to do. This is particularly true as the Tigers lose a whole lot of key defensive players, including safety Eric Reid and defensive ends Barkevious Mingo and Sam Montgomery.
However, if LSU can develop its offensive line and rebuild its defense, they just might be able to take down the Crimson Tide.
Maybe...
No. 8: Louisville Cardinals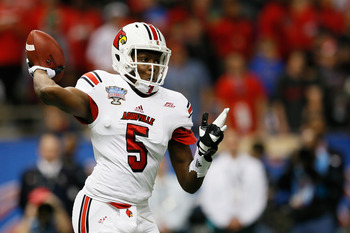 Kevin C. Cox/Getty Images
Louisville has already established themselves as SEC killers, as Teddy Bridgewater and the Cardinals took Florida down in the Sugar Bowl.
There's a big difference between Florida and Alabama, however. Namely, Alabama can play both offense and defense at the highest level of football.
Besides, Louisville is going to have to run the table just to get a shot at taking the national championship away from the Crimson Tide. We'll just have to see if that happens.
No. 7: Florida Gators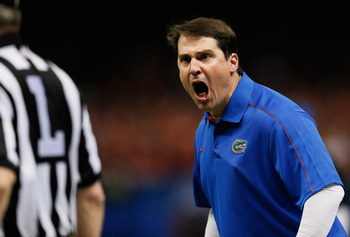 Kevin C. Cox/Getty Images
Florida's Will Muschamp did well to get to the Sugar Bowl in just his second year, but boy did the Gators fall flat against Louisville.
And don't give me that "we weren't motivated" excuse. You can bet that Nick Saban would have Alabama ready for such a game in similar circumstances. Well, at least after his debacle against Utah back in the day, but I digress.
At any rate, Florida is losing a whole lot of defensive talent, including All-American safety Matt Elam. However, they will need some balance on offense and defense to have a shot at taking down the Tide.
No. 6: South Carolina Gamecocks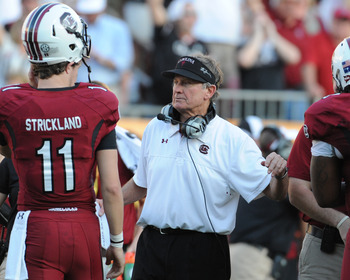 Al Messerschmidt/Getty Images
Steve Spurrier has South Carolina performing at the highest levels of the SEC, but they just haven't been able to fully break through as champions.
True, Marcus Lattimore won't be back, but it seems that the Gamecocks have had to make do without them as he's been plagued with injuries during his college career. Besides, South Carolina has a fine quarterback in Connor Shaw.
Alabama wouldn't have the familiarity with the Gamecocks as they would with other teams like LSU or Georgia. In fact, Alabama hasn't faced defensive end Jadeveon Clowney as of yet.
No. 5: Stanford Cardinal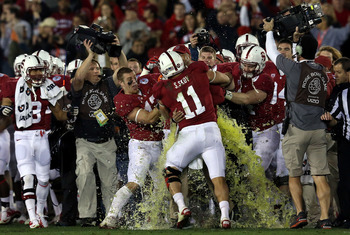 Stephen Dunn/Getty Images
The reigning Rose Bowl and Pac-12 champions have the defense to give the likes of Alabama fits. After all, they were the only team to hold Oregon's explosive offense to just two touchdowns.
They have quite an up and coming quarterback in Kevin Hogan. However, they'll need to improve a bit more on this side of the ball to stand a chance against the might of the Crimson Tide defense.
All you can say, however, is that Stanford is now a clear perennial power in the Pac-12. In light of this rather unexpected rise, could the Cardinal be the team to end Alabama and the SEC's grip on the national championship?
No. 4: Ohio State Buckeyes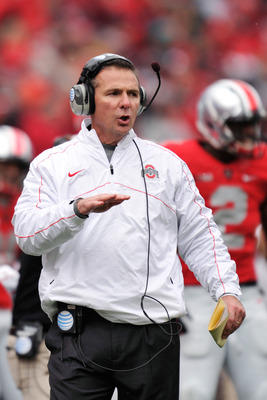 Jamie Sabau/Getty Images
Now here would be a meeting of old SEC rivals.
Ohio State was the only team to run the table in 2012-13, but they were banned from the postseason thanks to "Tatoogate." However, they will be able to play for the national championship again in 2013 and I wouldn't be surprised to see them run the table again.
Perhaps an old SEC coach is what it will take to break Alabama and the SEC's grip on the national championship.
No. 3: Georgia Bulldogs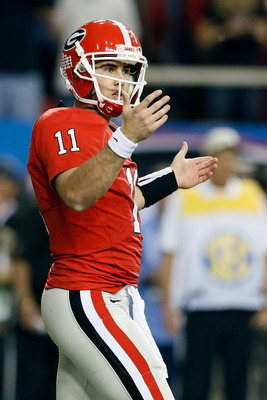 Kevin C. Cox/Getty Images
The Bulldogs came ridiculously close to stopping Saban this season in the SEC Championship Game. Georgia drove all the way down to the Alabama 5-yard line down by four but just ran out of time.
I'm not sure Alabama would have liked the result if Aaron Murray and the Bulldogs had just one more minute.
All I've got to say is Georgia has gained a lot of ground on the SEC West since the 2011-12 season. With Aaron Murray, Keith Marshall and Todd Gurley coming back, the Bulldogs will have the best offense in the SEC. However, they lose Alec Ogletree and Jarvis Jones so they'll need to rebuild somewhat on defense.
No. 2: Oregon Ducks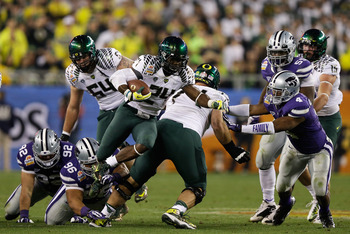 Ezra Shaw/Getty Images
Since Chip Kelly has fended off NFL advances yet again and Maricus Mariota, De'Anthony Thomas and much of the explosive Duck offense remains intact, Oregon appears to be the most likely opponent for Alabama should they again reach the BCS National Championship Game.
And they'd be a formidable one.
Oregon runs a high-powered spread offense built on speed. This is the kind of offense that gives the disciplined Alabama defense fits.
I'm sure that the Ducks would give Alabama more of a challenge than Notre Dame did.
No. 1: Texas A&M Aggies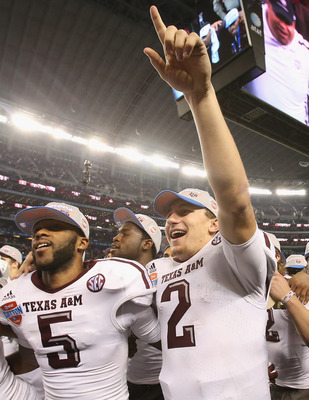 Ronald Martinez/Getty Images
Alabama's greatest threat is, unsurprisingly, another SEC team.
The rise of Texas A&M took just about everyone, even Nick Saban, by surprise. Johnny Manziel and the Aggies were the only team capable of taking down the Crimson Tide in 2012, so with Johnny football coming back it stands to reason that they may do so again in 2013.
However, the Aggies should be warned. Nick Saban does not like to lose to the same team twice in a row and will have his team fully prepared for A&M when they play again.
Also, this is Alabama's toughest game on their schedule as it is one of the few road games they'll have against a top notch SEC team.
Keep Reading