Jacksonville Jaguars: 7 Big Moves the Jaguars Could Make in 2013 Free Agency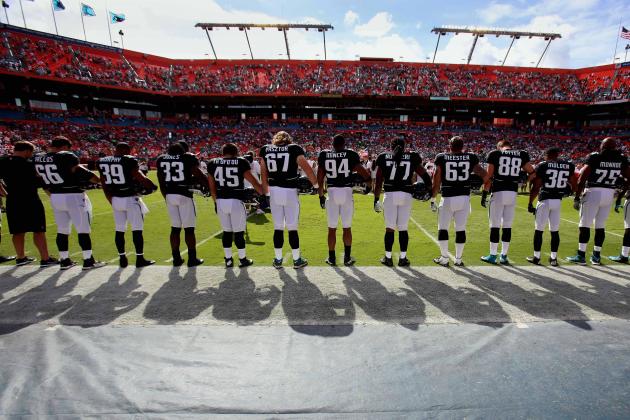 USA TODAY Sports

NFL teams build through the draft and fill holes in free agency, and the Jacksonville Jaguars will look to do both this offseason. They are entering their first season of a major rebuild, and a good draft is imperative to their future success.
They also have more holes than they can fill in one draft, however, and signing the correct players in free agency will allow the Jaguars to remain competitive while they rebuild. The Jaguars need players on both lines and throughout the defense, and there will be many talented players available in free agency.
The Jaguars have a chance to be active this free-agency period; they have $22.1 million in total salary cap room in 2013. That's good news for new general manager David Caldwell, as he will be able to address several issues of need with players who can make an immediate impact.
The Jaguars won't be able to sign every player on this list, but signing several of them would dramatically improve the team.
Begin Slideshow

»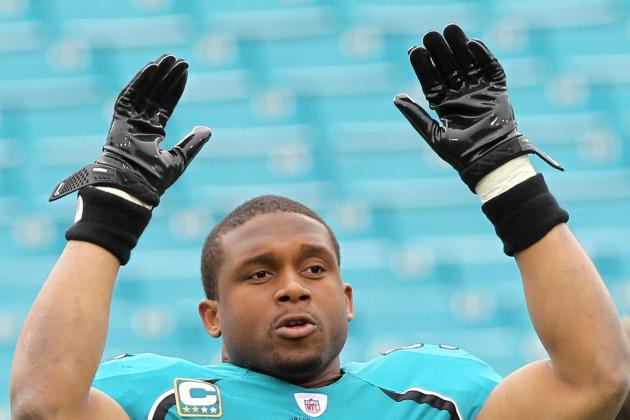 Kim Klement-USA TODAY Sports

Linebacker Daryl Smith has quietly had a great career during his nine seasons with the Jaguars. He missed all but the final two games of 2012 with a groin injury and is set to be a free agent this offseason.
It's important that the Jaguars re-sign him.
Without Smith in the lineup for the majority of 2012, the Jaguars featured several different players who started in his place, but none proved to be effective. As a result, the Jaguars defense dropped from ninth in 2011 in rushing yards allowed per game (104.2) to 30th (141) in 2012.
He is a sure-tackler; his 679 combined tackles in his career is the most in franchise history. He is often making plays in the opposing team's backfield and has 41 stuffs in his career.
Smith will be 31 entering the 2013 season, so it's unlikely he has too many years left in the tank. He should still be able to play at a high level for a couple of seasons until the Jaguars are able to find his eventual replacement.
If anything, Smith has more than earned his right to retire a Jaguar.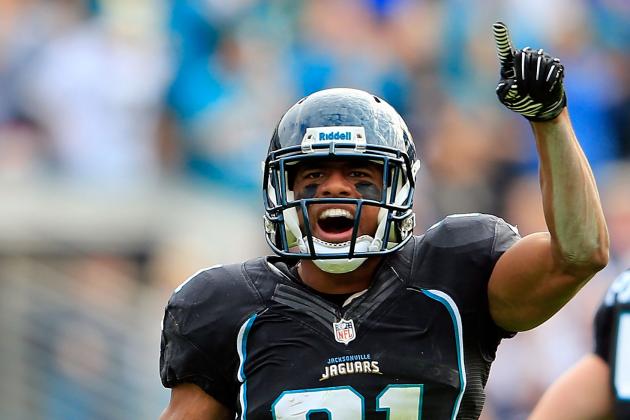 Sam Greenwood/Getty Images

Another player the Jaguars need to re-sign is cornerback Derek Cox.
Cox is a very good cornerback when healthy, but injuries have shortened all but one of his four seasons in the league. He missed four games in 2012 due to several different injuries.
He is an effective player when healthy, and the Jaguars need to be able to re-sign him.
Cox has 12 career interceptions, including a team-high four interceptions in 2012. He also led the Jaguars with 11 passes defensed last season.
He is entering his fifth season in 2013 and will turn 27 early in the season. Cox is entering the prime of his career and has many years of good football left in him.
Cox could test the open market, but his injury woes could lead to the market being smaller than expected. His fragility might lead to the Jaguars being able to re-sign him for less money than expected, and they would get a steal if possible.
Cox has all the abilities necessary to be a top cornerback in the league—he just needs to stay on the field to prove it.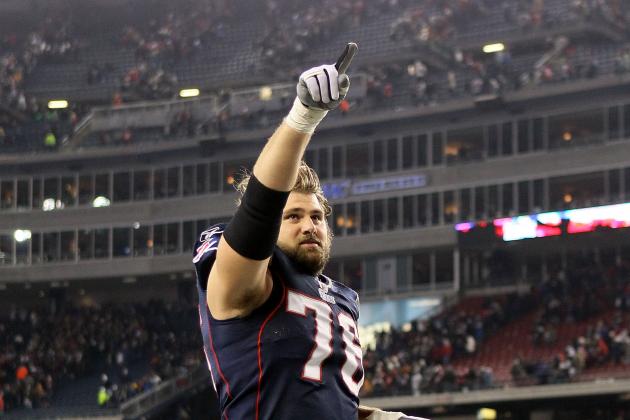 Elsa/Getty Images

The Jaguars featured a revolving door at right tackle, and all of the players who filled in at the position struggled. They were partially to blame for Jacksonville allowing the third-most sacks in the NFL (50). They also had a tough time run blocking, as the Jaguars averaged just 3.8 yards a carry.
A good right tackle would improve the offense as a whole, and signing the New England Patriots right tackle Sebastian Vollmer would do just that.
Vollmer has had a very successful career for the Patriots. He was named to the 2010 All-Pro second team and was a 2011 Madden Most Valuable Protectors Award recipient.
Vollmer would improve the Jaguars offensive line's issues of protecting the quarterback. He has allowed just 11.5 sacks in his four-year career, including allowing only one sack in 2010.
Drive-killing penalties were also an issue for the Jaguars in 2012, and Vollmer is rarely penalized. He was only penalized three times for 20 yards in 2012.
Vollmer would be a major upgrade over the players the Jaguars have now. He would provide steady, consistently good play at right tackle until the Jaguars are able to address the issue in the draft.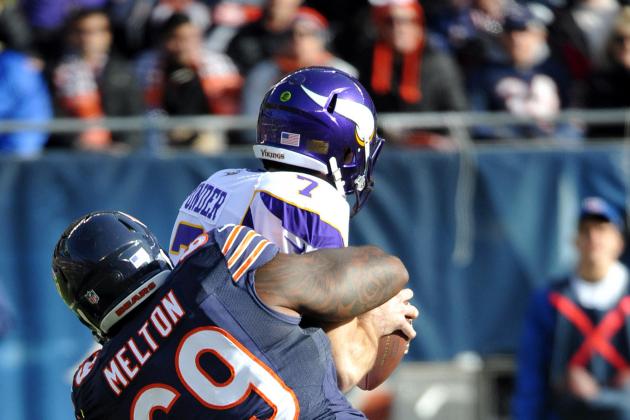 Rob Grabowski-USA TODAY Sports

The Jaguars have holes all over the defense, most notably on the defensive line. The poor line play was partially responsible for the 30th-ranked rush defense in yards allowed. The Jaguars also struggled to get pressure on the quarterback and had a league-low 20 sacks on the season.
Signing Chicago Bears defensive tackle Henry Melton would improve both of those areas.
Melton's 13 sacks over the last two seasons has proved he can get constant pressure on opposing quarterbacks. He anchored the middle of the Bears stout defense that finished sixth overall in yards per game (315.6) and eighth in rushing yards per game (101.7)
Melton would be an upgrade over the defensive tackles the Jaguars have now. Tyson Alualu has been solid but unspectacular thus far. Terrance Knighton, who is also a free agent, lost his starting role in 2012 to journeyman C.J. Mosley. Melton would make an immediate impact on the defensive line.
Melton is also still young, as he will turn 27 during the 2013 season. He could be a great player for years to come for the Jaguars. He's going to warrant a high price tag, but it would be worth paying it to get a player of his caliber.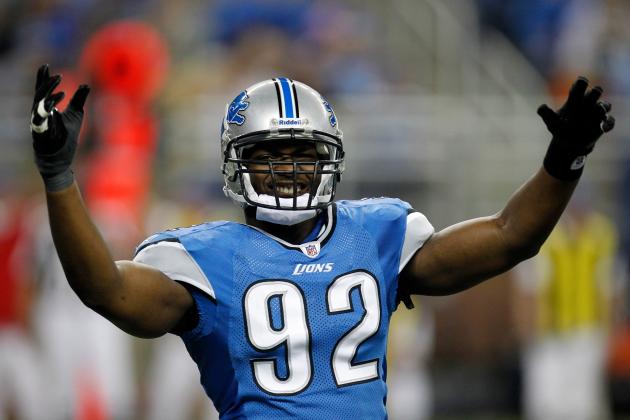 Gregory Shamus/Getty Images

Another player who could solve the Jaguars' almost nonexistent pass rush is Detroit Lions defensive end Cliff Avril.
Avril was set to be a free agent last offseason, but the Lions placed the franchise tag on him. The Lions won't have the cap space to re-sign him this year, however, as they are $1.1 million over the 2013 salary cap, according to John Clayton.
The Jaguars would get a great pass-rusher in signing Avril.
Avril, a Jacksonville native, has 39.5 career sacks, including 9.5 in 2012. Although he is suspect against the run, Avril's ability to sack the quarterback will garner him a lot of attention this offseason.
Avril would play opposite of Jason Babin, who the Jaguars claimed off waivers during the season. Babin, who will be 33 next season, is a stopgap player until the Jaguars are able to find the long-term answer at the position. Avril may be the solution to one of the defensive end positions, but it's still an area the Jaguars need to focus on in the draft.
Even if it's just for one season, though, Babin and Avril would be a scary combination at defensive end for the Jaguars.
USA TODAY Sports

The Jacksonville Jaguars will have a new head coach on the sidelines in 2013. Although there have been several names thrown around, a new coach has yet to be hired. A new coach will bring new philosophies to the team, one of which may be a change to the 3-4 defense.
If the Jaguars do change defensive schemes, Baltimore Ravens outside linebacker Paul Kruger would be a great signing.
The Ravens have several high-profile players to re-sign this offseason, and Kruger may be the player the Ravens may have to let walk.
The Ravens' loss would be the Jaguars' gain.
The Jaguars would get a defensive playmaker if they land Kruger. He led Baltimore's defense with nine sacks in the 2012 regular season. His interception and six passes defensed proved he is solid in coverage, too.
Kruger played outside linebacker but would also have plays with his hand on the ground due to the Ravens hybrid defense. He is a versatile player who can line up at multiple positions.
Even if the Jaguars stay with the 4-3 defense, Kruger would be a good signing. Kruger and Paul Posluszny would be a terrific combination in the middle of the Jaguars defense. Jacksonville could also play Kruger at defensive end when necessary.
He may be one of the most sought-after free agents available in 2013. It would be worth it for Jacksonville to pursue him, as he would be a weapon for the Jaguars defense.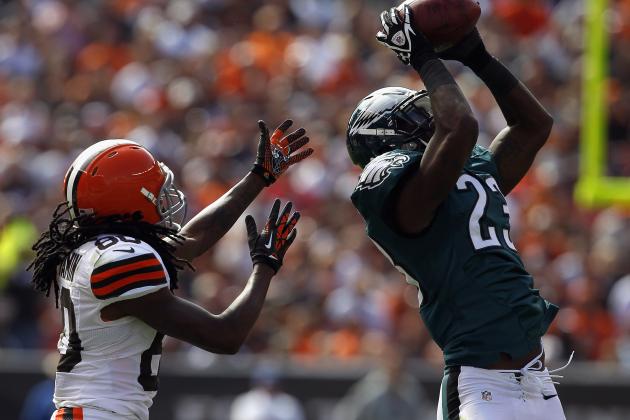 Matt Sullivan/Getty Images

The Jaguars will be looking to add talent to the secondary this offseason, especially at cornerback.
It is unknown if the Jaguars will be able to re-sign cornerbacks Derek Cox and Rashean Mathis. Cox, as previously mentioned, should be re-signed.
Mathis, on the other hand, should be let go. The veteran struggled in 2012 and was held without an interception for the first time in his career. His play has been declining for a few years, and it's time for the Jaguars to move on.
Philadelphia Eagles cornerback Dominique Rodgers-Cromartie would be a good replacement for Mathis.
Rodgers-Cromartie was a leader for the Eagles' ninth-ranked passing defense in yards allowed a game (216.9). His three interceptions led the team, and he has 16 total in his career. He also had 17 passes defensed in 2012.
Rodgers-Cromartie has proved himself to be a durable player. He has missed just three games during his five seasons in the league. Being able to stay on the field would be important if he is playing opposite of the oft-injured Cox, as the defense would have a reliable player in the secondary.
Rodgers-Cromartie has shown he has the ability to be a shutdown cornerback, and at 6'2", he is a matchup nightmare for opposing wide receivers. The Jaguars cornerback tandem of Cox and Rodgers-Cromartie would be among the best in the league—if it happens.
Rodgers-Cromartie would be a playmaker for the Jaguars secondary for years.