How Far Will NY Knicks Go in the NBA Playoffs This Season?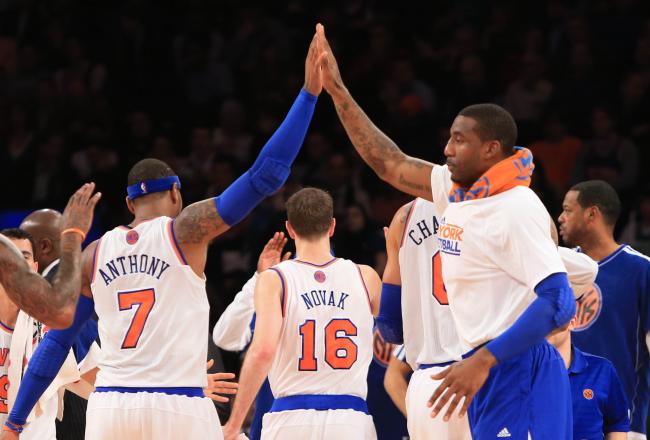 USA TODAY Sports
The New York Knicks have made some serious noise in the 2012-13 regular season so far, but as we all know it's the playoffs that matter the most.
Through the first half of the regular season, the Knicks have proven themselves as one of the league's top teams. Their record is right up there with some of the best in the league.
They've done very well against elite opposition, and in particular have beaten both the Miami Heat and San Antonio Spurs twice each. In all cases, the victories were convincing, and came despite the absence of key players.
Once you factor in their 18-6 finish to last season under Mike Woodson, it's clear to see that New York has turned the corner, and is a much different team to the one we remember under Mike D'Antoni.
As it stands, the Knicks are top of the Atlantic Division, and on their way to winning it for the first time since 1994, when they eventually made it to the Finals with Patrick Ewing.
Assuming that they can hold off a second half surge from the Boston Celtics and keep the Brooklyn Nets at bay, the division should be theirs to lose heading into the postseason.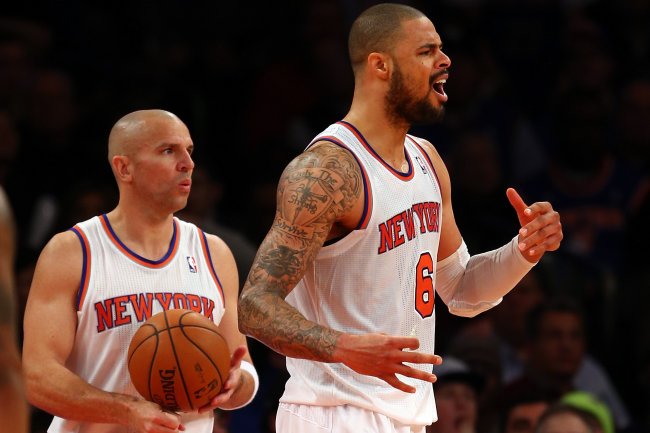 Elsa/Getty Images
This will guarantee the Knicks a top four seed, and if they then finish with the second-best record in the conference (which they have right now) they will also have home-court advantage through the first two rounds.
Things can change, but even through injuries and tough stretches, the Knicks have yet to fall below second in the conference so far this season.
A lot of what the Knicks do is suited to what playoff basketball requires. They have plenty of experience on their roster in the form of Jason Kidd, Tyson Chandler and Rasheed Wallace, who all have rings to show for their postseason play.
On top of that, the Knicks also have Raymond Felton and Carmelo Anthony, and whilst neither has had any major playoff success in the NBA, both led their college teams to national championships.
In Melo, they also have a scorer who they can go to in isolation when things break down, which will be a major factor. He is playing basketball at a level we've never seen from him before, and if he carries it past the regular season he will be hard to stop in a seven-game series.
The Knicks' defense has yet to reach the level it was at last year when they ranked fifth in defensive efficiency, but with Iman Shumpert returning that could change. Having Felton, Marcus Camby and Rasheed Wallace back will also help tremendously and give New York the level of defense that is required for playoff basketball.
Looking at the actual match-ups the Knicks may have to face in the playoffs, things suddenly don't look quite as good.
New York may be the second-ranked team in the conference right now, but before they can even think about the Conference Finals they could face some serious problems in the first two rounds.
With the way the East is shaping up there is a good chance that the Knicks will have to face two of Boston, Chicago, Brooklyn, Indiana or Atlanta in the first two rounds.
Due to their toughness and physicality, Boston and Chicago match up very well with New York. The Bulls have beaten them three times this season, and did so without Derrick Rose in the lineup. He'll more than likely be there when the playoffs roll around.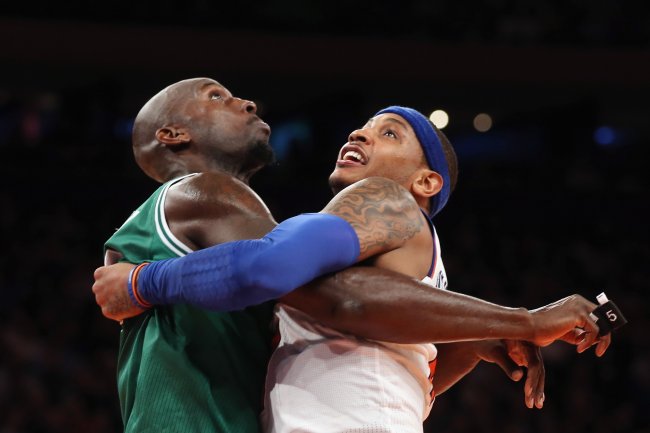 Bruce Bennett/Getty Images
Additionally, Boston had a relatively comfortable win over the Knicks in their only meeting so far this season, and it came without Rajon Rondo. They did a great job of getting under the Knicks' skin, with Melo in particular failing to keep his cool up against Kevin Garnett.
Brooklyn, Atlanta and Indiana may not provide the same sort of challenge, but can cause some problems if nothing else. A series win over any of those three teams would not be a foregone conclusion.
With home-court advantage, however, the Knicks may be able to pull through in six or seven games against any of these teams, but it won't be easy. On a positive note, we've yet to see the Knicks at full strength, so if they can get healthy before the postseason they could be even better than we've seen so far.
Toughness is an issue, but the return of Shumpert and a scrappy guard like Felton, as well as a former Defensive Player of the Year in Camby, could change that. Reports of a potential move for Kenyon Martin may also be a way to fix things.
If the Knicks can make it to the Conference Finals, they would likely face the defending champions. Miami may be the better team, but when healthy New York matches up very well, case-in-point being their two blowout victories over them this season.
Teams with Kidd and Chandler in the lineup have now beaten the Heat in five straight games, dating back to their title-run with Dallas in 2011. It's safe to say that the duo have Miami's number, and are certainly not afraid of The Big Three.
You may cite New York's five-game loss to Miami last year in reply, but remember how long the Knicks' injury list was at the time. Amar'e Stoudemire, Jeremy Lin, Baron Davis and Iman Shumpert all went down, whilst Tyson Chandler struggled with the flu. They also hadn't yet acquired Kidd or Felton.
If they can get past the first two rounds in tact, a Finals appearance may not be as far-fetched as it seems.
Ultimately, the Knicks have the potential to make a very deep run in the 2013 playoffs. Their roster is as talented as any in the NBA, and in Melo they have a genuine MVP candidate leading the way.
Health will be imperative, as will the home-court advantage they are working towards in the regular season. With both in place, there's no reason to believe they can't make it to the Conference Finals for the first time since 1999.
This article is
What is the duplicate article?
Why is this article offensive?
Where is this article plagiarized from?
Why is this article poorly edited?

New York Knicks: Like this team?