6 Rookies to Watch During 2013 NHL Training Camp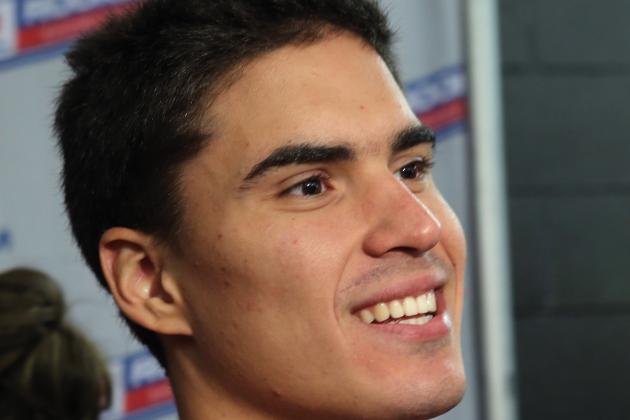 Bruce Bennett/Getty Images
Edmonton rookie Nail Yakupov's speed may separate him from the rest of the pack.
Rookies are not going to have a huge opportunity to make an impression with their teams in the mini-training camps that will precede the shortened season.
However, the best rookies who go into camp with a "go for it" attitude may be able to convince coaching staffs to give them a chance.
There are a number of talented rookies who have a chance to become stars. Here's a look at six of them.
Begin Slideshow

»
The Montreal Canadiens are hoping that Alex Galchenyuk can take his massive skill set and immediately make an impression on head coach Michel Therrien.
Galchenyuk looks like a complete player with excellent hands, quick feet and know-how when he is in the offensive zone. When Galchenyuk is at his best, he is a threat to score himself when he gets the puck in the most dangerous areas, but he also makes those around him better. Galchenyuk also has excellent defensive skills.
If he takes advantage of his opportunity in training camp, he may become an impact player right away for the Habs.
Jonathan Huberdeau is going to be a star for the Florida Panthers.
General manager Dale Tallon is expecting Huberdeau to arrive this year, and that means he should make an immediate impact once training camp opens.
Huberdeau was the No. 3 pick in the 2011 draft. He stayed in junior hockey last year and scored 30 goals and 42 assists for the St. John's Sea Dogs of the Quebec Major Junior Hockey League. Amazingly, Huberdeau had plus-53 rating.
He has been playing with the Sea Dogs this season and has 16 goals and 29 assists in 30 games.
Huberdeau figures to be the No. 2 center on the Panthers this season, with Stephen Weiss centering the top line.
The Edmonton Oilers are going to depend on an elite group of young forwards to help them be a formidable presence in the Western Conference.
Rookie Nail Yakupov may be the most explosive of the group. Yakupov was the No. 1 draft pick in the NHL last year and is nearly impossible to take your eyes off once he has the puck on his stick.
Hockey News' 2012-13 preview magazine compared him to Pavel Bure, saying he is a threat to score on every shift.
Yakupov had 31 goals and 38 assists for the Sarnia Sting of the Ontario Hockey League last year, and he had 10 goals and eight assists while playing in the KHL this year.
Yakupov may not be a finished product and an all-around player, but he is a talented goal-scorer who can put the puck in the net.
Justin Schultz is not going to make an impression as a body-banging defenseman, but he is a highly skilled player. Schultz has obvious offensive talent and can also do the things on the defensive end that the coaches want to see.
On a team that has so much young offensive talent, the Oilers will be hard-pressed on the defensive end. That means there will be a lot of pressure on Schultz to play well and limit his mistakes.
The former University of Wisconsin star has 18 goals and 30 assists with the Oklahoma City Barons of the American Hockey League this season. He also has a plus-eight rating.
Look for Schultz to have a shot at a top-four defensive spot with the Oilers.
Keep your eye on Mikael Granlund when the Minnesota Wild opens training camp.
He appears to have the skills to become an NHL superstar, and he's not going to waste much time to get to that level.
Granlund, 5'10" and 180 pounds, has excellent quickness and sees the ice extremely well. He can make passes that few other players can see.
Granlund scored 51 points in 45 games while playing in Finland's SM-Liiga last year, and he has scored 21 points in 21 games for the Houston Aeros of the AHL this year.
He should be one of the most talented forwards in the Wild's mini-training camp and could be a top-six forward this season.
Dougie Hamilton is going to win a spot with the Boston Bruins in training camp because he has spectacular skills and great size.
Head coach Claude Julien is not one to rush rookies into game action, but he will pick his spots for the talented Hamilton.
The 6'5", 199-pound Hamilton has a quick stick that he uses to break up plays, carries the puck well and has a heavy, right-handed shot.
He loves to fire the puck from the blue line and could be the weapon on the power play that the Bruins have lacked.
Hamilton is praying that Julien taps him on the shoulder and says, "Teach me how to Dougie."