Phoenix Suns vs. Chicago Bulls: Live Score, Results and Game Highlights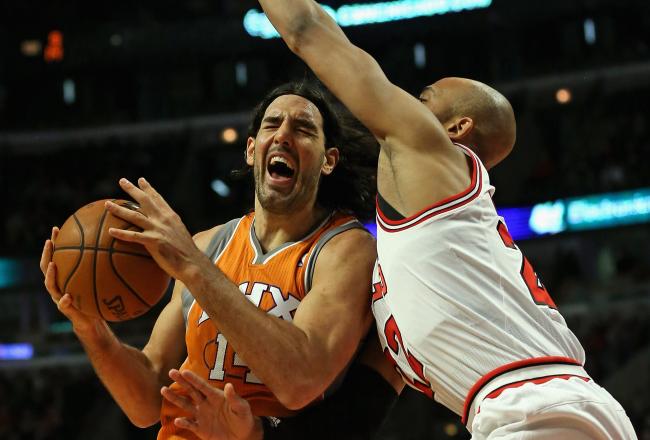 Jonathan Daniel/Getty Images
After four quarters of intense action, the struggling Phoenix Suns snapped a five game losing streak, beating the Chicago Bulls on the road to move to 13-26.
The Bulls' home woes continue, as they move to .500 at home, and 20-15 on the season.
The win for the Suns marks the franchises' 2,00th, making them the fourth team to reach that milestone.
Entering the game, few could have predicted that the Bulls would get absolutely destroyed. However, that's exactly what happened tonight. Here are a few reasons why the Suns came out on top.
Michael Beasley: The Bulls struggled to find help outside of their starting lineup, scoring only 30 bench points. They were nearly matched by Michael Beasley, who finished with twenty off of the bench.
Fourteen of his points came in the second quarter, when the Suns made a run that helped them gain the lead. He also finished with four boards in the quarter alone. He has struggled to get playing time, but tonight's performance—in which he nearly matched his season high (two points away)—should be enough to give him a few more chances in the team's next contest.
Focus: The Suns were only up seven at the half, and given the circumstances of what happened last night, they very easily could have blown the lead. However, they remained calm and collected, finishing the second half better than they did the first.
They never let the Bulls come back—their game high was a 6-0 short-lived run—and executed perfectly down the stretch. The Bulls, on the other hand, became very frustrated, very quickly. With four technical fouls, tonight was a rough night in Chicago.
Defense: Before the game, you might have thought that I would be praising the Bulls for their spectacular defense, but that was not the case, tonight.
The Suns allowed just 81 points, despite playing on the road, and finished with 11 blocks—their highest total since opening night. The Bulls shot just 36 percent from the floor, and made only two three-pointers the entire game.
Luis Scola: Scola took control of Phoenix's offense early on, and never looked back. Finishing with 22 points and seven rebounds, the big man came through at times when the Suns needed him most.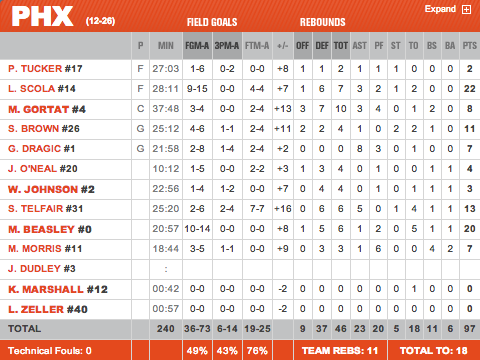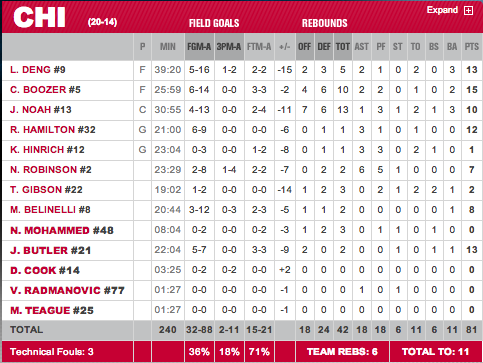 Your box scores from tonight (via NBA.com).
Phoenix 97, Chicago 81; End of game
Jimmy Butler slams down the alley-oop, but the Bulls fall short of the Suns tonight. A poor night for Chicago, but not for Phoenix, who wins their 2,000th franchise game.
Phoenix 97, Chicago 79; 0:52 remaining in 4Q
Markieff Morris fouls out, with the Suns on the verge of snapping their 12-game road streak.
In Chicago, home-court advantage means the other team has the advantage. Hmm...
The Hornets, Bobcats and Suns now have 12 combined road wins this season. A quarter of them have come at the United Center.

— Jeff Mangurten (@JeffGurt) January 13, 2013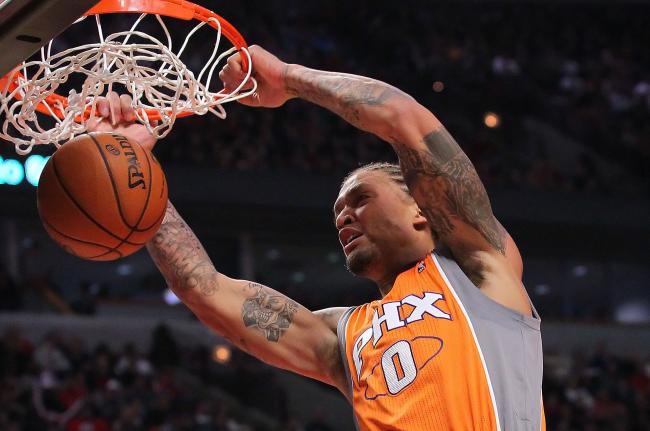 One word. Michael Beasley. Actually that was two.
My bad.

Thibs has officially thrown in the towel. He just took Luol Deng out of the game and put Daequan Cook in.

— Nick Friedell (@NickFriedell) January 13, 2013
Phoenix 92, Chicago 73; 3:25 remaining in 4Q
Telfair becomes the first Sun to get called for a tech, though for reasons different than that of the Bulls.
Phoenix 92, Chicago 73; 3:57 remaining in 4Q
Beasley throws down another dunk. I think I felt the ground shake on that one.
Thibs joining the tech party, and in the words of the Suns announcers, he is "really, really upset."
Phoenix 88, Chicago 73; 4:44 remaining in 4Q
Nate Robinson called for the technical. Can somebody say frustration?
Two free-throws from Telfair end a 6-0 run by the Bulls, their largest of the night.

Good news for Bulls is they only face one bad team, Toronto, in the next five games ending with the Lakers. Ooops, Lakers stink, too.

— Sam Smith (@SamSmithHoops) January 13, 2013
The Suns' 2,000th win looks to be well in sight.
#Bulls trail @suns 86-70 midway through the 4th qtr. Boozer 15pts 10reb, Hamilton 12pts, Noah 10pts 12reb, Deng 10pts 3reb. #PHXvsCHI

— Chicago Bulls (@chicagobulls) January 13, 2013
Phoenix 86, Chicago 70; 6:13 remaining in 4Q
Nate Robinson hits Chicago's first three of the night. It was the team's eighth try.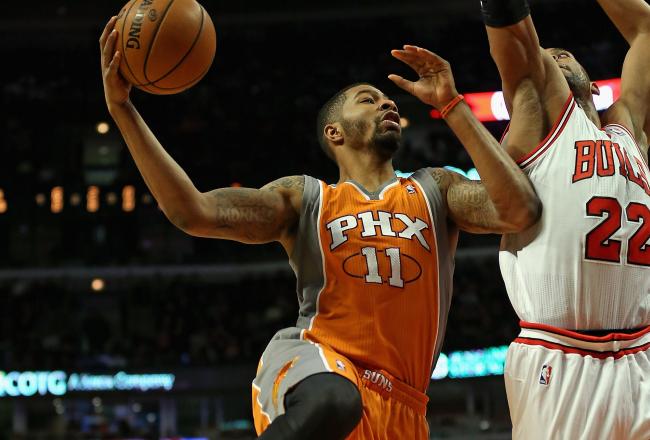 Phoenix 88, Chicago 67; 7:35 remaining in 4Q
A tremendous dunk from Markieff Morris following a pretty pass from Gortat. That one will make the highlight reels, for sure.

The Bulls longest run of the game has been 4-0 (multiple times).

— Jeff Mangurten (@JeffGurt) January 13, 2013
Phoenix 82, Chicago 65; 9:35 remaining in 4Q
Telfair hits a three and the Suns have their largest lead of the night.
Barring a fourth quarter comeback, this one could be over.
A lot of frustration tonight.
Only the 9th technical of Deng's career.

— Kelly Scaletta (@KellyScaletta) January 13, 2013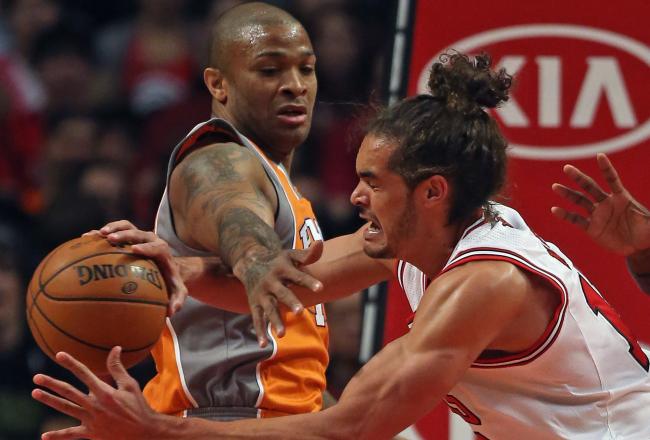 Phoenix 77, Chicago 63; End of 3Q
Telfair hits a shot from long-range as the quarter ends. Unlike last night, the Suns have carried their dominance over into the second half, scoring 28 points in the third quarter and extending their lead.
They only scored 26 in the entire second half last night. This one is starting to get ugly.
Phoenix 73, Chicago 61; 0:36 remaining in 3Q
Technical foul called on Luol Deng.
If I had to describe this game in one word? Chippy.
Phoenix 71, Chicago 61; 1:13 remaining in 3Q
After about five offensive chances, the Bulls come up empty—a testament to how they've played thus far.
Phoenix 71, Chicago 61; 1:48 remaining in 3Q
Noah and Deng look absolutely exhausted. The back to backs are catching up to them more than anyone else because of all the minutes.

— Nick Friedell (@NickFriedell) January 13, 2013
Phoenix 69, Chicago 60; 3:10 remaining in 3Q
Boozer hits the spot up jumper over Scola. He now has 12.
However, a lapse on defense frees up Scola for a deuce of his own.

Maybe it really is the Suns' night. Brown had been 1 for his last 24 on 3s & just hit a 3 & followed it with a dunk. PHX 68-56. #SunsAtBulls

— Paul Coro (@paulcoro) January 13, 2013
Here are your first half highlights.
Phoenix 64, Chicago 54; 5:38 remaining in 3Q
Shannon Brown hits the three pointer, Dragic sinks two of three at the line.
This article is
What is the duplicate article?
Why is this article offensive?
Where is this article plagiarized from?
Why is this article poorly edited?

Phoenix Suns: Like this team?