BYU vs. Santa Clara: Live Score, Updates and Analysis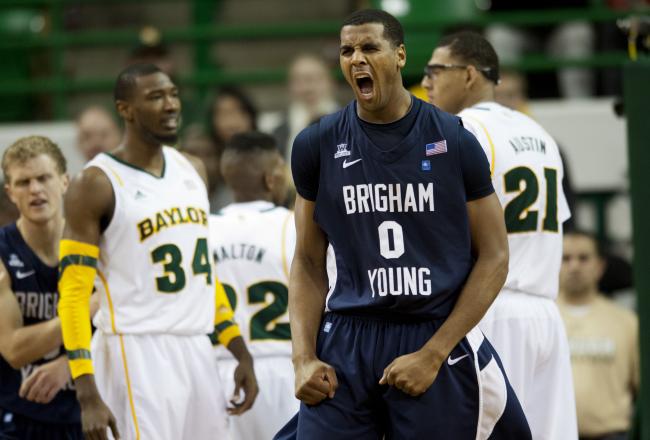 Brandon Davies looks to lead the BYU Cougars to an in-conference road win vs. Santa Clara.
Cooper Neill/Getty Images
Despite being in a close game for most of the afternoon, BYU slipped away from Santa Clara on the road, 82-64. Tyler Haws and Brandon Davies led the Cougars with 24 and 13 points, while Kevin Foster chipped in 22 for Santa Clara.
After BYU led by nine at the half, SCU stormed back and tied up the game with about ten minutes left. Haws and the Cougars soon pulled away, and won by 18.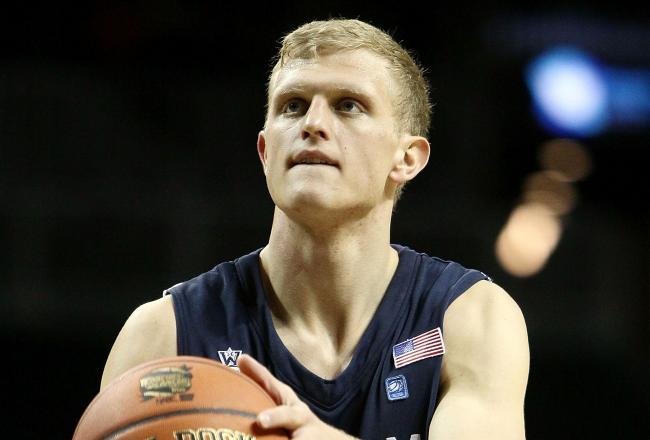 Tyler Haws now has two-straight 24-point games (against Pepperdine and SCU).
BYU 82, SCU 64 (Final)
This is BYU's most complete game. Awesome to get such agood victory. #GoCougars

— Jackson Emery (@jacksonemery04)
BYU 79, SCU 61 (1:15 2nd Half)
Brock Zylstra (BYU) has been sitting on the bench for most of the second half because of foul trouble, and although he lead the Cougs in scoring at that point, they have been fine without him.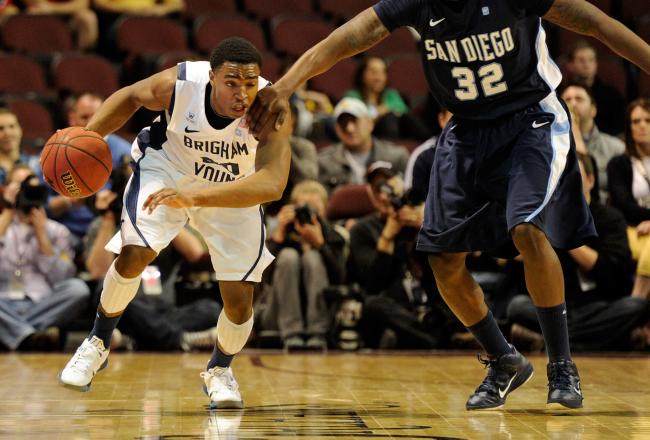 BYU 75, SCU 57 (2:25 2nd Half)
Anson Winder has a season-high eight points in this game, along with four rebounds and a block.
BYU 73, SCU 57 (3:16 2nd Half)
And there it is. Tyler Haws drains two free-throws, and expands his 20-point game streak to five.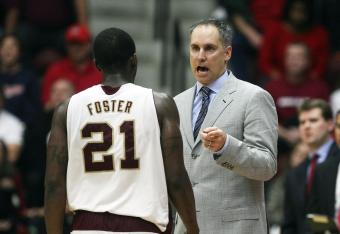 BYU 68, SCU 55 (4:51, 2nd Half)
Santa Clara is on a nice run. They are only down by 13 now, with just under five minutes left.
I've never watched a BYU game before where the commentator repeatedly calls Brandon Davies "Davis" repeadetly before now. I have to admit, it's kind of funny. Robbie Bullough must think so, too:
BYU would be unbeatable if they had Davies and "Davis" on the floor at the same time. Very similar players. Almost like twins. #BYUvsSCU

— Robbie Bullough (@RobbieBullough)
BYU 64, SCU 50 (7:56 2nd Half)
Anson Winder has been blocked twice already in this game, and he seemed to get revenge with a swat seconds ago, but he got called for a foul.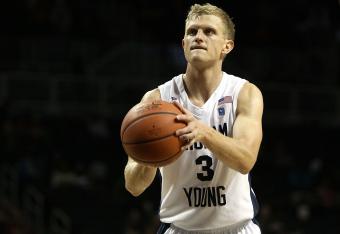 BYU 64, SCU 50 (8:12 2nd Half)
Tyler Haws has 19 points and five rebounds now. One more point will expand his 20-point game streak to five. BYU is on a 14-0 run.
BYU 62, SCU 50 (9:36 2nd Half)
This game is ridiculously similar to the Santa Clara-Duke game earlier this season. The Broncos hung in the game for the first few minutes, and then fell back by double-digits, then brought it close again, and then let it slip away.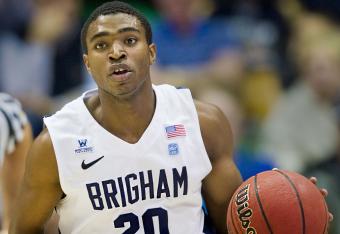 BYU 58, SCU 50 (10:21 2nd Half)
Maybe not. Anson Winder drills two free throws to put BYU up by eight.
An interesting call by BYU coach Dave Rose to send Anson WInder in for Zylstra. Winder is a good three inches shroter than Zylstra, and runs the point.
BYU 52, SCU 50 (12:00 2nd Half)
Brock Zylstra hits a fade-away 18-footer to put BYU up by two. He picks up his fourth foul seconds later, and is sent to the bench with 15 points on six-of-eight shooting.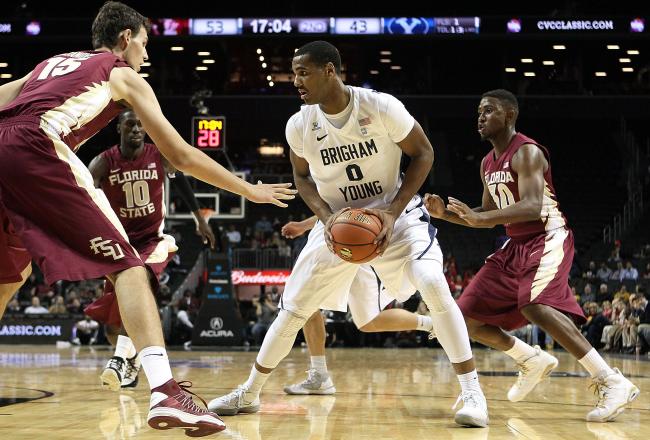 BYU 50, SCU 49 (13:49 2nd Half)
Davies (BYU) is finding his game, as he nails a jumper after scoring only two in the first half.
BYU 48, SCU 45 (15:09 2nd Half)
Brandon Davies gets fouled on a shot, and makes the first of two free throws for BYU.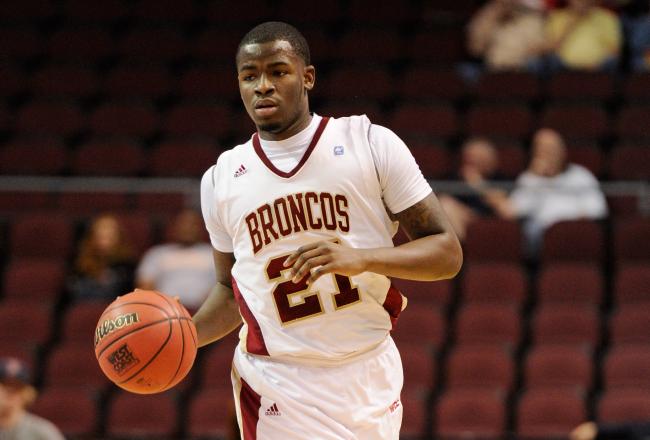 BYU 44, SCU 43 (16:28 2nd Half)
This is by far the best we've seen Kevin Foster all game. He's hit back-to-back threes to cut the lead to one, and if there are any scouts in the building today watching Brandon Davies, I'm sure that they're just a little distracted.
BYU 44, SCU 31 (16:22 2nd Half)
Kevin Foster of SCU drains a three moments after a 15-foot jumper fell for him, and cuts the lead to four.
BYU 44, SCU 36 (18:01 2nd Half)
BYU switches into a zone for the first time this game. Their zone defense has been a strong point all year, but this is the first we've seen all year.
Drew Jay, the BYU basketball beat writer for the Salt Lake Tribune weighs in his point of view:
BYU leads 41-32 at half despite just two points from Brandon Davies. Broncos making someone else beat them, and so far Zylstra, Haws are.

— Jay Drew (@drewjay) January 12, 2013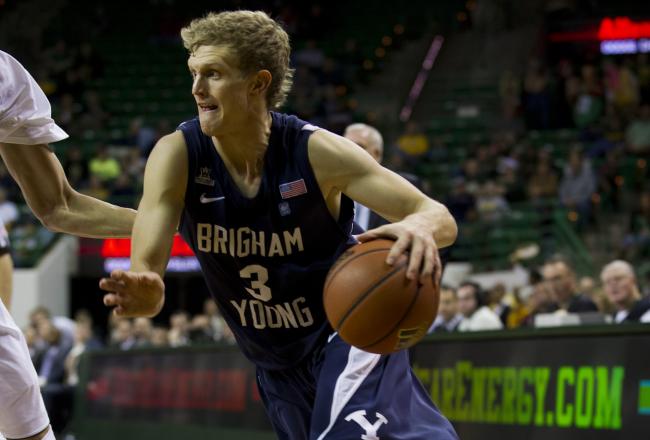 BYU 41, SCU 32 (Halftime)
BYU will hit the locker room with a nine-point lead. Haws and Zylstra lead the Cougars with 13 apiece, while Foster and Cowels III lead SCU with nine.
BYU 41, SCU 32 (0:23, 1st Half)
Santa Clara will play for the last shot, with time winding down in the first.
Tyler Haws is receiving comparisons to Steve Kerr by the commentators. What a compliment!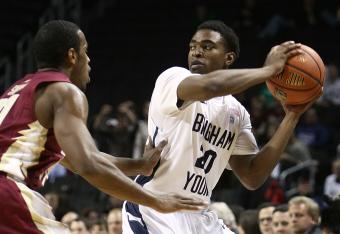 BYU 37, SCU 32 (1:27 1st Half)
BYU's Anson Winder scores his first two of the game. Winder is recovering from an ankle injury, and is receiving limited minutes. He seems fit, though.
BYU 35, SCU 31 (2:25 1st Half)
SCU's Foster with a pretty floater in the lane above Brandon Davies. That pulls the Broncos within four.

I can't believe how many BYU fans are at the game. At least half of the people attending seem to be wearing blue and white.
This article is
What is the duplicate article?
Why is this article offensive?
Where is this article plagiarized from?
Why is this article poorly edited?