Breaking Down the Detroit Lions' 2013 Salary Cap: Where Is Money Best Spent?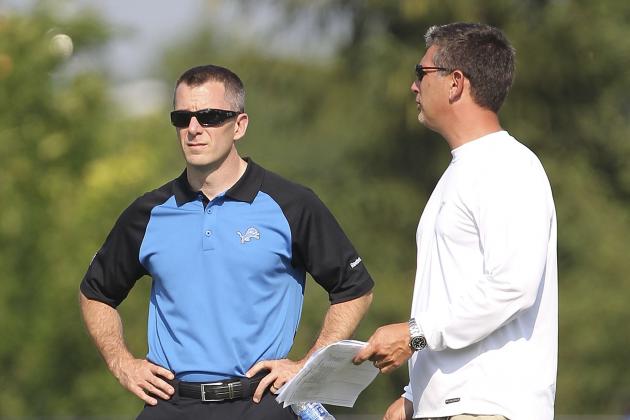 Leon Halip/Getty Images

The Detroit Lions are extremely guarded about many things in their organization, money being chief among them.
That's why it took half a year to decode the terms of Jim Schwartz's contract extension, and why we can't be truly certain where the Lions are in the salary cap situation.
However, according to John Clayton of ESPN, the Lions are currently about $1.1 million over the cap. That's with everyone on the roster in 2012, before departing free agents open some of that space up.
Expiring contracts will give the Lions some room to work, but things are still going to be difficult.
So here are the things likely to have the biggest impact on the Lions' salary cap situation going forward, and where the Lions can spend—and find—money this offseason.
In this, I'll be talking a great deal about contracts and salary cap numbers, and just to give credit where due, those numbers will all be coming from Spotrac.com.
Begin Slideshow

»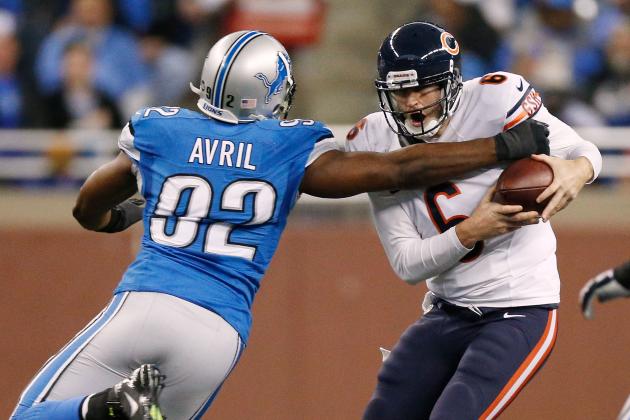 Gregory Shamus/Getty Images

This is perhaps the biggest opportunity for the Lions to recover some cap room this offseason, as two of the three biggest cap hits of the defensive line, and two of the six biggest hits on the entire team (Cliff Avril and Corey Williams) will be off the books.
Avril and Williams combined accounted for just under $16 million against the salary cap last season. Avril played a solid but lackluster season on the franchise tag, while Williams played in less of the team's games while injured.
If the Lions want either player back in 2013 (which is possible), they should be at a fraction of what they made in 2012. Williams is aging, and Avril did not show the ability to affect games the way he did in 2011.
Kyle Vanden Bosch is also a player in line for either a cut or a pay cut. Vanden Bosch cost $4.6 million against the cap in 2012, and that number goes way up next year.
Vanden Bosch has been playing less snaps per game in an attempt to help sustain his health and motor when he does take field; but at age 35, there's no doubt Vanden Bosch is in a decline that borders on free-falling.
The Lions' blind side pass-rusher accounted for 3.5 sacks last season, and most of those were clean-ups from other defenders' pressures. That's not what the Lions wanted from the man who was the 10th highest-paid player on the team last season.
Luckily, the Lions are in position to take a premier edge rusher (like Bjoern Werner or Damontre Moore) in the draft to replace either Avril or Vanden Bosch. Better yet, the new rookie wage scale ensures that the Lions won't be crushed by yet another highly-paid rookie contract.
Justin Blackmon, the fifth overall pick in 2012, had to hold out to earn himself a deal worth $18.5 million over four years. That works out yearly to exactly what the team paid Vanden Bosch last season.
In other words, the Lions could potentially get 10 years younger at the defensive end position by replacing a declining high-motor veteran with a potentially elite-tier rookie, for the same amount of money.
For a team built around the pass rush, that seems like a reasonable move.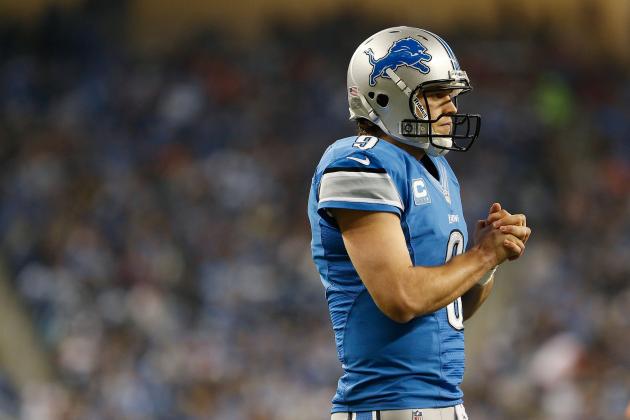 Gregory Shamus/Getty Images

Matthew Stafford is due roughly $41.5 million in the next two years.
In case you're not familiar with NFL salary structures, that's a lot of money.
The inflated cap number is a combination of Stafford's massive rookie contract and his willingness to defer his salary and take a minimal salary to help the Lions in the salary cap department in 2010 and 2011.
That said, the Lions are not going to want to just sit back and let Stafford play out that contract under those terms.
The Lions faced a similar situation last season with Calvin Johnson, in which he was due $21 million and the Lions signed him to a contract extension that lowered his cap hit in 2012 by converting the amount (and more) to guaranteed money.
That's a little more difficult when there are two years at that amount to play with, but team GM Martin Mayhew has stated his commitment to keeping Stafford around for the long haul, and Stafford's last two years—statistically the two best in Lions QB history—aren't any reason to think that's a bad idea.
The reality is, the Lions are going to have to pay Stafford the money they've been putting off, and it doesn't make sense to keep kicking it down the road, unless they want to make him about a $35 million man next year.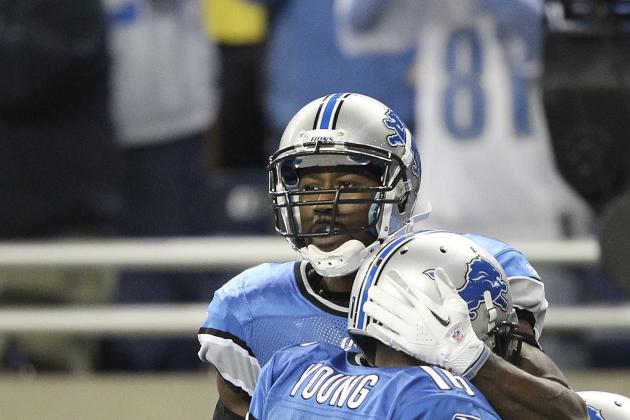 Leon Halip/Getty Images

For a team that has the best wide receiver in football, and has drafted wide receivers on Day Two of three of the last four drafts, the Lions have a lot of questions at the wide receiver position.
Will the injured Nate Burleson recover in time for the 2013 season? With a cap hit over $6 million, will the Lions even bother bringing him back?
Can Ryan Broyles get his knee right again? Can Titus Young get his head on straight?
If everything works out perfectly for the Lions in 2013, they don't need any help at receiver, and the money they have in it is well-invested. On that assumption, there will be a fair number of calls to cut Nate Burleson and get back his salary against the cap.
There are two major problems with this.
One is that the odds that everything is just peachy with Young and Broyles is incredibly slim, and having a steady veteran in the mix to steady the ship will be invaluable, especially considering how he's the one trying to reach out to Young and steady him mentally (though admittedly his efforts have obviously not been successful).
Two is that the Lions have already restructured his deal once, pushing a fair amount of his contract into guaranteed "bonus" territory. The Lions would still be on the hook for about a third of the $14 million still due to Burleson in the next two years, whether they keep him or cut him.
So, with the knowledge that the Lions are likely going to end up paying Burleson good money against the cap in the next two years whether they keep him or not, why not keep him? Is there really a better receiver available for $3-4 million a year that would justify cutting Burleson?
More importantly, can the young players behind Burleson really be trusted to inherit his role, inconsistent as it may be?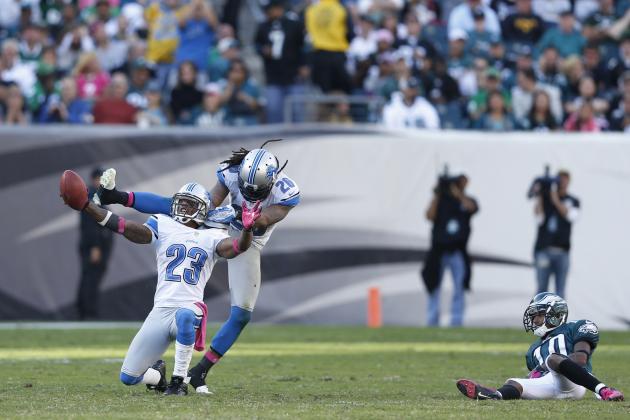 Joe Robbins/Getty Images

The entire secondary is a question mark. Considering its reputation and health, the unit played better than expectations in 2012, but that's not saying much.
Also, most of the strong play in the secondary came from Chris Houston, who had a career year for the second straight year. He made $4.6 million in 2012, and he likely expects that number to nearly double on his next contract.
So the question is, do the Lions pay it or does someone else? There is no way Houston avoids a big pay day in the next couple of months—the only thing he has to worry about is where he goes to sign the check.
If Houston walks, the Lions are going to have to commit an awful lot of money to replacing him. The only thing they have waiting in the wings is a trio of 2012 rookies with eight starts' worth of NFL experience between them.
Regardless of whether one or all of those three develop into quality corners in time, the Lions won't be entrusting them to handle the top of the depth chart in 2013. They'll either bring Houston back, or someone else to replace him.
Houston has played better each and every year since he got to Detroit, and finally posted a season in which he could be put in the "lockdown" discussion. He knows the scheme, he knows the coaches and the Lions know he can be successful doing what they want him to do.
Since the Lions are going to have to pay somebody anyway, why wouldn't it be Houston?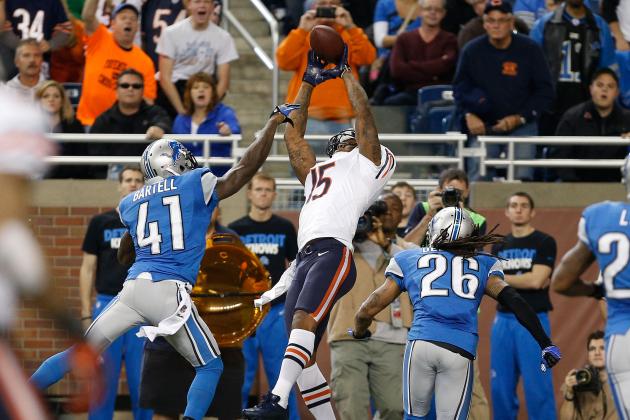 Gregory Shamus/Getty Images

The reason the NFL enacted a rookie wage scale is so teams wouldn't have to pay big money to players based only on potential.
The same argument should be invoked against giving Louis Delmas a fat contract.
The signs are all there for Delmas. He's athletic, he hits hard and he changes the entire feel of the defense when he plays.
The problem is, the words "when he plays" are key for Delmas. The ratio of games played to games missed is dangerously even, and the number of games he's played fully healthy can probably be counted on both hands.
Can Delmas be a game-changing factor at safety? Sure he can, but in that regard, the comparisons to Bob Sanders get more accurate with every knee surgery.
Because of the uncertainty surrounding Delmas, the franchise tag has been a popular discussion as a way to give Delmas a chance to shine at relatively low risk.
However, the Lions appear to have shot down that notion, which perhaps sends the message that they expect Delmas to sign for less than the $6.8 million he'd be guaranteed under the franchise tag.
The Lions should absolutely try to keep Delmas in the fold, given the possibility he can shake his injury woes. But given his output and consistency, that amount might be more appropriate for him on a two-year deal. If the Lions extend him a much better offer than that, they're playing with knives.
Or scalpels, anyway.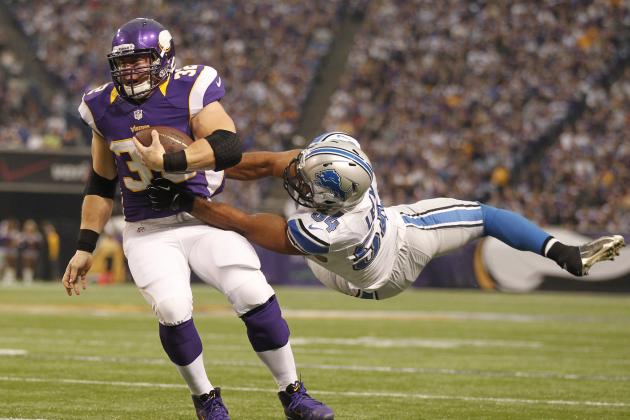 Andy King/Getty Images

What do you invest in a 4-3 OLB these days? The position itself is seemingly becoming a lost art, with the rise of the 3-4 rush linebacker and the prevalent nickel package.
Justin Durant made about $3.6 million in Detroit last year, while Levy made about $1.9 million on his restricted free-agent tender.
Both are likely to be looking for pay raises after solid seasons, but how far should the Lions go to keep them? And should they pursue one or both?
Because of the rise of the 3-4 defense, the market for guys with Durant and Levy's skill set is smaller than it would have been some five years ago. That drives prices down, which lowers the possibility the Lions have to get into a bidding war.
But realistically, neither of these players is one that inspires thoughts of a bidding war, anyway.
The Lions should make a run at both of these players for right around the $3 million per year mark, and not be all that upset if somebody else wants to pay them more. The outside linebacker position has rapidly become one of the least influential on the defense, and these guys are solid, but not stars.
If the Lions can't retain one (or both) of these guys, they'll move on and let primary reserve and special teams stud Ashlee Palmer have a shot, or turn things over to one of their rookies, Tahir Whitehead or Travis Lewis.
Maybe the Lions sign a veteran to compete for a vacated starting spot, but I wouldn't expect the Lions to invest too much of their valuable cap space on players that are really no better than decent at non-impact positions.
Not with so much youth on the depth chart.
For the record, the difference between Justin Durant's salary and Tahir Whitehead's salary in 2012 was roughly $3 million. If they can get solid play out of a player from within the organization, there is money to be saved, but that's a big gamble.