Brian Burke Fired: Ranking His 5 Best Trades as Toronto Maple Leafs GM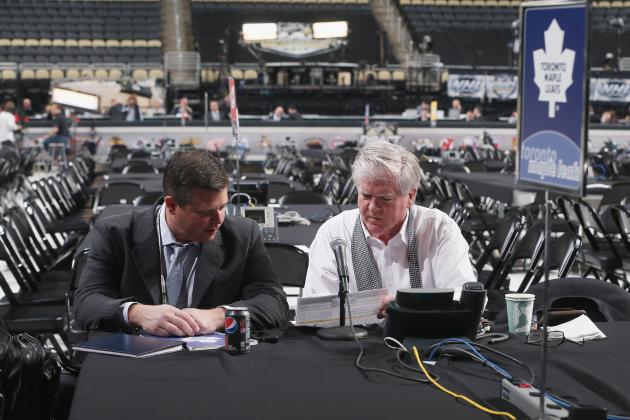 Bruce Bennett/Getty Images

He was honest, he was candid, he was to the point. Brian Burke's exit press conference was not only a look into the soul of Burke, but it was a look back at what Burke accomplished and the building blocks for the future he put in place.
He never got the Leafs to the playoffs, he never found that first-line center or starting goaltender the Leafs needed, but Burke leaves Toronto with his head held high knowing he did the best he could with what he had.
He was given an absolute mess to work with at the start, and barring an absolute miracle, wasn't getting the Leafs into the playoffs early in his tenure.
He did make some controversial moves in the past with the Leafs, but it is his trading expertise that the Leafs will likely miss the most.
He did complete a questionable trade for Phil Kessel, but Kessel is now a top-15 player in the NHL, and the deal in hindsight isn't as bad as it seemed.
Here's a look back at the five best moves made in Burke's tenure.
Begin Slideshow

»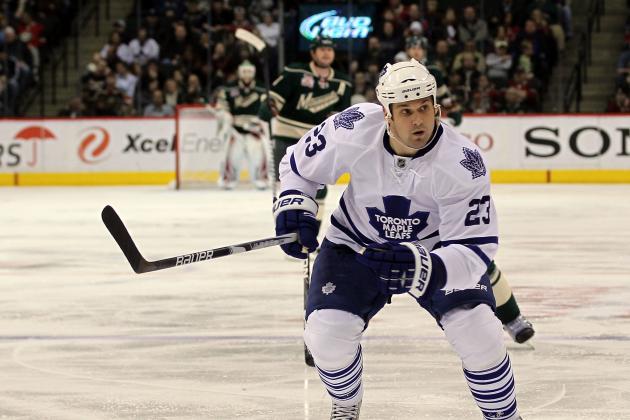 Bruce Bennett/Getty Images

The Deal
Matthew Lombardi, Cody Franson, 2013 conditional fourth-round pick (if Lombardi plays less than 60 regular-season games over course of 2011-12 and 2012-13 seasons) for Brett Lebda, Robert Slaney, 2013 conditional fourth-round pick (if Lombardi plays 60 or more regular-season games over course of 2011-12 and 2012-13 seasons).
This was absolute highway robbery on the part of Brian Burke. He did take on a rather large contract for Lombardi, but he also managed to pick up a 6'5" power-play defenseman and a speedy center who, if healthy, can be a valuable part of a team for a pylon of a defenseman. I can honestly say the Leafs came out winners here.
This was an obvious salary-dump move made here by the Predators, one, now with Ryan Suter gone, they're regretting. Franson, while finding himself in Ron Wilson's doghouse most of the year, is a defenseman I feel wasn't used properly by Wilson.
Now, with Franson re-signed, The Leafs will have a pretty solid defensive core, with more coming on the farm.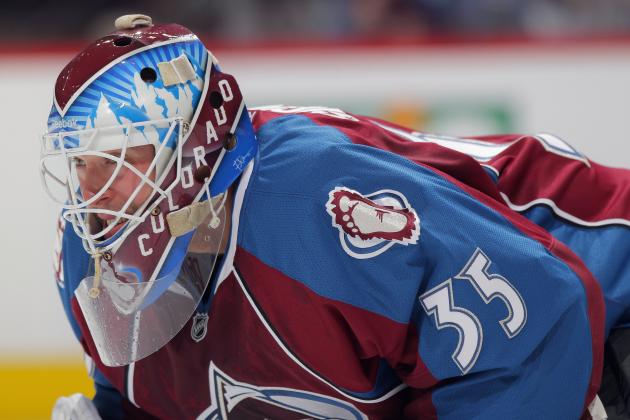 Doug Pensinger/Getty Images

The Deal
Anaheim trades J.S. Giguere to Toronto for Vesa Toskala and Jason Blake.
Jean Sebastien Giguere's debut with the club made Brian Burke look like a genius early into his stay with Toronto. A 30-save shutout against the New Jersey Devils cemented him as the Leafs No. 1 goalie.
He had a rather large contract, but the fact was, he was likely the best goaltender Toronto has had since Ed Belfour. The other fact—that they got him for a has-been goalie and Jason Blake—really makes you wonder what Burke did to complete this deal. Absolute highway robbery on the part of Burke.
With injuries down the stretch of his career with Toronto, and with the emergence of James Reimer, Giguere found himself on the outside looking in as he was out of a job. He was later snatched up by Colorado.
To this day, I still feel Burke would have reversed the moves and kept Giguere over Reimer.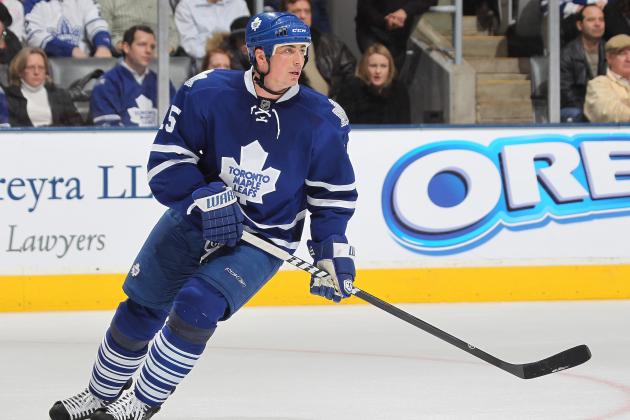 Claus Andersen/Getty Images

The Deal
Bruins trade Joe Colborne, 2011 first-round pick (No. 30 Rickard Rakell), 2012 conditional second-round pick (No. 54 Mike Winther), if Bruins reach 2011 Stanley Cup Finals or Kaberle re-signs with Bruins after 2010-11 season, to Toronto for Tomas Kaberle.
From the outside looking in, this deal looks fair, but when you think about what happened with that conditional second-round pick, that's where this deal favors Toronto incredibly.
Joe Colborne has yet to hit his potential with Toronto, but the large center will soon get to hone his craft in Toronto or elsewhere as he's nearly NHL ready. Rakell was shipped, along with the Leafs second-round pick at No. 39 (John Gibson), to Anaheim for their 22nd pick, who turned into Tyler Biggs.
Lastly, the conditional second-round pick was dealt by Burke to Colorado for John Michael Liles, who was not only signed to an extension, but is a leader on and off the ice with the Leafs and gives the Leafs that much needed offensive jump to their power play and to the players on the back end.
If the Leafs failed to do anything with that second-round pick, you're likely looking at this deal not being mentioned; however, without this deal being made, the Leafs wouldn't have Liles on the team today.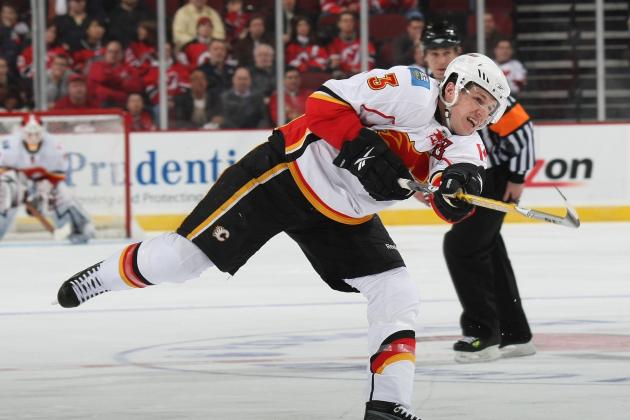 Bruce Bennett/Getty Images

The Deal
Flames trade Dion Phaneuf, Keith Aulie and Fredrik Sjostrom to the Maple Leafs for Niklas Hagman, Jamal Mayers, Matt Stajan and Ian White.
This was the deal that started the onslaught of deals Brian Burke completed that vastly helped the Leafs both short-term and long-term.
Losing Ian White hurt no doubt, but what the Leafs did was get rid of pieces that didn't fit into their long-term plans and managed to bring in their eventual captain, Dion Phaneuf.
He has never been the same player he was in Calgary in his rookie year, but now under Randy Carlyle, I see Phaneuf being a stalwart on the back end for the Leafs.
With the improved system the Leafs should be featuring, the mistakes Phaneuf makes will likely not be as magnified as they were under Ron Wilson. Hopefully, with some new additions to the lineup, like Jay McClement and a healthy James Reimer, just maybe the Leafs penalty kill won't be one of the worst in the league.
As a side note, though, the Leafs penalty kill vastly improved after the turning of the calendar to 2012.
Bruce Bennett/Getty Images

The Deal
Anaheim trades Joffrey Lupul, Jake Gardiner and a 2013 conditional fourth-round pick to Toronto for Francois Beauchemin.
This is the deal that hopefully Leaf fans and NHL fans will remember Brian Burke's tenure for.
A smart move because he was very familiar with Joffrey Lupul and knew what he was all about.
Burke decided to take on Lupul, even after his battle with an infection, because he believed he still had something left.
Lupul was the throw-in essentially in the deal. What he turned into, however, was a legit linemate for sniper Phil Kessel, a locker-room favorite, a fan-favorite and, best of all, a point-per-game producing forward the Leafs severely lacked.
To add to this trade, Burke said he wouldn't complete the trade unless Jake Gardiner was included. When he was, the Leafs pulled the trigger. Gardiner is a smooth skating, offensively skilled defenseman who looks like he's the real deal.
This past year in the AHL, he looked like a man among boys with the Toronto Marlies. Funny thing is, he's actually more of a boy among men. That's not only a compliment for Gardiner, but something to look forward to as Leaf Fans.
This deal will go down as one of the best the Leaf have made in their history; its just too bad Burke won't be here to see Gardiner grow into an elite-level defenseman.