Rafael Nadal: Power Ranking Rafa's 10 Greatest Moments Ever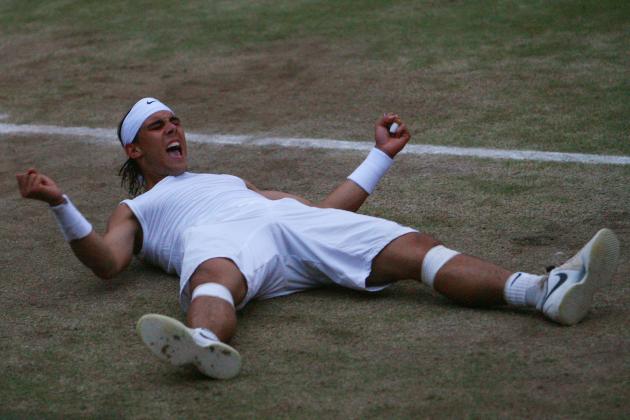 Julian Finney/Getty Images

Regardless of how Rafael Nadal's tennis career finishes, he is cemented in history as one of the sport's most unforgettable legends.
The King of Clay, Nadal has won more French Open titles than any other man in the Open era. A seven-time champion at Roland Garros, Nadal also boasts two Wimbledon crowns, and the elusive Career Golden Slam, having won all four majors and an Olympic gold medal.
With the 26-year-old star's future up in the air, it's time we look back on past moments that aching knees and stomach viruses can never take away from him.
Here we'll look back on Rafa's greatest moments so far.
Begin Slideshow

»
The first ever meeting between Rafael Nadal and Roger Federer came at the Miami Masters in 2004, when Nadal was just 17 years old.
Federer had only two major championships to his name at the time of their first meeting, but surprisingly lost in straight sets as Nadal kicked off one of the sport's greatest rivalries with a win.
Leading up to the 2012 French Open, Nadal once again flexed his muscles on clay, winning the Monte Carlo Masters for a record eighth consecutive time, defeating Novak Djokovic in the final in the process.
While many only point to the French Open when discussing Rafa's strengths on clay, his dominance at other clay court tournaments, including the Rome Masters and Barcelona Open in the past cannot be overlooked.
In one of the greatest years ever by a tennis player, Nadal won three majors in 2010, including his second career Wimbledon championship, elevating himself to legend status with a win over Tomas Berdych, just two years after surviving Federer in the longest final ever at the All England Club.
Nadal will always be renowned for his ability to dominate on clay, but in 2009 he proved that he can be a world champion on any surface, including the hard courts Down Under.
Nadal beat Roger Federer in a fantastic, five-set 2009 Aussie Open final to claim a Grand Slam title on every surface, including clay and grass.
Nadal joined Bjorn Borg in 2008 as the only two men in the Open era to win four consecutive French Open titles.
After defeating Mariano Puerta in the 2005 French Open final, Nadal beat Roger Federer in three straight French Open finals from 2006 to 2008, never needing more than four sets and proving to be arguably the greatest of all time on clay.
At age 22, Nadal won gold for his native Spain at the 2008 Summer Olympics, defeating Chile's Fernando Gonzalez in the gold medal match.
After earning Slam titles in Australia and the United States in 2009 and 2010 respectively he would wrap the Career Golden Slam, a challenging feat accomplished by few tennis players throughout history.
Up until late-2010, Rafa had won the Australian Open, the French Open multiple times, Wimbledon twice and even an Olympic gold medal. But he had never won at Flushing Meadows, the site of the U.S. Open, the year's final Slam.
After taking out Novak Djokovic in four sets, Nadal completed the Career Golden Slam and put the finishing touches on one of the greatest years by any player in history, winning three of the four Slams in 2010 (something that's only been accomplished 13 times by 11 men in the history of the sport).
There's nothing quite like your first time.
In 2005, at the age of 19, the Spaniard conquered the Paris clay for the first time to win his first ever Grand Slam championship. He would go on to win the next three French Opens and six of the next seven.
After winning his first there as a teenager, Nadal would win his 11th Grand Slam at the clay major seven years later.
Nadal accomplished something no other male player has since the Open era began in the late 1960s, winning a record seventh French Open title, solidifying himself as the undisputed King of Clay and the greatest men's champion Roland Garros has ever seen.
After a rain delay forced the final to be played on a Monday, Nadal outlasted rival Novak Djokovic in four sets to win his third straight French Open crown and seventh in eight tries.
After experiencing more than his fair share of heartbreak at Wimbledon, losing in the final to Roger Federer in 2006 and 2007, Nadal finally conquered Fed and the All England Club in 2008.
After nearly five hours of play (longest men's final in Wimbledon history), it was Nadal surviving a back and forth five-set thriller. No doubt one of the greatest Grand Slam finals ever played, this match had it all, and is without question Rafa's greatest moment.
Follow Bleacher Report Featured Columnist Patrick Clarke on Twitter.