Kansas State vs. West Virginia: Live Scores, Analysis and Results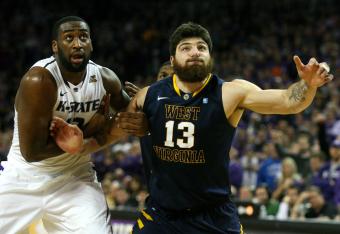 Scott Sewell-USA TODAY Sports
FINAL: Kansas State 65, West Virginia 64
It was nearly a monumental win in the Coliseum for West Virginia. However, Kansas State stymied the Mountaineers' upset bid with a pass deflection and blocked shot on the final play, improving to 13-2 overall on the year.
Rodney McGruder and Shane Southwell led the way for the Wildcats. McGruder had 17 points and six rebounds, carrying the Cats through foul trouble. However, it was Southwell who came on strong in the final seven minutes to tally 17 points, four rebounds, three assists, a block and a steal.
Their efforts were enough to overcome one of WVU's better shooting performances of the year. The Mountaineers were paced by Aaric Murray, Terry Henderson and Jabarie Hinds, who combined for 36 points.
Thanks to those who followed along for this thrilling Saturday afternoon matchup. Feel free to drop your reactions in the comment section below.
Preach!
Final play about sums up West Virginia's season. Whoop-whoop-whoop whoopsie.

— Dana O'Neil (@ESPNDanaOneil) January 12, 2013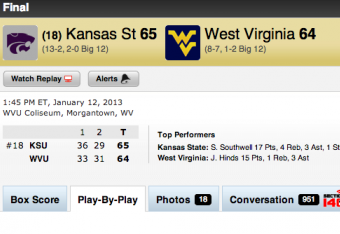 FINAL: Kansas State 65, West Virginia 64
Excellent defense from K-State on that final play!
Rodriguez knocks the pass away, forcing Browne to retreat and try a near coast-to-coast layup.
That shot was blocked, and KSU will walk away with a win.
Heartbreaking loss for the Mountaineers, who fall to 8-7, while the Wildcats improve to 13-2.
Here's a shot of the final box from ESPN.
Kansas State Timeout
K-State counters with a timeout of its own.
The suspense builds...
WVU Timeout
KSU 65, WVU 64—Second Half, 0:09
Ice in the veins of Southwell, burying two free throws despite a rocking Coliseum.
West Virginia will have the final shot.
All down to this!
Look for WVU to quickly find some isolation or make an easy shot on the inside.
WVU 64, KSU 63—Second Half, 0:21.4
ERON HARRIS!
Huge fadeaway jumper. He almost slipped down and lost the ball earlier in the play, but found the ball back in his hands and made an enormous shot.
It looks like WVU went to the 1-3-1 zone to pick up that big defensive stop.
Mountaineers did the same thing on Wednesday in the same situation against Texas.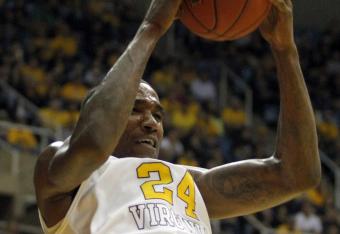 West Virginia Timeout
KSU 63, WVU 62
Murray banging his way in for two, which is exactly what WVU has needed for the last 15 minutes of game time.
Mountaineers within a whisker.
54 percent on three pointers: good. 54 percent on free throws: bad.
#WVU trails Kansas State 63-60 with 2:09 to play. Mountaineers are 12-of-22 (54.5%) from the foul-line today.

— Cody Schuler (@ccodyschuler) January 12, 2013
WVU Timeout
KSU 63, WVU 60—Second Half, 2:09
Wow! Rodriguez makes up for his travel with a great running layup. Not sure how that went in, but it did and WVU takes another TO.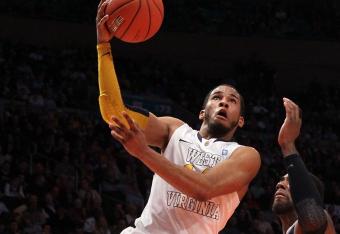 Timeout WVU
KSU 61, WVU 60—Second Half, 2:48
KSU hits a pair at the line but Browne answers right back with pretty fadeaway.
Rodriguez driving in on the next possession, but he was stood up and called for a travel.
Timeouts: KSU: 2 WVU 3
Possession: KSU
Fouls: KSU 9, WVU 6
Kevin Noreen missed some time with a bit of foul trouble, but he just came up with a huge second-chance bucket.
He looked as awkward as possible doing it, but two points is two points, as they say.
They say that right?
KSU 59, WVU 58
Henriquez elected not to put the warmups back on. For what it's worth, it's usually pretty toasty in the Coliseum.
Southwell with a nice runner to extend the K-State lead. West Virginia needs an answer on this possession.
KSU 59, WVU 56—Second Half, 3:52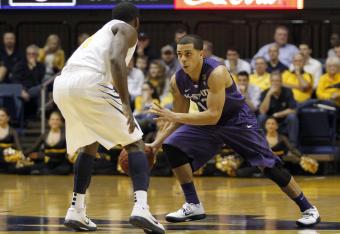 Kansas State 57, West Virginia 56—Second Half, 4:31
Angel Rodriguez with an enormous three!
KSU does just that, taking the lead back. WVU squanders its offensive possession.
Mountaineers still failing to push the ball inside against K-State's increasingly thin front line.
Murray only picks up one off the line after the foul on Henriquez.
KSU with a chance to tie or take the lead back on this possession.
WVU 56, KSU 54
It has really been all McGruder in this second half for K-State.
Someone else needs to help him out.
It won't be Henriquez, as he just picked up his fifth foul, and he'll throw his warmups back on.
WVU 55, KSU 54
Media Timeout
West Virginia 53, Kansas State 52—Second Half, 7:40
Couldn't ask for a better game between these teams than the one we've had today.
As we approach the home stretch, WVU just barely leads.
K-State taking its turn being cold. Wildcats have hit only one of their last 10 from the field. #WVU takes a 53-52 lead.

— Patrick Southern (@patricksouthern) January 12, 2013
WVU 53, KSU 52
Murray and Rutledge beginning to take over together down low. They teamed up on a block, which led to a Rutledge drive.
He was fouled on the way up, but he did give WVU the lead at the line.
On the rebounds, Gipson had the ball bounce off his leg, but it will go to K-State nonetheless.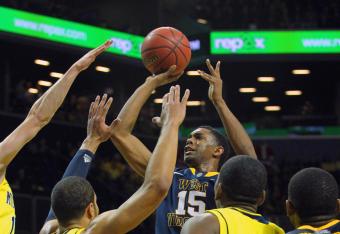 WVU 52, KSU 52
Mountaineers almost botched a 3-on-1, but Henderson managed to finish after an offensive rebound to tie it up.
Rutledge had the go-ahead basket but was called for a travel.
Gipson adding another at the line and KSU is staying just out of reach of West Virginia.
Gary Browne jacked up a three. Not a great decision. Mountaineers need to force it down low where KSU is thin with foul trouble.
KSU 52, WVU 50
That didn't look good. Adrian Diaz landed very awkwardly on his ankle and he's limping straight to the locker room.
KSU 51, WVU 50
WVU 50, KSU 50
Jabarie Hinds doesn't care about your goaltending call!
HUGE three from the sophomore and we have a tie ballgame.
Awful goaltending call. Coliseum fans know it, Bob Huggins knows it. The refs have to know it too:
Worst goaltending call I've ever seen, and Bob Huggins is an unhealthy shade of red.

— Patrick Southern (@patricksouthern) January 12, 2013
Wow, awesome inbounds play by West Virginia. Murray just snuck right out of the clutter, and he finished with a huge slam.
KSU 48, WVU 47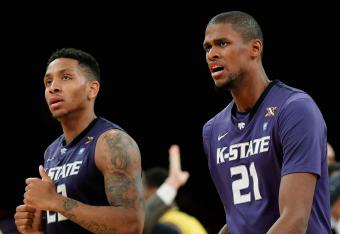 Kansas State 48, West Virginia 45—Second Half, 11;36
Four fouls on Henriquez, three on Williams and Gipson, while McGruder has two.
KSU forwards and wings seeing some foul trouble, which shifts the advantage down low to WVU. This will be crucial over the next seven-plus minutes of game time.
This article is
What is the duplicate article?
Why is this article offensive?
Where is this article plagiarized from?
Why is this article poorly edited?