Novak Djokovic: Counting Down Djoker's Most Jaw-Dropping Moments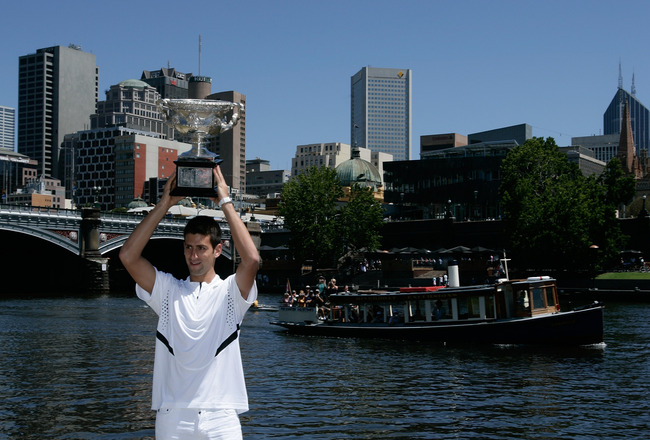 Kristian Dowling/Getty Images
How does one go about defining "jaw-dropping"?
Is it a single moment which literally causes you to drop your jaw? Or is it greatness revealed over time which is truly unbelievable?
It is something else entirely?
Any, and all, would probably suffice.
The larger point is that Novak Djokovic has had more than a few jaw-dropping moments in his illustrious tennis career. The 25-year-old that finished consecutive seasons at No. 1 is the best player in the game, and has been for the better part of two years.
With such a resume, there are bound to be more than a few jaw-dropping moments. Here are but a few of them.
6. Djokovic Does the Salsa in Colombia, and Does It Well
I'm not sure which is more amazing: That a Serb (Djokovic) could do the salsa or that a Spaniard (Nadal) would look so utterly unintrigued and embarrassed to perform a dance that is at least moderately native to him.
I'll go with the fact that a white Serbian man, again Djokovic, looked so natural (relatively speaking of course) doing the salsa. Roger Federer was the quintessential renaissance man early in his career (and still is by most accounts, though now married).
Djoker may be trying to take a page from Federer's book.
This being jaw-dropping might be an exaggeration, but it is odd at least.
5. Djoker Takes His Anger out on Perrier Sign at French Open
In some cases, a jaw-dropping moment is not exactly what you'd consider a good thing.
Such was the case here, when Djokovic became so enraged during a break in play that he took all his anger out on the innocent Perrier sign. The sign shattered, and Djokovic looked a little silly for displacing his anger on a sign, instead of on the court.
Djokovic is yet to win a French Open title (which is the only Grand Slam event he has not reigned victorious in his career thus far). That may have been a key reason for his anger.
4. A Young Djokovic Looks Like a Future Pro
It's hard to say which is more jaw-dropping, the outfit that the six-year-old Novak Djokovic dawned or the simple fact that at such a young age, Djokovic looked like a professional.
Some may refer to this as a cute video. The fact though, is that the little kid looked like a phenom at such a young age. He looks a little like Tiger with a golf club in his hand at the same age.
3. Shot on the Line in Sony Ericcson Open Final Leads to Victory vs. Rafa Nadal
It was not a match-clinching shot, nor a set-clinching or even a game-clinching shot.
But Novak Djokovic's effort to not only hold point in a tremendous back-and-forth rally between he and Rafael Nadal in the men's final of the Miami Masters (the non-corporate name for the Sony Ericsson Open), but to hit a winning shot across his body and keep the ball in play was nothing short of amazing.
2. Djoker Wins 4 Consecutive Return Points vs. Andy Murray in '12 Australian Open
It's not that a player has never won a game on four consecutive returns. It's that Djokovic did it against one of the top players in the world, Andy Murray.
The match was in the semis of the 2012 Australian Open. In other words, both players had been playing great tennis for the better part of two weeks.
To see a player dominate a game the way Djokovic did here is beyond impressive. It's unreal.
1. Easy Point, Until He Babied It
In case it isn't obvious yet, jaw-dropping moments are not always a positive development for the player in question. In this case, Djokovic perfectly played the point to get an easy kill off a lob from opponent Sergiy Stakhovsky.
The only problem was that he babied the return into the net. It was another moment that made anyone who has followed Djokovic's career drop their jaw.
Obviously many tennis players have made this mistake in the past. Few have been so critiqued for it. That's what happens when you're one of the best players in tennis history.
Keep Reading