10 College Football Teams That Will Count on Freshmen in 2013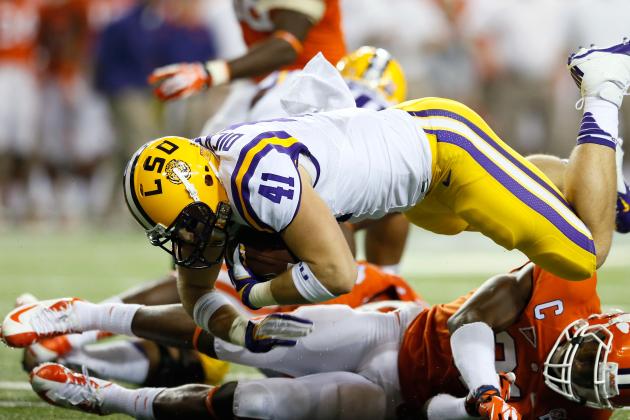 Kevin C. Cox/Getty Images

College football has evolved in a number of ways over the years, but the most impressive recent change has been the developments in recruiting. Players are now more ready than ever to compete from day one, and these 10 teams will count on new freshmen to make impacts in 2013.
Looking at past title winning teams, there have been a number of freshmen impact players that have helped win ballgames.
Alabama would have struggled to find a playmaker in the passing game this past season without freshman Amari Cooper. Penn State, USC and Ohio State are trying to overcome scholarship reductions, and they are doing it with young talent.
Playing freshmen is no longer a death sentence for a team's season. It actually can be a blessing with the talent that is on the recruiting trail. Here are the 10 teams that will need freshmen in 2013.
Begin Slideshow

»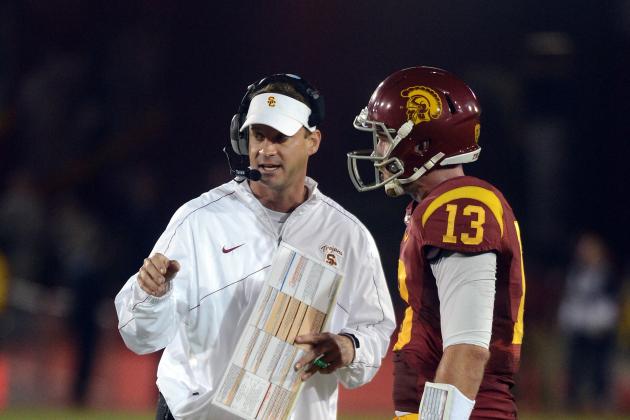 Harry How/Getty Images

The USC Trojans have compiled one of the highest rated recruiting classes for the 2013 recruiting cycle with less than a month away from signing day.
Losing stars like Robert Woods and T.J. McDonald will hurt the team, but there are freshmen that will be ready to pick up the flag and keep the winning ways alive in L.A.
Nearly every position on the Trojans roster returns experience in 2013, but the few positions that lose talent lose it in a big way. Free safety will lose both first and second stringers, while the receiving corps is losing a major player in Woods.
Look for Su'a Cravens and Leon McQuay III to make moves at the safety position, and Max Browne to challenge for the starting quarterback spot out of the gate this spring.
USC is loaded and will challenge the Pac-12 with some key freshmen contributors in 2013.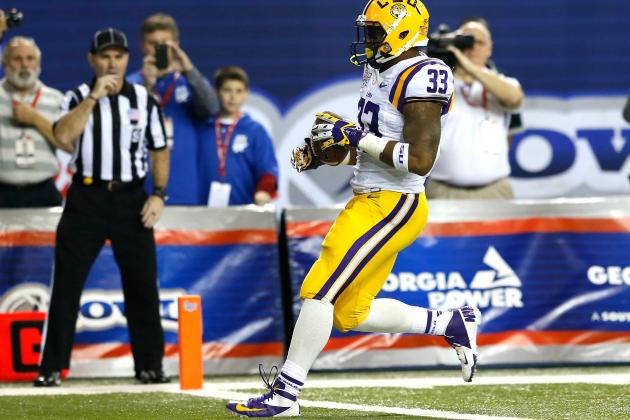 Kevin C. Cox/Getty Images

LSU has witnessed a mass defection to the NFL that may be unprecedented following the 2012 season. 10 juniors declared for the draft after the conclusion of the season.
While that is not the best news for a head coach to face, it isn't terrible for Les Miles and Co. The Tigers are stacked with talent already on roster, but key positions will need to have freshmen contributors for LSU to survive.
Defensive end will be the biggest need for this class. The Tigers already have Kendell Beckwith and Frank Herron in the fold, and they are working on Robert Nkemdiche. Getting those three would make this an unstoppable class.
Another area to watch is the offensive line, where incoming freshman Ehan Pocic is expected to make an impact as an early enrollee this spring.
Eric Francis/Getty Images

Penn State will face a lot of adversity in the coming years as it attempts to overcome the devastating NCAA sanctions that were levied this summer. One positive to look to is incoming freshman Christian Hackenberg.
Hackenberg is good enough to step in and pick up where Matt McGloin left off, and help guide this team through the tumultuous four years ahead. Look for Hackenberg to be a part of the quarterback race from day one.
The Nittany Lions are losing a number of contributors on the defensive line, and will look to incoming freshmen to fill the void—especially at the defensive end position.
This team will have a lot of adversity to overcome, but this recruiting class will help usher in a new era for the Penn State program.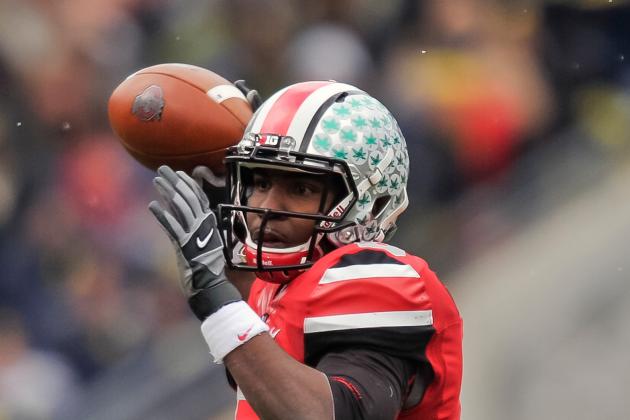 Jamie Sabau/Getty Images

The Buckeyes did the unthinkable this year when they finished the season undefeated in Urban Meyer's first season. The problem facing the team heading into the fall is a number of key players on the defense will depart, and the Buckeyes need playmakers.
Key losses are coming at cornerback, defensive line and linebacker. Urban Meyer and his coaches have filled out a strong class so far, landing two cornerback, and two defensive line early enrollees.
The Buckeyes also landed two major linebacker commits when Trey Johnson and Mike Mitchell committed to Ohio State on consecutive days during the UA and Army All-American games.
Look for Mitchell to get an early look at outside linebacker where the Buckeyes are losing two seniors.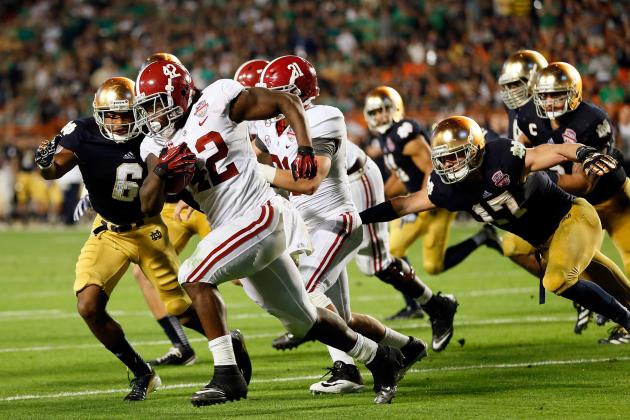 Kevin C. Cox/Getty Images

The Alabama Crimson Tide reloads every season on the recruiting trail, and always seems to have an endless supply of redshirt playmakers on the roster.
No matter how much talent is waiting in the wings to hit the field for the Tide, a number of incoming freshmen always find a way to make an impact. This year it was T.J. Yeldon and Amari Cooper.
In 2013, it could be Robert Foster at receiver or O.J. Howard at tight end. Another name to watch is Derrick Henry. Henry is a 6'3", 240-pound bruising running back that may stay at the position or shift once he hits the Capstone.
If Henry stays at running back, he will be a major piece of the offense in 2013.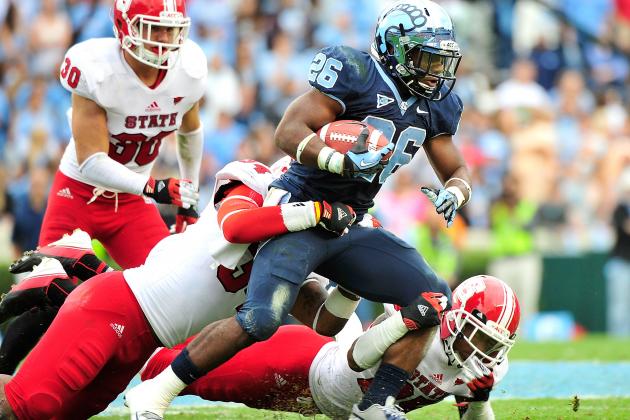 Grant Halverson/Getty Images

The Tar Heels had a great season winning eight games under new head coach Larry Fedora this past season. They will lose major playmaker Giovanni Bernard at running back in 2013, forcing North Carolina to find a new feature back for the offense.
The Tar Heels have two running backs in the fold, with one already on campus as an early enrollee. Khris Francis has a great shot at becoming a part of the depth chart early this spring. Once summer hits, big things are expected from fellow incoming freshman T.J. Logan.
Finding instant playmakers at corner is another focus, and will be a big piece of the recruiting picture as the final month of recruiting winds down.
Desmond Lawrence is a corner that has a great shot at making waves early for the boys from Chapel Hill.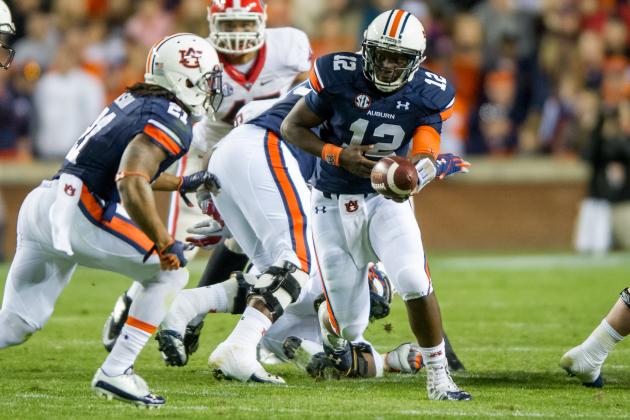 Michael Chang/Getty Images

The Auburn Tigers have fallen harder than any team in recent memory. Just two years ago the Tigers were winning a national title, and now they head into the offseason as a 3-9 squad.
There is a lot of talent that is on the Plains that simply needs proper direction, but there are a number of key areas where the Tigers need help immediately. The JUCO ranks have helped, but there are needs that freshmen will fill immediately.
The defensive line and linebacker position are two key areas that need immediate playmakers. If the Tigers can hold on to stars Dee Liner and Carl Lawson, they will step in during the start of fall camp.
Cameron Toney is the only current linebacker commit for Auburn, and will likely earn time early. Look for the Tigers to sign at least one more linebacker—the Tigers hope Reuben Foster—in the 2013 class as they look for immediate defensive playmakers.
Al Messerschmidt/Getty Images

The Michigan Wolverines are prepping for a star-studded recruiting class in 2013. There are a number of needs for the Wolverines on defense, and this class will fill those needs.
Virtually every post on the defense will need a newcomer to step in and help the Wolverines from day one. Early enrollees Dymonte Thomas and Taco Charlton are expected to be in the fold before the fall.
Look for Henry Poggi to make waves on the defensive line, and Ben Gedeon to get an early look at linebacker.
Although the Wolverines have a solid quarterback starter returning in Devin Gardner, Shane Morris could make a push for some playing time before the 2013 season is out.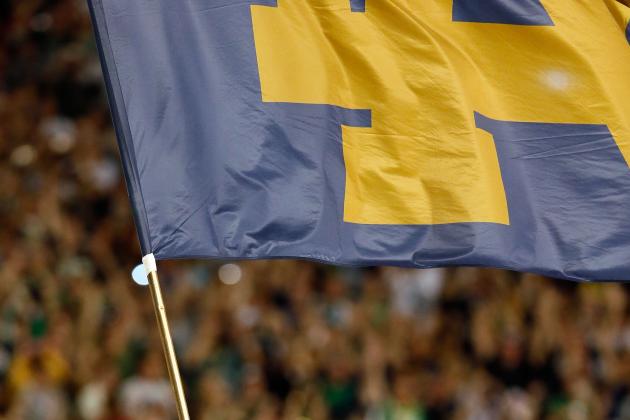 Kevin C. Cox/Getty Images

Notre Dame was outgunned and outmatched in the BCS National Championship in Miami this January. The Irish couldn't do anything with the football, and they couldn't stop Alabama from doing as it pleased on offense.
The Irish will lose a number of key players on defense, and will lose half of the backfield to graduation this spring. Greg Bryant will be called on as a true freshman to make an impact for the Notre Dame offense this fall.
Max Redfield will also likely get starting time at safety before the season ends. He is a stud safety prospect and could step in where Zeke Motta is leaving off as he departs South Bend.
The Irish need immediate impacts from these talented freshmen if they plan on contending for a title again in 2013.
Ezra Shaw/Getty Images

The Washington Huskies are a few plays away from becoming a contender in the Pac-12 consistently. The Huskies have very few immediate needs, but wide receiver and the secondary should see some freshmen contributors.
Washington has built a strong program around young talent, and heading into the 2013 season they won't need to rely on star recruits as they have in the past.
Even still, Demorea Stringfellow and Darrell Daniels are prepped to make major waves at receiver. Guys like Jermaine Kelly and Kevin King are looking for shots to play early in the Huskies secondary.
This recruiting class will put Washington at the top of the Pac-12. Look for key freshmen contribution where it is needed to help lead this team to the top of the North Division.