2013 NHL Fantasy Sleepers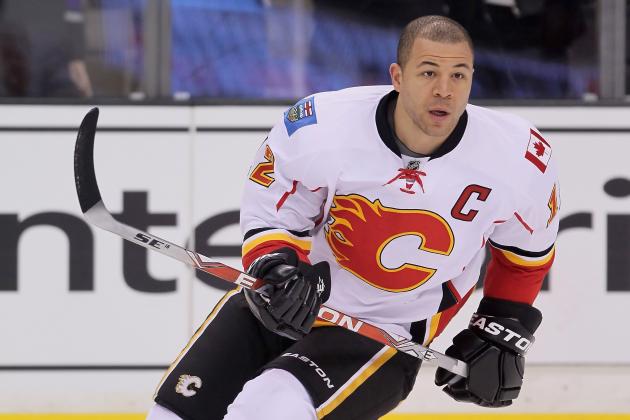 Jeff Gross/Getty Images

The NHL suddenly has life, meaning that fantasy fans everywhere are in a mad dash to draft their 2013 NHL fantasy teams.
The only plus one can think of in terms of the lockout is the fact that the NHL will be cruising at a breakneck speed this season. With only a 48-game season beginning on January 19, there's no time to waste.
Now, the excitement for all things hockey is bubbling at the moment. Fearing that this season would never take place, fans may be behind in their fantasy homework.
Bleacher Report is here to help you construct a winner this season.
Like defense, sleepers win championships.
Here are the top 13 sleepers for the 2013 NHL season.
Begin Slideshow

»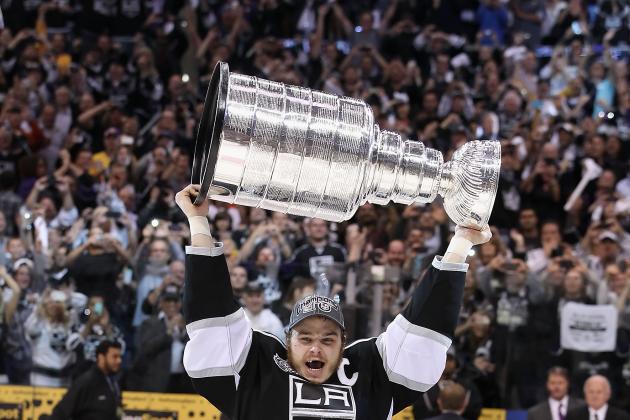 Christian Petersen/Getty Images

So, why is the captain of the defending Stanley Cup Champion Los Angeles Kings on this list?
On the surface, Dustin Brown's numbers aren't too attractive. In eight years in the league he's never surpassed 60 points. Looking at that number alone one may not realize he's scored 20-plus goals in five straight seasons.
That's not the only reason why he's so valuable.
He valuable because he puts up strong numbers across the fantasy board.
He racked up 293 hits last season, scored on the power play and lit the lamp six times for game-winners in 2011-12. He was also a plus-18 last season and is not afraid to take a penalty.
His 20 points in the playoffs last season also give him momentum heading into this season.
There's a reason why he's captain of the Kings, which just so happens to be the same reason he should find his way onto your roster—he can do it all.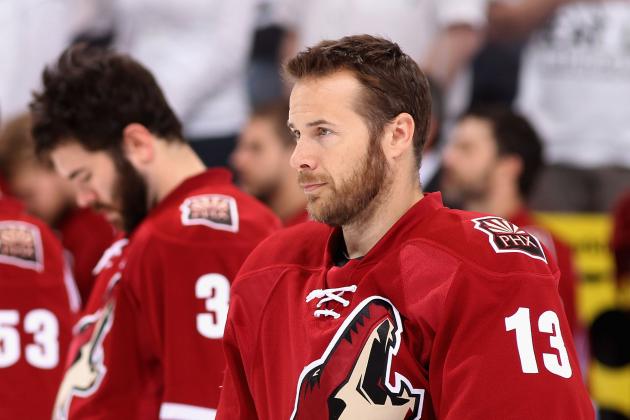 Christian Petersen/Getty Images

Now a member of the Dallas Stars, Ray Whitney is an ageless wonder.
Last season he put up 77 points and was a plus-26. Dallas will be kind to him along with fellow newcomer Jaromir Jagr as the Stars have a great mix of veteran leadership and young talent.
He played every game last year, and the long layoff will mean Whitney is well-rested and ready to go.
Finding the scoresheet at least on a nightly basis is a definite possibility for Whitney this season.
Although the Stars missed the postseason in 2011-12, they are a dark-horse Cup contender this time around.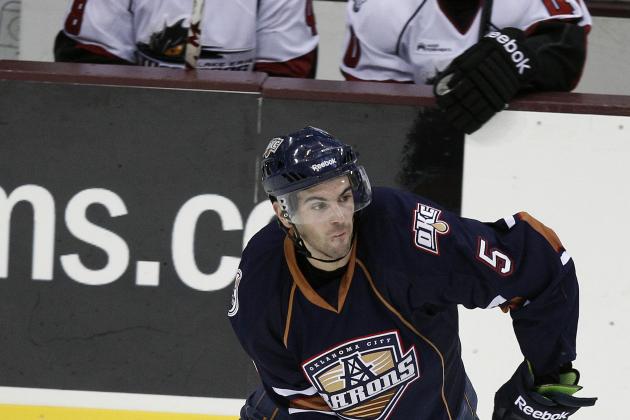 David Maxwell/Getty Images

Justin Schultz will finally make his highly anticipated NHL debut with the Edmonton Oilers this season.
After a detour on his way to the league, he'll be the topic of many debates in 2013.
The 22-year-old blueliner is absolutely tearing up the AHL this season.
His 48 points in just 34 games is a testament to his talent, but that doesn't mean he'll be in the NHL for the entire season.
That's where the debate for the Oilers begins.
The team is in a must-win situation this season and won't reach its maximum potential without Schultz.
If the Oilers are to make the playoffs this season, Schultz will be their X-factor.
He will still be around in the late rounds and should be taken in all fantasy drafts. Even if he doesn't start the season in Edmonton, stash him on your bench until he gets his chance.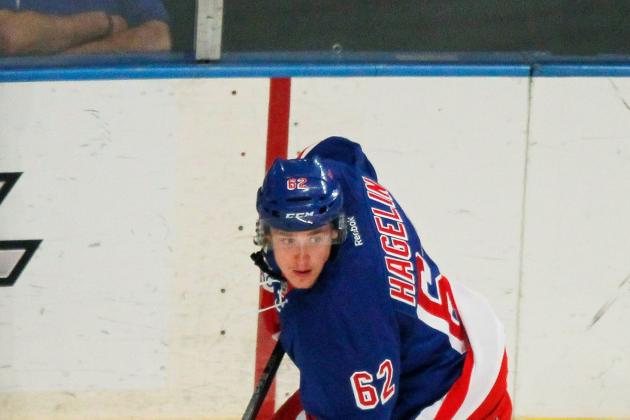 Paul Bereswill/Getty Images

The New York Rangers are a Stanley Cup favorite heading into the season because of their loaded lineup, but it's second-year man Carl Hagelin who makes them go.
His 38 points and plus-21 as a rookie is all the evidence one needs to believe that he'll flourish this season.
He's going to be on the ice with superstars on a regular basis and will reap the rewards.
The confidence he gained as a rookie will show through this season as he looks to make himself a staple heading into next.
Remember Hagelin when you're trying to find a diamond in the rough in the late rounds.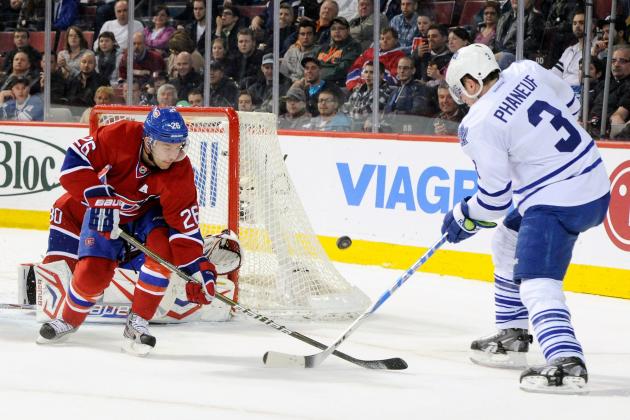 Richard Wolowicz/Getty Images

Josh Gorges of the Montreal Canadiens is simply fearless.
His 250 blocked shots in 2011-12 topped the league leaders and were 51 more than the nearest man.
Although the Canadiens finished last in the Eastern Conference last season, one can only imagine how much worse they would have been without him.
With Gorges on your side, you could easily take the blocked shots category on a weekly basis.
His plus-14 a year ago is a nice added bonus.
There's no reason to throw this category away, so take him with your final pick.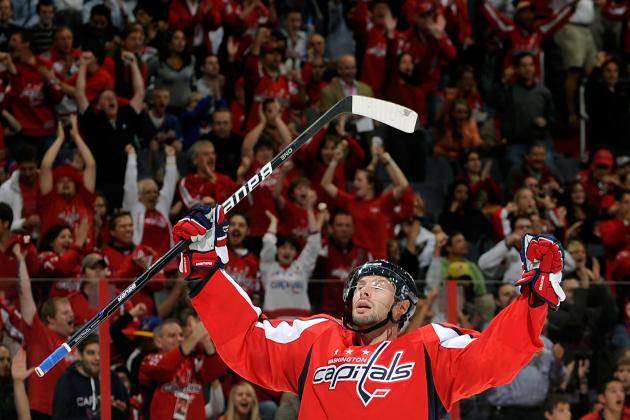 Greg Fiume/Getty Images

Troy Brouwer of the Washington Capitals can do a little bit of everything.
He's scored 25-plus points in four straight seasons, and his toughness gets him plenty of ice time.
His 247 hits last season combined with the departure of Alexander Semin means that the Caps will turn to Brouwer to step up his offensive game to reach new heights this season.
He's the hard-nosed grinder every team in the NHL needs.
He's the guy you need on your team.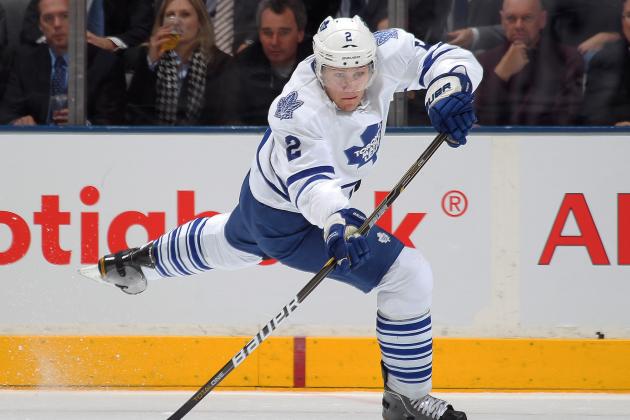 Claus Andersen/Getty Images

The Philadelphia Flyers upgraded their defense with the addition of young but experienced Luke Schenn this offseason via a trade with the Toronto Maple Leafs.
Now playing with his younger brother Brayden, the boys will feel right at home, and their all-around improvement in their games will show.
Luke is a stable defender who will benefit from the added offense he'll find in Philly. He also has added value in the hits and blocked shots department. Last season he rattled opponents 270 times and blocked 115 shots.
With that kind of grit he'll quickly become a fan favorite in Philadelphia. Don't be afraid to grab him while you can.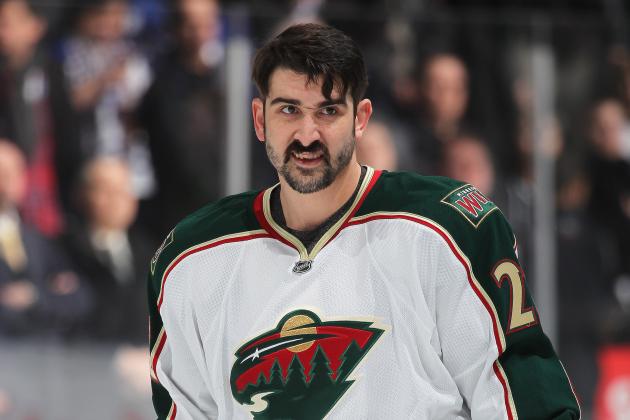 Claus Andersen/Getty Images

Cal Clutterbuck looks like he could be an old-time gunslinger in the Wild West.
Good thing for the Minnesota Wild, he's one of them.
He's a perfect fit on this team as he'll most certainly be a linemate and personal protector for Zach Parise this season. His 288 hits last season ranked third in the league.
Clutterbuck is an NHL GM's dream—not only is he big and tough, but he can also put the puck in the net.
He's scored 10-plus goals in four straight seasons and will be sitting on the doorstep waiting to pick up the garbage goals created by the likes of Parise and others.
With all eyes in the NHL world paying close attention to the Wild, don't be surprised when Clutterbuck has a cult-like following behind him by the end of the season.
Even with a strike-shortened season, Clutterbuck will reach double-digit goals.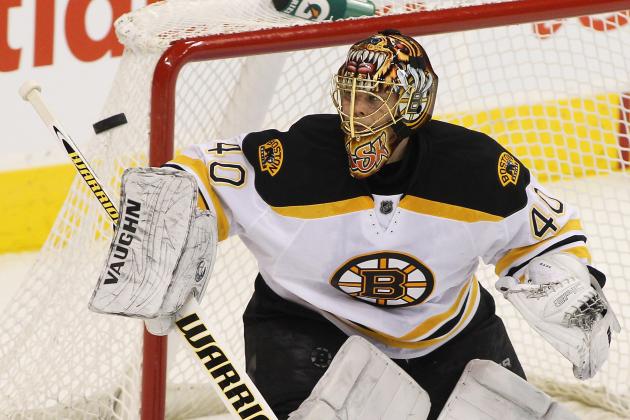 Marianne Helm/Getty Images

Why there is doubt surrounding Tuukka Rask as the No. 1 goaltender in Boston this season is baffling.
He, not Tim Thomas, is the answer between the pipes for the Bruins now and in the future.
In 102 career appearances his goals against average is a stout 2.20, and his current one-year deal means that he's playing for a big payday next offseason.
Thanks to being on a stacked squad poised to launch a dynasty, Rask will shine this season.
He'll be left untouched until the later rounds due to the fear about him being a No. 1, but don't let that fact scare you away.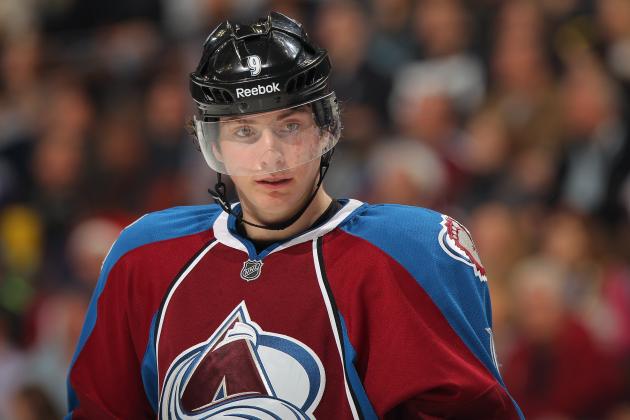 Doug Pensinger/Getty Images

There's nothing but momentum surrounding Colorado Avalanche center Matt Duchene.
Due to the fact that he only played 58 games last season, his draft stock will drop. At only 21 years old, Duchene will be chomping at the bit to get back on the ice.
This is a kid who notched 51 goals and 71 assists in his first two seasons in the league. The Avs are expected to make a push for the playoffs, and they'll need Duchene to be back to his old self if that is to happen.
Look for Duchene to re-establish himself as a franchise cornerstone this season and have all the momentum in the world heading into the 2013-14 season.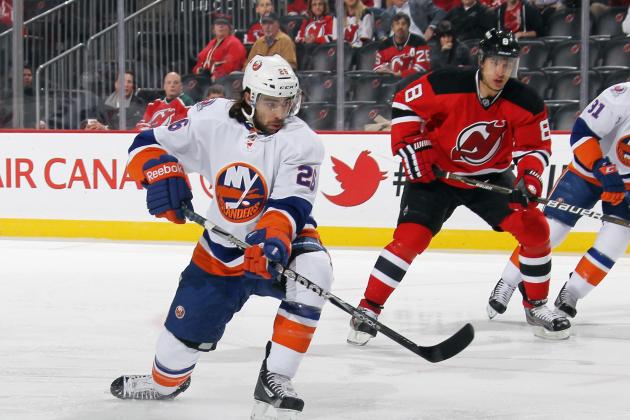 Bruce Bennett/Getty Images

Matt Moulson of the New York Islanders has scored 30-plus goals in each of the past three NHL seasons. It certainly helps that he's played in all 246 possible games over that time period.
Somehow, Moulson will slip into the fifth or sixth round of your fantasy draft. Don't be the one to let him slide by.
Together with John Tavares, the tandem makes up one of the most dangerous duos in the NHL.
You may be weary of Moulson because he plays for the perpetually woeful Islanders, but thanks to the youth movement on the Isles, the future is bright.
Don't think twice when Moulson is still available after the third round.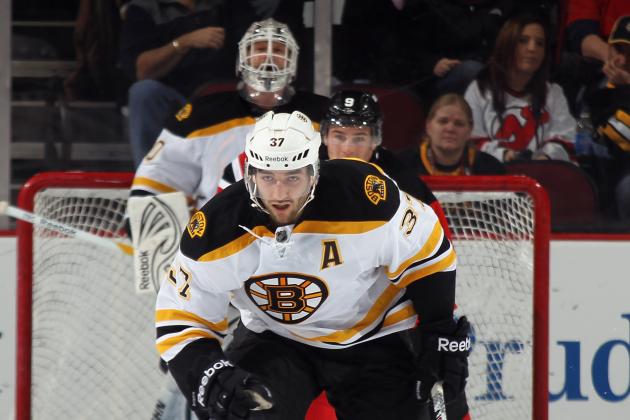 Bruce Bennett/Getty Images

There's nothing Patrice Bergeron of the Boston Bruins can't do on the ice.
Truth be told, he's one of the most underrated players in the entire NHL.
Yes, the 64 points he tallied last season look nice, but that only scratches the surface of his value.
In 2011-12 he won 973 faceoffs at a rate of 59.3 percent, best in the league. His plus-36 was also tops in the NHL, and he totaled 14 points on the power play and had two short-handed goals.
In deeper fantasy leagues, these are the categories that will put you over the top week-in and week-out.
Don't pass on Bergeron.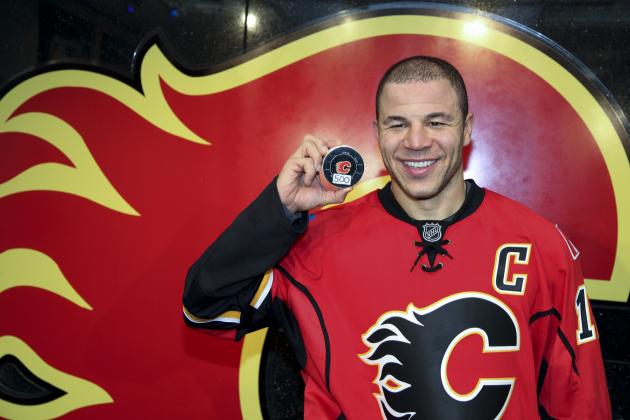 Mike Ridewood/Getty Images

So, how exactly is a man who's scored 516 goals over his illustrious career a fantasy sleeper?
Jarome Iginla of the Calgary Flames is now 35 years old and his team isn't a contender, that's how.
Hold that thought—he's a future Hall of Famer who's scored 30-plus goals in a ridiculous 11 consecutive seasons.
There's no doubt that he's still valuable and coveted in the fantasy world, but it seems like he's an afterthought at the moment, thus making him the definition of a sleeper.
And after years of trade talk, he has a great chance to get moved to a contender by the trade deadline sometime in early April. He's in the final season of his existing deal, and the Flames organization will be classy, do him a bittersweet favor and send him on his way.
When he slips past the fourth round, make sure he slides onto your roster.