2013 NHL Schedule: 5 Games You Can't Miss on Opening Weekend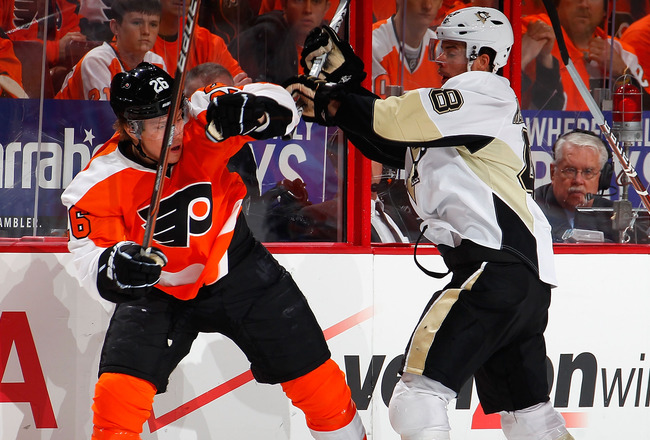 Paul Bereswill/Getty Images
The schedule for the 2012-13 lockout-shortened NHL season is finally in our hands, and to the league's credit, there are some amazing matchups to welcome hockey fans back on opening weekend.
There are several division and conference rivalries on the schedule for Saturday and Sunday, which will give fans some exciting hockey to enjoy all day.
Let's look at the five best matchups for the first weekend of the new NHL season. For a complete list of the 2013 schedule, click here.
Pittsburgh Penguins at Philadelphia Flyers
Date/Time: Saturday, January 19 at 3:00 p.m. ET
TV: NBC
Location: Wells Fargo Center, Philadelphia (PA)
You couldn't ask for a better matchup than Pittsburgh Penguins versus Philadelphia Flyers to start the new season. The league's most intense rivalry over the last few years will renew on opening day and should provide plenty of exciting and physical hockey for fans of all teams.
The Flyers took last year's season series 4-2, which was also how their first-round playoff series with the Penguins ended.
After being embarrassed in that playoff series, expect the Penguins to come into this game looking to make a statement to the Flyers, and the league as a whole with superstar forwards Evgeni Malkin and Sidney Crosby both healthy to start the season.
If this game is anything like last year's first-round series, hockey fans will be in for a treat on Saturday afternoon.
Player to Watch: Ilya Bryzgalov
The Flyers goalie didn't play well in the regular season last year, and also struggled in the Penguins series.
Many people are expecting a bounce-back season for Ilya Bryzgalov, and unless he greatly improves his level of performance from last season, he might not have a long-term future in Philadelphia with the possibility that his contract could be bought out in the summer.
A season-opening victory for Bryzgalov would help his confidence in a major way.
New York Rangers at Boston Bruins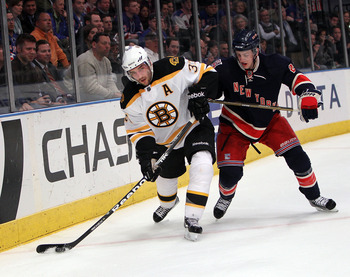 Bruce Bennett/Getty Images
Date/Time: Saturday, January 19 at 7:00 p.m. ET

TV: NHL Network
Location: TD Garden, Boston (MA)
The New York Rangers and Boston Bruins are the two best teams in the Eastern Conference, and this season-opening matchup could be a preview of this year's East finals.

The summer acquisition of superstar forward Rick Nash has made the Blueshirts the popular Stanley Cup pick this season, but for the Rangers to win their first championship since 1994, they will probably have to go through the Bruins.

This will be a great early-season test for both teams that will also show the coaches what kind of shape their players are in. Whenever these teams play, the games are very physical.

New York won both meetings at TD Garden last year, and took the season series 3-1 after splitting the two games at Madison Square Garden. The Rangers have actually won five of their last six games in Boston and are on a four-game winning streak at TD Garden.

Expect this to be a low-scoring, hard-hitting game that will be decided in the third period.
Player to Watch: Henrik Lundqvist
Henrik Lundqvist played very well in Boston last year, and has enjoyed a lot of success against Boston throughout his career.
He was 3-1 with a 1.73 GAA and a .946 save percentage in four games versus the Bruins last year, and if he can maintain this level of performance, it's hard to imagine the Rangers losing this game.
Chicago Blackhawks at Los Angeles Kings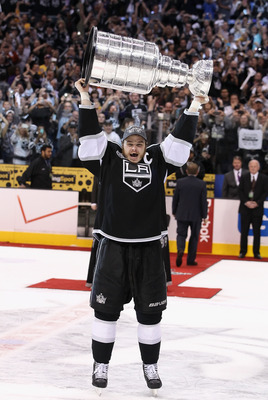 Christian Petersen/Getty Images
Date/Time: Saturday, January 19 at 3:00 p.m. ET
TV: NBC
Location: Staples Center, Los Angeles (CA)
The lockout put the Los Angeles Kings' Stanley Cup banner raising celebration on hold, but on Saturday the team and its fans will finally have a chance to recognize last year's championship one last time before the title defense begins.
Not only will the Kings raise the team's first Stanley Cup banner to the rafters at the Staples Center, the players will also receive their championship rings.
The matchup on the ice should be equally exciting, because the Kings and Chicago Blackhawks are two of the most talented teams in the NHL, and both have lots of star power at forward.
After losing in the first round of the playoffs again last year, the Blackhawks are determined to start this season strongly and make another Stanley Cup run.
Jonathan Toews, Patrick Kane and Marian Hossa are all healthy and ready to go for this game. Chicago will be relying on these three star forwards to shoulder a lot of the scoring burden this season.
They will need to perform at a high level against the Kings, because reigning Conn Smythe Trophy winner Jonathan Quick is the best goaltender in the NHL.
Player to Watch: Corey Crawford
Blackhawks goaltender Corey Crawford's wins total, GAA and save percentage worsened last season following an impressive rookie campaign.
His performances this season will determine how far Chicago advances in the playoffs, because it cannot make another championship run if the goaltending struggles like it did last year.
Toronto Maple Leafs at Montreal Canadiens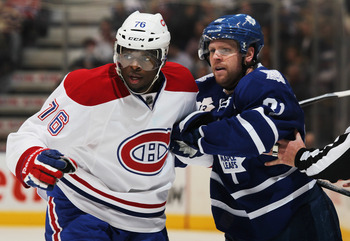 Claus Andersen/Getty Images
Date/Time: Saturday, January 19 at 7:00 p.m. ET
TV: CBC, RDS
Location: Bell Centre, Montreal (QC)
One of the league's best and oldest rivalries will begin a new chapter on Saturday night when the Toronto Maple Leafs and the Montreal Canadiens open their season against each other for the second year in a row. The Leafs won last year's season opener at the Air Canada Centre.
The two teams split last year's season series 3-3, which included a convincing 4-1 victory by the Canadiens in the season finale at the Bell Centre.
Both of these teams missed the playoffs last year, but that doesn't mean their fans don't have high expectations this season.
The Canadiens are good enough to earn a playoff spot if their key players stay healthy. For the Leafs to make the playoffs, they need starting goaltender James Reimer to play at a high level consistently. Toronto cannot finish 29th in goals against like it did last year and expect to make the playoffs in 2013.
Player to Watch: Joffrey Lupul
Joffrey Lupul had a great 2011-12 season, but a shoulder injury suffered against the Bruins on March 6 ended his year early than he would have liked.
His offensive production and ability to stay in the lineup consistently will have a major impact on the Leafs' success this season, and he also needs to perform at a high level to do well in free agency this summer.
Pittsburgh Penguins at New York Rangers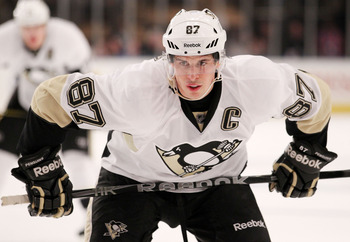 Nick Laham/Getty Images
Date/Time: Sunday, January 20 at 7:00 p.m. ET
TV: NHL Network
Location: Madison Square Garden, New York (NY)
The New York Rangers have to play two great teams to start the season. After a tough season opener in Boston on Saturday, the Rangers will host the rival Pittsburgh Penguins on Sunday at Madison Square Garden.
Pittsburgh won the season series 4-2 last year and will hope to start 2013 with two wins over Atlantic Division opponents after opening the season on the road against the Philadelphia Flyers on Saturday.
The Penguins scored the most goals of any team in the league last season and will need their offense to be firing on all cylinders against the talented Rangers blue line and star goaltender Henrik Lundqvist.
This matchup could also be a preview of the Eastern Conference finals, because these are the two best teams on paper heading into the 2012-13 season.
Player to Watch: Sidney Crosby
Crosby played in the final two meetings against the Rangers last season and scored no goals with three assists.
For the Penguins to win against a great defensive team with strong goaltending like the Rangers, they need Crosby to play at a high level and shine on the power play.
Keep Reading