The Houston Texans will take on the New England Patriots in Foxborough on Sunday for the right to play in the AFC Championship Game.
This Divisional Round showdown is a rematch of a Week 14 game where the Patriots dismantled the Texans 42-14. That loss marked the beginning of Houston's end of season slide and is one of the reasons why they're heavy underdogs heading into Sunday.
With that said, the Texans still finished with a 12-4 record and held on to beat the Cincinnati Bengals last week. However, the Texans will have to play a lot better this week if they hope to upset the Patriots.
The key to success for the Texans is slowing down Tom Brady. The pass rush needs to be at its best and the secondary has to better defend short passes.
If he's given enough time in the pocket, Brady will make even the toughest defenses pay. New England's offensive line consistently performs well and gives him the opportunity to thrive in the pocket.
J.J. Watt and company need to constantly be in Brady's face, knocking down passes and forcing the quarterback to scramble out of his comfort zone. Houston's pass rush has had great success this season, but in Week 14 they sacked Brady just once.
Brady completed 21-of-35 passes for 296 yards, four touchdowns and no interceptions.
His snap-to-release time was an impressive 2.27 seconds on average, according to ProFootballFocus.com. If Brady is able to accurately throw passes that rapidly again on Sunday, the Texans will need to clog the middle of the field and tackle receivers immediately after the catch.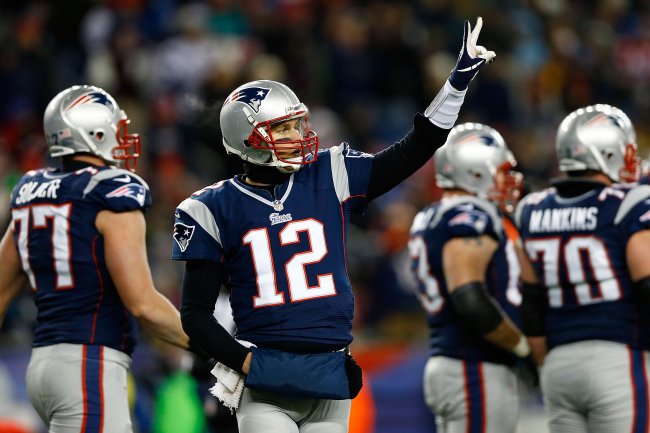 Jared Wickerham/Getty Images
New England's receivers make these short passes so much more dangerous than they should be by gaining extra yards after the catch. Wes Welker, for example, was once again first in the NFL in yards after catch this season.
Houston's defense cannot allow Welker, Rob Gronkowski or Aaron Hernandez to break tackles and turn short passes into significant gains.
An effective pass rush will help throw off Brady's timing and force him to continually try to make quick passes. With better pass coverage, specifically in the middle of the field, Houston should bring up third and long situations where Brady will have to take chances down field.
If they can do that and get even one turnover, it could have a huge impact on the game. Whether or not Matt Schaub and the offense can come through is a completely different story.
The Patriots are heavy favorites and rightly so. It will take a remarkable effort from Houston's defense and offense to eliminate New England.
Texans fans have to hope for a similar situation as that which played out in the 2010 season. The Patriots dominated the New York Jets in Week 13, winning 45-3. However, in the Divisional Round of the playoffs the Jets went to New England and escaped with a 28-21 victory.