Florida Football: 10 Ways the Offense Needs to Change in 2013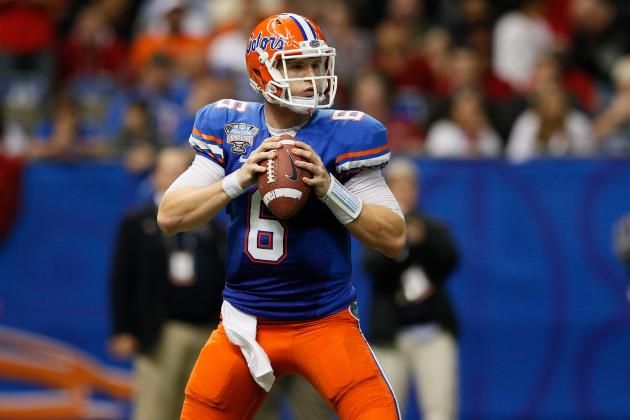 Kevin C. Cox/Getty Images
Jeff Driskel enters the 2013 season as the unquestioned starter at quarterback
The Florida Gators offense was broken in 2012.
The writing was on the wall from the very beginning, as Florida struggled to put points on the board against Bowling Green in the season opener. The offense continued to struggle throughout the season, but it's hard to complain about a team that is winning.
Florida's offense was one-dimensional, unimaginative and just plain hard to watch at times last season. With the defense set to lose most of its returning starters next season, the offense will need to pull its weight.
With so much room for improvement, let's take a look at the top 10 ways Florida's offense needs to improve in 2013.
Begin Slideshow

»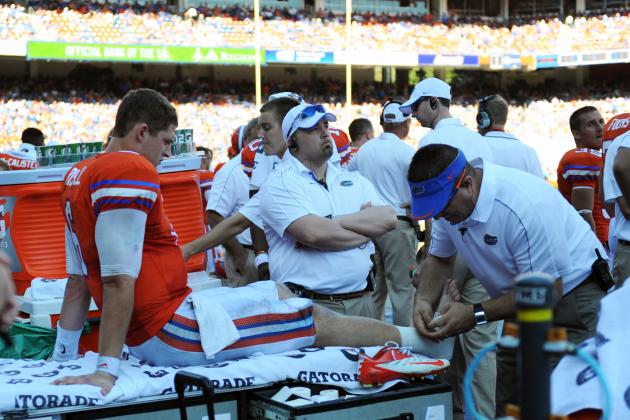 Al Messerschmidt/Getty Images
Jeff Driskel's has suffered ankle injuries in back-to-back seasons.
Jeff Driskel's greatest asset is his mobility. It won him the starting job over Jacoby Brissett and allowed him to stay alive behind an offensive line that struggled in pass protection.
While mobility is his greatest asset, it also is difficult to stay healthy playing that style of football in the SEC. Driskel has suffered ankle injuries in his first two seasons, and the Gators need to develop a solid backup.
The transfer of Jacoby Brissett takes away the security blanket that Florida had behind Driskel, and there is now a glaring hole after Driskel on the depth chart. The early contenders to back up Driskel are Tyler Murphy, Skyler Mornhinweg and Max Staver.
None of those three quarterbacks have attempted a pass, and Staver is a 2013 commit who isn't even on campus yet.
As we stand today,Mornhinweg has to be the favorite to win the backup job as he should be the best fit in Florida's pro-style offense.
Whoever wins the job should get considerable practice reps and be ready to play at a moment's notice.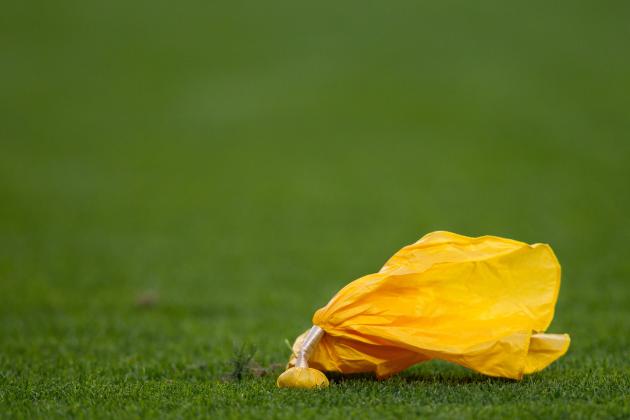 Justin Edmonds/Getty Images
Florida finished No. 122 in the country in penalties committed.
The Gators committed 125 penalties in 2012. That was worse than every team in the country except Washington and UCLA.
Forty-seven of those penalties were committed by the offense. Xavier Nixon's six flags led all offensive players.
Simply put, the offense is not good enough to perform the way it needs to if the players continually shoot themselves in the foot with penalties.
Penalties have been a problem the past two seasons under Will Muschamp, and it might be the biggest area the Gators need to clean up heading into 2013.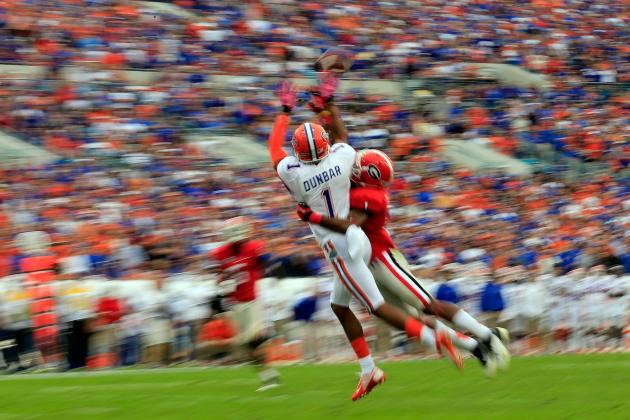 Sam Greenwood/Getty Images
Gator fans would love to see a more explosive offense
As long as Will Muschamp is at Florida, the Gators offense will never resemble the fun-'n-gun days of the Spurrier era. And that's OK.
Florida relies on a solid defense and a power running game, a formula that has been very successful for Nick Saban at Alabama.
However, what Alabama does that Florida doesn't do is take shots downfield.
The Gators lacked a vertical passing game for much of the season and relied too heavily on their rushing attack. So much so that teams began to stack the box with eight or nine players, and the Gators continued to run the ball.
Muschamp needs to let Brent Pease open the offense up more in 2013. Let Jeff Driskel air it out a couple of times a game to at least create an illusion that Florida wants to pass the ball. Creating a vertical threat will not only give the Gators offense more depth, it will keep defenses honest and open up more lanes in the running game.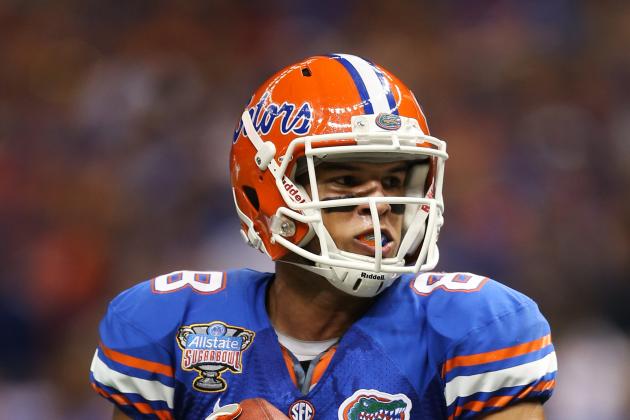 Matthew Stockman/Getty Images
Florida's offense lacked the creativity that Brent Pease utilized at Boise State.
With Brent Pease at Boise State, the Broncos became known for their creativity on offense.
Most famously, Boise State hit Oklahoma with everything but the kitchen sink in the 2007 Fiesta Bowl. The game featured a hook and ladder, statue of liberty, a wide receiver passing for a touchdown and even a proposal.
Now I'm not asking for Jeff Driskel to propose to his girlfriend on the sideline, but the monotony of Florida's offense became hard to watch in 2012.
Trey Burton's failed pass attempt to his brother was a good idea but really makes you wonder what backyard games of catch looked like at the Burton house when Trey and Clay were growing up.
For better or for worse, mix it up and add a little trickery to the Gators offense.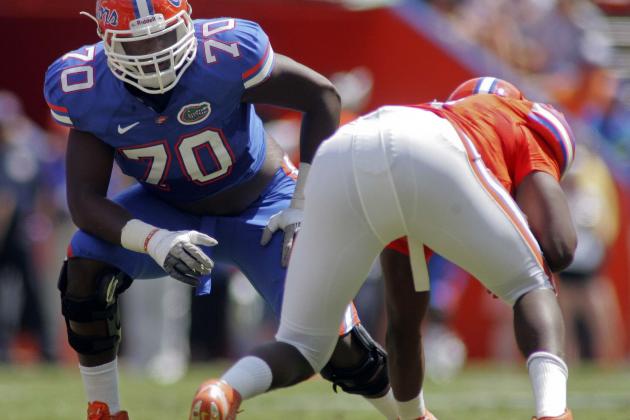 Phil Sears-USA TODAY Sports
D.J. Humphries should be the early favorite to replace Xavier Nixon.
We have been told by the coaching staff for two seasons that the offensive line is the strength of the offense. If that's the case, then it shouldn't be a surprise that the Gators finished with the No. 104 offense in the country in 2012.
Some of the issues with the offensive line can be attributed to injuries not allowing the line to bond and get used to playing with each other, but those excuses can only go so far. Offsides and holding penalties killed offensive drives all season long and at times it looked like the Gators linemen had never seen a defensive lineman stunt before.
No returning lineman should have a guaranteed starting spot in 2013. Will Muschamp has done a great job of bringing in talented linemen, and the Gators will be the deepest that they have been at the position under Muschamp in 2013.
There should be open competitions at each spot on the offensive line this offseason, and the offensive line could see up to three new starters in 2013.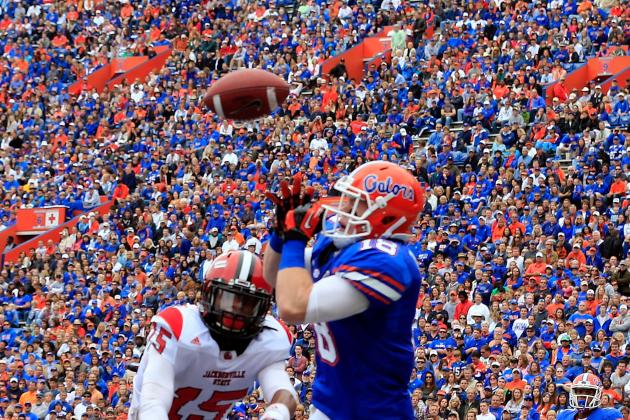 Sam Greenwood/Getty Images
Kent Taylor has a very similar skill set to Jordan Reed.
The Gators will enter 2013 without their leading receiver from the past two seasons. With Jordan Reed departing for the NFL, the Gators will need to find a way to replace his production.
Kent Taylor played sparingly as a freshman, but his skill set is the most similar to Reed's. At 6'5", Taylor is a big, athletic target who can create mismatches for opposing defenses.
Clay Burton will likely stick to his role from last season as Florida's primary blocker at tight end. Burton is by far the best blocking tight end on the roster, and he does an excellent job of sealing the edge.
Colin Thompson received a redshirt after having surgery on his foot in the offseason. Thompson is a prototypical tight end prospect who can block as well as catch. It will be interesting to see what kind of relationship Thompson can build with Jeff Driskel, as he could end up being the best option for the Gators at tight end.
Where as the Gators kind of tip their hand with Taylor or Burton in the lineup, Thompson is a more complete player that could give the Gators an advantage on offense.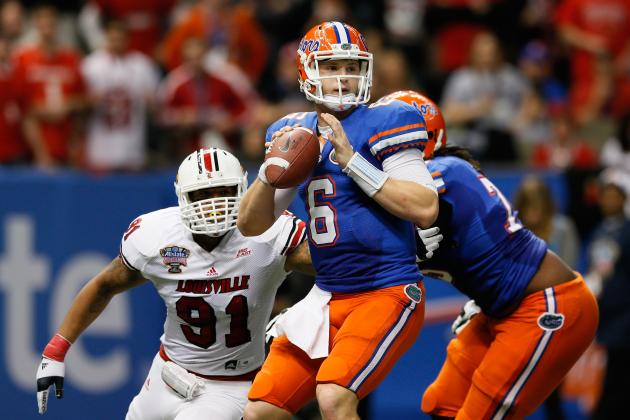 Kevin C. Cox/Getty Images
With Jacoby Brissett gone, this is now truly Jeff Driskel's team.
If the starting quarterback job was ever in doubt, Jacoby Brissett's transfer erases all of that doubt.
Jeff Driskel has a long way to go to become the quarterback that can lead Florida back to contending for SEC and National Championships.
Driskel didn't have a bad season, throwing for 1,646 yards, 12 touchdowns and five interceptions. He also added 408 rushing yards and four touchdowns on the ground.
Driskel struggled with holding onto the ball too long, going through his progressions, locking onto receivers and deciding when to just hold onto the ball and use his mobility.
In order for the Gators to take the next step, they need Driskel to take the next step in his progression.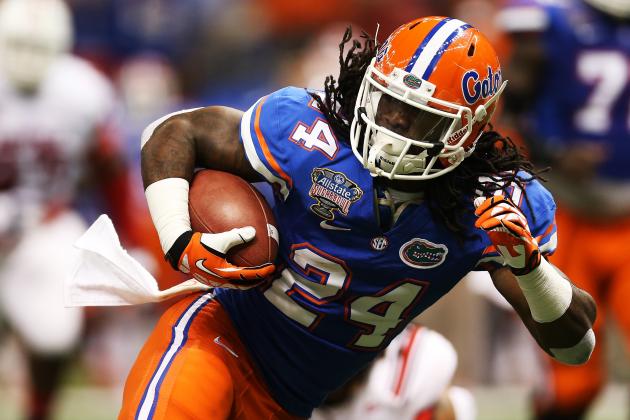 Matthew Stockman/Getty Images
Matt Jones really came on in the second half of his freshman campaign.
Without Mike Gillislee the Gators offense would have been lost in 2012. Gillislee's running ability made the offense go, and his graduation leaves big shoes to fill at running back.
Good news for Will Muschamp and the Gators is that Matt Jones appears to be ready to fill those shoes. As a freshman, Jones earned the primary backup role behind Gillislee, and he made the most of every carry.
Jones finished the season with 52 carries for 275 yards and three touchdowns. His eight carries for 81 yards iced the Gators' win over Florida State and was a true coming-out party for the freshman.
To keep Jones motivated, the Gators already have his competition on campus in freshman Kelvin Taylor. Taylor is the No. 1-rated running back, according to 247 Sports, and will look to compete for playing time early next season. Enrolling early will give Taylor a chance to get in Jeff Dillman's strength and conditioning program and a head start on learning the playbook.
There is no doubt that Taylor is a talented runner, but learning the playbook and becoming a great pass-blocker will give him a chance to earn meaningful reps as a freshman.
The fact that the Gators are bringing in five wide receivers should tell you just how badly Florida needs playmakers at the position.
Quinton Dunbar returns as the Gators' most utilized receiver, having caught 36 passes for 383 yards and four touchdowns in 2012.
Wide receiver is truly wide open, and playing time will be earned this offseason by whoever performs in spring camp and during the summer workouts.
The signing of Demarcus Robinson gives the Gators a dangerous weapon, and he could be the best receiver on the roster as a freshman. At 6'2" Robinson has good size for the position, he runs crisp routes and really does a good job of high-pointing the football. He needs to work on his blocking, as that is a big part of what is asked of receivers at Florida.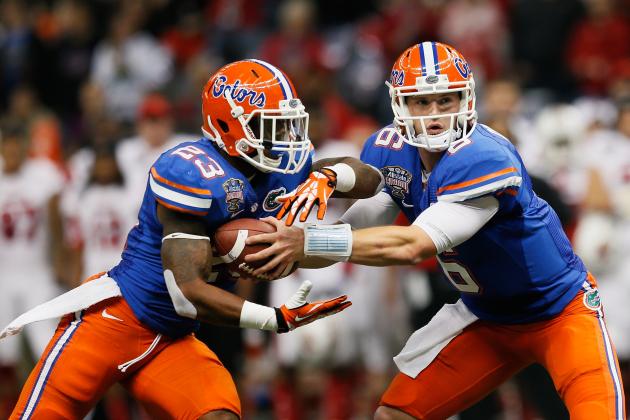 Kevin C. Cox/Getty Images
The Gators were too one-dimensional on offense
The Gators ran 827 plays in 2012—65 percent of those plays were running plays.
Will Muschamp has made it abundantly clear the kind of football team he plans on fielding at Florida, but the Gators need to be a more balanced offense.
Florida was a one-trick pony in 2012, and they were exposed for being one-dimensional in the Sugar Bowl. Louisville was able to hold the Gators to just 111 yards rushing in the game, and Florida wasn't ready to throw the ball to win the game.
A more balanced attack that mixes in play-action passes, screens and some deep shots to complement the running attack would go a long way in making the Gators offense more watchable and more successful in 2013.