MLB Teams with the Best Chances of Making a Big Trade Before Opening Day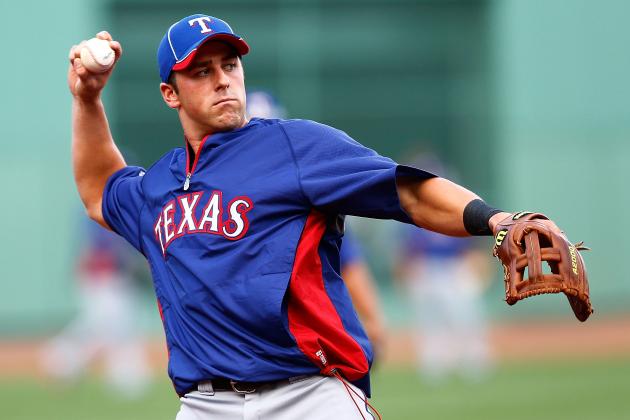 Jared Wickerham/Getty Images

If we've learned anything in baseball over the past six months, it's that trades can—and often do—come when you least expect them.
They come in all shapes and sizes, from multi-player blockbusters to a swap of minor leaguers that goes through largely unnoticed.
Some trades are made to fill a need, others to get rid of a burdensome contract or a player that no longer fits into a team's future plans.
Each of the eight teams we are about to look at has a number of reasons to make a trade before Opening Day—and they all have the pieces needed to get a deal done.
Begin Slideshow

»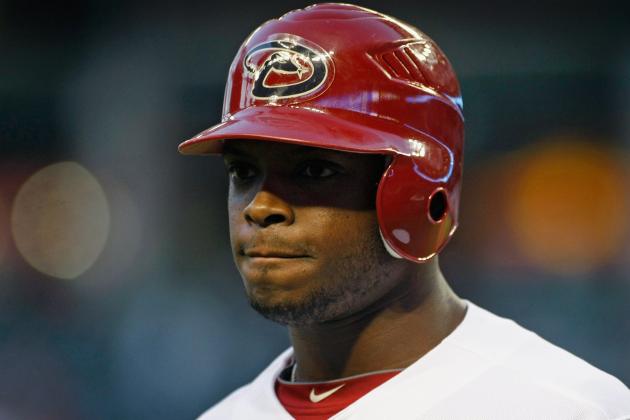 Ralph Freso/Getty Images

At this point, the Diamondbacks don't seem to have any other choice but to move Justin Upton.
Unfortunately for them, every other team in baseball knows that as well.
The relationship between Upton, who invoked the limited no-trade clause in his contract to block a move to the Seattle Mariners last week, and the team is clearly strained—something ESPN's Jim Bowden alluded to on Twitter:
Diamondbacks again send clear message to Justin Upton by attempting to trade him to a team on his no-trade list without talking to him first

— JIM BOWDEN (@JimBowdenESPNxm) January 11, 2013
Other teams simply aren't going to offer as much as what the Diamondbacks would have received from Seattle, who was offering a four-player package that included the team's top pitching prospect, Taijuan Walker, according to CBS Sports' Jon Heyman.
Those teams know that Arizona has a potential disaster on its hands with a disgruntled superstar in a crowded outfield, and they will try and take advantage of the unenviable situation that Diamondbacks GM Kevin Towers finds himself in.
Really, it's only a matter of when, not if, Justin Upton gets dealt.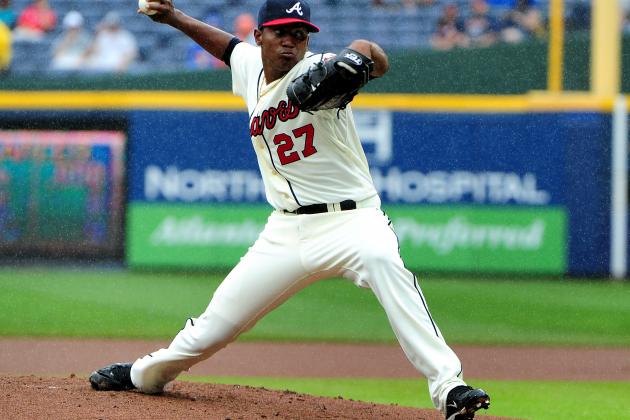 Scott Cunningham/Getty Images
Despite a rough 2012 season, Julio Teheran still has value around the league.
Ideally, the Braves would be able to acquire an everyday left fielder via trade so that Martin Prado could be moved to third base permanently.
A deal that landed the Braves Justin Upton isn't completely out of the question, according to ESPN's Buster Olney:
Atlanta lying in the weeds some in J.Upton conversations. If they got him, they'd be assured of at least 3 years of Upton/Upton/Heyward OF.

— Buster Olney (@Buster_ESPN) January 12, 2013
Atlanta isn't going to trade shortstop Andrelton Simmons in any deal, making Julio Teheran, the team's top prospect, the biggest trade chip that GM Frank Wren has at his disposal.
One deal that we haven't heard discussed, but that could make sense for both teams, would be a swap with the Texas Rangers of Teheran for third base prospect Mike Olt.
While Teheran isn't the experienced starter that Texas would likely prefer, he has a high ceiling and adds depth to the rotation. Meanwhile, Olt fills Atlanta's need for a replacement for the recently-retired (and staying that way) Chipper Jones, allowing the team to keep Prado entrenched in left field.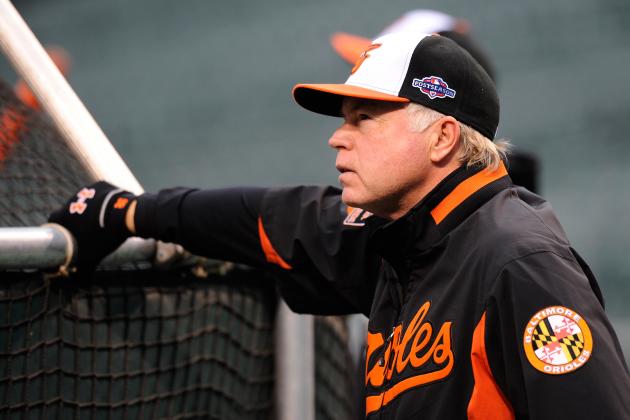 Patrick McDermott/Getty Images
Buck Showalter has the Orioles contending earlier than anyone expected.
One team that many of us expected to see make a big splash this winter was the Baltimore Orioles, who hung in the race for the AL East until the bitter end and gave the Yankees fits in the playoffs before dropping the series 3-2.
Yet, aside from re-signing a handful of their own free agents—and letting Mark Reynolds walk out the door and into the waiting arms of the Cleveland Indians—things have been relatively quiet with the Orioles.
But that doesn't mean things couldn't change in a hurry, as skipper Buck Showalter told Roch Kubatko of MASN Sports:
Showalter: "I know from talking to Peter, if there's a deal there that everybody thinks works, we're going to go. Nobody's scared here."

— Roch Kubatko (@masnRoch) January 13, 2013
..."Nobody's afraid to make a deal here. Trust me. Trust me. It's just, we've got to get the right one." #orioles

— Roch Kubatko (@masnRoch) January 13, 2013
The "right deal" is likely one that brings back an experienced starting pitcher or an everyday first baseman—and one that doesn't involve starting shortstop J.J. Hardy, despite Manny Machado's ability to play the position:
Asked Buck Showalter if #orioles would have to be overwhelmed by offer to trade J.J. Hardy. "What word is above "overwhelmed?"
— Roch Kubatko (@masnRoch) January 12, 2013
Top pitching prospect Dylan Bundy is off-limits as well, but can the same be said for the team's top hitting prospect, middle infielder Jonathan Schoop?
A package consisting of Schoop and one of the team's other young arms (Jake Arrieta, Brian Matusz, Chris Tillman or Zach Britton) might be enough to land Baltimore whatever it is that the team deems most important.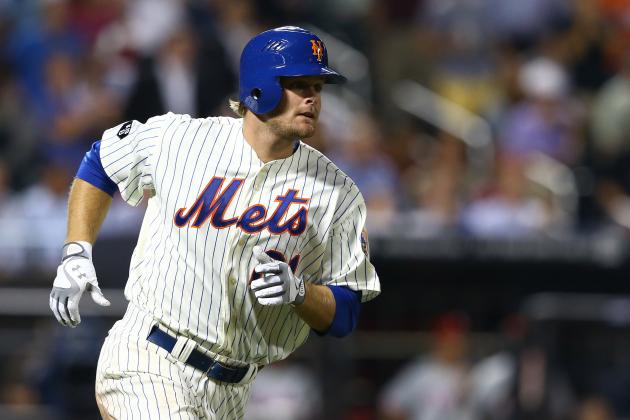 Al Bello/Getty Images
Lucas Duda has power, but is he really an outfielder?
As Newsday's Marc Carig reports via Twitter, the Mets are still interested in making a deal for Arizona's Justin Upton, just not at the team's current asking price:
Sources say the Mets are again interested in trading for Justin Upton. But it's a longshot that they'll give up enough prospects for a deal.

— Marc Carig (@MarcCarig) January 12, 2013
It's fair to assume that neither of New York's top pitching prospects, Matt Harvey or Zack Wheeler, would be available in any trade, but the same can't be said about 21-year-old third baseman Wilmer Flores, the team's best hitting prospect.
Flores might not be a big enough piece to build a package around that would net the team Upton, but with David Wright blocking his path in Flushing, Flores doesn't have a clear path to the majors in Flushing and he could be dangled to land the outfield bat that the team needs.
One thing is for sure: GM Sandy Alderson doesn't believe that an Opening Day outfield of Lucas Duda, Kirk Nieuwenhuis and Mike Baxter is going to suffice.
That the Mets are apparently looking to add—not subtract—pieces to the roster has to be a welcome sight for the team's beleaguered fanbase.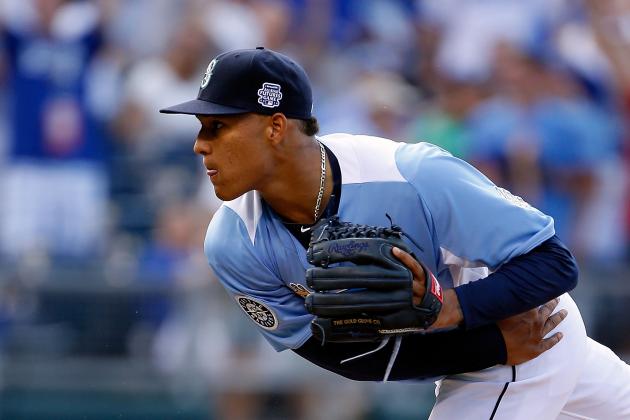 Jamie Squire/Getty Images
Taijuan Walker is a future ace...and he's available.
Sooner or later, the Mariners will succeed in their attempt to bring a big-time slugger to the Emerald City.
For now, however, the frustration level grows.
Josh Hamilton decided that he preferred the Los Angeles Angels to Seattle, while Arizona's Justin Upton refused to waive his limited no-trade clause to become the focal point of the Mariners offense.
But none of this will dissuade the team from trying to add a big bat.
The team certainly has the players necessary to lure another team into substantive trade talks, especially if Seattle's best pitching prospect, right-hander Taijuan Walker, is still in play.
As CBS Sports' Jon Heyman notes, Walker is kind of a big deal:
offer of Taijuan Walker, Franklin plus 2 for @jus10up10 shows how badly #mariners want hitter. scout on TW: "REALLY good''

— Jon Heyman (@JonHeymanCBS) January 11, 2013
Walker, who has been compared to a young Dwight Gooden (h/t Seattle Times), is the kind of young pitcher that doesn't typically become available.
If I'm Mariners GM Jack Zduriencik, I'm on the phone with the Miami Marlins talking about a package starting with Walker for Giancarlo Stanton, who, despite Miami's reluctance to trade him (h/t Miami Herald), is clearly unhappy with the state of affairs in South Florida, as he told MLB.com's Peter Gammons.
Whether it's ultimately a deal for Stanton, Upton or for someone else, one thing is clear: The Mariners won't rest until they acquire the bat that their lineup needs.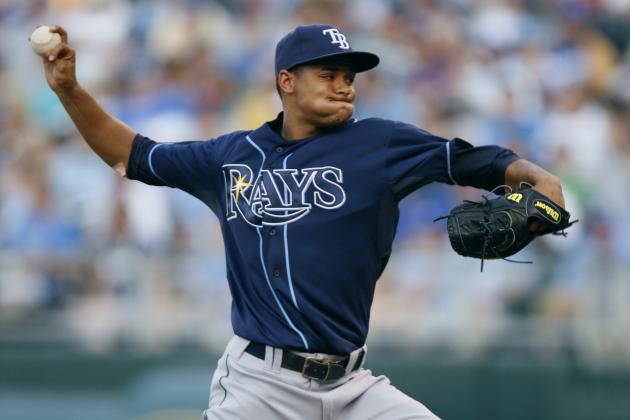 Ed Zurga/Getty Images
More than a few teams wouldn't mind having Chris Archer.
Any team in baseball that wants to learn how to develop quality major league pitchers should look at what GM Andrew Friedman and the Tampa Bay Rays have going on.
Even after trading James Shields and Wade Davis to the Kansas City Royals, the Rays still have incredible pitching depth, with prospects at every level, including the major league rotation, which, at this point, doesn't appear to have any room for Chris Archer, the team's top pitching prospect.
While Tampa Bay got an impact bat for the future in the Shields deal, landing outfielder Wil Myers, the Rays could certainly benefit from adding another quality bat, most notably at first base, where the underwhelming James Loney is slotted to play on a daily basis.
Dealing Archer would require that the team get a bat that is under team control for the foreseeable future, so a deal of that magnitude may not be in the team's future.
But with plenty of other quality young arms in the system, a deal for a lesser bat—perhaps Mike Morse of the Washington Nationals—could be a road the team goes down.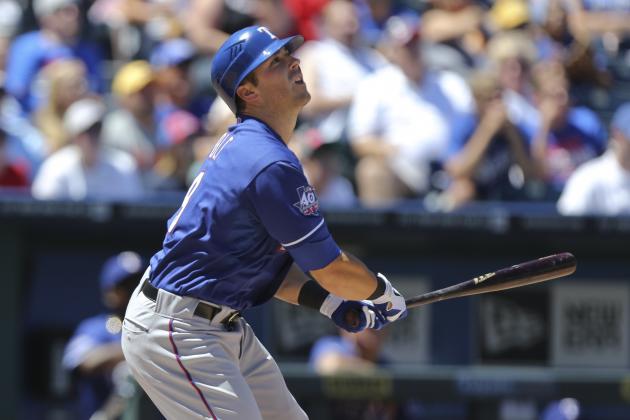 Ed Zurga/Getty Images

Texas has two glaring needs that it has yet to address: adding a big bat to help replace Josh Hamilton's production in the middle of the lineup and adding depth to a rather thin—and largely untested—starting rotation.
Third baseman Mike Olt has been the subject of trade rumors for quite some time, and it makes sense, with All-Star Adrian Beltre blocking his path to everyday playing time.
Whether or not the Rangers will be willing to reopen trade talks with the Arizona Diamondbacks about Justin Upton remains to be seen. According to Evan Grant of the Dallas Morning News, the Rangers have "moved on" from their pursuit of the All-Star right fielder:
Hearing Rangers don't expect to re-engage Arizona after Upton rejected Seattle deal. Rangers made final offer before Seattle deal; moving on

— Evan Grant (@Evan_P_Grant) January 11, 2013
Olt isn't the only youngster that the Rangers are supposedly willing to move, however.
Various trade rumors have not only included Olt, but right-handed pitching prospect Cody Buckel (via Andy Martino of the New York Daily News) and left-hander Martin Perez (CBS Sports' Jon Heyman), among others.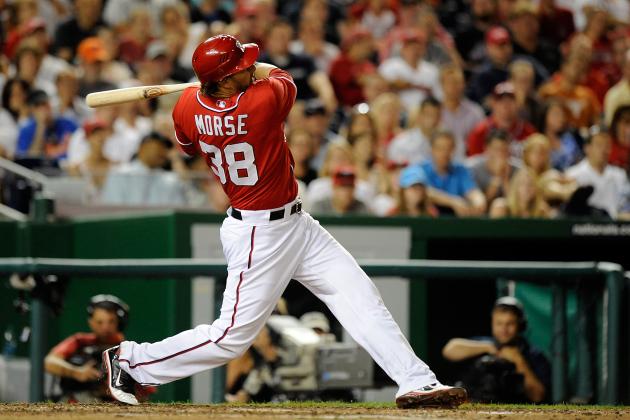 Patrick McDermott/Getty Images
Mike Morse has no lack of suitors.
Once Washington re-signed first baseman Adam LaRoche, first baseman/outfielder Mike Morse officially went on the trading block, as Fox Sports' Ken Rosenthal made note of:
Source: #Nationals speaking to 5-6 teams about Morse. Earning $7M this season, then eligible for free agency.
— Ken Rosenthal (@Ken_Rosenthal) January 8, 2013
Teams thought to be involved in discussions with the Nationals about the soon-to-be free agent include the Boston Red Sox and New York Yankees, though there is sure to be plenty of interest around the league.
Morse, who has nowhere to play on a regular basis with the Nationals, would be a fit on a number of teams in both leagues.