Michigan Football: What Taylor Lewan's Return Means for the Offensive Line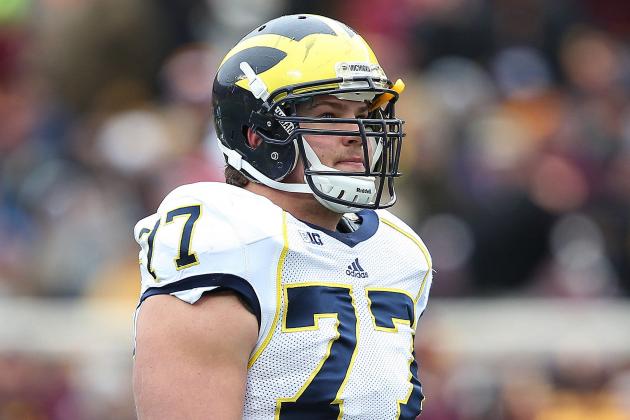 Jesse Johnson-USA TODAY Sports

Taylor Lewan showed what kind of person he really is when he announced his intentions of coming back to Michigan for his senior season.
Simply put, Taylor is a true Michigan Man. Passing up millions of dollars from the NFL to come back and play one more season of football at his beloved university proves it.
What effect will his choice have on this Michigan offensive line and the team as a whole?
Begin Slideshow

»
It is obviously unknown who a few of the starters will be on the offensive line, but there is no question that most of them will be young and inexperienced.
However, Lewan's return will prevent a young linemen from starting who would otherwise be.
Whether it is Ben Braden or Blake Bars or Erik Magnuson or somebody else remains to be seen. Regardless, those three are all redshirt freshmen that could obviously use another year to prepare.
Heck, maybe it will even be Jack Miller or Chris Bryant, both of which have never played meaningful minutes.
Whoever that young linemen is will now be able to spend another year conditioning and getting more ready physically, all because of Lewan's selfless decision.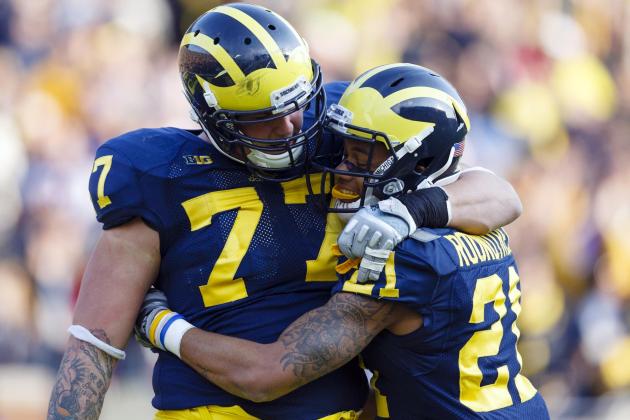 Rick Osentoski-USA TODAY Sports

If Lewan would have left, Michigan would have literally been left with one lineman that has played plenty of meaningful snaps in their career: Michael Schofield.
Instead, his return provides this young offensive line with another veteran presence to go along with Schofield.
Both men will be fifth year seniors and both will provide leadership and a much needed veteran presence.
Plus, imagine the effect it will have on the young starters starting next to these two on the line.
It will only accelerate their learning of the offensive system, and will obviously pay dividends in the long run.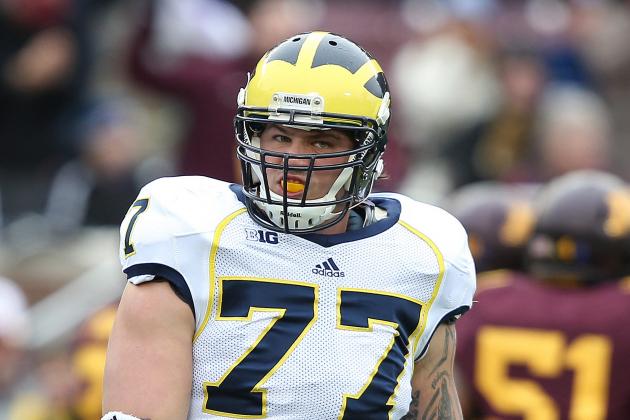 Jesse Johnson-USA TODAY Sports

Michigan is losing a tremendous amount of leadership in key seniors such as Denard Robinson, Jordan Kovacs, Patrick Omameh, Craig Roh, etc.
Taylor Lewan's return will now allow him to be one of the most important seniors on Team 134, on and off the field.
Not only is he obviously a great player, but he has also taken his leadership abilities and maturity to a whole new level.
This young man will be one of the key faces of Michigan football next season; this was something that couldn't have happened without his immense maturation over the past year or two.
Whether it's his hilarious personality or nasty mean streak on the field, Lewan handles himself exactly how a Michigan senior should.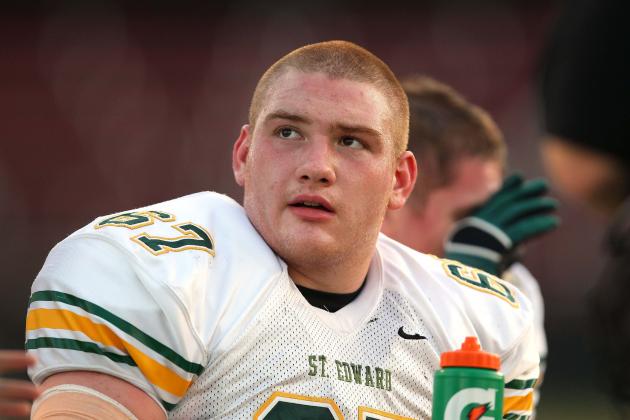 Danny Wild-USA TODAY Sports

Guys like Ben Braden and Erik Magnuson will be future stars, but fortunately they likely won't be thrown into the fire in 2013.
If Lewan had left, one of them may have been forced into a starting role, though.
Now there's a good chance Kyle Kalis will be the only redshirt freshman starting on the line, as he is by far the most ready physically.
Lewan's return will allow the young linemen to be worked into action slowly, likely only spelling starters when they need a break.
This will obviously pay off in the long run, as whoever winds up starting 2014 will be that much further along in terms of the learning curve.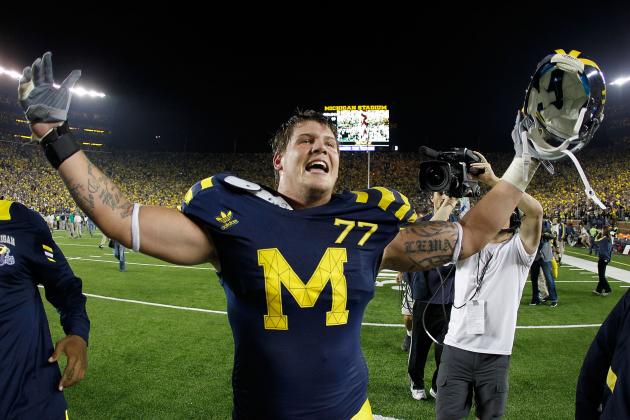 Gregory Shamus/Getty Images

Taylor Lewan deserves all the credit in the world for this decision. No, it is not hard to love playing football at the University of Michigan, but it is extremely hard turning down millions of dollars from the NFL.
Lewan realized that this team needs him next year and being the ultimate teammate that he is, decided to come back.
Taylor is not only a great teammate, but a great person as well. It's amazing to think how far this young man has come personality-wise when thinking back to his freshman and sophomore years.
Then again, that's the effect Brady Hoke and his staff will have on you. Another thing this staff teaches is important life lessons off the field and Taylor has obviously taken these to heart.
Without any doubt, Taylor Lewan is a true Michigan Man!