Would-Be NBA Stars Derailed by Injuries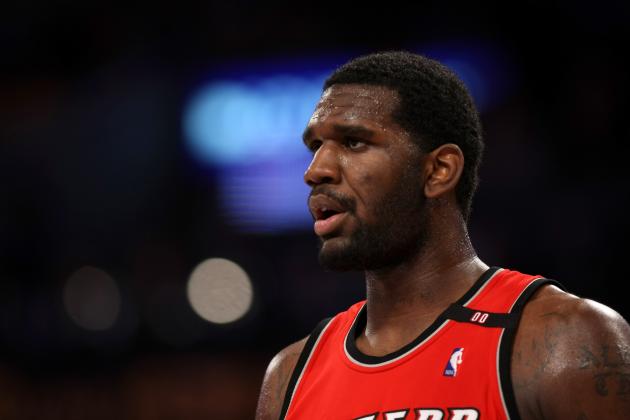 Stephen Dunn/Getty Images
Greg Oden was the first pick in the 2007 draft. To date, he has played in 82 NBA games.
While it's the case with all of us, it's especially true of professional athletes—they are living on borrowed time. Each of their careers comes with the caveat, "as long as they stay healthy." Perhaps no one knows this better than Greg Oden.
As part of the Portland Trail Blazers' continuing bid to replace Hall of Fame big man Bill Walton, Oden was selected with the first overall pick in the 2007 draft.
Sadly, he ended up reminding Blazers fans less of Walton, and more of the wasted pick the team used to draft Sam Bowie ahead of Michael Jordan in 1984 (although Bowie actually had a fairly productive 10-year career in which he averaged 10.9 points, 7.5 rebounds and 1.8 blocks).
Oden underwent microfracture surgery on his knee in September 2007 and missed the entirety of what should have been his rookie season. He came back to play 82 games over the next two years, but his knees continued to betray him, and he has not played in an NBA game since December 2009.
Unfortunately, the case of Greg Oden is not an isolated instance. Many promising NBA players have had their careers either cut short or rendered mediocre due to injury. And some could have vaulted themselves onto the list of the greatest players of all time were it not for injuries stifling their longevity.
In fact, there have been so many potentially great players derailed by injury over the years that I must limit the scope of this list. We will confine our survey to players drafted after 1990. So there will be no Ralph Sampson and no "Never Nervous" Pervis Ellison (who quickly became known as "Out of Service" Pervis).
What follows is a melancholy list of 10 players—ranked in order of their tragedy factor—who make us wonder what might have been.
Begin Slideshow

»
Lisa Blumenfeld/Getty Images

Tracy McGrady was drafted out of high school by the Toronto Raptors using the ninth pick in the 1997 draft, but it wasn't until he was moved out of Vince Carter's shadow and was shipped to the Orlando Magic that he really showed his tremendous skills.
In his four seasons with the Magic, McGrady flat-out stuffed the stat sheet. His scoring averages were: 26.8, 25.6, 32.1 and 28.0. His rebounding averages were: 7.5, 7.9, 6.5 and 6.0. Even his assists totals were sweet: 4.6, 5.3, 5.5 and 5.5.
He led the league in scoring in 2002-03 as a 23-year-old, becoming the youngest player to achieve that Before the 2004-05 season, the Magic paradoxically traded McGrady to the Houston Rockets as part of a package to acquire Steve Francis and Cuttino Mobley. To this day, no one is quite sure why they did this.
T-Mac teamed up with star center Yao Ming to lead Houston to the playoffs that first year, but they fell to the Dallas Mavericks in seven games. The next season was the beginning of the end.
McGrady began suffering from back spasms, which caused him to miss multiple games early in the 2005-06 campaign. At one point, he was removed from a game at halftime and had to be taken to the hospital on a stretcher with muscle spasms. He was only able to play in 47 games that season.
Even though he still averaged over 20 points a game in the following two seasons, T-Mac was clearly a diminishing player. The Rockets' impotence in the postseason also weighed on him mentally, and star teammate Yao Ming also struggled with injuries.
In 2007-08, McGrady also suffered from nagging injuries to his shoulder and knee, and these completely derailed his career. He played fewer than 40 games in each of the next two seasons and his numbers declined sharply.
After stints with the New York Knicks, Detroit Pistons and Atlanta Hawks, McGrady opted to play the 2012-13 season in China, having never advanced out of the first round of the NBA playoffs as a member of the active roster.
T-Mac might still slip into the Hall of Fame, but could he have been better than Kobe Bryant? We'll never know.
Jeff Gross/Getty Images

Yao Ming caused Linsanity before anyone had even heard of Jeremy Lin. For seven seasons, he made it seem like the Houston Rockets could institute a whole new Ming dynasty.
They selected the 21-year-old out of China with the first overall pick in the 2002 draft, and he promptly gave them yeoman's service.
Yao not only became a sensation around the NBA (a Chinese guy who was built like Shaquille O'Neal!) but around the globe. He single-handedly helped grow the NBA throughout Asia, and he became a national hero in China.
Yao averaged 13.5 points and 8.2 boards as a rookie and he only got better from there. His scoring average steadily increased, posting 17.5 points per game in his sophomore campaign and 18.3 in his third season. He then averaged at least 22 points a night in each of the following three seasons.
He was selected to start the All-Star game for the Western Conference in each of his eight NBA seasons.
But after his third year, Yao was troubled by numerous foot and ankle injuries, missing 86 games over the next three seasons (though he was able to play in the 2008 Beijing Olympics).
He played 77 games during the 2008-09 regular season, but he sprained his ankle in the playoffs. Subsequent tests revealed a hairline fracture in his foot, ruling him out for the rest of the postseason. The Rockets promptly lost to the L.A. Lakers several games later.
That injury also caused him the miss all of the 2009-10 season. Then, just five games into 2010-11, it was found that Yao had a stress fracture in his ankle (related to his many other injuries) which caused him to miss the rest of that season as well. He was still voted to start in the All-Star game.
Yao's contract expired at the end of that season and he made the difficult decision to retire. Despite playing in only 486 career games, some still consider Yao a Hall of Famer, including his former coach Jeff Van Gundy (via the Houston Chronicle).
But if his feet and ankles had remained healthy, there's no telling how high his place in the basketball pantheon might have been.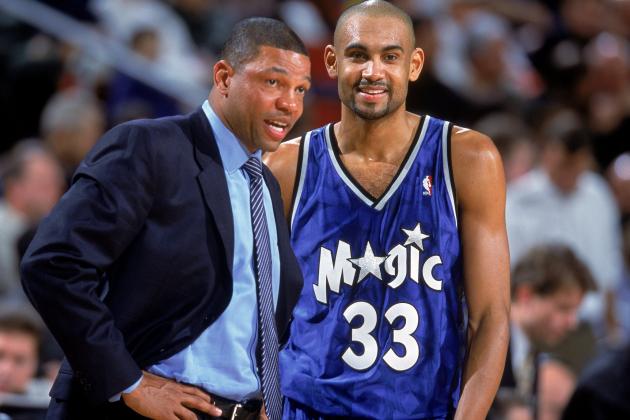 Otto Greule Jr/Getty Images

Grant Hill is an example of a player whose career could have been great, but because he was hampered by injuries, many of his 17 NBA seasons have been only serviceable.
He was a sensational player at Duke, and will be best remembered for throwing the 75-foot inbounds pass to Christian Laettner for the buzzer-beater that no Kentucky fan will ever forget.
He was selected with the third overall pick of the 1994 draft by the Detroit Pistons. He averaged at least 20 points per game in his first six seasons with Detroit before a sign-and-trade sent him to the Orlando Magic.
Unfortunately, his time there was marred by ankle and groin injuries, and he failed to play in more than 30 games in five of his seven years there (including sitting out the entire 2003-04 season). Hill then landed with the Phoenix Suns and managed to stay relatively healthy, but he never fulfilled his potential.
Hill is currently providing his veteran leadership to the Los Angeles Clippers and has amassed over 17,000 points in his career, but he had the talent to be a Hall of Famer if his body hadn't betrayed him.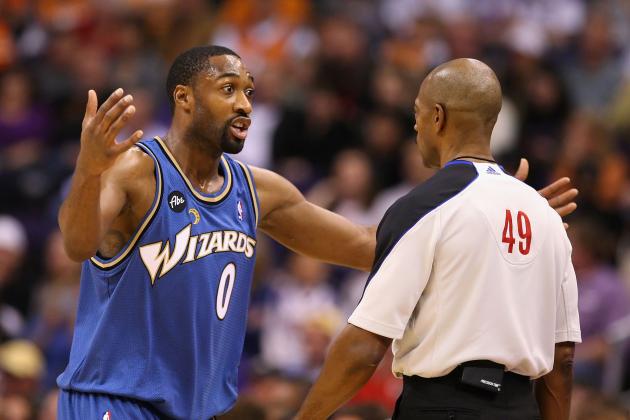 Christian Petersen/Getty Images

Gilbert Arenas was a second-round draft pick, but he didn't play like one. He averaged 18.3 points in his second year with the Golden State Warriors before landing with the Washington Wizards.
He was absolutely stellar from 2004 to 2007, averaging 25.5, 29.3 and 28.4 points per game in those three seasons. But from 2007 to 2009, he played in only 47 games due to several injuries, mainly to his knees. He hasn't played more than 50 games since the 2006-07 season.
To add insult to injury, he brought a gun to the team facility in Washington, ostensibly to help settle a teammate's gambling debt. As a result, he was suspended for most of the 2009-10 season and also sentenced to two years of probation for carrying a pistol which was not licensed in Washington, D.C.
He is not only the poster child for star potential derailed by knee injuries, but also for poor decision-making.
Arenas currently plays in China, where he is still incredibly popular for his past excellence.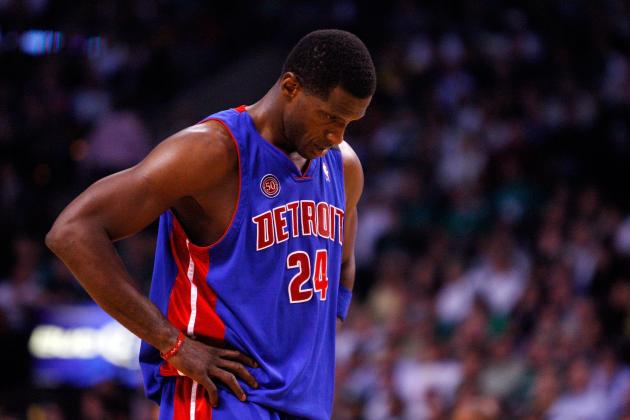 Jim Rogash/Getty Images

Antonio McDyess was selected out of Alabama by the Los Angeles Clippers with the second overall pick in the 1995 draft. He was traded to the Denver Nuggets and produced gaudy numbers in his first six seasons.
McDyess averaged 13.4 points and 7.5 boards as a rookie and seemed poised for a prolific career. In 1998-99, he posted averages of 21.2 points, 10.7 rebounds and 2.3 blocks, and he replicated those stats in 2000-01 to the tune of 20.8 and 12.1. He even won a gold medal at the 2000 Sydney Olympics.
But early in the 2001-02 season, McDyess ruptured his patellar tendon, which led to season-ending surgery, and the difficult rehab caused him to miss the entirety of 2002-03. After stints with the New York Knicks and Phoenix Suns in 2003-04, McDyess caught on with the Detroit Pistons.
Though he was somewhat productive in his five seasons with Detroit, he never duplicated the prodigious play that he flashed with the Nuggets. After two more seasons with the San Antonio Spurs, McDyess was waived in 2011 and has not played since.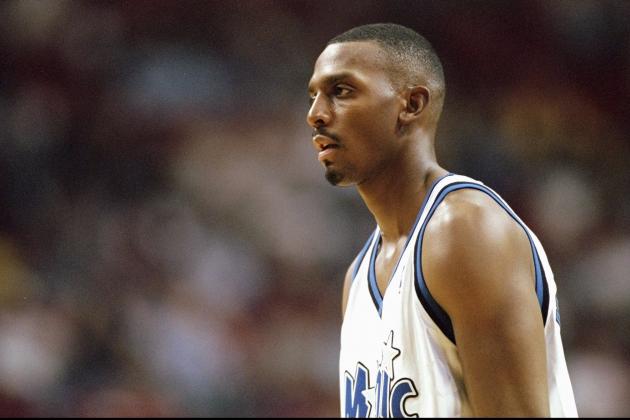 Andy Lyons/Getty Images

Anfernee Hardaway was known only as "Penny." He was a college standout at Memphis, and the Golden State Warriors selected him third overall in the 1993 draft. They traded him to the Orlando Magic as part of a deal to acquire Chris Webber.
Penny was a unique player, standing at 6'7" but capable of playing point guard as well. He excelled in his first four years before suffering a season-ending injury to his left knee early in the 1997-98 slate.
Hardaway was traded to the Phoenix Suns in 1999 and looked to turn the page on his NBA career. In 2000, he was forced to undergo microfracture surgery on his left knee, and his season was done after just four games.
Penny was never the same player. Even though he played for seven more seasons, he was a shell of himself and retired in 2006 before making a brief attempt at a comeback with the Miami Heat.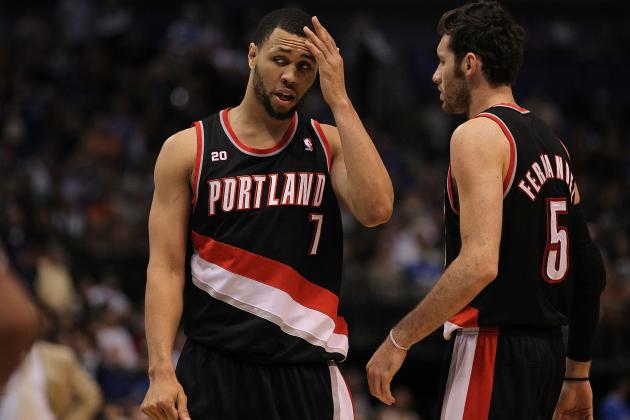 Ronald Martinez/Getty Images

Brandon Roy was taken by the Minnesota Timberwolves with the sixth overall pick in the 2006 draft. They traded him to the Portland Trail Blazers and he shined for them in his first four seasons. After his rookie campaign, Roy averaged at least 19 points a game for the next three years.
In April of 2010, Roy tore the meniscus in his right knee. He came back the next season, but underwent arthroscopic surgery on both of his knees in January 2011.
Ultimately, Roy was doomed by a degenerative issue in his knees which left him almost completely devoid of any cartilage, and he announced his retirement late in 2011.
Roy then underwent the same Orthokine treatment that was popularized by Kobe Bryant, and he came out of retirement to make a comeback with the Minnesota Timberwolves. Roy played in just five games before needing yet another procedure on his right knee, which was his seventh knee surgery.
Roy is currently rehabbing, again, and aims to return this season, but his bum knees undercut his tremendous potential. I should also mention that Rajon Rondo was taken 15 picks later in the same draft as Roy.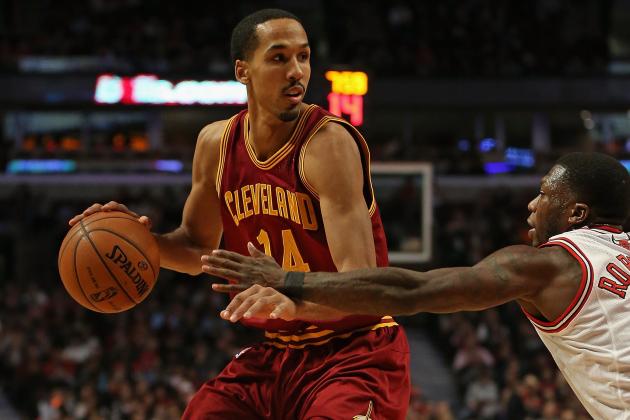 Jonathan Daniel/Getty Images

Shaun Livingston was taken straight out of Peoria Central High School by the Los Angeles Clippers with the fourth pick in the 2004 draft. He had shined in the 2004 McDonald's High School All-American game, being named co-MVP.
Livingston was a personnel director's dream, a 6'7" point guard who could shoot the ball and trouble opponents with his huge wingspan. But he battled numerous nagging injuries early in his career and was unable to complete a full season, missing 73 games in his first two years.
He still played a key role for the Clippers in their 2005-06 season. They finished 47-35, good for second place in the Pacific Division, but they fell to the Phoenix Suns in the second round of the playoffs.
The next season, however, Livingston suffered a horrific non-contact injury in which he tore three of the four ligaments in his left knee while driving for a layup. The resulting surgery ended his season, and he missed all of 2007-08 as well.
The following two seasons, he played in just 48 games for three different teams. After that, Livingston continued to bounce around the NBA, playing for four teams over the next three seasons.
He is currently a member of the Cleveland Cavaliers, but the 2007 injury robbed him of his elite abilities. Players selected after him in the 2004 draft include Luol Deng, Andre Iguodala, Kris Humphries, Al Jefferson, Josh Smith and Jameer Nelson.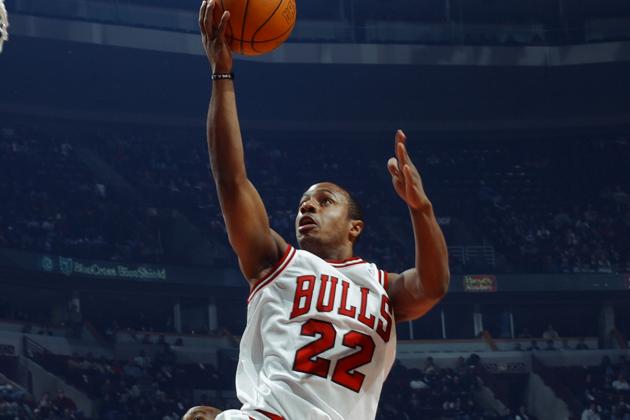 Jonathan Daniel/Getty Images

Jay Williams was selected by the Chicago Bulls with the No. 2 pick in the 2002 draft, going directly after Yao Ming and seven picks before Amar'e Stoudemire (Carlos Boozer was also taken in the second round that year). Williams was a standout at Duke and looked to have a promising career.
Following a decent rookie season (averaging 9.5 points and 4.7 assists in 26.1 minutes), Williams was involved in a devastating motorcycle accident that ruined his career.
In the summer of 2003, Williams crashed into a streetlight in Chicago. He was not wearing a helmet. He did not have an Illinois license to drive the motorcycle, and such activity was also a violation of his contract with the Bulls.
Williams fractured his pelvis, severed a nerve in his left leg and tore three ligaments in his knee. Doctors considered amputating the leg, but he was ultimately able to rehabilitate it through physical therapy (per SI.com).
He was waived by the Bulls and never again played in the NBA. Following a failed comeback attempt in the D-League, Williams went on to work as a college basketball analyst for CBS and ESPN.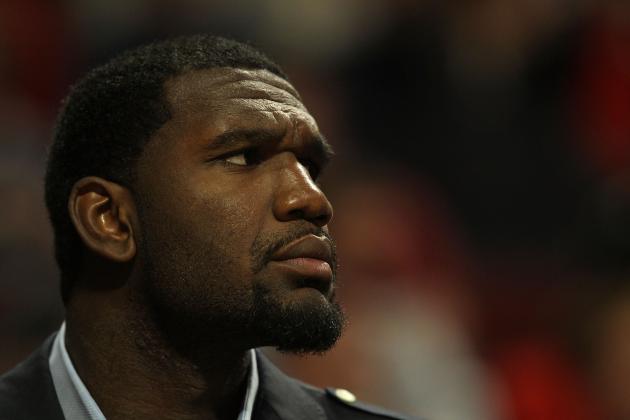 Jonathan Daniel/Getty Images

Greg Oden was a standout with Ohio State. In his only college season, he averaged 15.7 points, 9.6 boards and 3.3 blocks per game. The Buckeyes went 30-3 and advanced to the championship game where they were bested by Florida.
Oden seemed certain to have a stellar career ahead of him. He was selected by the Portland Trail Blazers first overall in 2007, and hopes were high up in Oregon. But Oden never even took the court for his rookie season after undergoing microfracture surgery just a few months after the draft.
He played 61 games in his "rookie" season of 2008-09, but fractured his left patella just 21 games into the 2009-10 season which required another surgery. Then, another microfracture surgery robbed him of his 2010-11 campaign, and he has not taken the court since.
He was eventually waived by Portland in March 2012 and is still a free agent, although the Miami Heat have recently shown interest in the unfortunate big man (per ESPN.com).
The real shame of the wasted draft pick is that scoring machine Kevin Durant was selected with the second pick of that draft. And if Portland was really set on snagging a big man, they would have been better off taking Al Horford or Joakim Noah, who both went in the first 10 picks.
You have to root for a comeback from Greg Oden, but a big man with knee issues has the odds stacked against him to say the least. Oden's is the saddest case in recent memory, due to having so much potential with so little output.