Super Bowl XLVII is right around the corner and there are an endless amount of scenarios that will determine who will be headlining the big game.
We are only at the divisional round, but anticipation is already at a boiling point. Will Tom Brady add another Lombardi Trophy to his already impressive arsenal?
Or will it be Aaron Rodgers who joins the multiple winners club, putting himself in discussions as one of the elite quarterbacks of our time?
Peyton Manning has had a resurgent season. One could argue he is the front-runner in the chase for the league's MVP. But does he have enough left in the tank to lead a team to a Super Bowl win for the second time?
Perhaps a changing of the guard will happen and the likes of Baltimore, San Francisco, Seattle, Atlanta or Houston will usurp those three by propelling themselves into the record books?
Let's take a look at which potential matchups will sell the most. Although, it's not too difficult to sell the Super Bowl—arguably the biggest event of the sports world.
New England Patriots vs. Green Bay Packers
Brady versus Rodgers is a matchup nobody would complain about as the signature matchup and culmination of the 2012 NFL season.
Brady and Rodgers are easily the two most talked about and revered QBs around the league, but they have yet to square off in a significant matchup.
Both teams have opportunistic but beatable defenses that live and die by the takeaway. The game would go down as one of the best ever if Brady and Rodgers got into a scoring duel.
Label this one an instant classic ahead of time and definitely a matchup we would love to see.
Denver Broncos vs. Green Bay Packers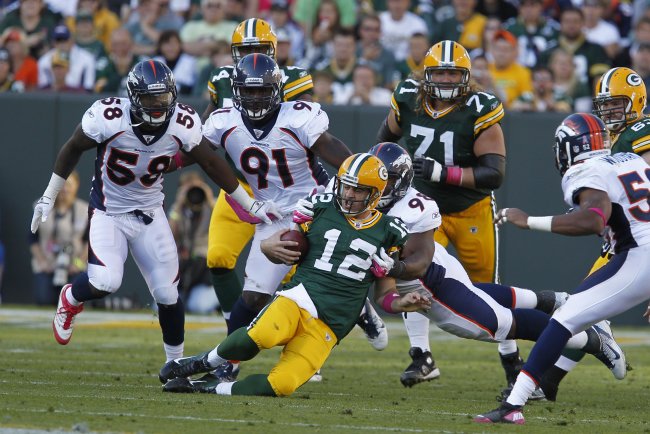 Matt Ludtke/Getty Images
One the NFL's greatest QBs up against one of its oldest franchises? Yes, please.
Peyton Manning is like a surgeon behind center, navigating through tricky but penetrable secondaries with ease. Green Bay likes to give up big amounts of yards and then make the big play to keep teams out of the end zone.
Manning's precision is a killer for teams like that. Even if they get pressure, which will be tough because he will likely diagnose blitzes pre-snap, the trusty veteran has poise like no other.
Don't forget about Rodgers, though. If there is anyone that can beat the Denver Broncos' tough defense, it's Rodgers. His ability to put pin-point throws on his receivers down the sidelines makes him one of the most lethal QBs in the game.
New England Patriots vs. Seattle Seahawks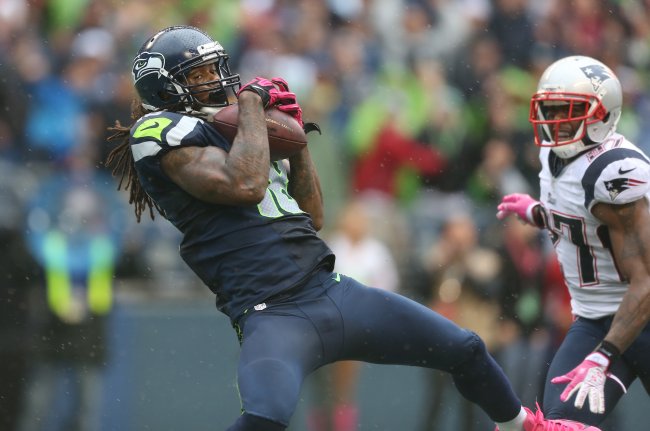 Otto Greule Jr/Getty Images
This is a regular-season rematch that would excite the masses due to the way both of these teams last left one another.
Russell Wilson, then still coming into his own, threw a deep ball to Sidney Rice that resulted in a late, go-ahead score. It could be the turning point, or springboard, that Wilson progressed from a rookie to a full-fledged starter in the NFL.
Brady and the Pats will not go down as easily this time, but it will definitely be an uphill battle for them against one of the toughest pass defenses in the NFL.
The league's best high-tempo offense against one of the most physical and punishing defenses in the league? This is one example of when a rematch in the Super Bowl is acceptable.