UFC Superlatives: Best Fighters, Fights, Knockouts, Submissions and More of 2012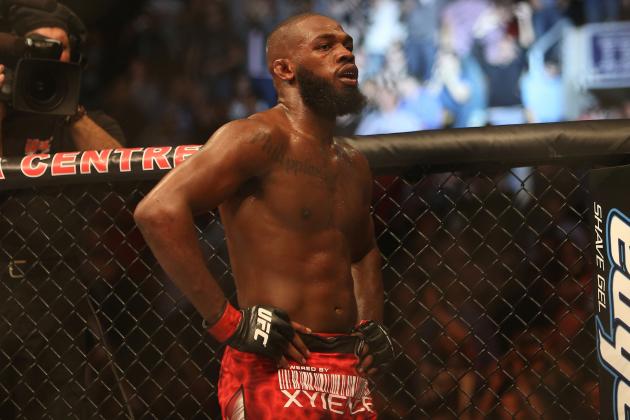 Tom Szczerbowski-USA TODAY Sports

The UFC was hit hard by injuries in 2012 and even cancelled an event for the first time in its history. Despite the adversity it faced, the world's premier MMA organization still found a way to put together some amazing moments.
Championship belts changed hands in multiple divisions, and the UFC crowned its inaugural titleholders in the flyweight and women's bantamweight divisions. Moreover, active MMA legends Anderson Silva and Georges St-Pierre continued their long championship reigns.
Before we turn out attention to UFC on FX 7 and the rest of 2013, let's take a look back at the UFC's best from 2012.
Begin Slideshow

»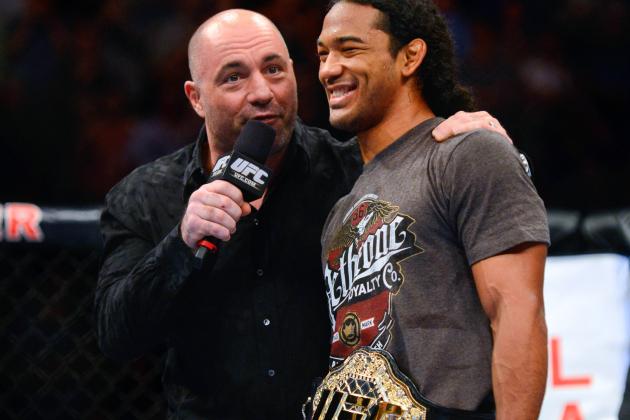 Ron Chenoy-USA TODAY Sports

Benson Henderson was the only UFC fighter to win three title fights in 2012.
Though many feel he shouldn't have been awarded a victory in his rematch with Frankie Edgar, an additional win over the former lightweight champion and a dominant performance over Nate Diaz make Henderson deserving of this distinction.
Heading into 2013, Henderson could be looking at title defenses against Strikeforce champion Gilbert Melendez and the winner of an upcoming bout between WEC veterans Anthony Pettis and Donald Cerrone.
Divisional Fighters of the Year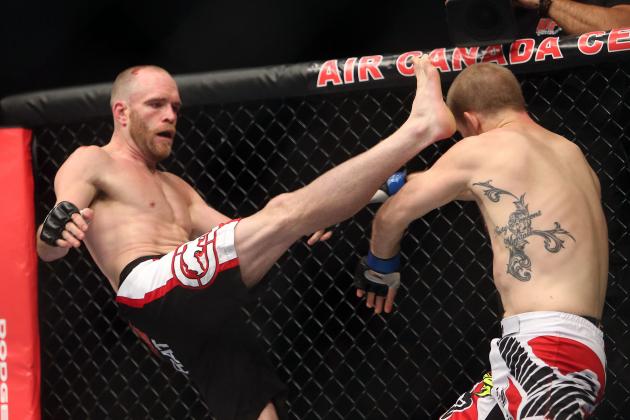 Tom Szczerbowski-USA TODAY Sports

The stakes weren't as high as they were during lightweight title fights between Benson Henderson and Frankie Edgar or the featherweight main event showcasing Chan Sung Jung and Dustin Poirier, but T.J. Grant and Evan Dunham engaged in the most purely action-packed and competitive fight of 2012.
At UFC 152, the lightweights traded leather for the entirety of their three-round fight, which ended in a narrow decision win for Grant.
Combined, Grant and Dunham landed 354 strikes in 15 minutes. Despite all of the punching and kicking, the fighters also found time to mix in some grappling to make the fight a great showcase of what a great MMA fight is supposed to look like.
Divisional Fights of the Year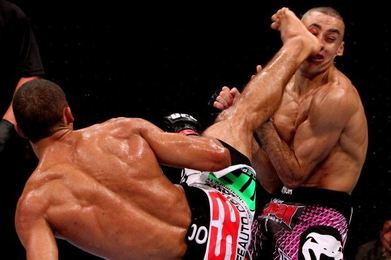 Josh Hedges/Zuffa LLC via Getty Images
A kick landed in January 2012 led the race for this award throughout the whole year.
At UFC 142, Edson Barboza finished an entertaining fight against Terry Etim with a spectacular spinning heel kick. It was the first time in UFC history that a kick of that kind resulted in a knockout, and it left Etim completely stiff for a few jaw-dropping moments.
Barboza would lose his following fight against Jamie Varner. However, at 26 years old, the Brazilian still has an extremely bright future and more entertaining knockouts ahead of him.
Divisional Knockouts of the Year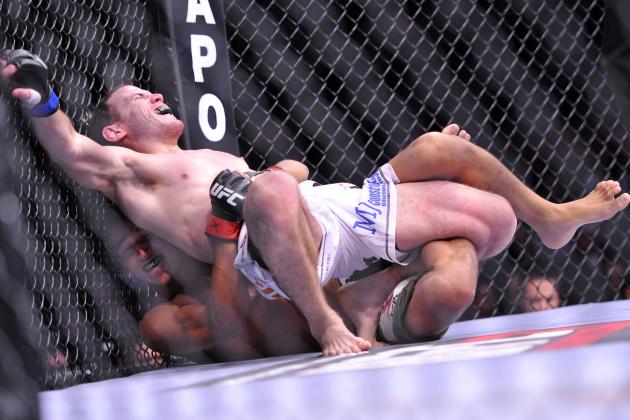 Mike Dinovo-USA TODAY Sports

Charles Oliveira tried to rekindle belief that he could eventually become a contender in the UFC by dropping to featherweight from the lightweight division. In his 145-pound debut, Oliveira made an interesting statement.
Competing against Eric Wisely, Oliveira caught his opponent in a rare and painful calf slicer in the middle of a scramble for positioning. Grimacing in agony, Wisely was immediately forced to tap.
Divisional Submissions of the Year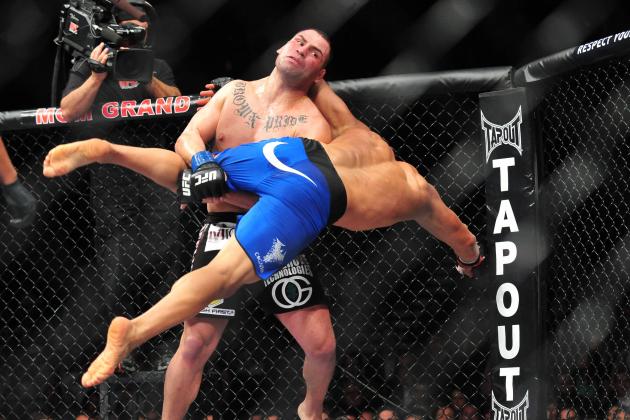 Gary A. Vasquez-USA TODAY Sports

With a win over Junior dos Santos in the UFC's final event of 2012, Cain Velasquez was able to steal the best performance of 2012.
Against the Brazilian heavyweight who dethroned him in November 2011, Velasquez scored an early knockdown and dominated the fight from that point forward.
Velasquez ultimately defeated Dos Santos by decision to reclaim the UFC heavyweight championship.
Divisional Performances of the Year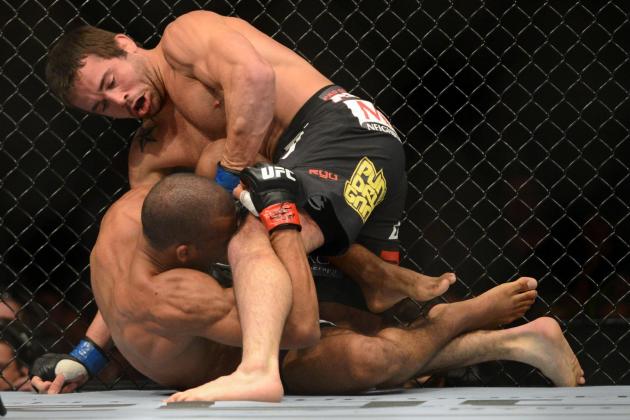 Ron Chenoy-USA TODAY Sports

In terms of betting odds, Eddie Yagin's win over Mark Hominick was the most surprising victory of 2012. However, that fight came down to a split decision, whereas Jamie Varner's upset win over Edson Barboza at UFC 146 ended with a stunning first-round knockout.
Adding to the impressive nature of Varner's win over the up-and-coming Barboza was that he took the fight as a replacement on only a few weeks' notice.
Prior to his win over Barboza, Varner was a forgotten former WEC champion. Now, Varner is considered one of the top 155-pound fighters on the planet.
Divisional Upsets of the Year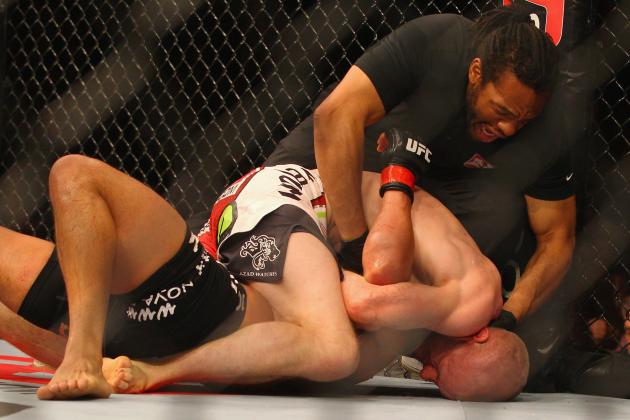 Mark Kolbe/Getty Images

This award easily could have gone to Tim Boetsch for his epic win over Yushin Okami, but Martin Kampmann was seen as more deserving for multiple reasons.
First of all, Kampmann had multiple come-from-behind victories in 2012, both against Thiago Alves and Jake Ellenberger. Also, his victory over Alves came in the final minute of the final round, whereas Boetsch blitzed Okami early in the final frame.
So, Kampmann gets the nod for his late guillotine choke against Alves. After losing the first two rounds on the scorecards, Kampmann was in need of a finish, and he got it when his Brazilian opponent shot in for an ill-advised takedown attempt.
Divisional Comeback of the Year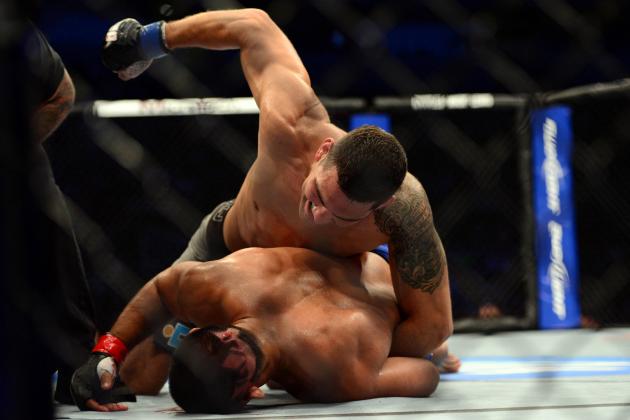 Kyle Terada-USA TODAY Sports

There was plenty of competition for this distinction in 2012, but Chris Weidman stood out above the rest for his wins over Demian Maia and Mark Munoz.
Renan Barao and Johny Hendricks were two of Weidman's biggest competitors for this award, but they began their rise toward the top of their respective divisions with big wins in 2011.
Additionally, Weidman was a bit more impressive in victory than rising light heavyweight Alexander Gustafsson, who picked up decision wins over Thiago Silva and Mauricio Rua in 2012.
Divisional Breakthrough Fighters of the Year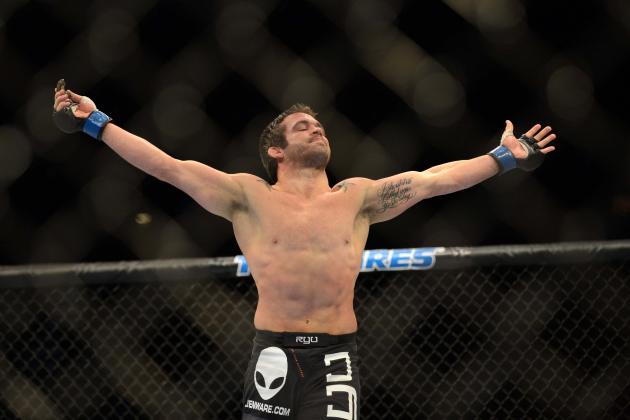 Ron Chenoy-USA TODAY Sports

In 2012, Jamie Varner went from a faded WEC star to one of the best fighters in the UFC's lightweight division.
An Evan Dunham injury opened the door for Varner's return to the Octagon, and he took full advantage of the chance he received.
Varner knocked out extremely bright prospect Edson Barboza, nearly defeated Joe Lauzon on short notice and picked up a big win over Melvin Guillard as the year was coming to a close.
Divisional Comeback Fighters of the Year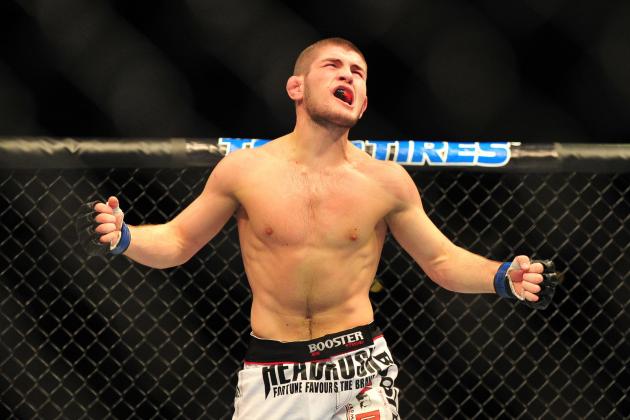 Don McPeak-USA TODAY Sports

Some established veterans like Glover Teixeira and Hector Lombard joined the UFC roster in 2012 and showed they have the potential to become title contenders in 2013.
However, Khabib Nurmagomedov went from a mostly unknown fighter to a fringe contender in the lightweight division, beating established 155-pound fighters in Kamal Shalorus and Gleison Tibau.
With a win over Thiago Tavares at UFC on FX 7, Nurmagomedov could find himself competing against the best of the best in the lightweight division soon.
Divisional Rookies of the Year
Fighter images via UFC.com. Graphics via Sean Smith/Bleacher Report.