College Football 2013: 10 Quarterbacks Who Could Be the Next Johnny Manziel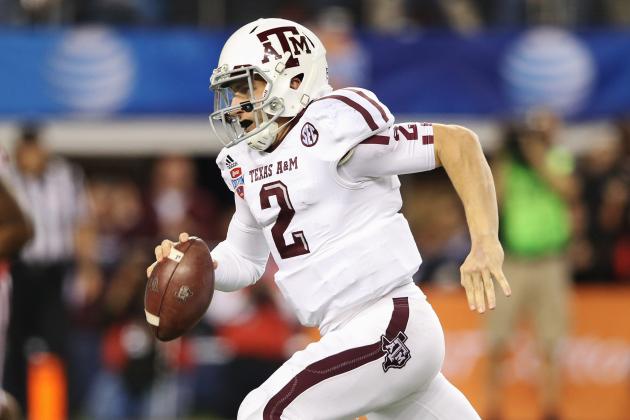 USA TODAY Sports
Which quarterbacks could have a Johnny Manziel-esque rise to stardom in 2013?
There seems to be a developing trend in college football. In each of the past three seasons, a dynamic dual-threat quarterback has risen up and taken the sport by storm.
In 2010, it was Cam Newton at Auburn.
In 2011, it was Robert Griffin III at Baylor.
Then, of course, this past season, it was Texas A&M's Johnny Manziel, who became the biggest breakout star of 2012.
Manziel received basically no national publicity before the season started, yet he ended up emerging as one of the most remarkable athletes of the year, as he became the first freshman to ever win the Heisman Trophy.
It's doubtful that we'll see another quarterback experience the same type of rise to national stardom that we witnessed Manziel have in 2012. Nevertheless, there are still a few under-the-radar quarterbacks who could be ready to have huge eye-opening campaigns next season.
Here's a look at 10 dual-threat quarterbacks who aren't household names just yet. But they could be in store for a big breakout performance in 2013.
Begin Slideshow

»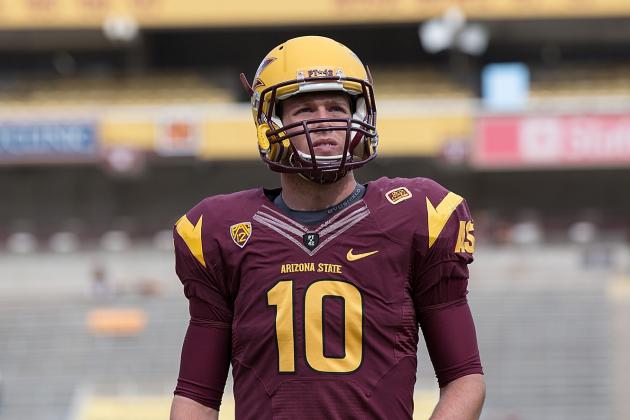 Allan Henry-USA TODAY Sports
Taylor Kelly
Arizona State wasn't a team that really received a ton of national attention this season, considering the only notable national primetime game the Sun Devils played in was a blowout loss to Oregon.
Since the team didn't garner much publicity in 2012, the performance of first-year starting quarterback Taylor Kelly really got overlooked.
Although Kelly didn't receive as much publicity as other Pac-12 quarterbacks such as Matt Barkley, Brett Hundley or Marcus Mariota, he was still one of the conference's most consistent and efficient passers.
Kelly completed 67 percent of his passes for over 3,000 yards and 29 touchdowns, and he also added 520 yards and a touchdown with his legs, as he led the Sun Devils to an 8-5 record.
The 6'2'', 202-pound sophomore signal-caller wasn't a very highly touted recruit when he was coming out of Eagle High School in Idaho. But he's certainly proven that he's got the skills to compete in a big BCS conference.
Now that he's had a year to adjust to offensive coordinator Mike Norwell's system, Kelly should feel comfortable enough to unleash his true natural playmaking ability in 2013.
USA TODAY Sports
J.W. Walsh
The quarterback competition at Oklahoma State should be one of the most heated battles of the offseason. The Cowboys have three signal-callers: J.W. Walsh, Wes Lunt and Clint Chelf, who proved that they could handle the starting role this season.
All of them had impressive moments, but the best of the three was clearly Walsh.
Although he was limited by a knee injury, the young quarterback still managed to capture the Big 12 Freshman Offensive Player of the Year award.
Walsh completed 67 percent of his passes, averaged 9.6 yards per pass attempt and threw 13 touchdowns compared to just three interceptions. He also averaged 5.8 yards on 50 carries and scored seven rushing touchdowns.
If the talented former 4-star recruit ends up winning the starting job in Stillwater this summer, the Big 12 better be prepared for an aerial assault in 2013.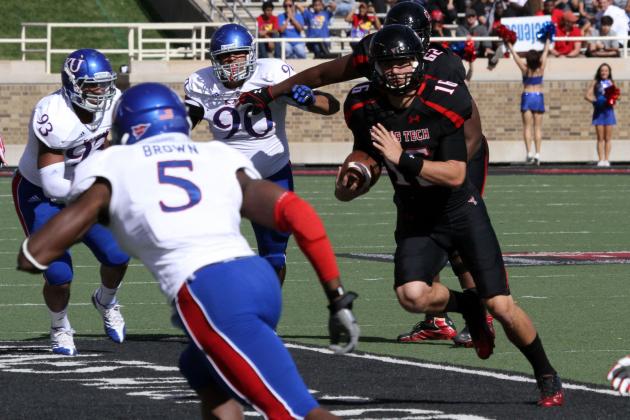 Michael C. Johnson-USA TODAY Sports
Michael Brewer
Former Texas A&M offensive coordinator Kliff Kingsbury is one of the coaches who helped mold Johnny Manziel into a star in 2012.
The question is, can the new Texas Tech head coach do the same thing with Michael Brewer next season?
Brewer is far from a proven commodity. The redshirt freshman spent most of his first season sitting behind starter Seth Doege and trying to soak up the offense.
Still, when he was called upon, he did look sharp, completing 34 of his 48 passes for 375 yards and four touchdowns.
With weapons like Eric Ward, Jace Amaro and Javon Bell at his disposal, Brewer will have the type of firepower he needs to really light up defenses in 2013.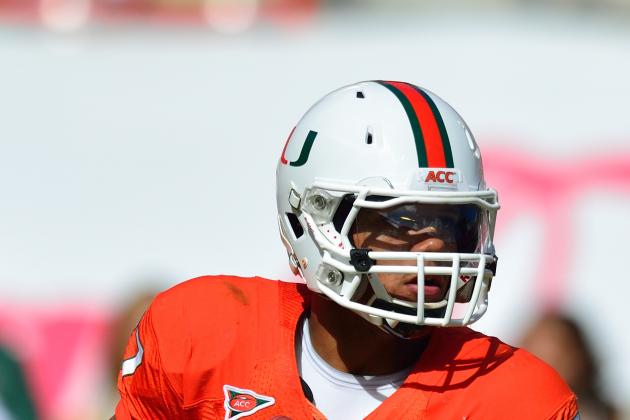 Steve Mitchell-USA TODAY Sports
Stephen Morris
Freshman running back Duke Johnson was Miami's MVP in 2012. However, the Hurricanes also got a solid overall season from QB Stephen Morris.
In his first year taking over as the starter, Morris threw for over 3,300 yards and 21 touchdowns, and he helped the Miami offense average over 30 points per game for the first time since 2009.
The 6'2'', 214-pound junior still has to improve on his accuracy, his decision-making and his overall grasp on the offense. Nevertheless, you still have to be encouraged by the flashes that Morris showed.
There's no doubt that Miami is definitely going to be a team to watch out for in 2013.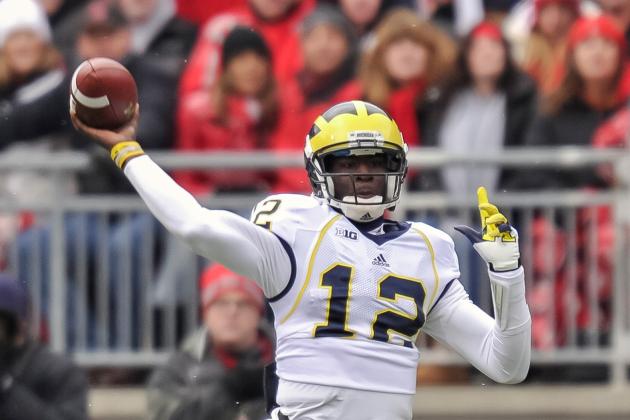 Jamie Sabau/Getty Images
Devin Gardner
Although Denard Robinson never developed into the truly elite player that many thought he would be, Robinson was still a dynamic playmaker for the Michigan offense during his three years as a starter.
Now that Robinson is gone, it will be Devin Gardner, a former blue-chip recruit who has patiently waited for his time to shine, who will be the one who takes control of the Wolverines offense in 2013.
The extremely athletic 6'4'', 203-pound junior displayed some encouraging flashes of his potential in the latter part of 2012 when Robinson went down with an injury. He finished the year with a 161 passer rating and accounted for 22 total touchdowns (11 passing, seven rushing and four receiving).
Gardner still has to become a more consistent and accurate passer in order to reach his full potential. But it's clear that he possesses the kind of tremendous athleticism that will cause fits for opposing defenses next season.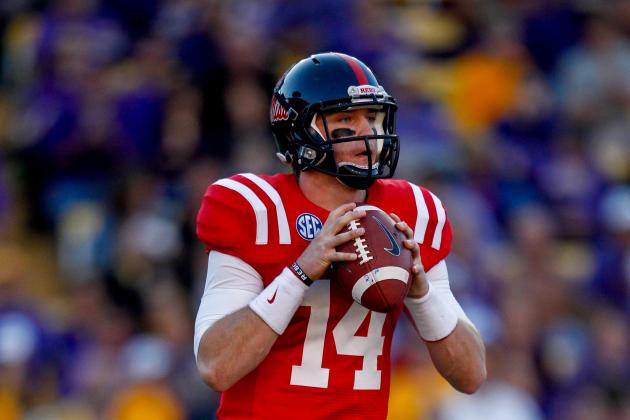 Derick E. Hingle-USA TODAY Sports
Bo Wallace
Bo Wallace may have tied for the national lead with 17 interceptions in 2012. However, he also helped lead an Ole Miss team, which many predicted would finish last in the SEC this season, to a surprising 7-6 record and a bowl victory.
Obviously, Wallace has to learn to be a little more careful with where he's throwing the ball. If he can fix that problem, though, he's got the chance to be a special player in Oxford.
Fresh out of the JUCO ranks, Wallace assumed the starting role for the Rebels and immediately became a stabilizing force for the offense. He completed 64 percent of his passes for over 2,900 yards and 22 touchdowns, and also added 390 yards and eight touchdowns on the ground.
Overall, it was certainly an encouraging debut season for Wallace, and it looks like he's only going to get better in 2013.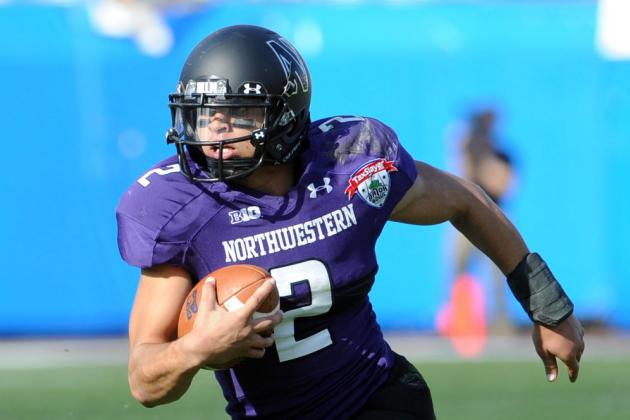 USA TODAY Sports
Kain Colter
We already know that Kain Colter can run. He proved that in 2012, when he rushed for 891 yards and 12 touchdowns.
What we still have to find out, however, is if Colter is a competent enough passer to handle being Northwestern's full-time quarterback on every down.
This season, the 6'0'', 190-pound junior had to split reps with sophomore Trevor Siemian, who led the team with 217 pass attempts compared to Colter's 150 total passes.
However, it was Colter who ended up being the more efficient passer of the two, finishing the year with a 67 percent completion percentage and a 128 passer rating.
Obviously, Colter still needs to become a more consistent passer over the offseason if he wants to become the main offensive weapon for the Wildcats in 2013. But there's no question that the supremely gifted signal-caller has the potential to be one of the Big Ten's biggest stars in 2013.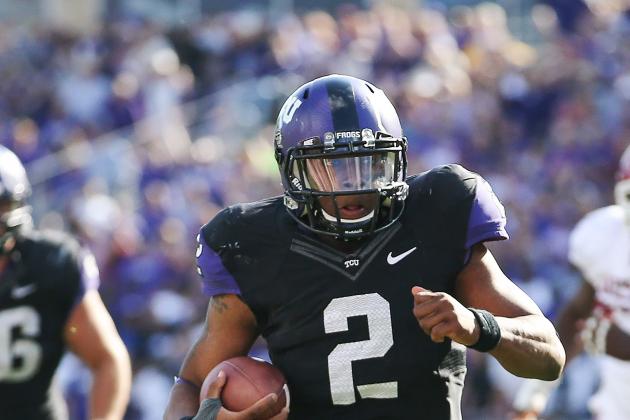 Kevin Jairaj-USA TODAY Sports
Trevone Boykin
It still remains to be seen whether troubled quarterback Casey Pachall will actually make a return to the TCU football team. However, even if the talented Texas native never plays another down for the Horned Frogs, that may not necessarily be such a bad thing.
When Pachall left the team in early October, it unexpectedly thrust freshman Trevone Boykin into the starting role without any time to prepare.
Even though Boykin had his fair share of ups and downs in 2012, he did finish with over 2,400 total yards of offense and 18 total touchdowns, and he did end up with road victories over both West Virginia and Texas.
Boykin made some typical freshman mistakes in his first season, which was to be expected.
Still, if he gets the chance to be a starter as a sophomore in 2013, he's definitely capable of making a drastic improvement.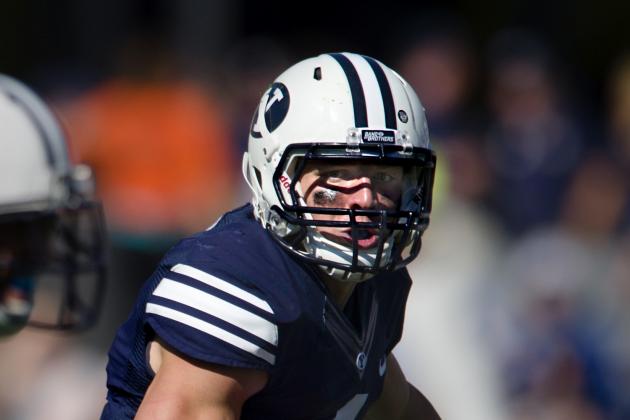 Douglas C. Pizac-USA TODAY Sports
Taysom Hill
Taysom Hill only played in six games in 2012 before going down for the season with a knee injury.
When Hill did get the chance to show off his skills, however, he certainly made the most of the opportunity.
Hill completed 42 of his 71 passes for 425 yards and four touchdowns, and he also averaged 6.1 yards per carry and scored four rushing touchdowns.
While we'll have to wait and see how the 6'2'', 218-pound freshman recovers from the injury, Hill clearly has the potential to be a dangerous dual-threat quarterback if he's fully healthy.
The former Stanford commit is an athletic, instinctive and intelligent signal-caller who can do equal amounts of damage to a defense with both his arm and his legs.
Ultimately, Hill should be able to form quite a passing combination with Cody Hoffman, one of the most talented receivers in the country.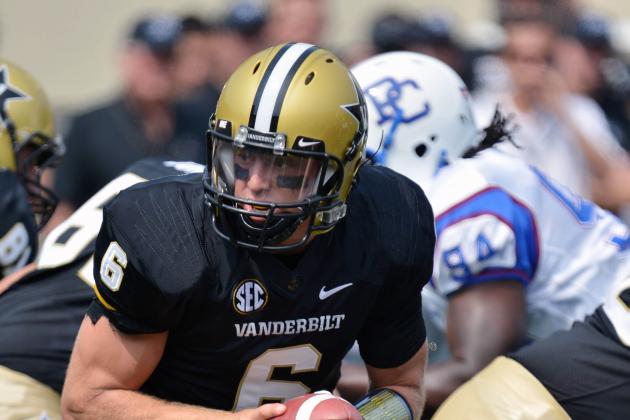 Don McPeak-USA TODAY Sports
Austyn Carta-Samuels
As a freshman at Wyoming back in 2009, Austyn Carta-Samuels led the Cowboys to a surprising seven-win season and a victory in the New Mexico Bowl.
Following his debut campaign, it looked as if Carta-Samuels was on his way to becoming a big-time player at the small program. But his time in Laramie turned out to be short-lived, as he ended up transferring to Vanderbilt after his sophomore season.
After sitting behind Jordan Rodgers in 2012, the 6'1'', 220-pound junior will get the chance to prove himself as a starter in 2013.
If Carta-Samuels displays the same type of playmaking ability and instincts that he did early in his career at Wyoming, he could quickly become a hot name in the SEC.
One thing's for sure, it's certainly going to help that he'll have one of the best receivers in college football, Jordan Matthews, to throw the ball to.