4 More Multi-Division MMA Fighters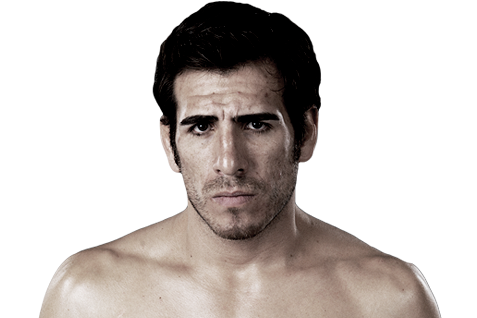 Photo courtesy of UFC.ca
Since the sport of MMA was invented fighters have been changing weight classes to help further their careers.
Sometimes a drop or an increase in weight can do wonders to a fighter's mindset and career. Look at Demian Maia. Randy Couture dropped to light heavyweight and won a championship there. The options are endless.
Some fighters change divisions to have a weight advantage on their opponent. Some do it for the size advantage or easier weight cut.
Some change to test their skills against different opponents. Others look to gain a shot at a title.
This is a second list about multi-division fighters.
Here is the link to the first article.
Let's delve into four more fighters who have fought in multiple weight divisions.
Begin Slideshow

»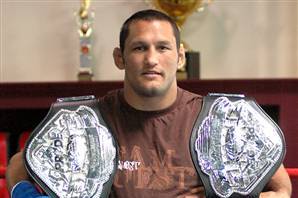 Photo courtesy of mmalinker.com
"Hendo" is an incredibly decorated fighter who has fought in an abundance of weight classes.
He fought and won the UFC 17 middleweight tournament. He bounced through numerous organizations after that before finding a home in Pride.
In December 2005, he won the Pride welterweight championship by defeating Murilo Bustamante by split decision.
In October 2006, he moved up to the Pride light heavyweight division and defeated Vitor Belfort. In his fight after that, he knocked out Wanderlei Silva for the Pride middleweight championship.
Next came a pair of title unification bouts. He lost the first fight for the UFC light heavyweight belt and Pride middleweight championship,to Quinton "Rampage" Jackson.
He next fought and lost to Anderson Silva in the unification fight for the Pride welterweight championship and the UFC middleweight belt.
Throughout the rest of his career, Henderson hasn't stopped winning. He became the Strikeforce light heavyweight title holder before vacating the title and returning to the UFC.
His last Strikeforce bout was at heavyweight, where he knocked out the legendary Fedor Emelianenko.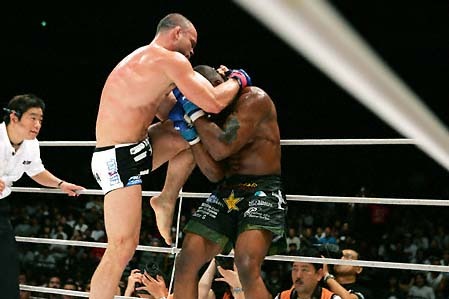 Photo courtesy of tkohub.com
Silva is another fighter who has fought in many different weight classes across the world.
For starters, he is the former IVC light heavyweight champion. He fought for the UFC light heavyweight championship at UFC 25 but ultimately lost to Tito Ortiz.
He went to Japan to fight in Pride, and there, it became one of their most feared fighters. He won the Pride middleweight championship in 2001.
Silva successfully defended the title a few times, and then in 2003, decided to fight in the Pride Middleweight Grand Prix. He won the Grand Prix, which culminated in a brutal knockout of Quinton "Rampage" Jackson.
Later in his Pride career, he took a fight against Mark Hunt at heavyweight. He lost that fight by split decision.
In the UFC, Silva has fought commonly at middleweight but has also taken bouts at a catchweight of 195 pounds, another catchweight of 190 pounds and his next fight will be a light heavyweight bout against Brian Stann.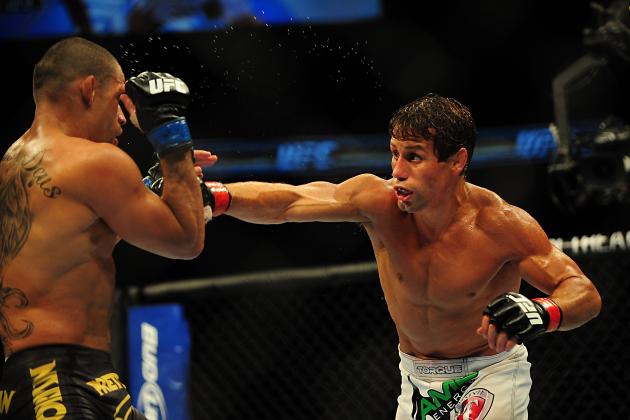 Anne-Marie Sorvin-USA TODAY Sports

Faber started off his career at 5-0 before fighting for a title. He won the KOTC bantamweight championship and successfully defended it four times over his career.
At WEC 19, he won the WEC featherweight title by defeating Cole Escovedo. He later vacated his KOTC title to fight in the WEC full time.
Faber defended his WEC belt five consecutive times before losing it to Mike Brown. He later fought and lost a rematch to Brown for that same title.
He fought again for the title, this time being held by Jose Aldo. Faber was dominated by Aldo in that fight, especially by the champion's heavy leg kicks.
After that fight, Faber made the decision to drop down to bantamweight. He fought his rival, Dominick Cruz for the UFC bantamweight championship but lost the fight by decision.
His most recent fight saw him take on Renan Barao for the interim UFC bantamweight title. He put up a good fight, but lost out to the Brazilian by unanimous decision.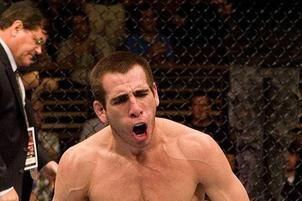 Kenny Florian remains today the only UFC fighter to compete in four different weight divisions.
He started his career fighting at welterweight. When he got offered a spot on the first Ultimate Fighter show, he jumped at the chance.
He had to move up to middleweight for the show and lost in the finals to Diego Sanchez.
Florian moved back down to welterweight after his loss. After a couple of wins, he dropped to lightweight and defeated Sam Stout in his debut.
He took on Sean Sherk for the vacant lightweight championship in his next fight but ended up on the wrong side of a decision.
He later got another crack at the lightweight belt, this time held by BJ Penn. He lost that fight in the fourth round due to a submission from Penn.
After losing a lightweight title eliminator to Gray Maynard, Florian decided to drop to featherweight. He won his first fight against Diego Nunes, and that gave him a shot against Jose Aldo.
He lost his fight to Aldo, but stayed competitive throughout the bout.
Florian retired after this fight, and although he never won a UFC title, he remains a favourite among fans across the world.
Tweet me @FuscoNation16