Live Blog and Play by Play for Strikeforce's Final Event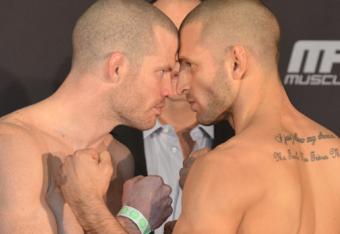 Photo courtesy of MMAjunkie.com

Well, the moment has finally arrived.
After 20-plus years in operation, Strikeforce will close its doors following the conclusion of tonight's "Strikeforce: Marquardt vs. Saffiedine" event in Oklahoma City.
Much has been written about the life and death of Strikeforce; I highly recommend reading Jonathan Snowden's excellent two-part oral history of the local California company that rose to become the second-largest MMA promotion in North America.
But that's all in the past. The only thing left to do is enjoy one final fight card from a promotion that gave us so many entertaining moments over the years. After that, the Strikeforce cage will come down one final time, and all we'll have left are the memories. Well, that and the promise of seeing some of the best Strikeforce fighters compete against their counterparts in the UFC.
I'm here tonight to give you complete coverage of the fight card. I'll do quick results for the first two preliminary fights (since they aren't being televised anywhere), and then we'll go in-depth on the rest of the prelim and main card fights.
And with that, let's start our live blog of "Strikeforce: Marquardt vs. Saffiedine."
Round 5: Marquardt's corner asked him after the last round if his leg was hurt badly, and Marquardt answered in the affirmative. And sure enough, Saffiedine lands a leg kick to open the round. And then another one. No idea how Marquardt is even standing at this point, you guys. Front kick from Saffiedine. He's picking Marquardt apart. Clinch from Saffiedine against the cage. He keeps him there for awhile, as Marquardt doesn't really have any power in his legs that would allow him to reverse it. Two big punches from Saffiedine.

Saffiedine lands two more leg kicks. Marquardt finally blocks one, but it's too late for that now. Saffiedine lands a straight right followed by another leg kick. Yep, Saffiedine is pretty much Jose Aldo punishing Marquardt's Urijah Faber tonight. Clinch against the cage as the clock shows 2 minutes left in the fight. Saffiedine escapes the clinch. Marquardt is exhausted and Saffiedine is still moving forward. Uppercut from Saffiedine and then a clinch. Marquardt reverses the clinch, but not for long as Saffiedine issues a reversal of his own. Leg kick from Saffiedine. Big takedown from Saffiedine with 43 seconds left in the fight. Yep, that should just about do it. The round is over, and Tarec Saffiedine will be your new Strikeforce welterweight champion. BR scores the round 10-9 for Saffiedine.
Official result: Tarec Saffiedine d. Nate Marquardt by unanimous decision (48-47, 49-46, 49-46)
Tarec Saffiedine is your new welterweight champion in the final bout in the history of Strikeforce.
I'd planned on writing something about Marquardt should face the winner of the Rory MacDonald/Carlos Condit fight, but that's out the window. Outstanding and wholly dominant performance from Tarec Saffiedine, who sets himself up nicely for a prime spot in the UFC's welterweight division.
Thanks for reading tonight, guys.
Round 4: Marquardt is down 30-27 on my card. I don't know if anyone else has the fight scored the same way, but it's clear that Saffiedine is probably up. Leg kick from Saffiedine. Marquardt's thigh looks disgusting. He's gonna have Urijah Faber Leg tomorrow. Christ, another leg kick from Saffiedine and Marquardt's leg is looking shaky. He's limping. Marquardt goes forward and starts throwing big punches. He's landing a few of them.
Another nasty leg kick buckles Marquardt's knee. Saffiedine has landed 13 of 14 leg kicks this round, and Marquardt is having a tough time walking. He's got one leg at this point. Saffiedine lands two more leg kicks. Marquardt tries to catch a Saffiedine leg kick, but can't push off his leg. Saffiedine lands a big punch against the cage. It feels like Marquardt's leg is going to explode at any moment like James Thompson's cauliflower ear. Marquardt lands an uppercut, but Saffiedine drills him with two more leg kicks. Marquardt is cut. BR scores the round 10-9 for Saffiedine
Round 3: Saffiedine low kick, then misses a spinning kick to the body. Marquardt pressing forward, but Saffiedine digs in a leg kick. Big inside leg kick from Marquardt. Clinch and Saffiedine tries a trip, but Marquardt avoids it. Saffiedine clinches Marquardt against the cage, and here we go again with more clinching. I can appreciate the clinch game, but this is getting tedious. They separate. Marquardt misses a flying knee. Left hook from Marquardt as Saffiedine presses forward, and guess what? They're back in the clinch against the cage. Marquardt lands a right hand as they separate, and that one hurt Saffiedine a little. Marquardt's leg is purple from the leg kicks. Marquardt pushing forward with punches, but Saffiedine lands one of his own. Marquardt looks a little bit tired now; his mouth is hanging open. Saffiedine leg kick and then another and another. And another. Marquardt's leg looks bad. This is like when I play UFC Undisputed 3 and I try to win fights by leg kick TKO. A jab from Marquardt lands, but Saffiedine digs in yet another leg kick. Marquardt shoots, but Saffiedine sprawls. Yet another winning round for Saffiedine. BR scores the round 10-9 for Saffiedine
Round 2: Marquardt takes the center of the cage again. Marquardt is throwing a lot of feints. Yes, the fans are restless. Marquardt shoots a single, but Saffiedine stuffs it. Marquardt briefly takes his back but Saffiedine gets back up and pushes Marquardt against the cage. Marquardt using knees to the body, then reverses and pushes Saffiedine against the cage. They're going back and forth in the clinch game here. It's not the most exciting thing for the fans, but it's definitely technical. McCarthy has seen enough of the clinch and separates them. Marquardt lands a head kick, then Saffiedine lands a flicking head kick of his own. Marquardt has some swelling under his right eye. Saffiedine drills a leg kick. Marquardt shoots for a takedown again, but Saffiedine stuffs it and Marquardt presses him against the cage. They separate with 30 seconds left. Saffiedine leg kick. Those things are nasty. Saffiedine lands a nice counter right. Marquardt tries a spinning back wheel kick but slips and falls, and that's the end of the round. BR scores the round 10-9 for Saffiedine
NATE MARQUARDT (-315) vs. TAREC SAFFIEDINE (+255)
Round 1: Marquardt takes the center. Saffiedine lands a leg kick. Saffiedine is moving quickly. Big leg kick from Marquardt, who follows up with a side kick to the body. Both guys are being extremely careful here. Leg kick from Saffiedine. Saffiedine drops Marquardt with a nice punch, but Marquardt recovers. Saffiedine presses him against the cage. They separate, but Marquardt nearly killed him with an elbow. I mean, that thing was close. Body kick from Saffiedine followed by a Marquardt leg kick. Saffiedine leg kick. Marquardt tries a side kick to the head but doesn't connect. Marquardt comes in with strikes, but Saffiedine clinches him against the cage. Marquardt looks for a standing arm-triangle but doesn't get it. They're exchanging clinches against the cage, with Saffiedine getting the better of it. The crowd is getting a bit restless; they've been spoiled tonight. Marquardt pushes Saffiedine against the cage, but Saffiedine slips away and moves back as the round ends. BR scores the round 10-9 for Saffiedine.
The next 12 months are going to be very interesting for Daniel Cormier. He wants to face Frank Mir on the 4/20 UFC on Fox card in San Jose.
"I'm telling you right now. I signed my contract, and on April 20 on UFC on Fox, Frank Mir, it's you and me," Cormier said.
After that? It all depends on if Cain Velasquez is able to retain his title against his next challenger, which will likely be Alistair Overeem (as long as Overeem beats Antonio Silva).
If Velasquez keeps the belt, Cormier is dropping to 205. And if he beats Frank Mir, he'll likely be the next challenger for the light heavyweight title.
"I'm gonna let Jon defend his belt on April 27, and then I'm gonna kick his ass in the fall," Cormier said.
ROUND 2: Staring moves forward aggressively and clinches Cormier against the cage, but Cormier immediately reverses it. Not a wise decision by Staring there. Cormier backs away. Staring clinches again, and Cormier slams him to the ground. Cormier using short elbows in side control again. Staring moves over to his stomach and Cormier takes his back. Staring rolls to his back, but Cormier is smothering him. Cormier unloads with punches. Staring rolls to his stomach again, and Cormier continues to drop hammer fists. Cormier's in the mount and is looking for a potential armbar, but Staring rolls away. Cormier's battering him here. Cormier stands up and unloads on Staring, and John McCarthy finally stops the fight.
Official result: Daniel Cormier d. Dion Staring by TKO, round 2
DANIEL CORMIER (-1900) vs. DION STARING (+1100)
Round 1: Feeling out period to start. They clinch up, but Cormier lets Staring go. They clinch again, and this time Cormier herks Staring over for a lateral drop takedown immediately into side control. Cormier gets a crucifix, but Staring escapes with Cormier staying right with him. They separate. Cormier misses a headkick. Huge punches from Cormier rock Staring. Cormier takes Staring down again, back into side control. Cormier uses short elbows and they're connecting. Staring's mouthpiece is out and Big John separates them to fix it. Staring gets close and Cormier clinches, pressing him against the cage. Cormier takes Staring down and lands in the mount. He postures up and starts landing ground and pound. Cormier's just in complete control of everything here, and he's being very judicious with his game. The round ends, and Staring survives. BR scores the round 10-9 for Cormier.
That was the final fight on Barnett's contract with Zuffa/Forza, which means he's not an automatic entry into the UFC. But I'm hoping beyond hope that Barnett and his team can come to agreement with Zuffa, because he's still one of the best heavyweights on the planet and he's extremely marketable.
It'd be a shame if Barnett never goes back to the UFC.
JOSH BARNETT (-1550) vs. NANDOR GUELMINO (+850)
Round 1: Barnett immediately shoots for the takedown and gets it, right into side control. Barnett's not messing around tonight. Guelmino moves Barnett back into his guard. Barnett pressing down on Guelmino's throat with his forearm. Barnett stands up and drops back into a leglock, but Guelmino escapes. They go back to the ground, however, and Barnett moves to Guelmino's back before dragging Guelmino back to the ground. Barnett locks in an arm triangle for the submission win.
Official result: Josh Barnett d. Nandor Guelmino by submission, round 1 (arm triangle)
Three fights and three first-round submission wins. This is quite the fast fight card thus far.
GEGARD MOUSASI (-425) vs. MIKE KYLE (+325)
Round 1: Pat and Frank sure love Mike Kyle. By the way they're talking, you'd never know that Mousasi is a really good fighter. Kyle misses punches early, and Mousasi clinches him against the cage. Mousasi misses a head kick. Mousasi shoots in for the takedown and gets him to the canvas, falling into his guard. Mousasi's trying short elbows but not hitting much. Mousasi moves into half guard. Bob Cook is in Kyle's corner, telling him to hang on to Mousasi. No shame in that. But then Mousasi moves into mount and starts unloading with ground and pound. Kyle moves to his stomach and gives up his neck, and Mousasi secures the rear-naked choke for the submission win.
Official result: Gegard Mousasi d. Mike Kyle by submission, round 1 (rear-naked choke)
This was a good showing for Mousasi, who is now training with Stefan Struve and will look to make an impact on the UFC's light heavyweight division.
RONALDO SOUZA (-315) vs. ED HERMAN (+290)
Round 1: The guys trade a few punches, but nothing landed. Herman gets in close, and Souza turns him around and pushes him against the cage. Jacare separates. Jacares shoots under a Herman punch and dumps him to the canvas. Herman grabs a leg and looks for a heel hook, but Souza gets away. Herman then does an upkick to Souza as both of his knees are down. Souza is incredulous, and the ref stops the fight to chide Herman. But when he restarts the fight, he keeps them standing instead of putting the action back on the ground where it should be. Souza goes aggressive, lands a few big punches and then dumps Herman to the mat again. Souza secures a kimura and bends his arm backward, and that's the tap.
Official result: Ronaldo Souza d. Ed Herman by submission, round 1.
Jacare appeared angered after the illegal upkicks, and he went after Herman with fury and fire. I didn't expect Souza to have any problems with Herman, but this was still a good showing.
The opening of the show is a loving segment, voiced over by the absent Maruo Ranallo, paying tribute to the history of Strikeforce, from Shamrock vs. Gracie in San Jose all the way to Daniel Cormier and Ronda Rousey.
One interesting note: from a betting perspective, this might be the most one-sided major card I've ever seen. There is no favorite lower than -315 (Nate Marquardt's current line on BetDSI), and the odds go all the way up to -1550 for Barnett and -1900 for Cormier.
I picked all favorites on this card, and I still think all of them will win. But you never know. This is MMA after all, and as Gus Johnson famously said, "these things happen in MMA."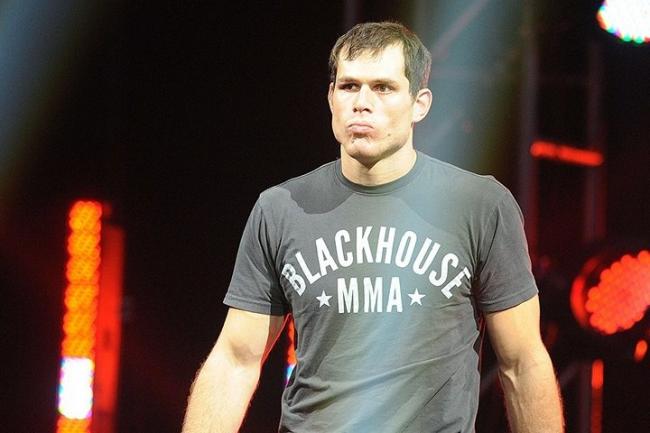 And now, it's time for the main card. While we wait for the first fight to start, here's an awesome photo of Roger Gracie walking to the cage before his win over Anthony Smith.
RYAN COUTURE vs. K.J. NOONS
Ryan Couture may have gotten his Strikeforce job on the strenth of his Dad's Hall of Fame name, but it's clear that he's come a long way as a fighter since his days on the Strikeforce Challengers cards.
Couture showed a wildly improved standup game, attempting a variety of spinning kicks and punches on the way to winning the first round. But Noons is still a fantastic boxer, and he battered Couture from pillar to post in the second round. It was an incredibly exciting round, to be sure, and Couture proved that his chin has no issues with sustaining a lot of punishment.
Couture continued to press the action in the third round, trying takedowns and all manner of strikes. Noons escaped the takedowns and landed punches of his own, but Couture kept coming forward.
In the end, the judges saw the fight for Couture in a split decision. It was close, with Noons landing the more powerful strikes. Couture pressed the action more and landed plenty of his own. I had it scored for Couture, but only just.
But make no mistake about it: this was one heck of an exciting fight, and Couture proved that he belongs in the UFC. Then again, so does Noons.
Official result: Ryan Couture d. K.J. Noons by split decision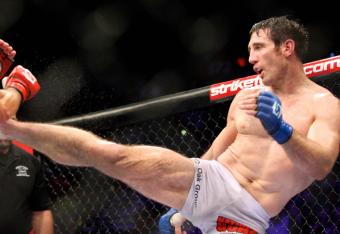 TIM KENNEDY vs. TREVOR SMITH
Due to poor weather in Houston, my signal went out. We pick things up at the end of the second round. From what I've been able to ascertain, Kennedy won the first two rounds.
Round 3: Smith looked tired to start the round, and Kennnedy made the most of it. When Smith went for a takedown, he left himself exposed and Kennedy locked in a nasty guillotine for the submission win.
Official result: Tim Kennedy d. Trevor Smith by submission, round 3 (guillotine)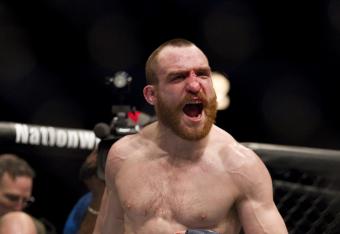 PAT HEALY vs. KURT HOLOBAUGH
R1: Kurt Holobaugh started things out early, winging wild punches at Healy and dropping him to the canvas. Healy rebounded quickly and ended up taking Holobaugh to the canvas. Holobaugh went for a toe hold, but Healy remained calm and escaped, staying on top of Holobaugh the entire time. Holobaugh used the cage to work his way back to his feet, but Healy kept him pressed there and worked him down to the mat. Holobaugh used a slam with Healy on his back, then tried to take Healy's back to no avail. Healy maintained back control. He sunk in a rear-naked choke, but Holobaugh held on until the end of the round. BR scores the round 10-9 for Pat Healy.
R2: Holobaugh tries to strike to open things up, but Healy gets a quick takedown. Healy takes Holobaugh's back. Holobaugh shakes his way out the back door, and Healy looks for a kneebar but doesn't get it. The fighters are back on their feet, but not for long as Holobaugh falls back on Healy. Healy smoothly goes to Holobaugh's back, then ends up in Holobaugh's guard. This is some fun grappling right here. Healy moves around on top and is looking for an inverted triangle, but fails. Healy ends the round on top. BR scores the round 10-9 for Pat Healy.
R3: Holobaugh opens up with aggressive striking again. Healy looks tired, while Holobaugh still has a lot of gas. Holobaugh lands several big hooks and Healy shoots for the takedown, ending up in Holobaugh's guard again. Holobaugh has been quite active from his back. Holobaugh is looking for an omoplata, but Healy defends. Healy secures an arm triangle with 90 seconds left in the round, but Holobaugh manages to escape. I have no idea how he got away from that. Healy looks for a twister, but can't get it and the round ends. BR scores the round 10-9 for Healy, and the fight 30-27 for Healy.
Official decision: Pat Healy d. Kurt Holobaugh by unanimous decision (29-28, 29-28, 30-27)
Switching up the format here: for the rest of the preliminary fights, I'm going to do single post-fight recap posts instead of round-by-round updates. Once the main card starts, we'll switch to round updates.
Up next is Pat Healy vs. Kurt Holobaugh.
Healy is one of the best remaining Strikeforce lightweights, while Holobaugh took the fight on two weeks notice. That should give you an indication as to how this one will go.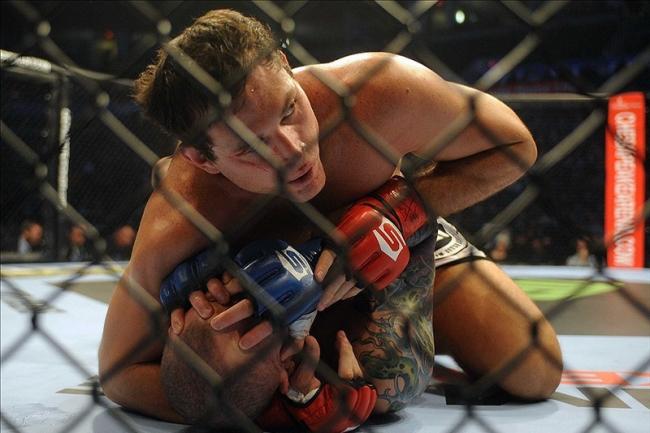 ROGER GRACIE vs. ANTHONY SMITH
Round 2: Smith opens things up by pushing the pace. Gracie looks totally unmotivated. Gracie does a half-hearted shoot, but Smith catches him with jabs on the way in. Gracie lands a big right hand, then moves in for the clinch and gets it. Smith pushes him against the cage, but Gracie executes a beautiful plum clinch into a double-leg takedown and gets it. Smith keeping a very high guard, but Gracie postures up, lands a few big punches and then passes into side control. Gracie works his way into mount, then lands a big elbow on the injured eye of Smith. Gracie moves into an arm triangle and gets the submission. Roger Gracie d. Anthony Smith by submission, round 2
Gracie looked terrible in the first round, but executed his game plan to perfection in the second and got the win. He'll move into the UFC, but this performance makes me think he needs a lot more work in the striking department before he can go up against any real contenders.
ROGER GRACIE vs. ANTHONY SMITH
Round 1: Smith opens with leg kicks. He's keeping an eye on Gracie's midsection, ready for any takedown attempts. He's also feinting uppercuts to give Gracie second thoughts about moving in close. Gracie grabs a leg, but Smith escapes. Smith continues using leg kicks. Gracie still doesn't look comfortable in the striking department, and by that I mean he's not really even trying any strikes at all, and when he does throw one, it's half-hearted. Gracie pokes Smith in the eye, so we get a short break. We resume things, and an inside leg kick from Smith staggers Gracie. Smith is gaining confidence, and rightly so. BR scores the round 10-9 for Smith.
Well, I was wrong: Couture vs. Noons is not kicking off the event. Instead, we'll see Roger Gracie taking on Anthony Smith.
Couture and Noons will be the final preliminary card fight on Sho Extreme.
CLOSING ODDS: Gracie -310 vs. Smith +250
The excellent AXS TV reporter Ron Kruck will serve as the lead play-by-play man tonight.
Mauro Ranallo, who usually handles the microphone duties, couldn't make the date due to both of his parents being hospitalized. I'd like to send out best wishes to Ranallo and his family and say that we're looking forward to seeing you back on the microphone for Showtime boxing events in the near future.
Joining Kruck in the booth is Pat Miletich and Frank Shamrock.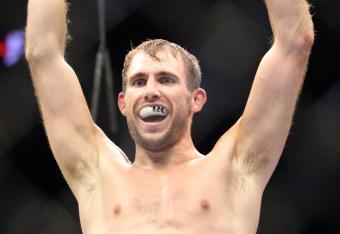 And we're live with BR's coverage of the final Strikeforce show.
I'm a little bit sad, to tell you the truth. I knew this day was coming, and I'm thankful that the guys in Strikeforce will get to face their counterparts in the UFC; it truly will create some intriguing matchups over the next 16 months or so.
But at the same time, I'm still sad, because Strikeforce was (mostly) awesome and I'm going to miss it.
Anyway, on with the show. Our first preliminary bout will be K.J. Noons taking on Ryan Couture.
ODDS: Noons -180 vs. Couture +150
All odds courtesy of BetDSI.com
We'll do round-by-round updates. As mentioned above, you don't have to refresh this page - simply stay tuned here and the latest updates will automatically be published. Neat, huh?
Quick Result: Adriano Martins d. Jorge Gurgel by unanimous decision (29-28, 29-28, 30-27)
That does it for the untelevised preliminary fights. We'll kick off the other prelims in about 15 minutes.
Quick Result: Estevan Payan d. Michael Bravo by TKO (strikes), round 2
This article is
What is the duplicate article?
Why is this article offensive?
Where is this article plagiarized from?
Why is this article poorly edited?