Who Was the First Truly Great Light Heavyweight: Ortiz, Liddell or Silva?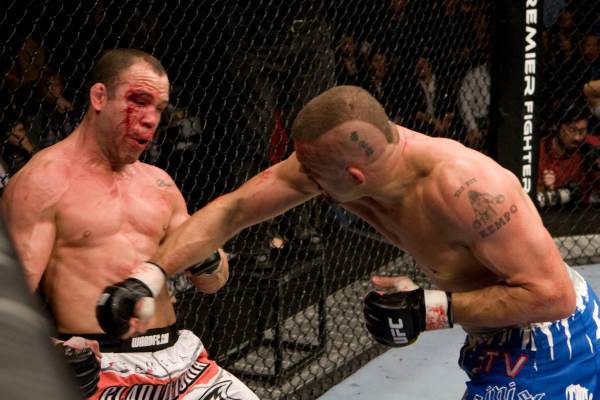 Photo courtesy of Placar
Once upon a time, Tito Ortiz was one of the most feared men competing in the sport of mixed martial arts. His aggressive wrestling and devastating ground-and-pound made him a man to fear and an incredibly tough out for anyone looking to get their hands on UFC gold.
The same can be said of Chuck Liddell, although he utilized his wrestling prowess in the opposite manner, opting to use his wrestling as a defensive tool in order to keep combat vertical, where he found extreme measures of success thanks to two sledgehammers that most recognize as fists.
As for Wanderlei Silva, well, he was never the division's finest wrestler. What he was, was a terrifying monster inside the ring who favored ugly, fast-paced slugfests over technically measured executions. It worked quite well for him, as he managed to put numerous foes to sleep with fists, feet and knees inside the Pride Fighting Championship ring.
Now years distanced from each man's prime fighting form, discussions often travel back to yesteryear's greats. Who was the greatest light heavyweight of MMA's first dedicated wave of fighters?
Even being completely objective, it's difficult to answer that question. Each man amassed major accolades during their dominant streaks, each man fought very different fights and each man ran into a few brick walls along the way.
Not a single one of the three were perfect fighters, and there's little doubt that none could compete with the likes of today's stars.
As amazing as Liddell's overhand right was, the chances that he could land that punch on a guy like Lyoto Machida or Jon Jones seem remarkably slim.
The same can be said of Silva, whose size alone would all but ensure nightmarish outcomes were he to tangle with the current monsters of the division.
As for Ortiz, well, MMA-executed wrestling has evolved too much to consider him a relevant threat in the takedown department. That bull-rush tactic probably doesn't yield much success against the elite nowadays, and his ability to deliver punishment from within the guard is a puzzle that was solved years ago.
There's nothing wrong with admitting that these men are far past top fighting form (Ortiz and Liddell have already retired), as it's a simple fact that cannot be denied. History has already shown us that these three aren't fit to compete with the division's elite anymore. And that's alright. All three enjoyed highly successful careers, and each has staked rightful claim to Hall of Fame induction and idol status.
But who was the true great of their time?
Let's take a look at their careers, during their most dominant days, and see if we can't find some semblance of a legitimate answer.
Begin Slideshow

»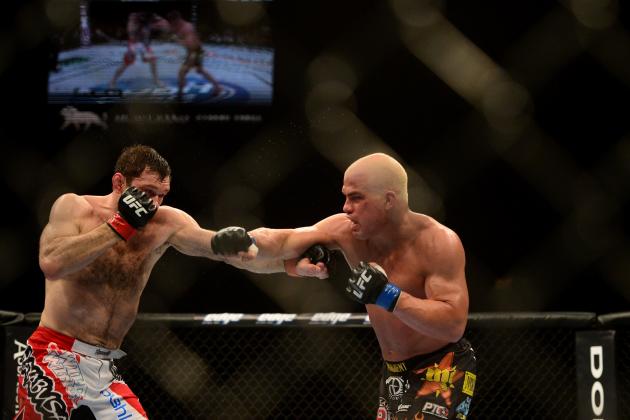 Mark J. Rebilas-USA TODAY Sports

Tito Ortiz's prime fighting years stretched from the year 2000 to the year 2006. Inside those six years "The Huntington Beach Bad Boy" earned 11 victories against only three defeats.
Ortiz won the vacant title at UFC 25, where he survived a few hairy moments inside the cage with Wanderlei Silva. The two fought a full 25 minutes, and the judges declared Ortiz the victor via unanimous decision.
Tito would go on to defend his title five times consecutively, toppling the likes of Evan Tanner, Yuki Kondo and Vladimir Matyushenko.
Randy Couture brought a sudden halt to Ortiz's dominance at UFC 44, where he handed Tito an embarrassingly lopsided defeat. Ortiz offered little resistance in their meeting, and Couture at times seemed almost bored. Hell, he even spanked Tito's ass, that's how far from a challenge the fight was for Randy.
That said, there's absolutely no shame in losing to "The Natural."
However Ortiz's immediate return to the cage forced a long-anticipated and highly hyped fight between he and Chuck Liddell into fruition. Liddell humiliated Tito, running roughshod over his nemesis and bringing closure to their first bout in 5:38.
Ortiz would engage in a few more fights that indicated he wasn't done just yet, taking hard-fought wins over Patrick Cote, Vitor Belfort and Forrest Griffin before hitting a career-altering slide in 2007.
Since UFC 73, where Ortiz met, in a controversial affair, Rashad Evans (which produced a draw), Tito's shown the signs of a worn-out fighter, incapable of offering up much resistance against the new breed of fighter.
His record post-2006 stands at 1-6-1. To call it an ugly exit from a sport he once dominated is really rather kind: Tito's career pulled a sudden Kamikaze, prompting an overdue retirement.
Ortiz Quick Career Summary
Ortiz's overall career highlight victories: Guy Mezger, Wanderlei Silva, Evan Tanner, Vladimir Matyushenko, Ken Shamrock, Vitor Belfort, Forrest Griffin and Ryan Bader.
Noteworthy defeats: Chuck Liddell, Randy Couture, Lyoto Machida, Forrest Griffin, Rashad Evans, Antonio Rogerio Nogueira.
Photo courtesy of Cage Potato
Chuck Liddell didn't defend his light heavyweight title five times as Ortiz managed, but his reign as the UFC's top 205-pounder was extremely imposing just the same.
Like Ortiz, Liddell also enjoyed his best run from 2000 to 2006, amassing a 16-2 record.
"The Iceman" earned UFC gold at UFC 52, where he knocked then-champion Randy Couture unconscious in 2:06. It was the first time "The Natural" had ever been reduced to a completely unconscious heap (he'd been TKO'd prior, but never to the point of complete unconsciousness) in his storied career.
Liddell would earn more substantial success, as he defended his belt four times, dismissing the challenges made by fighters such as Jeremy Horn, Renato Sobral, Ortiz (once more) and, again, Randy Couture, in what would be their final meeting.
Liddell's serious career troubles didn't arise until rival Quinton "Rampage" Jackson migrated to the UFC, and the two met at UFC 71. Rampage knocked Liddell out inside of the first frame, and triggered a career spiral for the legendary Liddell.
Following the loss to Rampage, Chuck pieced together a 1-4 record for the promotion, with his lone victory coming against longtime and true nemesis, Wanderlei Silva at UFC 79. Of the four losses he suffered in the wake of Rampage's arrival he was knocked unconscious three times (by Rashad Evans, Mauricio Rua and Rich Franklin).
His final bout, against Rich "Ace" Franklin, prompted retirement for the former face of the promotion.
Liddell Quick Career Summary
Liddell's overall career, highlight victories: Jose Landi-Jons, Paul Jones, Jeff Monson, Kevin Randleman, Guy Mezger, Murilo Bustamante, Vitor Belfort, Alistair Overeem, Tito Ortiz, Randy Couture, Wanderlei Silva.
Noteworthy defeats: Randy Couture, Quinton Jackson, Rashad Evans, Mauricio Rua, Rich Franklin.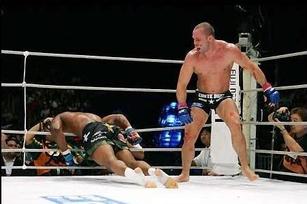 Photo courtesy of MMASucka
Care to speculate on Wanderlei's prime years as a competitor? You guessed it: The success of the "The Axe Murderer" ran nearly parallel to the time in which Ortiz and Liddell were hard at work building their legacies. Silva was a monster who enjoyed peak performances from 1999 to 2005.
In that six-year expanse of time the Brazilian built a respectable record of 25-3-1-1.
Silva ruled the Pride middleweight division (light heavyweight as we know it) with an iron fist for years, capturing numerous titles, including the middleweight strap as well as the 2003 Pride Middleweight Grand Prix Tournament champion.
Silva defended his Pride belt on four occasions, defeating worthy opposition in Ricardo Arona, Quinton Jackson and fair, but not quite elite challengers, Hiromitsu Kanehara and Kiyoshi Tamura.
Despite only defending his title four times, Silva managed to build a staggering 20-fight unbeaten streak inside the Pride ring. His unblemished run began at Pride 7 and lasted through Pride 28.
While a few "gimme fights," if you will (bouts with opponents clearly inferior to the Brazilian) cluttered Silva's record, the amount of respectable foes in which he battered is admirable to the greatest measure. The man lived up to his moniker.
Silva's Quick Career Summary
Silva's overall career, highlight victories: Guy Mezger, Dan Henderson, Kazushi Sakuraba, Hidehiko Yoshida, Quinton Jackson, Yuki Kondo, Ricardo Arona, Michael Bisping, Cung Le.
Noteworthy defeats: Vitor Belfort, Tito Ortiz, Ricardo Arona, Mirko Filipovic, Dan Henderson, Chuck Liddell, Quinton Jackson, Rich Franklin, Chris Leben.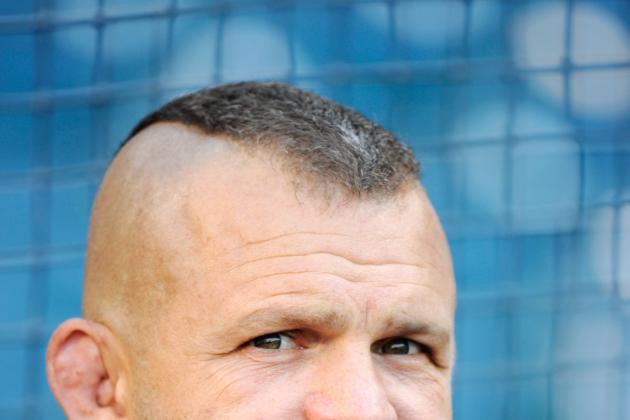 Kevork Djansezian/Getty Images

So who is my personal pick for the greatest light heavyweight of yesteryear?
Chuck Liddell.
While the man wasn't as prolific as Silva, he arguably faced the superior competition. His presence in the cage was every bit as intimidating as Wanderlei's vicious run and cold-hearted demeanor in the Pride ring.
That said, Liddell and Silva were both so dominant when in prime form that picking either man is fully acceptable in my eyes.
Follow me on Twitter.