Houston Rockets vs. Boston Celtics: Live Score, Results and Game Highlights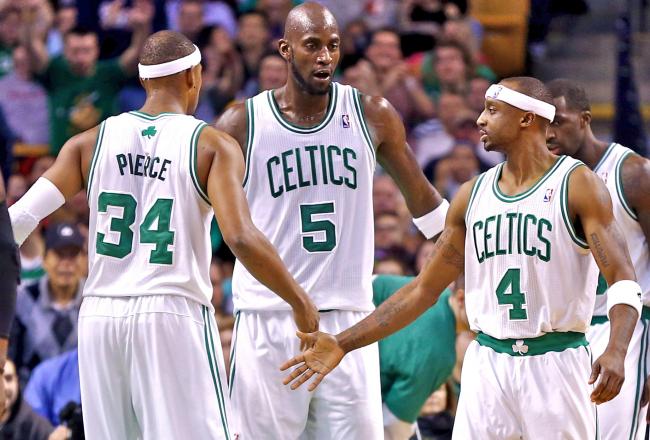 The Boston Celtics needed all hands on deck to capture their fifth-consecutive victory with a 103-91 win over the Houston Rockets.
While the Celtics starters looked lethargic in the first quarter, coach Doc Rivers' second unit used their first half playing time to build some breathing room.
Courtney Lee harassed James Harden on the defensive end and efficiently carved up the Rockets offensively. Jeff Green energized the crowd with yet another notable finish at the rim, but his hustle bought the Celtics easy looks and prevented a few for the Rockets.
The star of the second unit, though, was the reported medically red-flagged rookie Jared Sullinger. The big man used his 260-pound frame to clear space around the basket for open looks and a bevy of boards en route to his second-consecutive double-double.
Not be outdone by their stand-ins, the Celtics starters awoke in the second half. All it took was the Rockets shaving Boston's once 17-point lead down to just two points near the midway point of the fourth quarter.
Then the usual suspects finally appeared. Paul Pierce, Rajon Rondo and Kevin Garnett scored 11 of the Boston's next 13 points. Garnett closed that stretch with buckets on three consecutive possessions, the last of which gave Boston a 14-point edge with three minutes remaining.
Despite shooting 52 percent from the field (and 39 percent from the perimeter), Rivers' team won this game on the defensive end.
The Rockets entered the game with a league-leading 106 points per game (on 46 percent shooting). And Houston's MVP James Harden entered the night with a franchise-record 14 consecutive games with 25-plus points.
But the Celtics limited Houston's fast-break attempts, largely kept Jeremy Lin outside of the paint and applied a suffocating full-court pressure that the Rockets held no answer for. And Houston clearly did themselves no favors from the free-throw line.
Boston even shook their rebounding demons, for one night at least (they had a minus-4.1 rebounding differential on the season). A concerted team effort on the glass helped the Celtics compensate for their lack of bodies to throw at the 7'0", 255-pound Omer Asik.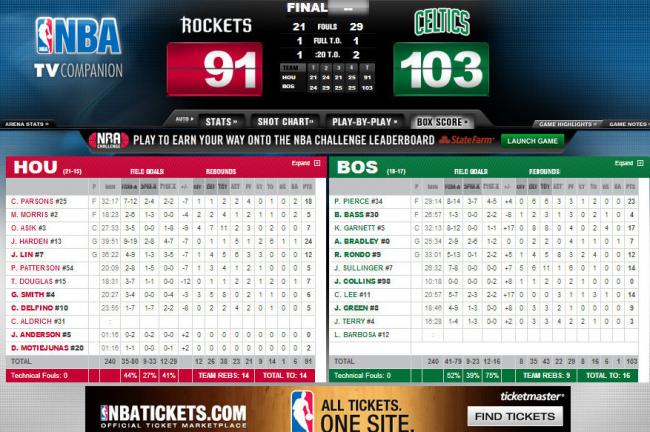 Courtesy of NBA.com.
Sullinger creates his own send-off from the fans with his sixth foul.
He still earned it, though (14 points and 11 rebounds). Celtics 103, Rockets 91 — FINAL SCORE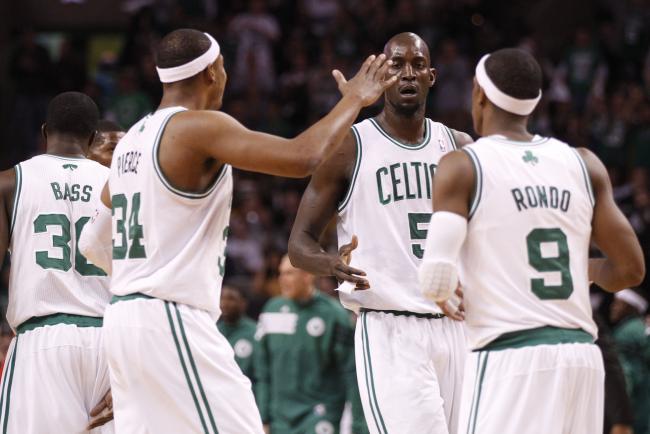 Pierce, Rondo and Garnett leave to standing ovations.
Harden also makes his way to the bench.
Celtics 103, Rockets 89 — 1:04 REMAINING IN 4TH QUARTER
Harden's 25-plus point streak still in danger (24).
The last team to hold him under 25? The Boston Celitcs. Celtics 101, Rockets 89 — 1:16 REMAINING IN THE 4TH QUARTER
Was just about to type KG threw down a Jeff Green dunk. Doesn't feel right to do that. KG was dunking when 1/2 Cs were in elementary school.

— Jessica Camerato (@JCameratoNBA) January 12, 2013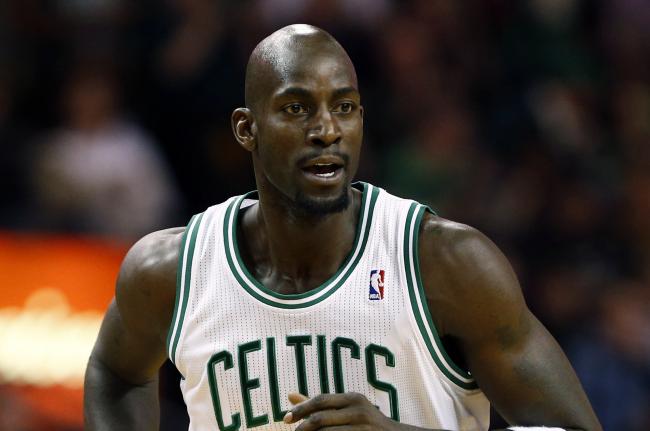 KEVIN GARNETT SMASH!

— Gethin Coolbaugh (@GethinCoolbaugh) January 12, 2013
Celtics starters all on the same page right now. Rockets look lost offensively. Celtics 98, Rockets 84 — 3:06 REMAINING IN 4TH QUARTER
Rockets 72.7 % ft shooting this season is 15th in NBA. They are 10 of 24 (41.7 %) with 5:51 left.

— Jonathan Feigen (@Jonathan_Feigen) January 12, 2013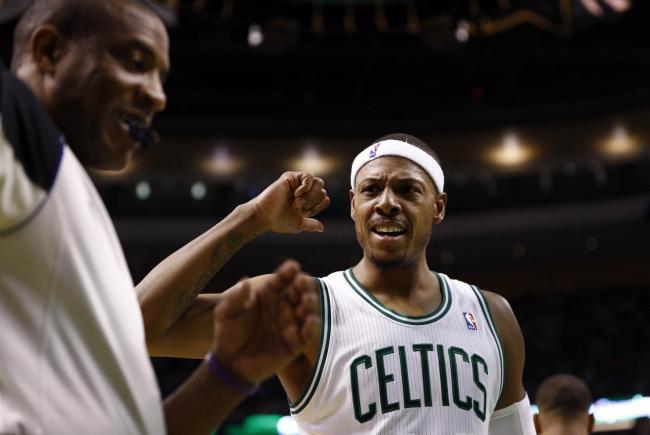 Paul Pierce gets the steal and takes it for a basket and a foul. #Celtics back up by 9 after lead cut to 2 -- #Rockets are down 91-82. 5:51.

— Gethin Coolbaugh (@GethinCoolbaugh) January 12, 2013
Despite missing 10 of their 24 free-throw attempts, Rockets still in position to take this game. Celtics 87, Rockets 82 — 6:20 REMAINING IN 4TH QUARTER
Sully. RT @stevebhoop: Rockets go on 12-0 run after Sullinger leaves game with his fifth foul.

— Celtics Town (@CelticsTown) January 12, 2013
Houston finding their way to easy opportunities, the last a fast-break dunk for Parsons.
Like his defense, Parsons' athleticism is another overlooked facet of his game like he showed with this nifty put-back during his rookie season.
Celtics 83, Rockets 81 — 7:22 REMAINING IN 4TH QUARTER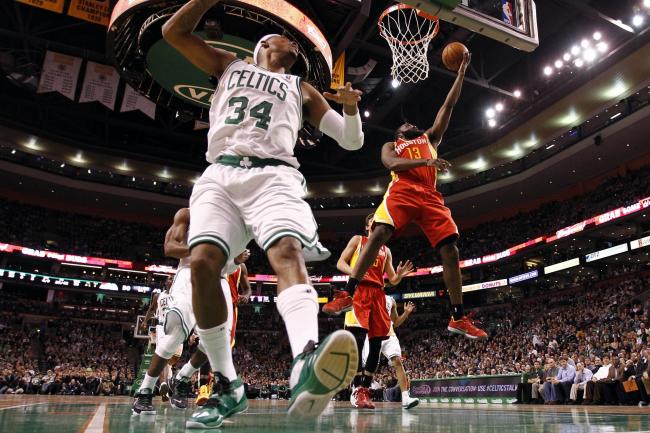 Houston will need a strong quarter from Harden to have a chance to steal another game late.
And Harden will need one to keep his franchise-record streak of 14 games with 25-plus points (18 so far). Celtics 83, Rockets 74 — 8:51 REMAINING IN 4TH QUARTER
Garnett has one of the meanest post games...from 15 feet away from the basket.
Fans stopped pushing for his move to the block years ago, he's just too reliable from the mid-range to complain. Celitcs 83, Rockets 69 — 10:01 REMAINING IN 4TH QUARTER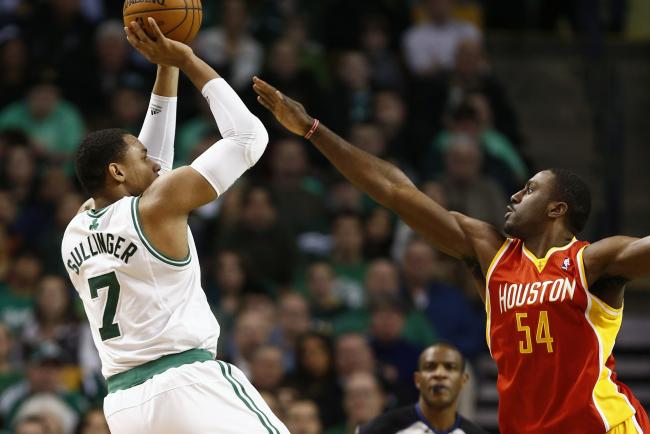 Jason Terry has 8 offensive rebounds this year.Jared Sullinger has 5 ...tonight.

— CelticsBlog (@celticsblog) January 12, 2013
Another strong defensive quarter has the Celtics inching toward their fifth-straight victory. Celtics 78, Rockets 66 — END OF 3RD QUARTER
Pierce may not be having an elite performance like the one he had against the Cleveland Cavaliers earlier this season (video below), but he's still got a game-high 18 points on 10 field-goal attempts.
Celtics 74, Rockets 61 — 1:08 REMAINING IN 3RD QUARTER
Celtics completely controlling the pace of this game. Rockets struggling for consistent fast-break chances, not to mention struggling mightily with their shots (5-21 from 3, 7-18 at the line). Celtics 74, Rockets 60 — 2:17 REMAINING IN 3RD QUARTER
Paul Pierce (23,293) just passed Dominique Wilkins (Hawks) for 11th on the @nba all-time scoring list with one team. George Gervin is 10th.

— Sean Grande (@SeanGrandePBP) January 12, 2013
One of the bigger differences in the Celtics is the recent grasping of the help defense concepts by the bench guys...

— Brian Geltzeiler (@hoopscritic) January 12, 2013
Watch how the Celtics built their eight point half-time advantage.
Celtics 78, Rockets 58 — 3:15 REMAINING IN 3RD QUARTER
Harden finding some success on the dribble drive, but I'd wager he's wishing it was still Robert Sacre protecting the rim.
Celtics didn't attempt a single free-throw in the first half, but have already fought their way into the bonus midway through the period. Celtics 70, Rockets 56 — 5:34 REMAINING IN 3RD QUARTER
This article is
What is the duplicate article?
Why is this article offensive?
Where is this article plagiarized from?
Why is this article poorly edited?