10 Most Gruesome Injuries in World Football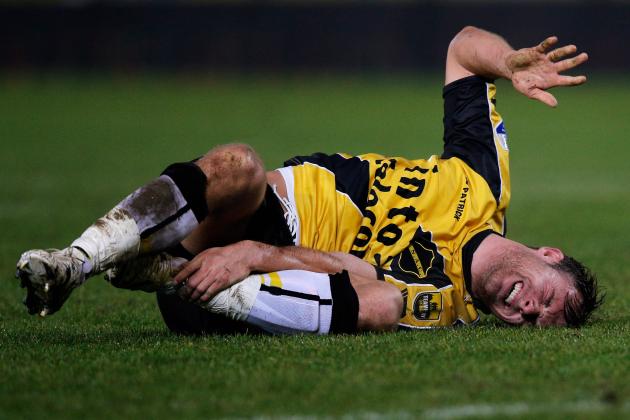 Dean Mouhtaropoulos/Getty Images

The beautiful game can, at times, be not so beautiful.
Player injuries are so common and so frequent that we often become immune to just how serious they can be—that is, until we witness a truly gruesome injury.
And whilst they aren't at all pleasant (particularly if you're just sitting down to dinner), often a gruesome injury will stick in our minds for several weeks after the incident.
Read on to see the 10 most gruesome injuries in the history of world football. Oh, and obviously if you're not a fan of seeing gross stuff, maybe just read the headings.
Begin Slideshow

»
Kicking off our list here is one of the more memorable injuries in world football.
Djibril Cisse suffers one of the worst-looking leg breaks here against China—with the footage perhaps giving away the full frontal view, which is even more gruesome.
If you're game, here's the photo from front on.
Watch out for: Cisse's right leg
We head back into the past quite a bit here to find Ewald Lienen's horrific injury against Werder Bremen—all the way back in 1981.
And whilst there is no breaking, no dislocating and no fracturing, anytime a footballer ends up with a 25-cm-deep gash into his leg that allows you to see the bone, yeah, that counts as a gruesome injury.
Watch out for: Lienen's right leg.
Just to prove that goalkeepers are not immune from world football injuries, here's one featuring New England Revolution goalkeeper Preston Burpo.
Granted, he did make an excellent one-on-one save.
Watch out for: Burpo's right leg
Eduardo Da Silva had his highs and his lows for Arsenal during the years.
No guessing which category this one falls into.
Watch out for: Eduardo's right leg
Michał Żewłakow is the most capped Polish footballer in history, currently plying his trade for Leiga Warsaw as a defender.
And after watching this footage, it's only appropriate to see that Zewlakow is playing for a team that features the phrase "sore" in it.
Men around the world are queasy with anticipation.
Watch out for: Ahh, Zewlakow's groin region
Former Swedish international Henrik Larsson was a great international who would always employ great hustle and determination into winning the ball back in defense.
However, this time, that hustle didn't go so well for him.
Watch out for: Larsson's left leg
Where does it hurt? Where does it hurt?
Hold it up for me! I can't see where the injury is...
Ahh.
Gotcha.
Watch out for: Almeida's right leg
We change climates for a minute here as we have a look at some beach soccer, which still technically falls under the jurisdiction of world football.
This attempted clearance from Portugal's Bruno Torres remains one of the worst knee injuries I have ever seen—even if it only was for a couple of seconds.
Watch out for: Torres' right knee
From what I can tell, this is a Bolivian football league game being played between Oriente Petrolero and Deportes Tolima.
And in this instance, Tolima definitely comes out better than Petrolero. Especially when the man in question only received a yellow card.
Watch out for: The Petrolero player's right leg
But there is no more gruesome injury than watching a leg do a complete 180-degree turn, as we see here in Oupa Ngulube's leg break and dislocation.
Perhaps the biggest question that remains is as to why he wasn't wearing shin pads.
Now there's a lesson for all you kids out there.
Watch out for: Ngulube's right leg.
Any gruesome world football injuries that was missed?
Comment below or hit me up on Twitter: Follow @dantalintyre