Oklahoma City Thunder vs. L.A. Lakers: Live Score, Results and Game Highlights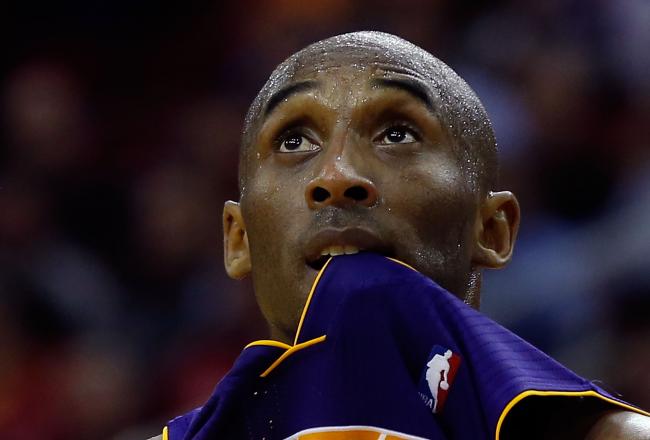 It will be the Kobe & Nash show tonight, with Howard and Gasol both out.
Scott Halleran/Getty Images
The Lakers dropped to 15-21 with their 116-101 loss to the Oklahoma City Thunder on Friday (Jan. 12) night. Here's the commentary from the Thunder's blowout win.
The Lakers suffered their sixth straight loss, losing by nearly 20 points in a game in which they were only six point Vegas underdogs.
A lack of defense was the primary reason why.
The Lakers just couldn't matchup with the array of talent on the Thunder, and when Russell Westbrook and Kevin Durant weren't punishing the Lakers, Kevin Martin was, off the bench.
It's hard to come away with many positives for the Lakers, but at least Earl Clark looked good. With Jordan Hill now out the remainder of the season, Clark will likely become a rotation player and see big minutes.
The Lakers are likely lottery bound, and there's not a lot of young talent to develop, so Lakers' faithful will be suffering through a long season just to end up in the draft lottery. Who would have seen this happening after assembling four future Hall of Famers on one squad?
Oh yeah, that's right. It's happened before in La-La land. Last time the Lakers threw four future Hall of Famers on the floor though (Gary Payton, Karl Malone, Shaquille O'Neal and Kobe Bryant), they at least got to the NBA Finals. Yes, they were swept. But that still looks a lot better than a trip to the lottery.
The real matter for the Lakers now becomes trying to convince Dwight Howard to stay. Howard is a free agent at season's end, and with the Lakers now 15-21, he has to be wondering if he might not have been better off staying in Orlando.
THUNDER 116, LAKERS 101 — FINAL SCORE
Jeff Van Gundy said one of his new year's resolutions is to get the league contracted to 24 teams.
Hard not to agree with JVG.
The talent pool in the league just isn't rich enough to support 30 teams, and with the league's superstars joining forces on super teams, it's become even more difficult.
THUNDER 115, LAKERS 96 — Less than a minute in a thriller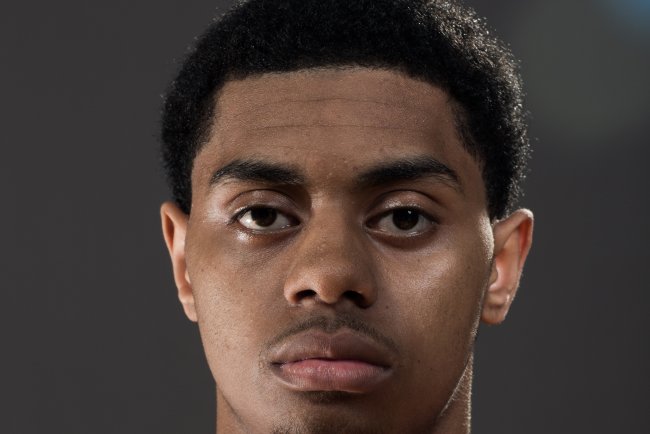 Nick Laham/Getty Images
Jeremy Lamb of UConn has checked into the game. Lamb had a phenomenal career in the NCAA, and was acquired as part of the James Harden deal. Lamb has played sparingly, but we'll get a good look at the 20-year-old in garbage time.
The Thunder are counting on him being a part of their long-term plans, so it should be interesting to see if he can further extend the lead throughout these otherwise meaningless minutes.
THUNDER 112, LAKERS 87 — 2:28 in 4th
Mike D'Antoni had the good sense to prevent another Laker injury and pulled Kobe Bryant from a game that the Lakers just weren't going to win.
As I said when Bryant checked in, his offense can resurrect the Lakers often, but not when they aren't stopping the opposition—at all.
THUNDER 112, LAKERS 85 — 3:34 in 4th
The only purpose to having Kobe Bryant on the court now is to prevent this from being a 30-plus point loss. Bryant is looking to score every catch (not unusual), but it isn't going to matter when Russell Westbrook is driving it down the heart of the defense and finishing strong.
Westbrook has 27, and it's been overshadowed by Kevin Durant's 42.
The Miami Heat may have a Big Three, but the Thunder's Big Two is the best tandem in the NBA.
THUNDER 110, LAKERS 85 — 4:26 in 4th
Kobe Bryant checks back into the game with 8:45 remaining in the fourth quarter. With the Lakers down by 18, it will take a true Kobe miracle to bring them back.
The Lakers' D has been non-existent, so even if Bryant gets hot, it won't matter with the Thunder getting any shot they want.
Basketball is played on both ends.
THUNDER 99, LAKERS 81 — 8:00 in 4th
Earl Clark has looked good this game, but here in garbage time he should take some time to learn how to be a bit more flexible on offensive possessions. I spoke earlier of Clark's tendency to "telegraph" every move, pass, drive and dribble.
Nick Collison will be covering Clark for the remainder of this blowout, and he's too good of a defender to fall for telegraphed and predictable drives to the basket.
With the Lakers down by 21 points, it's a good a time as any for Clark to learn to dribble with his head up and react more to the defense, rather than decide what he's doing as soon as he catches the ball.
THUNDER 97, LAKERS 78 — 9:42 in 4th
It doesn't seem likely the Thunder will surrender this big lead. Though up by 25, Thabo Sefolsha is playing tough defense on Kobe Bryant. And that's about all this will take to keep it out of reach for the Lakers.
Bryant nailed a three and drew an unusual chorus of cheers, in a game in which Lakers fans have had little to cheer about.
The Staples Center is more quiet than a well maintained library, save an occasional chorus from the die hards who are trying desperately to get into this blowout.
THUNDER 93, LAKERS 73 — End of 3rd
Lakers fans at Staples Center are pretty desperate for something to cheer about with their 15-20 Lakers trailing by 20-plus. Following Steve Nash and Kobe Bryant threes this quarter, a collection of lower bowl fans stood to their feet in ecstasy. Or at least, mock ecstacy.
The Thunder are getting just about any shot they want, and now some boos are oozing from the Lakers' audience.
They're just desperate to make some kind of noise, I guess.
THUNDER 90, LAKERS 68 — 2:05 in 3rd
Kevin Durant has 15 points in the third quarter, and that 50-point estimate wagered at halftime now seems like it may have been a bit on the conservative side.
Although, with the Thunder up big, it's doubtful Durant will see enough minutes in the fourth quarter to put up the huge scoring number he may have otherwise.
THUNDER 84, LAKERS 63 — 3:28 in 3rd
Kevin Durant just can't seem to miss tonight. He's 14-of-20 from the floor and just continues to hit jumper after jumper. After missing his first jumper in many minutes, the Thunder corralled the long rebound and fed Durant for an easy dunk.
Even when he finally does miss, the Lakers can't find a way to turn it to their advantage.
THUNDER 80, LAKERS 59 — 5:14 in 3rd
The Lakers are 26th in the NBA in bench scoring, averaging 26.2 points. Tonight, they have 11 and are behind pace to be as bad as they usually are. With Earl "The Pearl" Clark starting and Robert Sacre doing his best Dwight Howard impersonation (and not a very good one), the Lakers bench packs even less punch than usual.
THUNDER 73, LAKERS 52 — 7:47 in 3rd
Antawn Jamison has been rewarded for running the floor hard, but it's going to take more than a couple transition baskets to get the Lakers back in this game.
Jamison will shoot free throws when the game returns to action.
THUNDER 73, LAKERS 52 — 7:47 in 3rd, TV Timeout
Robert Sacre caught the ball on a pass about six feet away from the hoop—wide open. Sacre took a second, waited for defense to come, and then launched up a contested six foot jumper. He missed.
Sometimes, you have to take what the defense gives you, rather than wait for the defense to get you.
THUNDER 70, LAKERS 48 — 9:32 in 3rd
The Thunder could put the Lakers away with another run to open this third quarter. Kevin Durant got to the line on the first Thunder possession of the half and predictably knocked down both free throws.
Russell Westbrook followed up that possession with a three to extend the lead to 21. The Lakers' work is cut out for them, but with so many weapons on the Thunder team, this game could easily get even more out of hand.
THUNDER 69, LAKERS 48 — 10:33 in 3rd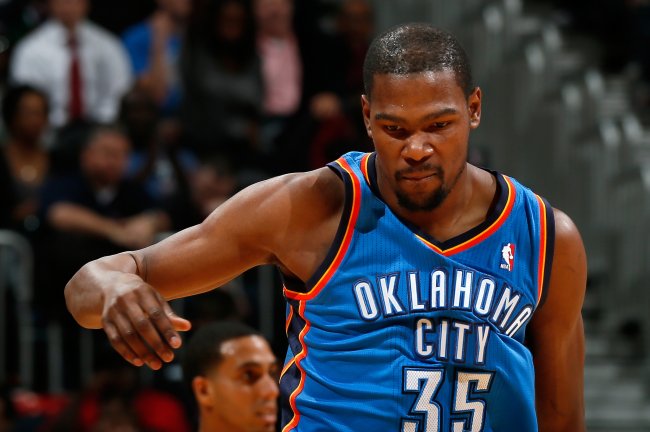 Kevin C. Cox/Getty Images
On the half's closing play, the Thunder isolated Kevin Durant at half court against the defense of Earl Clark. Clark slid his feet well and forced Kevin Durant to miscue with his dribble, and it nearly forced a turnover.
With 2.4 seconds on the clock, the Thunder instead inbounded to Durant...and he hit a three from the wing.
Clark has had a rough time with Durant, but he's played very good defense overall. It's just...Durant.
Good defense sometimes isn't enough.
That's 25 first half points for Durantula.
"We stayed with our defense and I think we were a little lazy in the first quarter...we rebounded the basketball and got out for some easy points...My teammates are doing a great job of looking for me and I'm just trying to finish plays. Post up is working for me...." - Kevin Durant to ESPN
THUNDER 64, LAKERS 48 —Halftime
The Lakers may have closed out the first quarter well, but it has been the Thunder who have taken the game by its reigns in the late second. The Thunder have extended their lead to double-digits late in the second quarter and are quickly pulling away with this, pushing blowout status.
Kevin Durant may be on his way to a 40-plus point night, as he has 22 on 9-of-14 shooting at this juncture.
THUNDER 61, LAKERS 47 — 15.9 in Half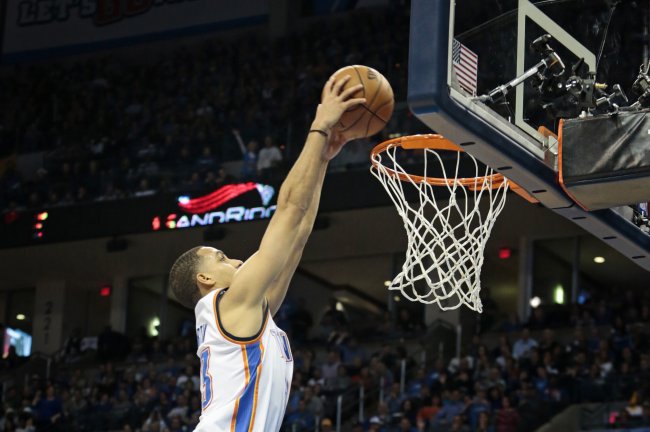 Brett Deering/Getty Images
The Thunder's bench has outscored the Lakers 10-7.
All 10 points have come from Kevin Martin, while it has taken three Lakers to accumulate all seven of their points.
Martin is 4-of-7 from the floor and has hit both of his three point attempts. He may not be quite the talent James Harden is, but he's effectively filled the role Harden served for the Thunder. Moreover, the subtraction of Harden has enhanced Serge Ibaka's role within the offense.
It's strange to think taking the league's fourth leading scorer off the team could make them better, but it's hard not to suggest that has been the case, as well.
THUNDER 52, LAKERS 45 — 2:58 in 2nd
Kobe Bryant has two fouls. With Kobe covering Russell Westbrook, Scott Brooks should be featuring Westbrook on the block almost every play. Getting Kobe in foul trouble would be one way to put the Lakers out of this one.
THUNDER 50, LAKERS 45 — 3:10 in 1st
Mike D'Antoni might not know a ton about defense, but he was smart enough to figure out a guard switch defensively.
Kobe Bryant is covering Russell Westbrook, because God knows Steve Nash can't. Nash is instead matched up against the 6'5" Kevin Martin.
THUNDER 49, LAKERS 41 — 3:55 in 2nd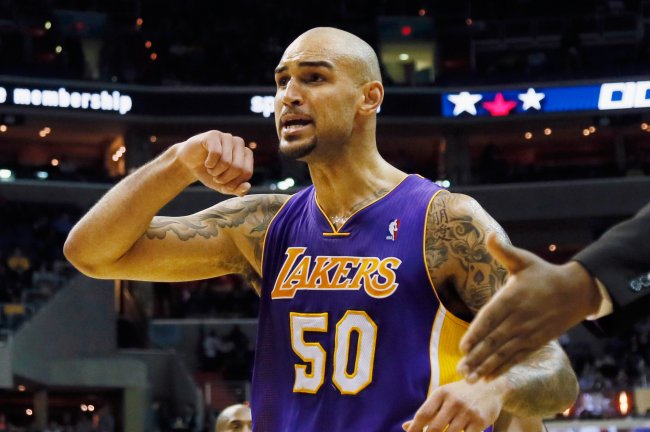 Rob Carr/Getty Images
There's more than one reason to double team a player. Often, the reason is because it takes more than one guy to stop him.
That's not the case with Robert Sacre. Sacre is drawing double teams because he is a turnover machine. Russell Westbrook immediately doubled down and Sacre's pass slammed off the court and ignited a Thunder fast break.
Next time you get double teamed, question if it's because you are that good, or because you are that bad.
My apologies, Mr. Sacre.
THUNDER 47, LAKERS 37 — 5:16 in 2nd
Nick Collison finds so many ways to impact a game without hitting the stat sheet. He's facilitated a couple easy looks by Kevin Martin by setting good screens.
Collison is good for some rebounds and hustle buckets, too. He has yet to score, but has three rebounds and two assists.
THUNDER 38, LAKERS 35 — 6:44 in 2nd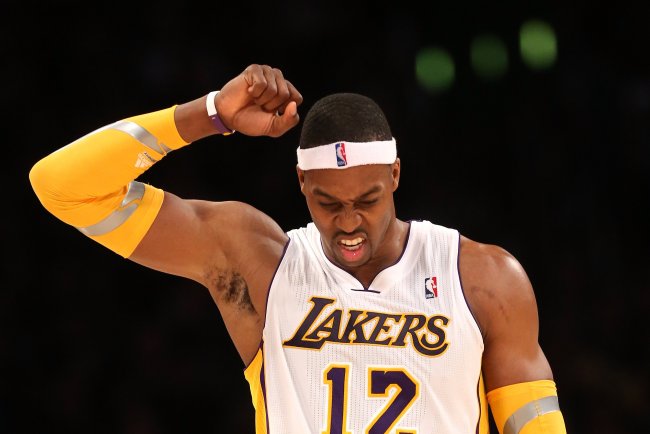 Stephen Dunn/Getty Images
Jeff Van Gundy is preaching the importance of remaining involved when the offense isn't featuring you, citing the play of Earl Clark early on.
The implication of Van Gundy's words are that Dwight Howard needs to learn to do the small things, and allow the offense to come to him as it may.
That's all good and well, but Howard has had a lot of trouble adjusting to being essentially the fourth option on offense. In Orlando, the offense ran through Howard, but the Lakers will always be a Kobe-led team until the Mamba retires.
Dwight either adjusts to that or goes the way of the dinosaurs. That is, if the dinosaurs are headed to Brooklyn.
THUNDER 33, LAKERS 31 — 8:16 in 2nd
Antawn Jamison basically had no chance when Serge Ibaka posted him up. Ibaka made a crafty little spin move for the easy layup. Jamison is not known as a good defender, but Ibaka is a better offensive player than given credit for, as I said earlier.
The Lakers are going to have to double team Ibaka to relieve Jamison the frustration of covering a much quicker and more athletic 4-man.
LAKERS 30, THUNDER 29 — 9:40 in 2nd
"It's a 12 minute quarter...we didn't play well the last four. We turned it over...we gotta rebound the basketball, gotta be careful, we gotta be aggressive." -Scott Brooks to ESPN
This article is
What is the duplicate article?
Why is this article offensive?
Where is this article plagiarized from?
Why is this article poorly edited?

Oklahoma City Thunder: Like this team?