Reasons Charlotte Bobcats' Future Is Brighter Than You Think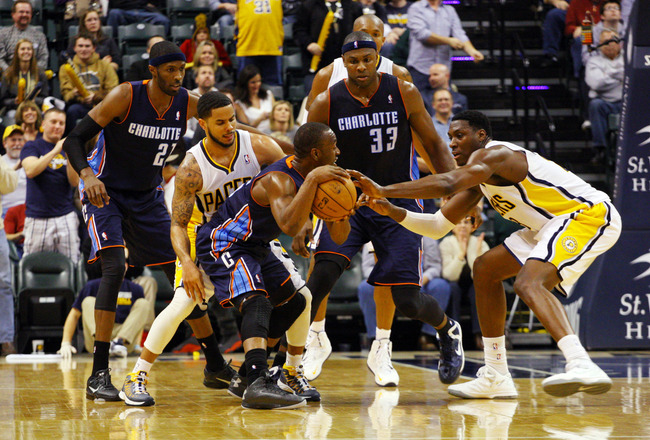 Brian Spurlock-USA TODAY Sports
It is time to plan for the future.
For the 9-28 Charlotte Bobcats, that future resides in the 2013 NBA Draft lottery.
So far, getting Kemba Walker in 2011 and Michael Kidd-Gilchrist in 2012 has proven to be beneficial for the franchise.
Add in another lottery pick from this year's draft and the Bobcats will surely get closer to being the team they want to be.
With impressive wins against top Eastern Conference teams like the Indiana Pacers and Chicago Bulls earlier in the season, it is clear Charlotte wants to shed its reputation of being a cellar dweller in the standings.
The major roadblock for the Bobcats is lack of experience, with three of their five starters being under 25.
Still, they have been playing with a spark that shows that this young squad could be contenders within the next couple of years.
Kemba Walker Has Arrived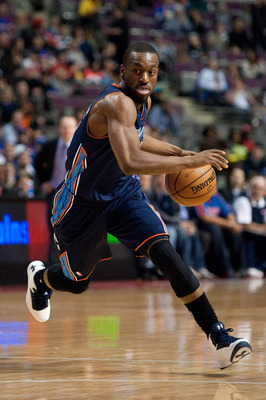 Tim Fuller-USA TODAY Sports
When the Bobcats drafted Kemba Walker in 2011, they were looking to get the kid who carried the Connecticut Huskies on his back en route to their second national championship title in seven years.
They got a quieter version of Walker in his rookie campaign, where he averaged 12.1 points and 4.4 assists per game in 27 minutes.
Forget about the sophomore slump, though, because Walker is not having it.
As of Jan. 10, he leads his team with 17.4 points, 5.8 assists and 3.3 rebounds per game. According to ESPN's NBA metrics expert John Hollinger, Walker has a true shooting percentage of 51 percent and an 18.63 Player Efficiency Rating.
Walker is showing that he is the main man for the Bobcats. His shoot-first mentality is definitely necessary for a team that has struggled in seven of its eight seasons as an expansion team.
What they need is a drill sergeant at the helm who can delegate shots as well as make them—and Walker has been that guy.
His one-one-one ability is beyond impressive, which makes him one of the toughest guards to defend in the league.
In the 108-101 overtime win against the Detroit Pistons on Jan. 6, Walker went head-to-head with Pistons point guard Brandon Knight at the top of the key.
Rather than settling for an easy 15-foot jump shot, Walker instead schooled Knight all the way to the hole for a sweet floater that tied the game at 96 late in the fourth quarter.
Those are the type of plays an organization wants to see out of its budding franchise player.
Walker is not only playing like he did at UConn, but better. I'm sure the Bobcats have no regrets about him.
Reserves Play Key Role in Development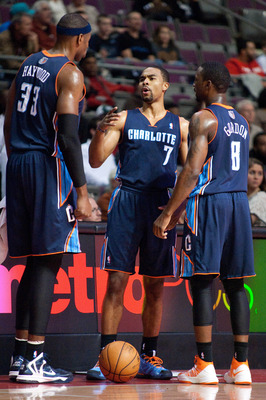 Tim Fuller-USA TODAY Sports
Well, we know one thing the Bobcats do not lack, and that is a good representation at the point guard position.
Take away the reliable Kemba Walker and you'll still have a reliable shooter in backup PG Ramon Sessions.
Sessions is the top reserve with his 14.2 points per game and is behind Walker as the second-leading scorer on the team. Although he does not carry the same defensive intensity as Walker, Sessions provides an offensive spark off the pine.
Veteran sixth man Ben Gordon is the only big factor in Charlotte's outside game, knocking down 40 percent of three-pointers. As of Jan. 14, he has averaged 18.3 points per game in the last six games, shooting 50 percent.
As for the frontcourt, forwards Hakim Warrick, Jeff Adrien and Jeffery Taylor are averaging a combined 16.4 points and 9.9 rebounds per game.
Once Tyrus Thomas decides to show up for a game, he can also be an impact off the bench with his 6 points and 3 rebounds in the 12 games he has played.
The bench could be deeper, sure, but for a team that is steadily in the rebuilding phase, a bench like this is good enough to have hope for the future.
Guaranteed Lottery Pick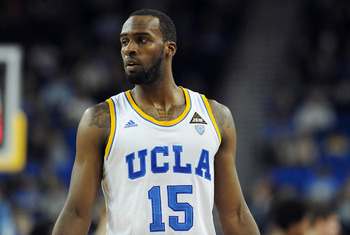 Jayne Kamin-Oncea-USA TODAY Sports
As I stated in the introduction, the Bobcats have shopped well in the last two NBA Drafts with Walker and Michael Kidd-Gilchrist.
Kidd-Gilchrist isn't bringing down the house with his points average (10.8), but he certainly is with everything else. From his defensive intangibles to his fearless approach in the paint, MKG has meshed well in Charlotte's starting rotation.
Now for this year's draft.
This could be jumping the gun, considering that UCLA's Shabazz Muhammad is still fulfilling his role as a student-athlete for the NCAA.
But who are we kidding?
It is highly likely the freshman will forgo his college eligibility and enter the draft, and it is highly likely he will go within the first three picks.
The Bobcats are the third-worst team in the league, with only the Cleveland Cavaliers and Washington Wizards trailing. It is pretty safe to say that Charlotte will be in the running for a top-three pick in the lottery.
There are some other prospects that would work for the Bobcats, like big men such as Kentucky's Nerlens Noel and Indiana's Cody Zeller.
With these kinds of players to choose from, there is not much room for complaint.
However, there is also a chance that Charlotte trades in their draft picks in order to lure Sacramento Kings forward DeMarcus Cousins, who has been on the Bobcats' rumor mill a lot recently.
I understand that the Bobcats are looking for various solutions to climb out of the NBA's gutter, but they can only do that if they go for another high draft pick.
If they do decide to trade away their picks, they ought to seek a player that isn't a known hot-head like Cousins.
Keep Reading

Charlotte Bobcats: Like this team?