UFC 157: 3 Reasons to Root for Liz Carmouche to Defeat Ronda Rousey
Esther Lin/Invicta FC
History will be made at UFC 157 when Ronda Rousey and Liz Carmouche collide in the first-ever women's MMA bout in UFC history. It will also mark the first time women have headlined a UFC pay-per-view and should gain a lot of attention from the media.
Rousey comes into the bout as the clear favorite and for good reason. Rousey is 6-0 with all of her bouts ending via armbar in the first round. She's appeared to be unstoppable given her submission prowess to go along with her Olympic-level judo.
Attempting to stop the hype train will be Carmouche, a tough-as-nails fighter who has seen her place among the women's rankings jump after two straight victories.
Although the UFC will undoubtedly be rooting for its superstar Rousey to win, MMA fans have plenty of reasons to root for the underdog Carmouche.
Begin Slideshow

»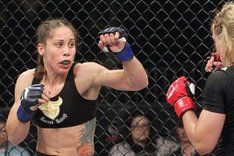 mmafighting.com
The most obvious reason MMA fans should cheer for Liz Carmouche is the fact she's a heavy underdog to Ronda Rousey. The story of an underdog taking down the heavy favorite is one that's always been a favorite of sports fans, and Carmouche's tale is no different.
Rousey has virtually destroyed every opponent put in her path with few of them even offering the slightest bit of resistance. Even if Carmouche only manages to string together some offense, it will be viewed as a success due to the dominance of Rousey.
Rooting for the underdog is something everyone can identify with, as we've all faced some form of adversity. It's part of the reason fans can identify more with the underdog than the dominant favorite and should be more than enough reason for fans to cheer Carmouche on.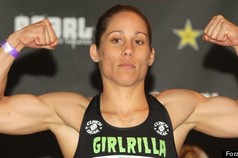 huffingtonpost.com via Forza LLC/Getty
It's no secret that the homosexual community is always looking for celebrity faces to raise awareness and inspire. Liz Carmouche could become a new face to shed light on the community.
With the homosexual community under constant scrutiny and prosecution, a strong woman like Carmouche could become a huge symbol to those in need of one if she can defeat Ronda Rousey. Carmouche isn't going to be leading any rallies, but she could represent the enduring fight for acceptance.
Also Carmouche would be a great representative for those who are both homosexual and in the armed forces. Carmouche served in the United States Marine Corps and did three tours in the Middle East (via Wikipedia).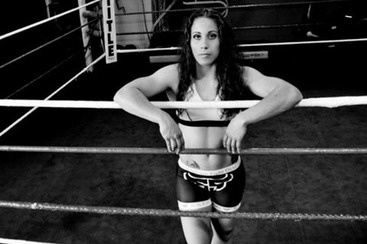 mmadiehards.com
Dana White was once one of the most anti-WMMA guys around. He didn't want anything to do with it and refused to allow the thought of women gracing the Octagon cross his mind.
Then along came a woman named Ronda Rousey.
Rousey changed White's view on WMMA and eventually convinced the UFC to create a women's bantamweight division with Rousey as the champion. It's a step in the right direction for getting WMMA accepted on a wide basis even if the UFC is only creating a 135-pound division.
But what if Carmouche defeats the vaunted superstar Rousey?
Sure, there are a few worthy title challengers at 135 pounds, but would the UFC be forced to create more divisions to get more talent?
Rousey is only one woman and can't carry the weight of an entire sport on her shoulders forever. More ladies will need to step up and shoulder some of the load, but not all of those capable compete at 135 pounds.
White has said before the UFC is only interested in WMMA because of Rousey. If she loses, will the UFC fold up shop and go back to being against WMMA?
Or, will White finally realize there are tons of talented fighters not named Rousey and continue to open the doors for them to reach the summit of MMA competition?