NBA Stars Filling Up Stat Sheets This Season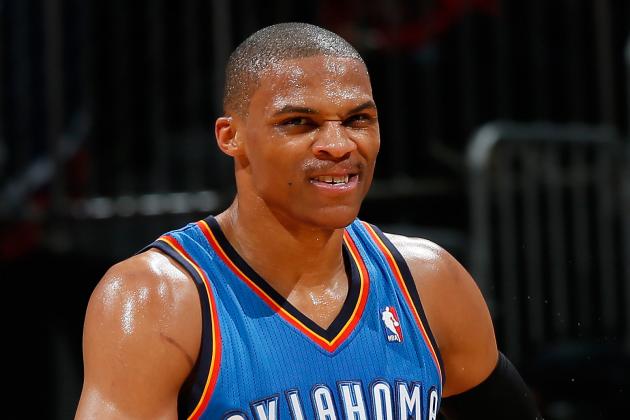 Kevin C. Cox/Getty Images

On December 16, Nic Batum recorded 11 points, five rebounds, 10 assists, five blocks and five steals. In NBA parlance, this was a "5x5," meaning that he totaled at least five in each of said stat categories.
Such a feat is rare.
It has only happened 15 times in the past 27 seasons, according to CBS Sports, and it's fitting that such a "dream" statistical accomplishment was done by Hakeem Olajuwon six times. (Andrei Kirilenko, who has done it three times, is the only other player with more than one 5x5.)
While single-game performances are impressive, some players have been putting up huge numbers across the box score all season. The following are some of the players who have filled the stat sheet on a nightly basis.
Begin Slideshow

»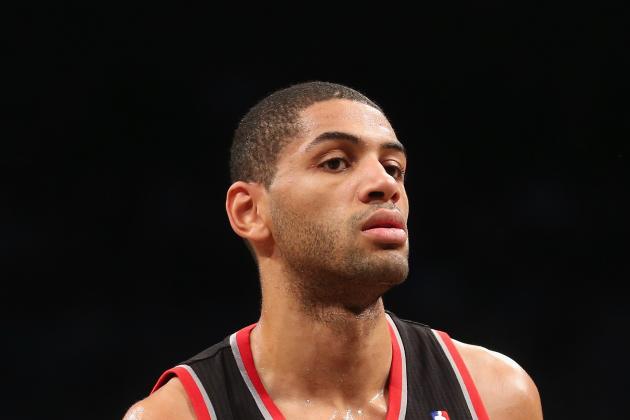 Bruce Bennett/Getty Images

PPG: 16.8
RPG: 5.7
APG: 4.3
BPG: 1.5
SPG: 1.1
The man who recorded the first "5x5" since 2006 had to be mentioned. That night was certainly an anomaly, but it didn't come as a complete shock.
Nicolas Batum is one of just four players in the NBA averaging at least 15 points a night who also gets more than one steal and one block per game. Add in the fact that he can make plays and grab his fair share of boards, and he was already one of the league's leading contenders for the next 5x5 night.
Most impressive this season has been his playmaking.
Never before has he even averaged two assists per game, and now he is up above four per night. The 5x5 night was his first double-digit assist game of the season, but he notched another one just a week ago in a win over the Orlando Magic.
The only thing weighing down his season thus far is his shooting. His 42.5 percent mark from the floor (on a career-high 12.5 shots per night) needs to rise before the Portland Trailblazers can feel fully confident they made a great investment this summer when they inked him to a $45 million deal.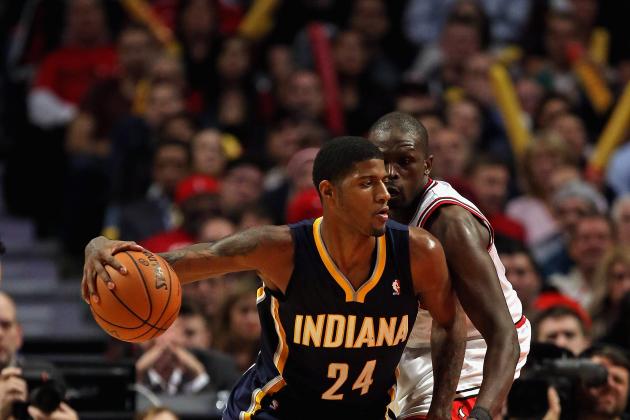 Jonathan Daniel/Getty Images

PPG: 16.9
RPG: 7.6
APG: 3.7
BPG: 0.7
SPG: 1.7
Paul George struggled in the early part of November. And Right before the season started, the Indiana Pacers announced that Danny Granger would miss the first several months of the year.
It was thus up to Paul George to be the team's primary perimeter scorer.
Not blessed with the best ball-handling skills in the world, George pressed too much at the beginning. He dribbled into lanes where he could not make the defense pay. He mishandled the ball while making simple crossovers and pullback moves. He got into the lane and struggled to read the rotations and make the crisp pass to the right player.
Everything seemed to be happening a little too fast. Then, some time around Thanksgiving, everything slowed down.
Now, he is playing some of the best two-way basketball in the entire NBA. His defensive prowess has been mature beyond his years since he entered the league. His offensive game has caught up, and the result has been a stat line that shows just how versatile this young star in the making is.
Since a disastrous zero-point game against Golden State on December 1, he has been playing out of his mind. Heading into Sunday night's loss against the Brooklyn Nets, he had averaged 20.1 PPG, 8.5 RPG, 3.9 APG and 1.9 SPG on 44.8 percent shooting over his past 19 games.

Last week, during wins over the Miami Heat and New York Knicks—the only two teams ahead of Indiana in the Eastern Conference standings—he scored 54 points, grabbed 22 rebounds, notched six steals and hit six threes.
It doesn't take a lot of hands to count the number of players in the NBA capable of doing that over two games.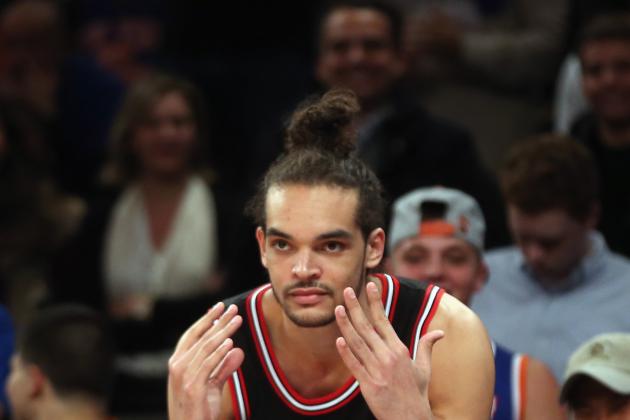 Bruce Bennett/Getty Images

PPG: 12.4
RPG: 10.5
APG: 4.2
BPG: 2.1
SPG: 1.3
Joakim Noah may be the biggest reason that the Chicago Bulls are in sixth place in the Eastern Conference. Well, the bigger reason might be the East's major disparity of talent compared to the West, but Noah is at least a close second.
Not only is he putting up huge numbers in every category save for points, he is the linchpin of what has become the NBA's most reliable defense.
The Indiana Pacers and a few other teams may be tougher to score against, but since Tom Thibodeau took over in Chicago, no team has been more consistently feared on one end of the court.
A lot of this is due to Thibodeau's genius basketball mind. But a lot of it is also due to Noah's defensive acumen.
This, combined with his elite (for a big man) passing ability, should earn him a trip to the All-Star Game in February.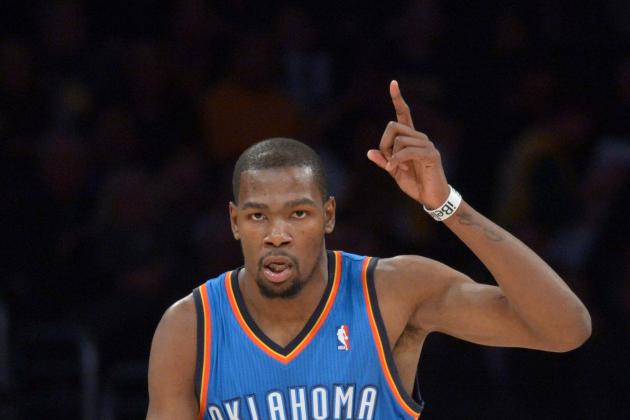 USA TODAY Sports

PPG: 28.6
RPG: 7.7
APG: 4.3
BPG: 1.3
SPG: 1.5
Kevin Durant is good at everything. He came into the league as an amazing shooter and a gifted scorer. Now, he simply does everything.
Playmaking, check. Shot-blocking, check. Rebounding, check.
Watching him on the court, you often get the feeling that somebody set out to create a perfect basketball player from scratch and came up with Durant as the end-product.
The scariest part of all? He just turned 24 a month before this season's start.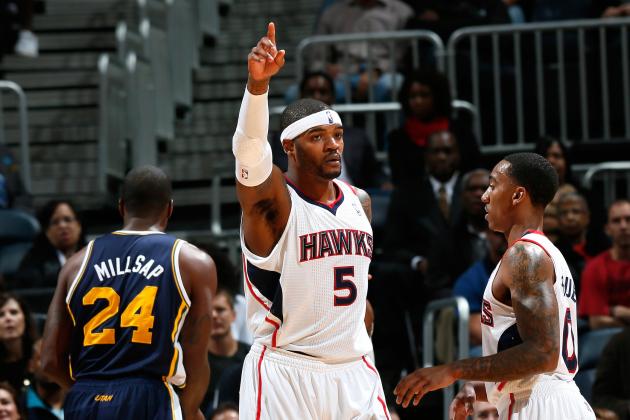 Kevin C. Cox/Getty Images

PPG: 16.7
RPG: 8.4
APG: 3.8
BPG: 2.4
SPG: 1.4
Josh Smith is the poster boy for filling up a box score. While he may not always play like one of the league's truly elite defenders, he is when he wants to be, and he almost always winds up with big block and steal numbers.
This guy can swat shots and snag passes in his sleep.
His rebounding has always been solid, he can pass a little bit and, when he isn't busy missing long jump shots, he has been known to light up the scoreboard from time to time as well.
Smith is a walking fantasy basketball dream, and his play so far this season will likely net him his first All-Star berth.
Given that he is one of the few marquee free agents on the market this summer, it couldn't come at a better time.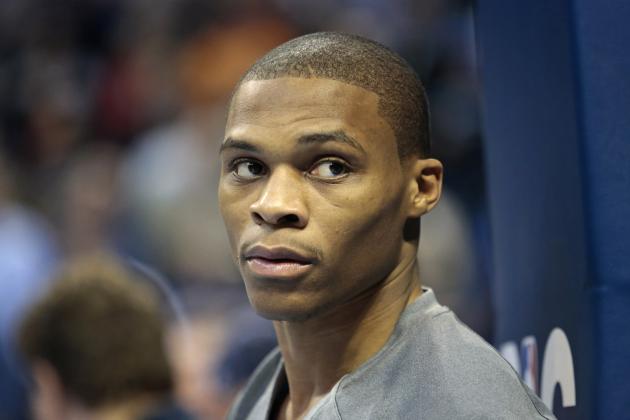 Brett Deering/Getty Images

PPG: 21.8
RPG: 5.3
APG: 8.5
BPG: 0.3
SPG: 2.1
There are only two players in the NBA this season who average at least 15 PPG, 5.0 RPG and 5.0 APG. One has three MVP trophies. The other one is the best rebounding point guard in the NBA.
Russell Westbrook has grabbed 5.3 RPG this year to go with his elite scoring (21.8 PPG) and playmaking (8.5 APG). Add in his 6.6 attempts to the free-throw line and career-high 2.1 steals per game, and you're looking at one of the best stat-stuffers in the league.
There is nothing hollow about his numbers either.
Dwyane Wade said Westbrook is the most athletic player in the NBA, and every second he is on the court is a moment that could cost his opponents points. When Kobe Bryant gave himself the nickname "Black Mamba," he commented that his rationale was that "the mamba can strike with 99% accuracy at maximum speed, in rapid succession."
That may have been an accurate description for a young Kobe. Now, it sounds more like something Westbrook can do.
At any time, in any place and in any number of ways.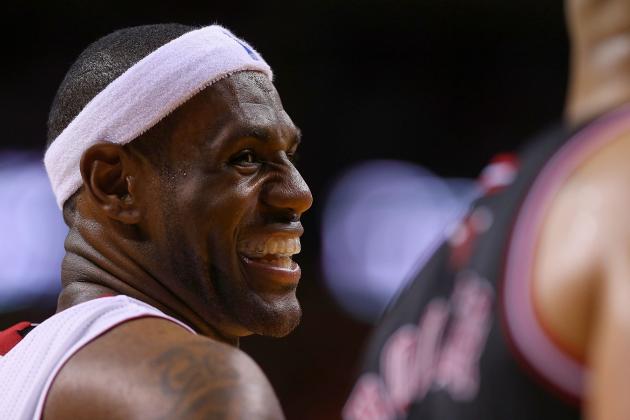 Mike Ehrmann/Getty Images

PPG: 25.9
RPG: 8.3
APG: 6.9
BPG: 0.9
SPG: 1.6
When it comes to crafting an impressive box score, there is one man in the NBA who does it like none other. Until now, however, LeBron James was all too often seen, by some, as a player who conveniently piled up stats only when the game wasn't on the line.
Like Wilt Chamberlain before him, some misguided basketball analysts thought LeBron's numbers were void of true greatness.
His Achilles' heel, they argued, was that he could not perform well in the clutch.
His infamously bad 3-of-14 Game 5 against the Boston Celtics in the 2010 playoffs with the Cleveland Cavaliers, combined with his poor fourth-quarter play against the Dallas Mavericks in the 2011 NBA Finals for the Miami Heat added fuel to the fire.
But now, after he went on one of the most impressive postseason runs in league history last season on the way to a ring, everyone can just appreciate his greatness.
The days of nit-picking and super-scrutiny are over.
James is a champion, and his nightly box scores can finally just be seen for all that they are and represent instead of the inconsequential—and few—things they do not.