National Signing Day Predictions: Bold Picks for Top 5 Unsigned Recruits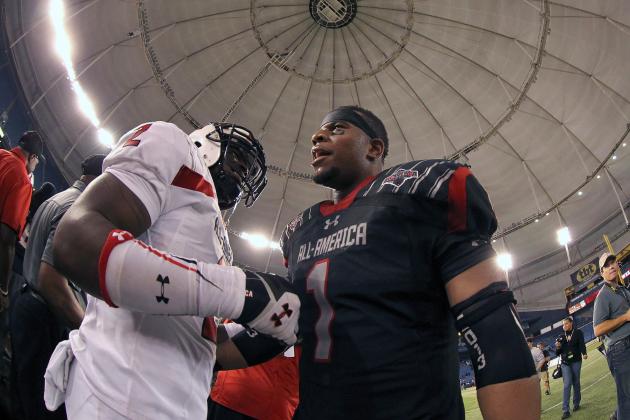 Kim Klement-USA TODAY Sports

National Championship runs don't start with spring practice—they start with success in February on National Signing Day.
Yes, there's much more to a successful college football program than simply bringing in highly rated recruits year in and year out, but there's no denying it's a key ingredient to competing on a regular basis. Teams that have dominated the recruiting trail, like Alabama, tend to use that superior talent to dominate on the field.
With National Signing Day right around the corner, there's sure to be drama surrounding the choices of the top prospects that could shape the college football landscape for years to come.
Here are the top five remaining unsigned prospects according to 247Sports, along with predictions for where each will land come Feb. 6.
Begin Slideshow

»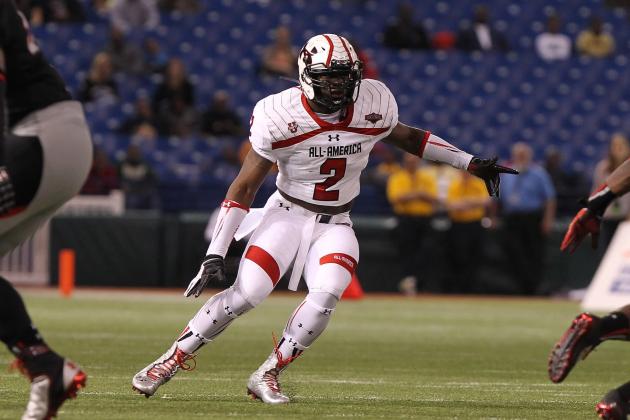 Kim Klement-USA TODAY Sports

ILB, 6'1" 240 lbs.
Auburn, Ala.
Prediction: Georgia Bulldogs
Foster is 247Sports No. 10 overall prospect and top inside linebacker. The Alabama native originally committed to Alabama before flipping to in-state rival Auburn before ultimately de-committing and opening up his recruitment in the wake of Gene Chizik's firing.
According to 247Sports, Foster's top three schools include Auburn, Georgia and Washington.
Foster took his first official visit to the Huskies on Jan. 11, so they have to be considered a strong candidate, but the smart money is on Foster selecting the Georgia Bulldogs in February.
With prior commitments to Auburn and Alabama, it's clear that location does matter to Foster. He may not be staying in-state, but it seems like a stretch that he would go to a Pac-12 school after being heavily recruited by SEC powerhouses.
Expect Foster to step in to replace the likes of Jarvis Jones and Alec Ogletree as great Georgia linebackers.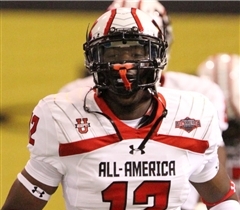 Photo via 247Sports
S, 6'1" 203 lbs.
Batesville, Miss.
Prediction: Ole Miss Rebels
Conner is 247Sports' No. 8 player overall and top safety prospect.
While Conner is being pursued by traditional powerhouses like Alabama and LSU, he also has the opportunity to be a part of something special by staying in-state and joining the Ole Miss Rebels.
The Rebels aren't considered a huge recruiting destination, but they have put together a great recruiting class thus far. They are ranked No. 17 by 247 Sports with 21 commits including six 4-star prospects.
Should Conner decide to go to Ole Miss, he would become the first 5-star prospect to be included in that class and could skyrocket the overall class ranking into the Top 10.
Alabama is still in play so he's definitely not a done deal. However, the allure of playing in his home state in one of the best recruiting classes in school history should be enough to ensure that Conner is donning blue and red next season.
OT, 6'6" 295 lbs.
Lake City, Fla.
Prediction: Alabama Crimson Tide
Tunsil is the top rated offensive tackle in the 2013 class according to 247Sports and their fourth ranked recruit overall.
As the nation's top tackle, Tunsil has his pick of the litter when it comes to school and has expressed interest in Georgia, Alabama, Florida State and Ole Miss among others.
Looking at Tunsil's skill set and size, he looks a whole lot like former 5-star prospect Cyrus Kouandjio. Kouandjio was a highly sought after high school prospect that went through a prolonged recruiting process before ultimately winding up with Alabama.
Expect Tunsil to sign with Alabama and continue the long-running tradition of dominating offensive linemen there.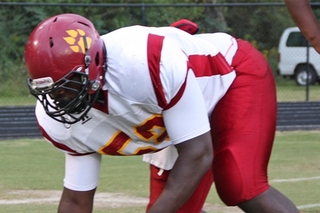 Photo via 247Sports
DT, 6'4" 310 lbs.
Vienna, GA
Prediction: Georgia Bulldogs
Less than a month away from National Signing Day, Adams is as big a mystery as anyone.
247Sports No. 2 overall recruit is sure to be one of the more anticipated announcements on recruiting's big day. He currently has "warm" interest in five schools including Georgia, Alabama, Clemson, Florida and Auburn.
While it's difficult to give anyone an edge out of those schools—they all have terrific track records with high-profile recruits and in the state of Georgia.
If you were handicapping the race though, Georgia has to be the slight favorite. The hometown Bulldogs have been a mainstay on the star's list and have scheduled an official visit for January 25. Assuming he doesn't sign before National Signing Day, that means that the Bulldogs will get the last word in before he makes his decision.
That could be just enough to get him to Athens.
DE, 6'4" 285 lbs.
Loganville, Ga.
Prediction: Ole Miss Rebels
Nkemdiche is 247Sports' top-rated recruit in the country and has all the tools to make an immediate impact as a defensive end.
Defensive stars like Nkemdiche usually gravitate to the powerhouse schools like Alabama and LSU, after all, they've produced countless NFL draftees in recent years. However, Nkemdiche's recruitment has been anything but ordinary.
The defensive end originally committed to the Clemson Tigers before ultimately re-opening his recruitment in November.
The Rebels have put together a surprisingly strong class and are a program on the rise in terms of recruiting. Throw in the fact that Nkemdiche's brother, Denzel, is a linebacker for Ole Miss and the Rebels have what it takes to steal the nation's top recruit from the nation's top team, Alabama.