Every MLB Team's Player on the Hot Seat This Season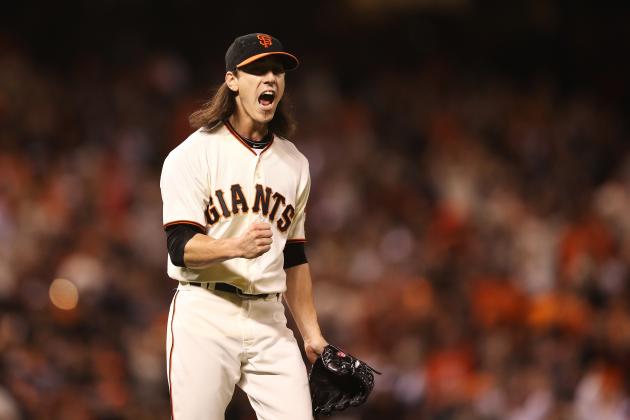 Ezra Shaw/Getty Images
The San Francisco Giants have the resources to re-sign Tim Lincecum, but they won't unless he rebounds in 2013.
MLB players who are coming off of cold seasons already feel their seats getting warm. Their teams threaten to move forward with younger, cheaper or better alternatives.
Many of the following are impending free agents concerned with surviving another year on their current rosters. Others on long-term contracts will be hard-pressed to make it through the summer in one uniform, especially those with trade rumors already circling around them.
Their predicaments are simple: produce or prepare for change.
Begin Slideshow

»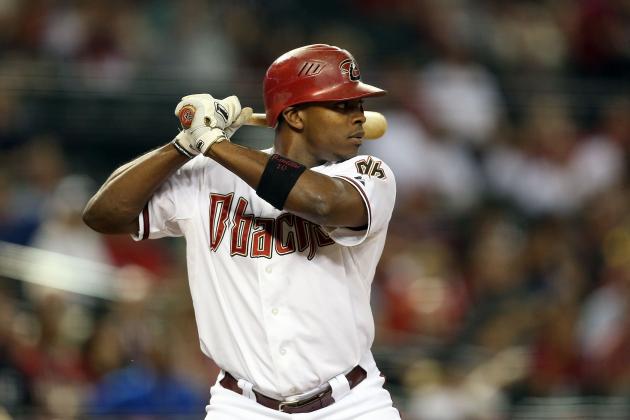 Christian Petersen/Getty Images
Justin Upton.
Justin Upton is certainly on his way out of the desert.
Catching fire early in the season would entice his suitors to strengthen their trade proposals. On the other hand, the Arizona Diamondbacks will be quick to sell him after a slow start to another team that loves his upside.
Like many of us, Matthew Leach of MLB.com wonders why the D-Backs want to move "one of the most valuable commodities in the game" to reduce their logjam of outfielders. They could more easily find a new home for Jason Kubel.
General manager Kevin Towers surely has his reasons.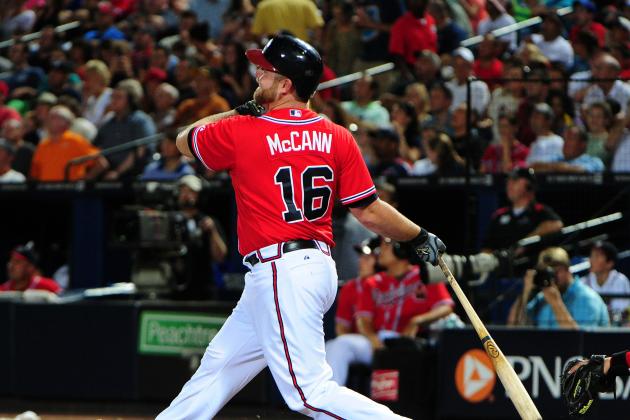 Scott Cunningham/Getty Images
Brian McCann.
Shoulder surgery is always an ordeal, but Brian McCann finds himself in a particularly rough situation. The catcher went under the knife in mid-October to repair his throwing shoulder.
McCann is confident, according to MLB.com's Mark Bowman, though uncertain for Opening Day.
That's not a concern any player wants to have headed into their contract year.
He'll probably have limited plate appearances to convince the Atlanta Braves that he deserves long-term security.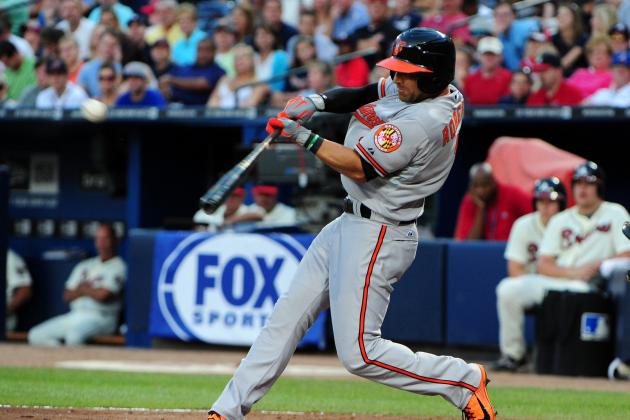 Scott Cunningham/Getty Images
Brian Roberts.
Due to frequent injuries, Brian Roberts hasn't come close to producing at an All-Star level so far this decade.
The Baltimore Orioles cannot continue to cycle through second-base stopgaps and expect to keep pace with the American League's elite clubs.
They will need to choose their $10 million-per-year players more carefully going forward.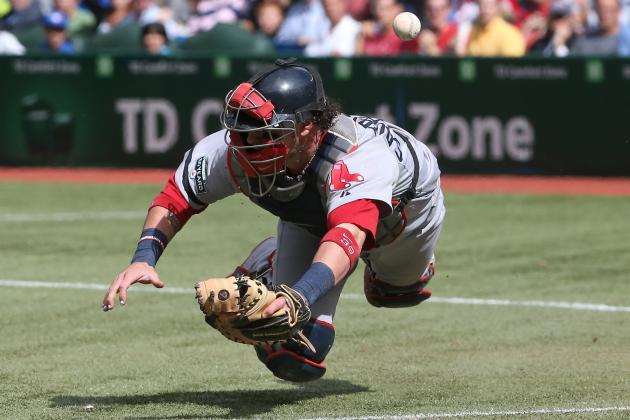 Tom Szczerbowski/Getty Images
Jarrod Saltalamacchia.
Recently signed backup David Ross posted some impressive offensive numbers during his Atlanta Braves days. The Boston Red Sox will be tempted to see if he can maintain that over a larger sample size.
Moreover, despite a miserable showing last summer, 25-year-old Ryan Lavarnway still has excellent potential behind the plate.
These internal candidates put pressure on Jarrod Saltalamacchia to continue improving if he hopes to set down roots in Beantown.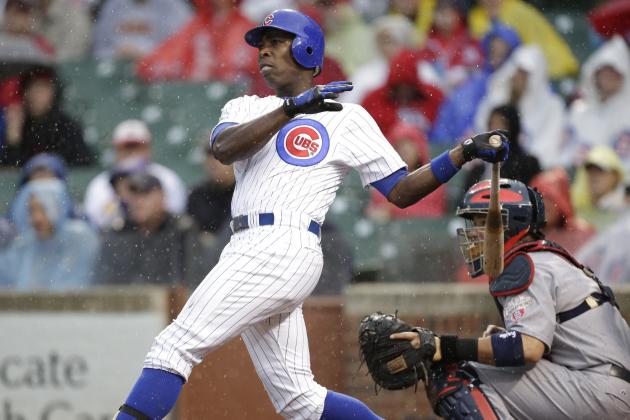 John Gress/Getty Images
Alfonso Soriano.
Through no fault of his own, Alfonso Soriano has landed on the hot seat.
The Chicago Cubs are rebuilding, and the overpaid outfielder—owed $36 million through 2014—is not in their future plans.
Any potential contenders who lose a power hitter to injury will be tempted to offer reputable prospects in exchange Soriano.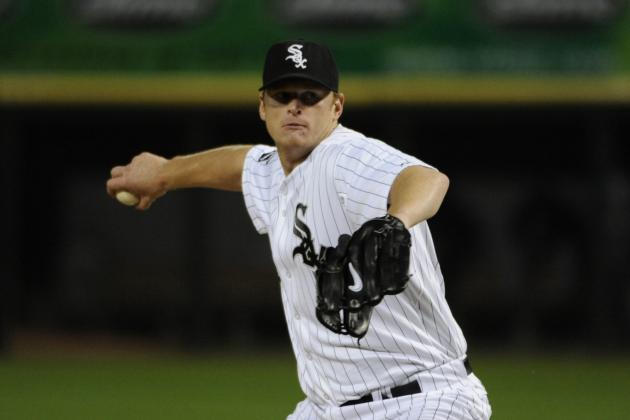 David Banks/Getty Images
Gavin Floyd.
Gavin Floyd didn't receive a lucrative contract extension like rotation mate John Danks did in Dec. 2011.
On the verge of free agency, he's coming off an uneven year. The right-hander surrendered four runs or more in nearly half his starts and pitched only 168 innings.
The Chicago White Sox have reportedly made Floyd available as they search for a left-handed hitter (via Danny Knobler, CBS Sports).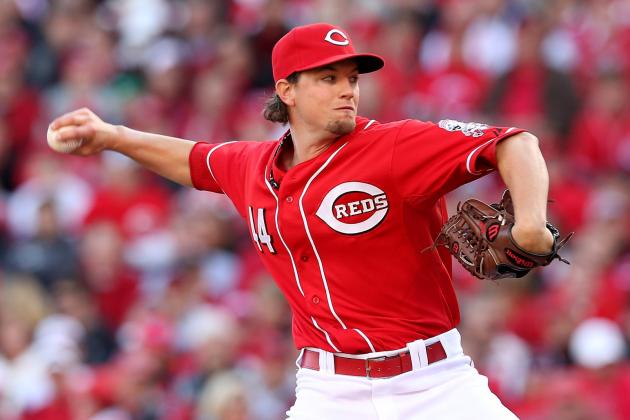 Andy Lyons/Getty Images
Mike Leake.
Most MLB teams could find consistent work for Mike Leake.
The Cincinnati Reds provide no such guarantee.
There are several steady and durable starting pitchers ahead of him on the depth chart.
Though Aroldis Chapman will likely reach his innings limit before season's end, the Reds could just as easily use promote an internal candidate for the final few turns of the rotation.
Jason Miller/Getty Images
Ubaldo Jimenez.
While the baseball world fixated on Tim Lincecum in 2012, Ubaldo Jimenez may have been even less effective in the starting rotation.
His career-worst 1.51 strikeout-to-walk ratio and reduced velocity surely made the Cleveland Indians think about moving in a different direction.
They will face a similar choice next winter, as the Tribe holds an $8 million option for his 2014 services.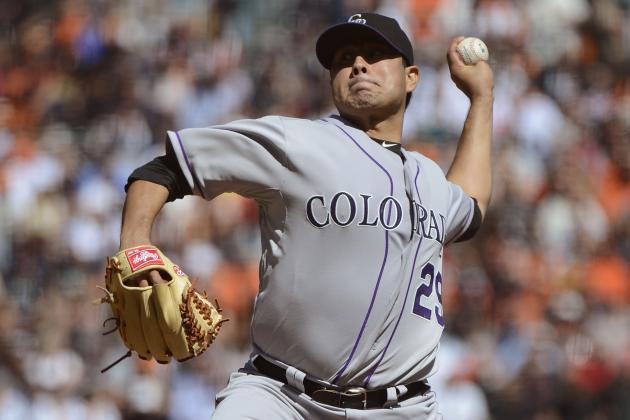 Thearon W. Henderson/Getty Images
Jorge De La Rosa.
Jorge De La Rosa decided to exercise his $11 million player option. It was a no-brainer for a soon-to-be 32-year-old who struggled in his first few games back from Tommy John surgery.
Power goes back to the Colorado Rockies in 2014, when they'll have a club option of equal value.
Expect the Rockies to cut ties with the left-hander if he doesn't regain his pre-injury velocity and effectiveness.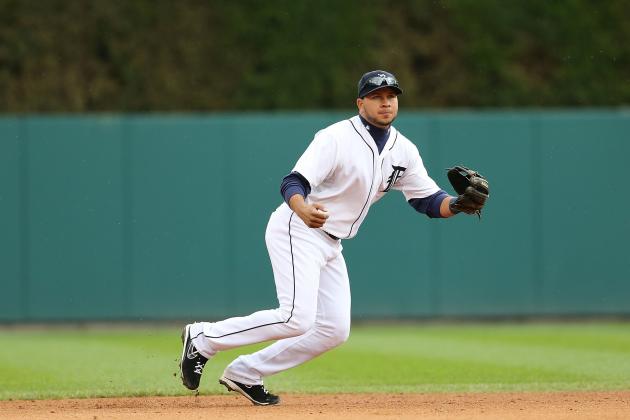 Leon Halip/Getty Images
Jhonny Peralta.
The Detroit Tigers overlooked Jhonny Peralta's limited range when he slugged his way to the 2011 All-Star Game.
That changed when Miguel Cabrera shifted over to third base and Peralta posted a .689 OPS, his worst ever in a full MLB season.
Though sure-handed, this impending free agent is not the prototypical shortstop that Detroit's defense needs. Only a strong rebound at the plate would make the Tigers consider locking him up.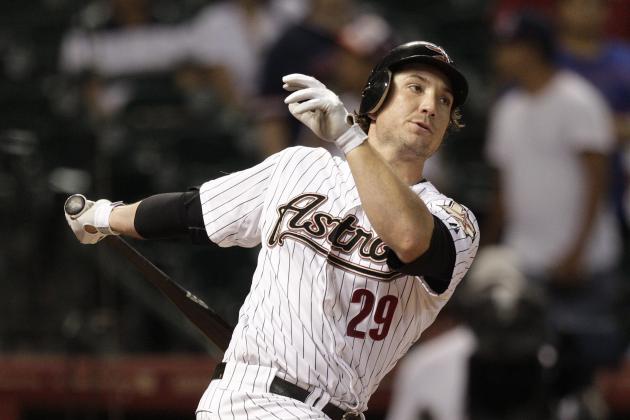 Bob Levey/Getty Images
Brett Wallace.
There won't be any big-name prospect breathing down Brett Wallace's neck.
At least not until Memorial Day. That's approximately when 21-year-old Jonathan Singleton could be eligible to return from a 50-game marijuana suspension.
Wallace has not looked like an everyday first baseman in parts of three MLB seasons (.699 OPS, -0.5 WAR).
If Singleton comes back dedicated and tears up Triple-A competition, the Houston Astros might make a change.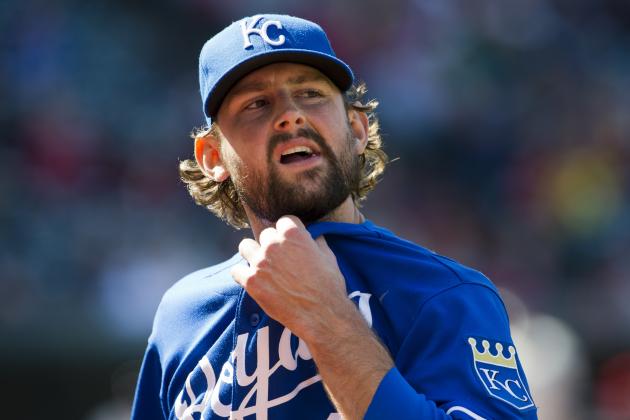 Jason Miller/Getty Images
This former No. 1 overall draft pick has been a bust.
Luke Hochevar crumbled in his make-or-break year, prompting the Kansas City Royals to overhaul their starting rotation.
The former University of Tennessee star still hasn't figured out how to succeed in the major leagues.
Apparently the team is not ready to give up on Hochevar. Otherwise, it would have non-tendered him prior to the Nov. 30 deadline.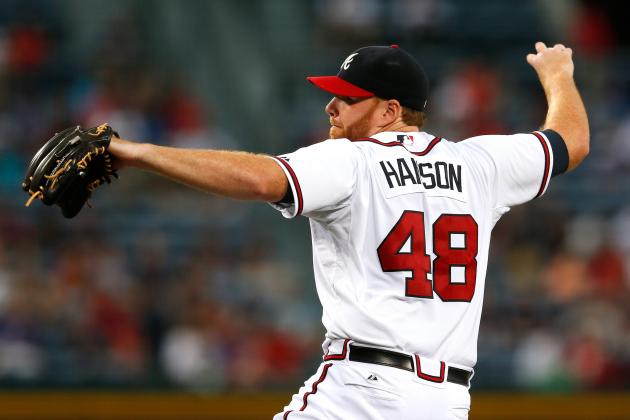 Kevin C. Cox/Getty Images
Tommy Hanson.
The Los Angeles Angels will be paying Tommy Hanson for his past accomplishments (rather than what he is now). Heavy usage since his MLB debut in 2009 makes him expensive through the arbitration process.
Various injuries have reduced this once-coveted prospect into a back-end starter. If he continues to deteriorate, L.A. could easily sign a cheaper veteran replacement.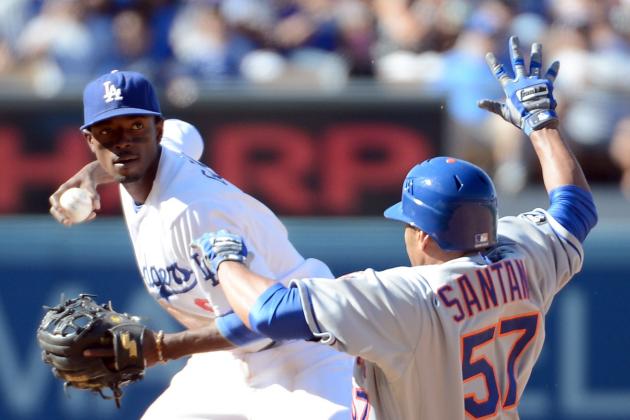 Harry How/Getty Images
Dee Gordon.
Dee Gordon was a joy to watch during his first major league stint. He used his legs to reach base and advance into scoring position, and in the field, it seemed like he could get in front of any ground ball.
But can he develop into a competent everyday shortstop? His sophomore season raised some doubts.
The Los Angeles Dodgers will consider shopping Gordon if his awesome tools don't translate into production in 2013.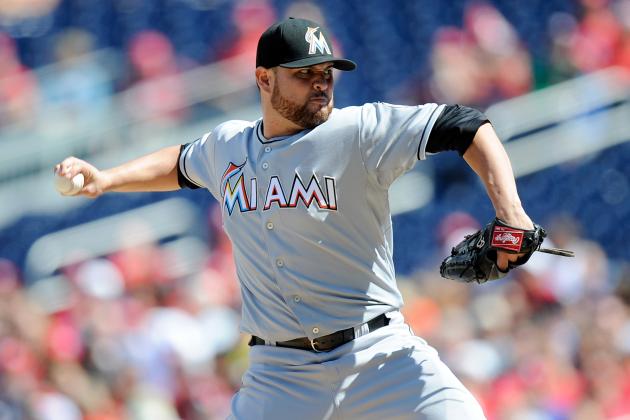 Greg Fiume/Getty Images
Ricky Nolasco.
Through his agent, Ricky Nolasco has complained about pitching for the Miami Marlins, who are entering the early stages of a long rebuilding process (via Jerry Crasnick, ESPN.com).
It's only a matter of months until he gets his wish and leaves South Florida.
Nolasco becomes a free agent after this season. The team could also trade him prior to July's non-waiver trade deadline if a desperate contender is willing to offer promising young players.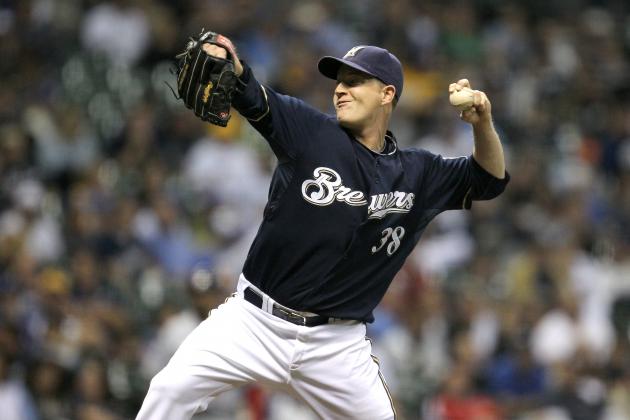 Jonathan Daniel/Getty Images
Chris Narveson.
The Milwaukee Brewers have an enviable surplus of young starting pitchers and a trustworthy ace in Yovani Gallardo.
Where does Chris Narveson fit in? That will depend on whether or not he can still execute coming off a torn rotator cuff.
Keeping a left-hander in the rotation isn't a high priority for the Brew Crew. They just want to proceed with the best five candidates.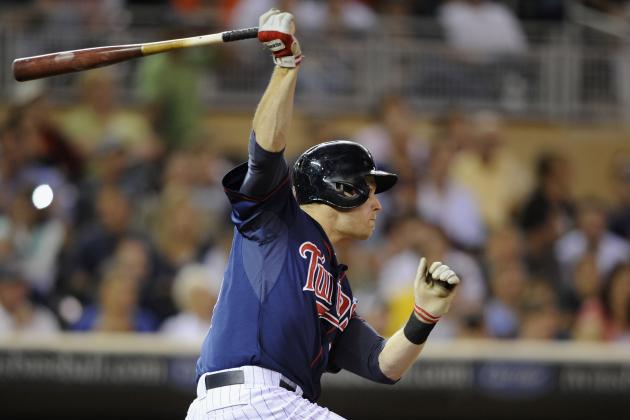 Hannah Foslien/Getty Images
Justin Morneau.
Coming off two injury-shortened campaigns, Justin Morneau saw plenty of action last summer.
His production, however, did not compare well to the 2009 season.
Over a similar sample size, Morneau fouled off pitches that he would have previously crushed for extra-base hits. The first baseman homered just once every 30 plate appearances as a result.
The Minnesota Twins have a tradition of locking up desirable players shortly before they reach free agency. Morneau must swing the bat better against southpaws and avoid the disabled list entirely to play himself back into that category.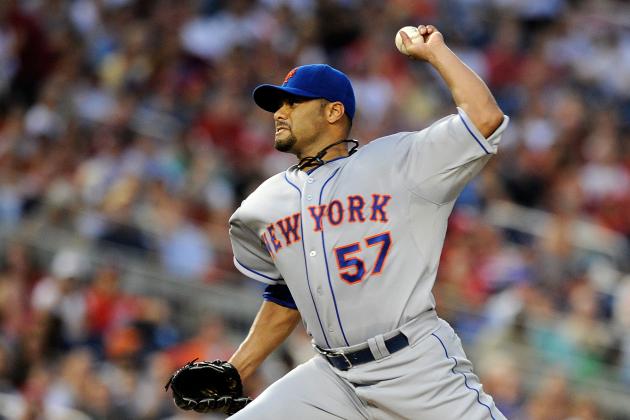 Patrick McDermott/Getty Images
Johan Santana.
Johan Santana nearly brought the New York Mets an NL Cy Young Award in 2008 and pitched the franchise's first no-hitter last June.
He has clearly had some great moments.
With that said, there's a zero chance of the team exercising a $25 million option to retain him. That would be an exorbitant salary for anyone's age-35 season, particularly a player with Santana's health concerns.
For the Mets to make any sort of multi-year offer, Santana must prove he can take the mound every fifth day.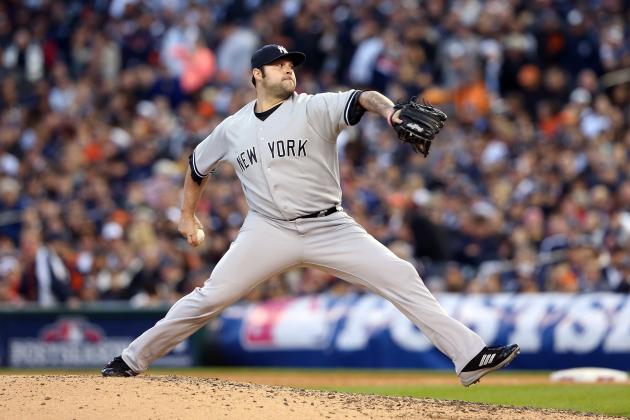 Leon Halip/Getty Images
Joba Chamberlain.
He's admittedly an underdog, but with a dominant campaign, Joba Chamberlain could wind up as Mariano Rivera's successor. After all, that seemed to be the plan during his first few MLB seasons.
The New York Yankees still have a strong bullpen sans Rafael Soriano.
Though another disappointing year from Chamberlain won't cripple the team, it could mark the beginning of the journeyman phase of his career.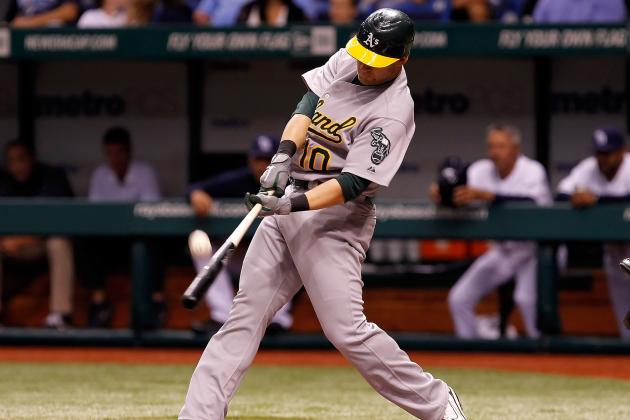 J. Meric/Getty Images
Daric Barton.
The Oakland Athletics will ultimately determine whether or not Daric Barton can develop into an everyday first baseman.
He pleasantly surprised the club in 2010, only to dramatically regress the following season.
If the Chris Carter/Brandon Moss platoon suffices, Barton will certainly be non-tendered. Matching—much less raising—his $1.1 million salary is only a possibility if he contributes early and often.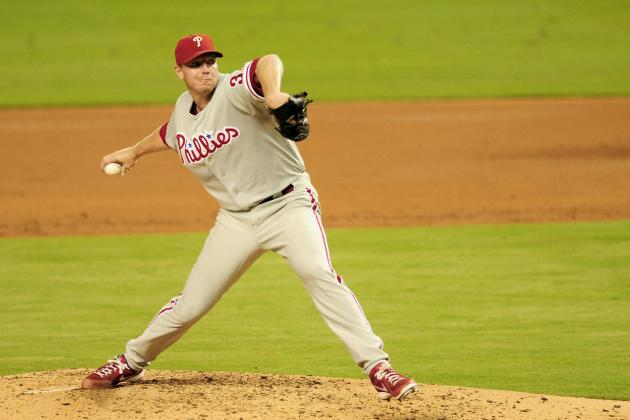 Jason Arnold/Getty Images
Roy Halladay.
Nobody could have foreseen this nine months ago.
Roy Halladay began 2012 in fiery fashion by going seven-plus innings in each of his April outings.
His season—and career—took an unfortunate turn for the worse the following month with a strained latissimus dorsi. Halladay performed poorly before landing on the disabled list and slumped toward season's end too.
The missed time all but ensures that he won't reach the requirements of his 2014 vesting option. His future with the Philadelphia Phillies depends entirely on how he performs this summer.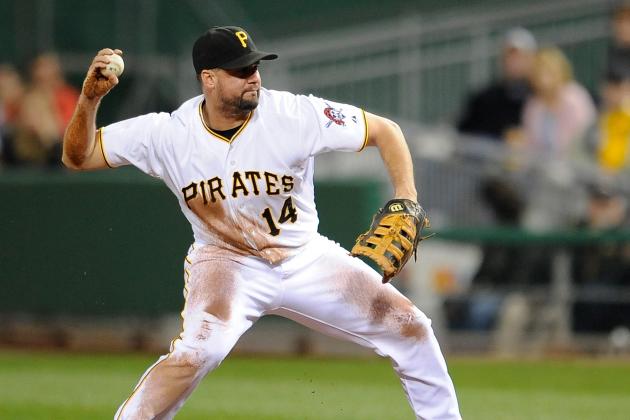 Joe Sargent/Getty Images
Gaby Sanchez.
Newly-acquired slugger Jerry Sands is noticeably younger and less expensive than Gaby Sanchez. He also possesses superior power-hitting ability.
Sanchez needs to be a platoon player extraordinaire to validate his seven-figure salary (a la Scott Hairston, 2012 New York Mets).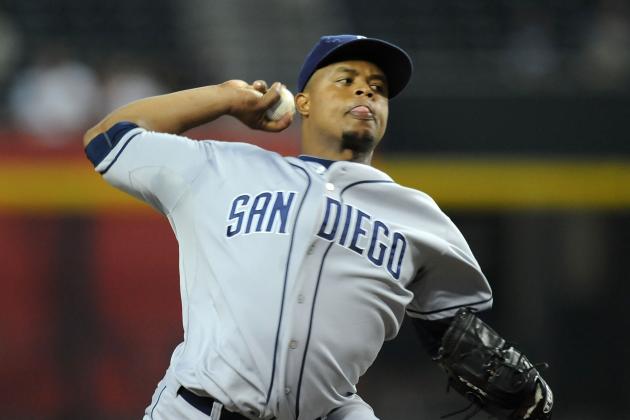 Norm Hall/Getty Images
Edinson Volquez.
Edinson Volquez can thank the baseball gods for sending him to the San Diego Padres.
A rash of injuries disabled many of the team's up-and-coming starting pitchers, allowing Volquez to stay in the rotation throughout 2012. And he's a shoo-in to start for the first several months of this season as Andrew Cashner (lacerated tendon), Cory Luebke (Tommy John surgery) and others complete their recoveries.
San Diego, however, won't consider locking up Volquez indefinitely unless he cuts down on the high walk totals.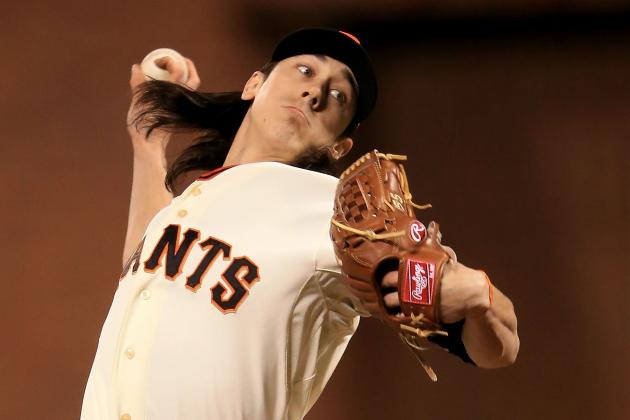 Doug Pensinger/Getty Images
Tim Lincecum.
Hank Schulman of the San Francisco Chronicle reports that Tim Lincecum won't necessarily move on from the Bay Area when his contract expires. Several recent San Francisco Giants budgetary decisions leave the team with sufficient resources to work out a new deal, he tweets.
But the front office will hesitate to pursue him—regardless of postseason heroics—if the inconsistency carries over from 2012.
Lincecum stunningly led the National League in earned runs and wild pitches. He allowed way too many baserunners and didn't pitch a single complete game.
The Giants should be encouraged by his effectiveness in relief, though throwing strikes from the wind-up is what really matters.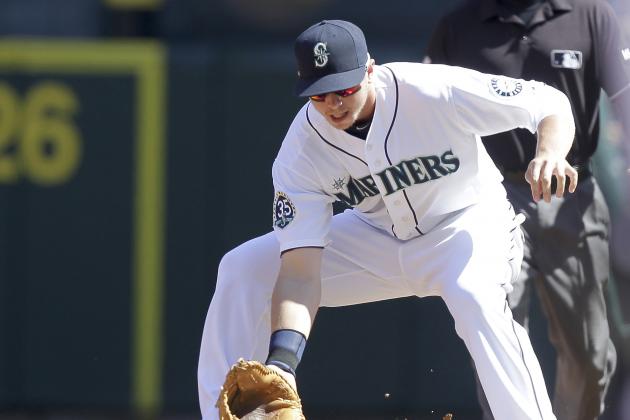 Stephen Brashear/Getty Images
Justin Smoak.
First baseman Justin Smoak still hasn't slugged above .400 in any of his MLB seasons thus far.
Pretty disappointing production from the centerpiece received in exchange for Cliff Lee.
It's unclear where Smoak can find plate appearances on the Seattle Mariners. Kendrys Morales will presumably replace him at first, and Jesus Montero should frequently serve as designated hitter in his second full campaign.
In limited opportunities, this 26-year-old must prove that the September 2012 version (1.005 OPS) is here to stay.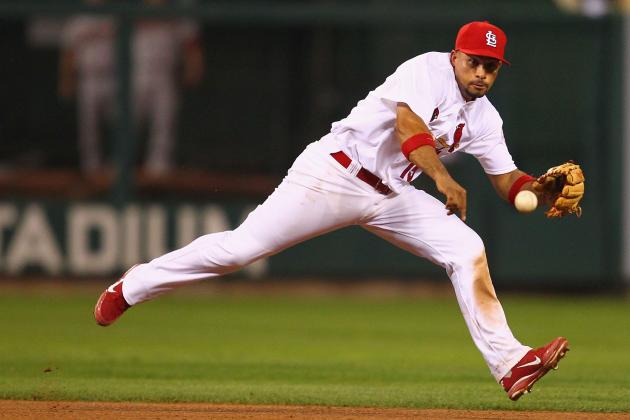 Dilip Vishwanat/Getty Images
Rafael Furcal.
Rafael Furcal's 2012 All-Star selection speaks more to his team's passionate fanbase and the NL's lack of competent shortstops than it does to his remaining ability.
This 35-year-old is washed up.
Pete Kozma did some exciting things for the St. Louis Cardinals while Furcal was unavailable. The veteran's contract will not deter general manager John Mozeliak from shipping him elsewhere.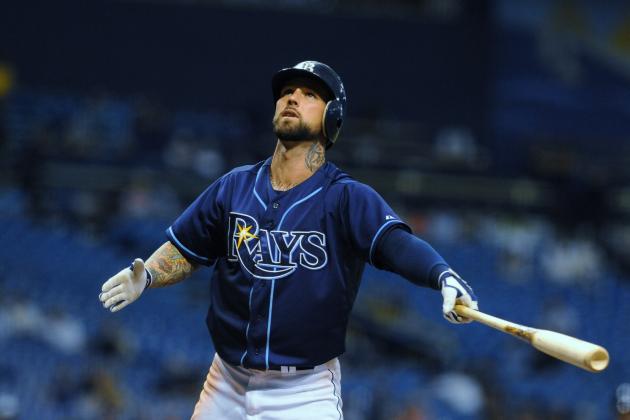 Al Messerschmidt/Getty Images
Ryan Roberts.
Following a breakout 2011 season, Ryan Roberts took a significant step back. He didn't hit lefties well enough and lost more than 100 points on his OPS.
Payroll restrictions may force the Tampa Bay Rays to use him regularly as their designated hitter.
Squandering that opportunity could mean settling for a minor league deal in 2014.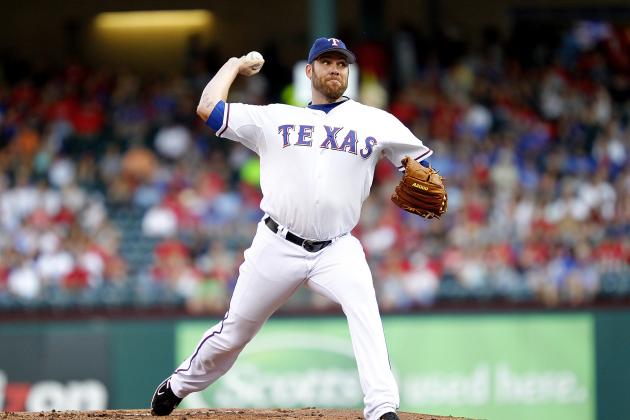 Rick Yeatts/Getty Images
Colby Lewis.
Colby Lewis was cruising toward a Ryan Dempster-esque payday before suffering a torn flexor tendon at midseason.
There's no chance of the Texas Rangers extending his contract (again) unless he returns to pre-injury form.
To keep pace with the Los Angeles Angels, the team needs him to return shortly after Opening Day. Ultimately, Lewis won't be of much value to anybody unless he pounds the zone with first-pitch strikes and gets through innings efficiently.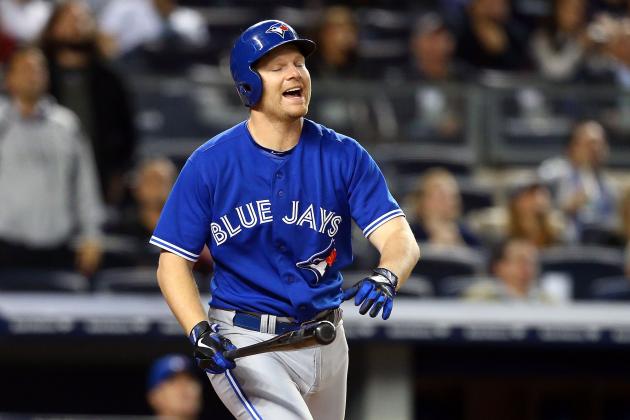 Jim McIsaac/Getty Images
Adam Lind.
GM Alex Anthopoulos spoke very candidly to MLB.com's Chris Toman about Adam Lind's underachievement.
"He certainly hasn't had the year he is capable of and we were hoping him to have," Anthopoulos admitted in September.
Lind posted a .255/.314/.414 triple-slash line that closely resembled his two previous seasons. Reports were that his poor conditioning habits led to the five-week Triple-A stint.
"I think it's fair to say that if we feel that there is someone else that can do the job," Anthopoulos threatens, "we aren't going to be afraid to do that if that makes the team better."
Not particularly concise language, but the message is clear.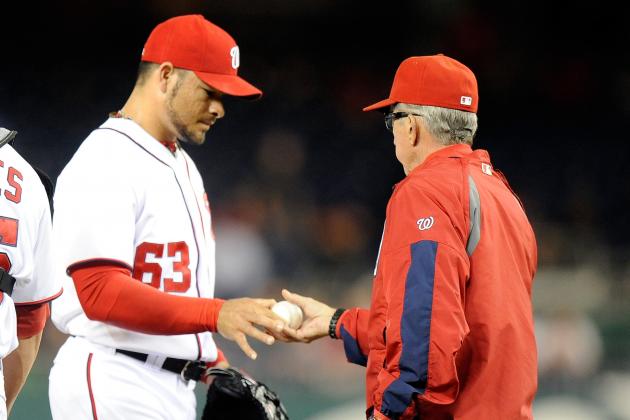 Greg Fiume/Getty Images
Henry Rodriguez.
Henry Rodriguez has never learned to consistently locate his overpowering pitches.
The former Washington Nationals closer got pushed even further down the depth chart with the signing of Rafael Soriano.
GM Mike Rizzo still loves Rodriguez for his upside, but he'll need to come back better than ever from major elbow surgery. Averaging one wild pitch every four innings cannot be tolerated on a club with World Series aspirations.