Making a Case for and Against Every 2013 Pro Football Hall of Fame Finalist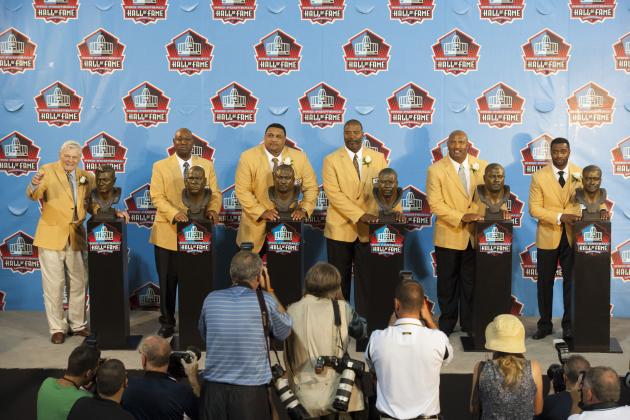 Jason Miller/Getty Images

The finalists for the Pro Football Hall of Fame's 2013 class were announced on Friday, and this year's list includes four first-time candidates, two senior nominees, a trio of wide receivers who have seemingly cancelled one another out and one of the most polarizing owners in the history of the NFL.
A maximum of five modern-era nominees can be elected this year, so several greats will be left on the outside looking in.
Here's a look at the pros and cons of each of this year's candidates, along with a prediction as to which players will be donning those horrific-looking sport coats at this August's induction ceremonies.
Begin Slideshow

»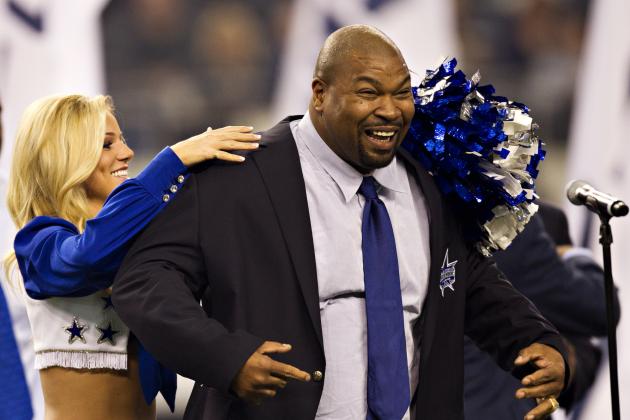 Wesley Hitt/Getty Images

Dallas Cowboys offensive lineman Larry Allen is one of four first-time finalists on this year's ballot, and his qualifications for induction are substantial.
The 14-year pro, who played his final two NFL seasons for the San Francisco 49ers, was voted to 11 Pro Bowls in 12 years, was a seven-time All-Pro, won a Super Bowl with the Cowboys in 1996 and was named a member of both the All-1990s and All-2000s NFL teams.
A versatile mauler who played both guard and tackle in Dallas, Allen was also a very durable pro, missing only 21 games in 14 years, and if there's an argument against his enshrinement in Canton, I can't think of it.
Verdict: It's gonna take a big coat, but Allen's In.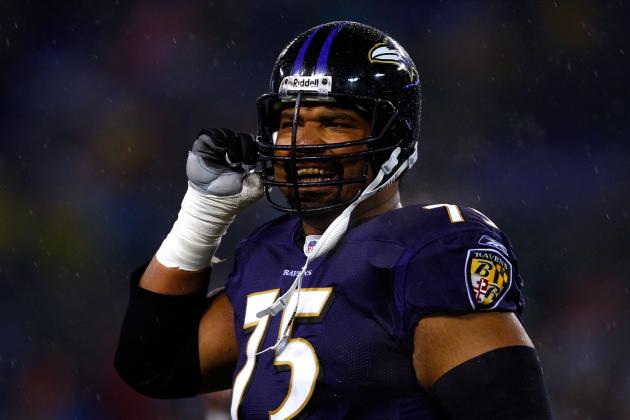 Jamie Squire/Getty Images

Another first-time finalist, offensive tackle Jonathan Ogden was the first-ever draft selection by the Baltimore Ravens in 1996, and over a 12-year NFL career, Ogden more than lived up to that billing.
Like Larry Allen, Ogden was voted to the Pro Bowl 11 times and won a Super Bowl, but Ogden actually bested Allen in All-Pro nods with nine while being named a member of the NFL's All-2000s team.
These first-year nominees aren't making it easy on the "old-timers." But if Allen is in, I don't see how you can keep Ogden out.
Verdict: Bound for the Hall.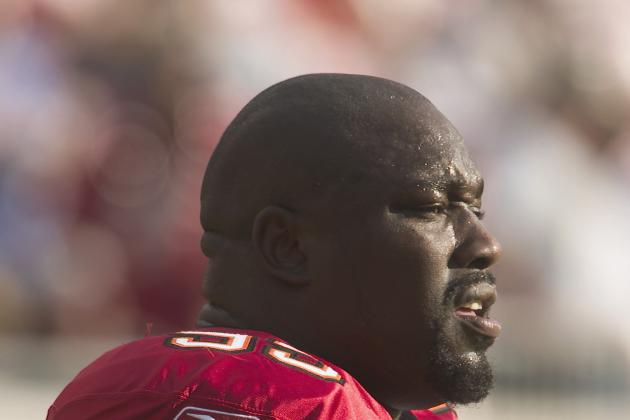 Matt Stroshane/Getty Images

Although he ended his career with the Oakland Raiders, defensive tackle Warren Sapp will always be known as one of the cornerstones of the defense that turned the Tampa Bay Buccaneers from chumps to champs.
Over the span of his nine years in Tampa, Sapp was named to the Pro Bowl seven times, racking up 77 sacks while helping to lead the Buccaneers to victory in Super Bowl XXXVII and landing Defensive Player of the Year honors on the heels of a 12.5-sack campaign in 1999.
Sapp's brash personality and willingness to speak freely (perhaps sometimes too much so) led to a few run-ins during his playing days and might even cost him a vote or two. But as the best "3-technique" defensive tackle of all time, it's hard to imagine the big fella not getting in.
Verdict: Buckle up. His induction speech should be a doozy.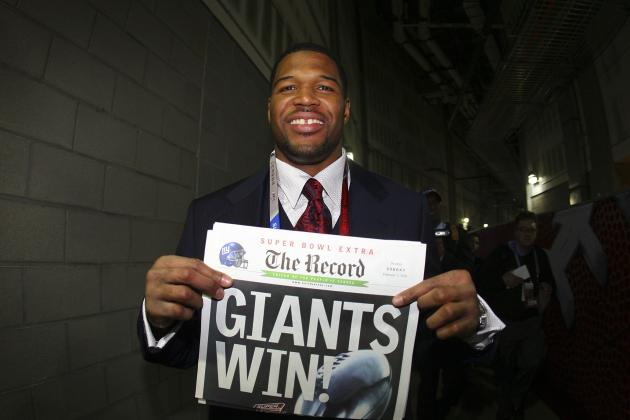 Donald Miralle/Getty Images

The man with the gap-toothed smile and a penchant for chasing down quarterbacks, New York Giants defensive end Michael Strahan is the fourth of this year's first-time finalists and the holder of the single-season record for sacks with 22.5.
That record may have been obtained in a somewhat dubious manner, but it can't be argued that Strahan enjoyed a phenomenal 15-year career that culminated with a Super Bowl victory against the New England Patriots.
Strahan's 141.5 career sacks ranks fifth all time, and based purely on a body of work that includes seven Pro Bowls and a Defensive Player of the Year award, Strahan should probably get in.
However, with three first-year finalists already in (here, anyway) Strahan may find himself the victim of a numbers crunch that leaves him on the outside looking in, at least in 2013.
Verdict: He's a lock to get in, but he may have to wait a year or two.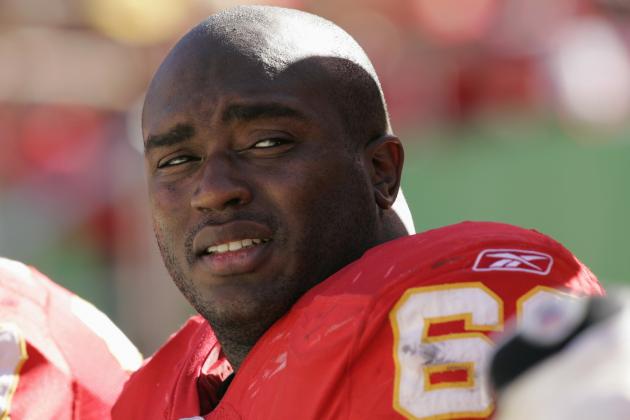 Brian Bahr/Getty Images

For 14 seasons, offensive guard Will Shields was a mainstay on the offensive line for the Kansas City Chiefs, earning 12 trips to the Pro Bowl.
Unfortunately for Shields, his individual prowess didn't translate into wins for the Chiefs. Although he's probably every bit as deserving of induction as a player like Larry Allen, Shields' resume doesn't include a Super Bowl victory.
It may not be right, and it will all but certainly stir debate, but the odds of three of the five inductees being offensive linemen aren't good, leaving Shields out in the cold for a second straight year.
Verdict: The big man's time will come, but it isn't in 2013.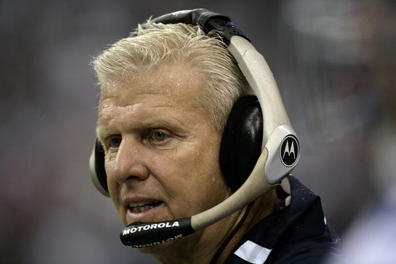 Brent Stirton/Getty Images

The impact of Bill Parcells on the NFL goes far beyond the Big Apple, but his crowning achievement will always be his victories in Super Bowl XXI and XXV with the New York Giants.
Sure, he may not have been a ray of sunshine, but the simple fact is that over 22 seasons as a head coach, the two-time Coach of the Year assembled a winning percentage of well over .500, won 11 playoff games and is one of only five head coaches in NFL history to lead two franchises to the Super Bowl.
With all that said, however, this year's crop of finalists is a very deep one. Given that voters are supposed to only consider Parcells the coach and not the numerous other ways in which he's impacted the game, the "Big Tuna" will probably be thrown back for the second time.
Verdict: Close, but no cigar. Sorry, Charlie (sorry to you all as well for the gratuitous tuna humor).
John Sciulli/Getty Images

Running back Jerome Bettis is in his third year of eligibility for the Pro Football Hall of Fame, and the 13-year veteran is probably going to run into the same issue he has the past two go-rounds.
Granted, Bettis was a very good football player for a very long time, gaining more than 1,000 rushing yards for six straight years from 1996 to 2001, and the six-time Pro Bowl performer ranks sixth all time with 13,662 rushing yards.
However, Bettis also averaged less than four yards a carry over his career, and his isn't a name you hear mentioned outside of the Steel City when discussing the all-time greats at the running-back position.
Verdict: It isn't the Hall of Very Good. Bettis misses the cut.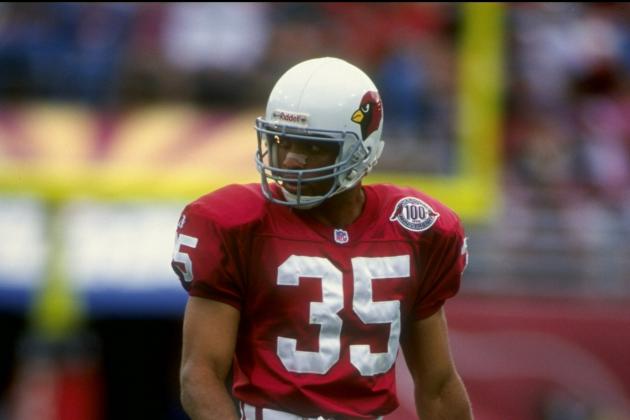 Marc Piscotty/Getty Images

Aeneas Williams is one of the best cornerbacks in NFL history that a lot of people likely have never heard of.
Stuck for 10 of his 14 NFL seasons on some truly awful teams with the Arizona Cardinals, Williams was named to eight Pro Bowls, had 55 career interceptions and finally got to see what success felt like when he appeared in Super Bowl XXXVI with the St. Louis Rams.
Unfortunately for Williams, the Rams came up short in that game just like his Hall of Fame candidacy is going to for the fourth time.
Williams may have been great and a member of the NFL's All-1990s team, but Hall of Fame-worthy is stretching it, and in this class, he has no shot.
Verdict: Not now, and maybe not ever.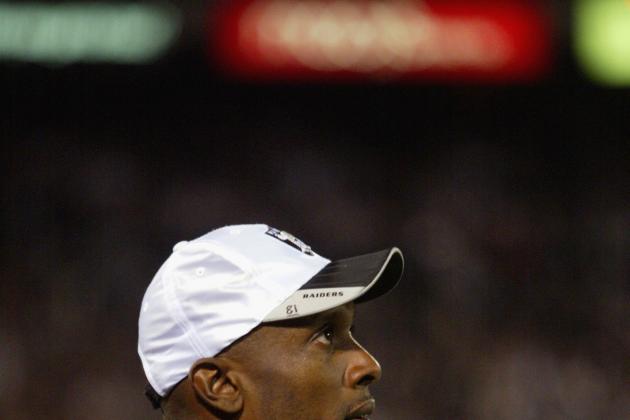 Tom Hauck/Getty Images

We're now entering into a trio of players who have inspired a considerable amount of debate and discussion over the past several years.
This marks the fourth year of eligibility for Oakland Raiders wide receiver Tim Brown, and at first glance, his career numbers would certainly seem to merit induction into the Hall of Fame.
Seventeen NFL seasons. Fifth all-time in receptions (1,094). Fifth all-time in receiving yards (14,934). Seventh all-time in receiving touchdowns (100).
However, this is only the second time in four tries that the nine-time Pro Bowler has even made the final cut. Whether it's the presence of other wideouts with similar credentials on this list or the argument about what really makes modern-era receivers Hall of Fame-worthy, Brown's most likely not getting in this year.
Verdict: Deserves induction and will probably get there one day, but not in 2013.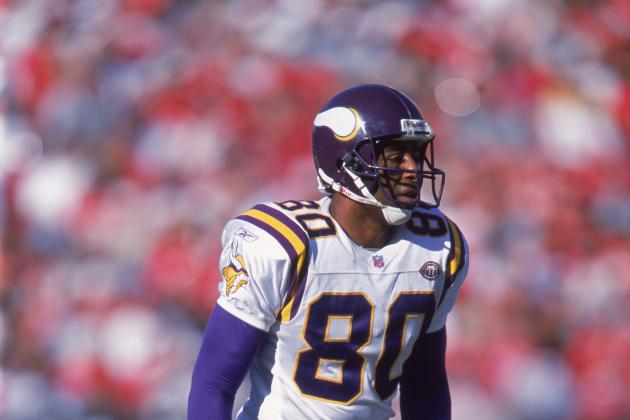 Andy Lyons/Getty Images

If there's a poster child for the argument about the wide receivers on this year's finalists, it has to be Cris Carter, who will be trying to get into Canton for the sixth time.
Carter's supporters point to his more than 1,100 career receptions, nearly 14,000 receiving yards and 130 career touchdowns, all numbers that rank him among the best to ever play his position.
Carter's detractors decry them as quantity over quality, the cumulative effect of 16 years spent on three mostly mediocre teams by a surly player who cared more about individual success than his team.
It's hard to understand how Michael Irvin, whose numbers are nowhere close to Carter's, can be in and Carter out.
Then I remember the rings.
Verdict: He gets in this time, but it will be close.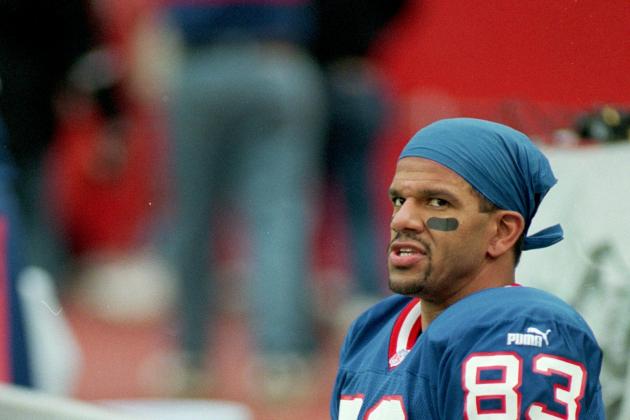 Rick Stewart/Getty Images

This marks Andre Reed's seventh straight year at being a finalist for the Hall of Fame.
However, the 16-year veteran probably has the slimmest shot at getting in of the three wide receivers who are finalists, despite a career that saw him rack up more than 13,000 receiving yards, go to seven Pro Bowls and make four Super Bowl appearances.
Unfortunately for Reed, he's been surpassed on career lists as time has passed. Critics decry his numbers as being even more diluted by the fact that he played in Buffalo's pass-wacky "K-Gun" offense.
Verdict: If he got the nod, I wouldn't bat an eye, but I don't see it happening this year.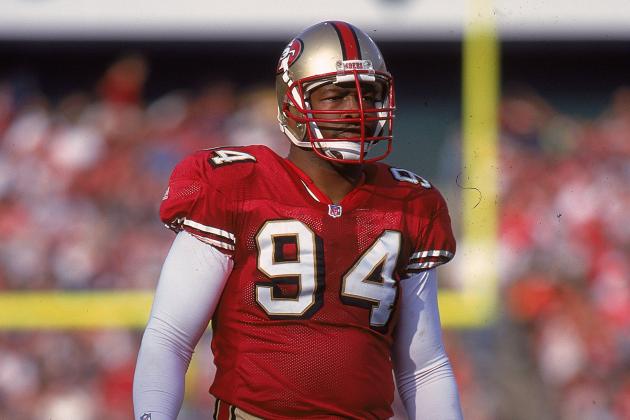 Tom Hauck/Getty Images

I mentioned earlier in this article that having a Super Bowl ring can help bolster a player's Hall of Fame credentials, but it must not be that huge a factor.
If it was, Charles Haley would have gotten in years ago, because he has a drawer full of them.
With five Super Bowl victories over a 13-year career as part of the San Francisco 49ers and Dallas Cowboys, Haley is trying for the ninth time to get into Canton.
Haley was voted to five Pro Bowls and had more than 100 career sacks, but there are those who say his success was fueled nearly as much by playing on dominant teams as it was by his own prowess on the gridiron.
Still, how many other people have five Super Bowl rings?
Verdict: The man with five gets in the Hall.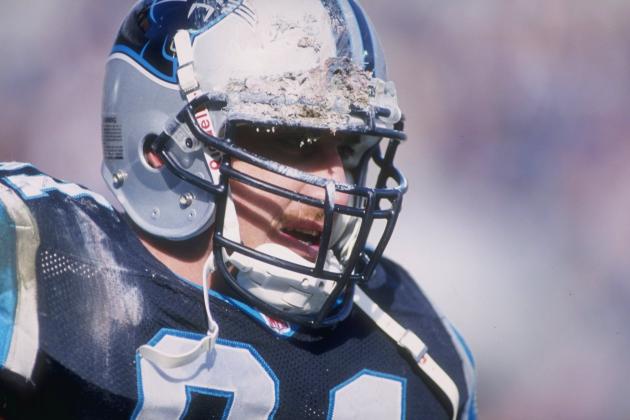 Craig Jones/Getty Images

Over the span of 15 NFL seasons, outside linebacker Kevin Greene recorded an eye-popping 160 sacks, the most ever by a linebacker and third all time for a player at any position.
Greene was a five-time Pro Bowl selection and a member of the NFL's all-decade team for the 1990s. Those numbers would appear to be worthy of inclusion in Canton.
With that said, Greene's candidacy has been hurt by his status as something of a one-trick pony who only rushed the passer. In a loaded class, it's unlikely that Greene will break through on his ninth attempt at enshrinement.
Verdict: Just too many other, better, options. Won't get close.
Otto Greule Jr/Getty Images

Eddie DeBartolo Jr., San Francisco 49ers
Over more than two decades, DeBartolo turned the San Francisco 49ers from a doormat into a dynasty that won five Super Bowls.
The end of his tenure in San Francisco was marred by scandals that eventually led to him relinquishing control of the team.
Art Modell, Cleveland Browns/Baltimore Ravens
Modell, who died in September 2012, was a pioneer in negotiating increasingly lucrative TV contracts and the inception of Monday Night Football.
His lasting legacy in the eyes of many fans (and more than a few Hall of Fame voters) is when he relocated the Browns to Baltimore after the 1995 season.
Verdict
Both men made significant contributions to their respective franchises and the NFL as a whole.
While Modell's passing may soften some of the vitriol directed at him for relocating the Browns, the controversy surrounding each man will be enough to keep them out of the Hall.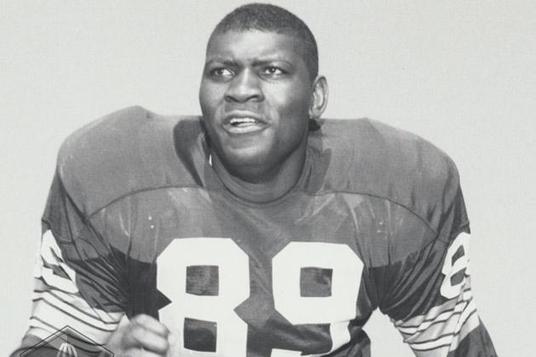 Photo courtesy of the Pro Football Hall of Fame
Curley Culp, DL (1968-1981)
A five-time Pro Bowl performer who played in both the AFL and NFL, Culp is credited with 68 career sacks (although he surely had many more) and was a starter on the Kansas City Chiefs team that won Super Bowl IV.
Dave Robinson, LB (1963-1974)
Robinson was a key member of the great Green Bay teams of the mid-'60s, starting alongside Ray Nitschke and Lee Roy Caffey. He helped the Packers win the first two Super Bowls.
Verdict
Senior nominees don't count against the five-man class limit, and inclusion is often a way for the greats of yesterday to obtain enshrinement in the Hall.
As such, there's a better-than-average chance that at least one of these players will be inducted, and deservingly so.