2013 NFL Draft: Top Myths About This Year's Class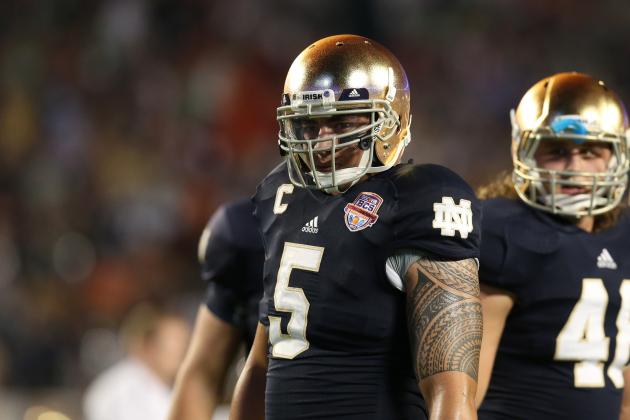 Matthew Emmons-USA TODAY Sports

There is nothing more hyped than the NFL draft, and the myth machine gets started early and things get repeated enough that they are soon considered facts. The reality is that there are a bunch of things we will hear about players, positions or the class itself that are simply untrue. They are myths, and every year the actual draft tears apart these myths, shedding its light on the truth.
There are always stories that take on a life of their own, driven by the media and those willing to repeat what they are hearing. Agents push an agenda to get their guys drafted as high as they can. Big sports networks talk about certain players over and over because the fans eat it up.
Last year, most considered the draft class elite because the focus was on Andrew Luck and some guy named Robert Griffin III. The reality was that the 2012 draft class was a weak one, with several elite prospects leading the charge and a bunch of average players behind them in line.
Let's look at the five biggest myths of the 2013 NFL draft class.
Begin Slideshow

»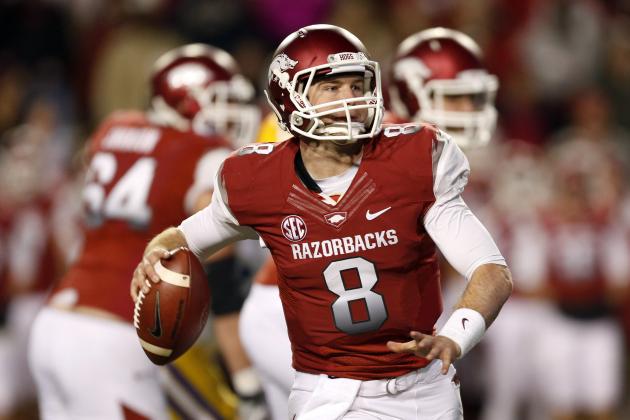 Wesley Hitt/Getty Images

The quarterback position is the most critical position in all of football, and an argument that another position is as important fails miserably. The quarterback position might be more critical to a team's success than any other position in all of professional sports; it matters that much.
There is some discussion that no quarterback entering the 2013 NFL draft will get selected in the first round. While that may speak to the talent of those entering the draft, it ignores a basic reality that quarterbacks always get picked earlier than those playing other positions.
The dynamic also changed when the rookie wage scale was introduced, as it became far less costly to invest an early pick on a quarterback and miss. In 2011, we saw players like Cam Newton, Jake Locker, Blaine Gabbert and Christian Ponder get selected in the first 12 picks.
In 2012, Andrew Luck, Robert Griffin III and Ryan Tannehill were all top 10 picks. The Cleveland Browns selected Brandon Weeden with the No. 22 overall pick.
For teams like the Kansas City Chiefs, Jacksonville Jaguars, Oakland Raiders, Philadelphia Eagles, Arizona Cardinals and Buffalo Bills, the position is a true need. These are also teams that hold six of the first nine picks in the draft, and the quarterback position will not be ignored. Five of these six teams have new head coaches and are likely to tie themselves to their own quarterback.
Geno Smith, Tyler Wilson, Mike Glennon and Matt Barkley are all players that have a tremendously strong chance of being selected in the first round. In fact, the teams mentioned above won't progress without much better quarterback play.
There are many things that point to these players getting picked early: the history of seeing quarterbacks go early, the rookie wage scale and the desperation of struggling franchises looking for a quarterback that can be the foundation of their team.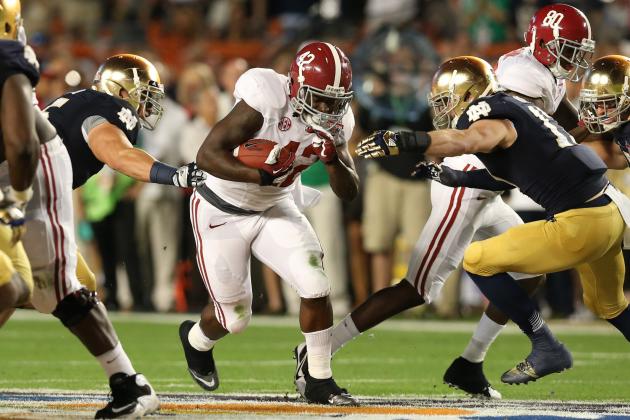 Matthew Emmons-USA TODAY Sports

Take yourself to any social media site with any draft discussion happening and there is bound to be some discussion about a weak running back class in this year's draft class. The argument is that there are no elite players at the position, and the impact on offenses from running backs will be negligible.
The truth is that there are plenty of players that can come in and help right away, there just isn't a Trent Richardson in this class. There is not a dominant running back who will get selected early, but there are a bunch with second- to third-round grades who will be turning heads in the NFL in 2013.
Giovani Bernard has a first-round grade. Eddie Lacy, Montee Ball, Andre Ellington and Joseph Randle all have second-round grades. They all have different styles, but they are very talented and can make plays in the NFL.
There are plenty of backs to be had in the middle of the draft as well, with guys like Knile Davis, Mike Gillislee and Le'Veon Bell all holding grades that will get them picked in the third to fourth round.
There are always running backs that surprise as late-round picks, and this year's gem could be a player like Pittsburgh's Raymond Graham, who jumps off of tape with his start/stop ability as well as his incredible burst and cutback skills.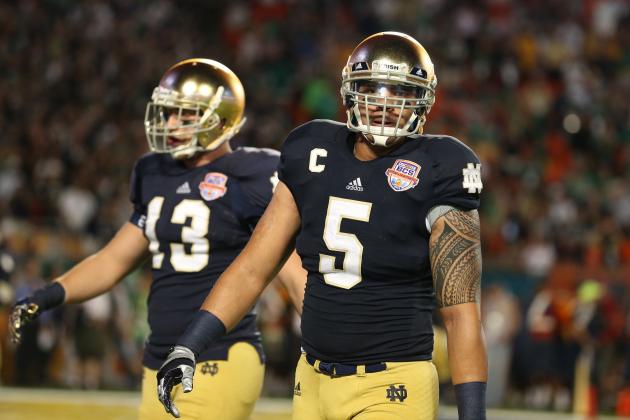 Matthew Emmons-USA TODAY Sports

Manti Te'o was a fantastic college football player, perhaps one of the better college players we have seen in some time. However, that doesn't mean his success in college automatically translates to NFL success.
Te'o is a lightning rod. He sparks an amazing amount of hostility when his name isn't included in the 2013 draft class' top five players. It just isn't realistic to think that a player who doesn't affect the passing game and can't pressure the quarterback warrants a pick that early.
Te'o is a player who makes plays at or near the line of scrimmage by tackling the running back. He is at his best when he can shed blocks and attack the ball, but he showed during the national championship that he might struggle with the bigger offensive linemen he will see in the NFL.
He isn't a player with elite speed who can make plays sideline to sideline or a player with enough speed to bend around the edge to get to the quarterback, and in today's NFL, it's not enough to get him drafted in the top 10.
There simply isn't a premium on inside linebackers who tackle well, but have little or no impact on the passing game. It is far more realistic to see Te'o as one of the better inside linebackers in this draft class. He warrants mid to late first-round consideration and would be a steal for a team like the Pittsburgh Steelers or Baltimore Ravens.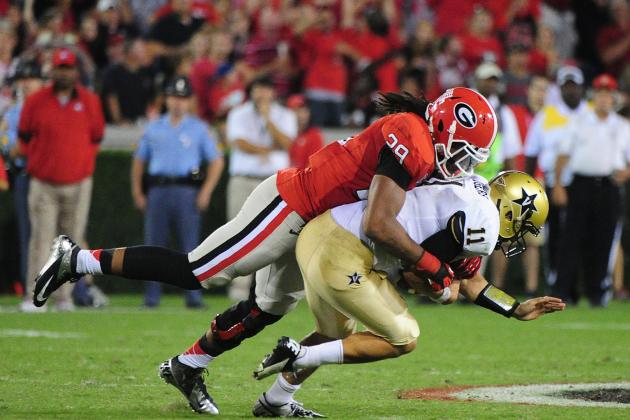 Scott Cunningham/Getty Images

Georgia outside linebacker Jarvis Jones is another lightning rod, and much like Te'o, any discussion that doesn't include him as a top five pick has your inbox burning. There is a lot of talk about Jones being the best pass-rusher in the draft, and that notion is not supported by several factors, including a huge medical concern.
Jones is not the best pass-rusher on film, and he is a small player at 242 pounds. He is a very talented football player who can undoubtedly pressure the quarterback, but there are questions about what else he can do at the NFL level.
Jones is not a player who has the size to hold up well against teams who run the ball right at him, as he is a better player in pursuit than holding up at the point of attack. He needs space to make plays, and he will struggle if teams put a lot of trash between him and the ball.
Jones doesn't hold up well in pass coverage as the Bulldogs were happy to unleash him after the quarterback. He didn't have to cover tight ends and running backs in college, and he will struggle in the NFL in this aspect of the game.
He projects best to outside linebacker in a 3-4 defense where he can rush the passer. In a perfect setting, Jones could thrive, but there is not a perfect setting in the NFL, and Jones will have to add bulk to hold up to teams running the ball directly at him. He will also have to develop some ability to cover in pass defense.
That doesn't include the medical red flag. Simply put, there are too many questions about Jones to make him a top five pick, as the first pass-rusher off the board.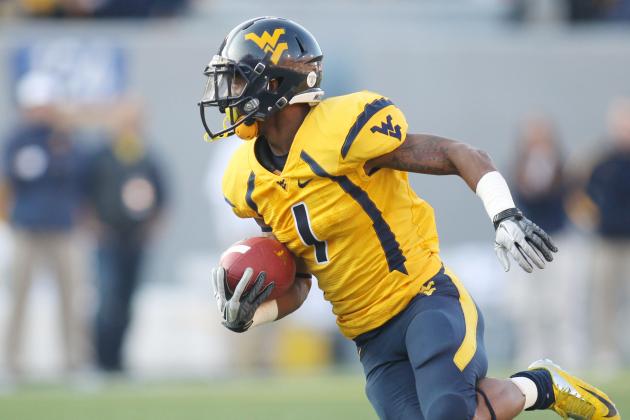 Charles LeClaire-USA TODAY Sport

Another myth is that the 2013 class of wide receivers is weak. The reality is that the receiver group is loaded with talent, even though there may not be an A.J. Green in the class.
Keenan Allen has a very high first-round grade. Quinton Patton, Tavon Austin, Robert Woods, Cordarelle Patterson, DeAndre Hopkins and Terrance Williams all have borderline first-round grades. These are very talented players who are going to have a tremendous impact right away in the NFL.
In the second round, players like Stedman Bailey, Justin Hunter and Aaron Dobson are all gifted players who can do special things on the football field. Teams might determine that it makes sense to wait and grab one of these guys in the second round instead of drafting one right away on the first round, and they might be right as they are still getting remarkable talent.
Teams looking for wide receiver help have to be salivating at the possibility of adding players like those listed above. Teams like the New York Jets, Miami Dolphins, St. Louis Rams, Minnesota Vikings and Houston Texans could all be in the mix for one of these elite talents.
The truth is that the group of wide receivers entering the draft in 2013 might be more talented than any class in recent memory.