Dallas Cowboys: Norv Turner to Browns but Bill Callahan Could Get It Done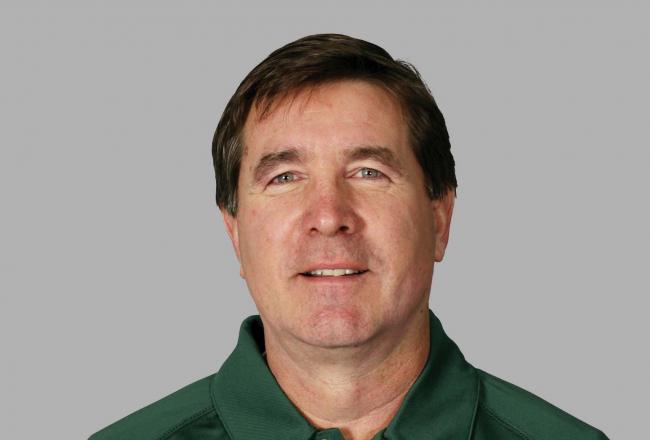 NFL Photos/Getty Images
Norv Turner is no longer an offensive coordinator option for Dallas, as he has reportedly taken the Cleveland Browns OC job according to Peter Schrager of Fox Sports.
Dallas Cowboys fans may have dodged a bullet.
What makes a great offensive coordinator in today's NFL can be boiled down to one skill: the ability to get linebackers and safeties out of position.
Bill Callahan, offensive line coach/offensive coordinator for the Dallas Cowboys understands this. He is a West Coast scheme guy who knows that you must keep defenses guessing and get people out of position.
Unfortunately, he was clearly given little input in game planning in 2012. Jason Garrett continued with the Turner system.
Despite being predictable, Turner's system succeeded in the dynasty years, because they were stocked with Hall of Famers throughout the offense and boasted one of the league's best defenses.
Unfortunately, a predictable offense doesn't work so well without all of those Hall of Famers. This has been proved in every stop that Turner has made and it's been proved in Dallas under Garrett. It was also proved in Baltimore, when they fired Cam Cameron before the season was over.
At the heart of the problem is that this scheme simply doesn't get the linebackers and safeties out of position often enough.
If you want an offense that rivals what the Saints, Packers and Patriots have produced over the last several years, you need manipulate the safeties and linebackers as well as they do.
The Saints accomplish this by weaponizing several backs with plays designed to get the most of their skills. Sean Payton took great pains to install a myriad of passing plays for his backs, especially Darren Sproles.
Prior to coming to New Orleans, Sproles was in Turner's offense in San Diego. During that time, he averaged 28 receptions a year for 347 yards.
His first year in New Orleans, his receptions jumped to 86 for 710 yards and his rushing yards more than doubled. This exemplifies one of the key differences in these offensive schemes.
Payton's scheme uses his backs to draw the attention of linebackers and safeties. If they don't adjust, he will just keep throwing to them. In the Saints game against Dallas, they threw 15 passes to backs. Needless to say, it was a large part of a strategy that shredded Dallas defense.
Once the defense adjusts to stop the backs, Drew Brees gets the single coverage he wants and torches the defense with passes to Jimmy Graham and his wide receivers.
The Patriots also excel at manipulating safeties and linebackers. In 2005, Bill Belichick sent Josh McDaniels down to Florida to learn about the spread offense from Urban Meyers. They wanted to isolate linebackers on slot receivers.
In 2006, Wes Welker was under-utilized in Miami under offensive coordinator Scott Linehan; Jason Garrett was the quarterbacks coach. Neither of them seemed to understand the potential of Welker. He had 67 receptions for 687 yards.
In 2007, Cam Cameron, who runs Turner's system was hired as Miami's head coach. He traded Welker to the Patriots for a second- and a seventh-round pick—again, a failure of imagination.
In 2007, in the Patriots' new spread offense, Welker exploded for 112 receptions and 1,175 yards. In five of the next six seasons his receiving yardage exceeded 1,100 yards.
Why? Because before he ever arrived in New England, Belichick and McDaniels had worked out their version of the spread with an emphasis on isolating linebackers on slot receivers.
Since that time, the Patriots have gone a step further with two pass-catching tight ends that create mismatches on multiple levels: speed, height and weight. Not to mention that their presence on the field makes it far more difficult to predict if a run or pass is coming.
While all of this innovation has been taking place (and I didn't even cover the Packers) Garrett has largely ignored the value of using his backs as receivers and has failed to incorporate a second pass-catching tight end.
Watch the Packers and Patriots this Weekend
When the Packers line up against that nasty 49ers defense this Saturday, take notice of where the safeties and linebackers are on the Packers' biggest plays.
When the Patriots play the Texans, look for the same thing, but also pay special attention to the impact of their double tight-end sets and realize that you could be watching the Cowboys do the same had there been a little more imagination and willingness to adopt new ideas at Valley Ranch.
Why Callahan Deserves Consideration as OC
As offensive coordinator for the Raiders in 2000, Callahan's offense led the league in rushing. In 2002, his offense led the league in scoring, total yardage and passing. His lead back, Charlie Garner, had 941 yards receiving and 962 rushing that year.
Callahan clearly knows how to manipulate safeties and linebackers to get his skill players in space. He knows how to call a game that keeps his offense in rhythm and racks up points.
But perhaps the biggest reason to give Callahan the job, is that he already has the title of offensive coordinator. Having him game plan and calling plays would be less of a slam than bringing in an outside offensive coordinator. Callahan has already spent a year reporting to Garrett.
A new coordinator might come in with the assumption that Garrett was merely a puppet he could ignore, thus further undermining his credibility.
This article is
What is the duplicate article?
Why is this article offensive?
Where is this article plagiarized from?
Why is this article poorly edited?

Dallas Cowboys: Like this team?