Ever since Brandon Cox graduated following the 2007 season, the quarterback position has been a question at Auburn every offseason—even the one prior to the BCS National Championship season of 2010 when Cam Newton took home the Heisman Trophy.
The 2013 offseason will be no different.
One Auburn veteran won't be in the mix for the starting spot this spring under first-year head coach Gus Malzahn.
Senior Clint Moseley, who went 3-6 as a starter over the previous two seasons for Auburn, has decided to leave the football program, according to AuburnSports.com.
That leaves rising sophomore Jonathan Wallace and rising junior Kiehl Frazier as the two likely candidates to take the snaps for the Tigers when toe meets leather on Aug. 31 against Washington State inside Jordan-Hare Stadium in Auburn.
John Reed-USA TODAY Sports
Wallace completed 46-of-80 passes for 720 yards, four touchdowns and four picks in 2012, most of which came after he took over for Moseley mid-way through the 63-21 loss to Texas A&M.
He looked good at times, and has the dual-threat capabilities to be dangerous in Malzahn's hurry-up, no-huddle offense. But the fact that he was unable to lead the Tigers to a single score in their two biggest rivalry games should be concerning.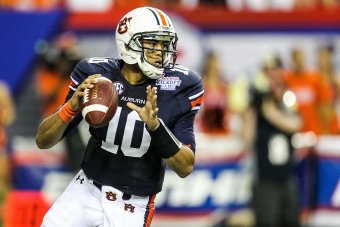 Daniel Shirey-USA TODAY Sports
Frazier's 2012 season was simply dreadful under former offensive coordinator Scot Loeffler. Frazier opened the season as the starter, but never looked comfortable taking the snaps, finishing the season 62-of-116 for 753 yards, two touchdowns and eight interceptions.
He was benched mid-way through the fifth game of the season, but never looked comfortable in the pocket, took too many sacks, and always seemed unsure of where to go with the ball—even when wide receivers were open.
But he was the 2010 USA Today high school offensive player of the year, and the switch back to Malzahn's offense—which is similar to the one he ran in high school—should help Frazier out.
If Class of 2013 commitment Jeremy Johnson does sign on the dotted line in February, he could be in the mix to win the starting quarterback job as a true freshman. Johnson is a 6'6", 215-pound pro-style quarterback from Montgomery, Ala., who Rivals.com ranks as the No. 94 player in the latest Rivals100.
Jeremy Johnson highlights
Johnson has a big arm and can stretch the field, but will have his work cut out for him when he arrives on campus.
Fellow commit Jason Smith from Mobile, Ala., may also get a look at quarterback when he gets to campus. The 4-star athlete has the dual-threat capabilities to be a weapon, but may also switch to wide receiver for the Tigers.
Who will be Auburn's 2013 starting QB?
If you're looking for a favorite, put your money on Frazier.
He looked outright lost early in 2012 in his first action as a starter, but the same can be said for the entire Auburn offense for the better part of the 2012 season. Getting back to Malzahn's system, which set records with Chris Todd at quarterback when Malzahn was hired as Auburn's offensive coordinator prior to the 2009 season, should allow Frazier to be more comfortable in 2013.
Decision-making was Frazier's problem, and a familiar offense—at least in theory—should help.
With that said, I wouldn't write off any of the other contenders. Auburn's quarterback battle may last well into fall camp.