Stock Up, Stock Down for the Top 16 NHL Stars Entering 2013 Season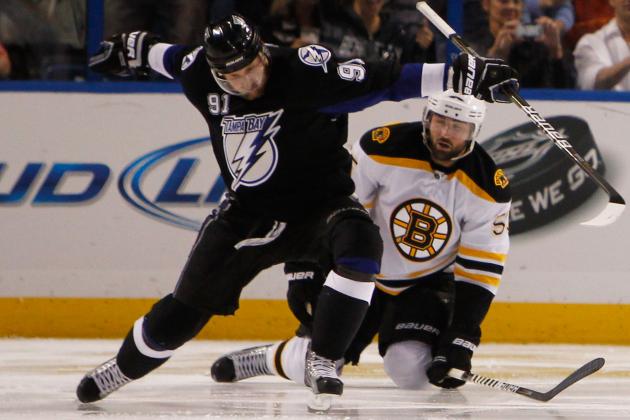 Eliot J. Schechter/Getty Images

The 2013 NHL season is (perhaps) just a little over a week away from starting, and as such the story lines we've been rolling around in our brains throughout the lockout will finally come to fruition.
Can Scott Hartnell pile on the points without Jaromir Jagr?
Just how high can Evgeni Malkin get his points total?
Will being excluded from Cosmo's sexiest NHLers list push Henrik Lundqvist to new heights?
The answers to questions such as these will cause player stocks to rise and fall. Here's a look at who I think will soar, and who I think could sink.
Begin Slideshow

»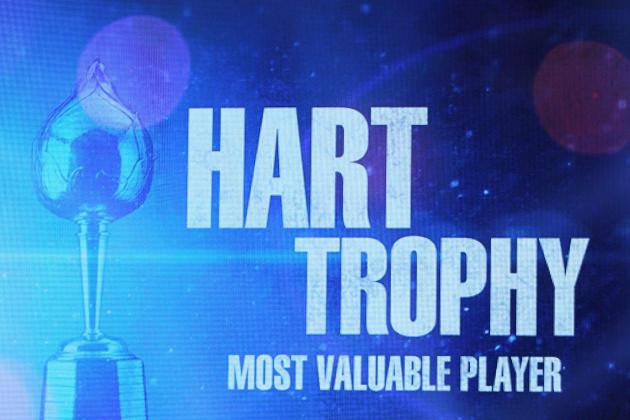 Isaac Brekken/Getty Images

It's hard to imagine Evgeni Malkin playing better than he did last season, but it's within the realm of possibility if he can stay healthy.
Despite missing several games last season due to injury, he still managed to clean up at the NHL awards show and to lead the league in points. He didn't seem to lose a step while playing overseas either, scoring at a solid clip.
A healthy Malkin plus a dominant Sidney Crosby equal a higher stock for the superbly talented Russian.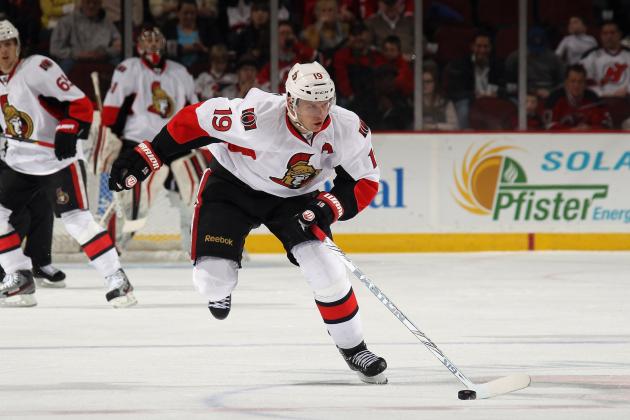 Bruce Bennett/Getty Images

The last time Jason Spezza posted numbers like he did in 2011-12 was four seasons ago when he was skating on the ASH line with Daniel Alfredsson and Dany Heatley.
Keeping a clean bill of health really helped Spezza to his highest scoring total since 2007-08, but with the shortened season and strenuous schedule staring him in the face, I just don't see him escaping this campaign unscathed.
Stock down due to injury concerns.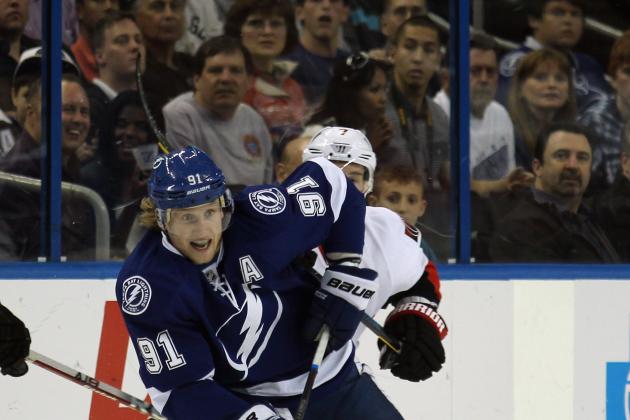 Bruce Bennett/Getty Images

There is no one currently in the NHL that can score goals like Steven Stamkos.
Period.
He possess all the weapons that goaltenders and defenders fear, and he absolutely exploded for 60 goals last season—10 ahead of the second-leading goal scorer in Evgeni Malkin.
There's no reason to believe that Stamkos won't be able to duplicate the season he had in 2011-2012. He shot more and scored more last season than he ever had before, and I'm not going to be the guy to say that he won't be able to put up more than 60 goals.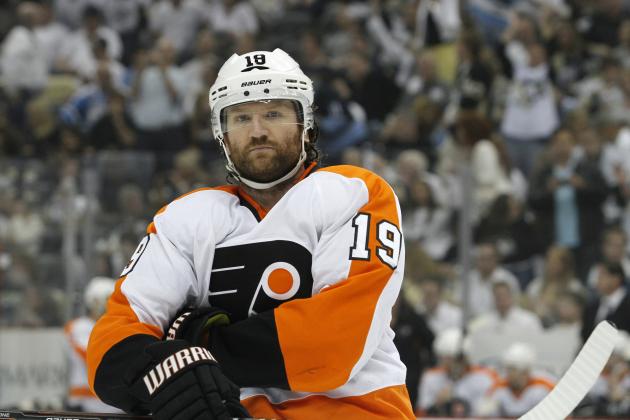 Justin K. Aller/Getty Images

Those expecting Scott Hartnell to score at the same pace he did last season are going to be sorely disappointed. While he could still end up playing with some very talented players in Philadelphia, one shouldn't underestimate the impact of losing a guy like Jaromir Jagr.
Aside from losing Jags, 2011-12 was too much of a statistical anomaly for Hartnell to believe that he could do it again.
He's been a much more consistent 40- to 50-point player through his career, and I'd expect to see him come back down to that pace this season.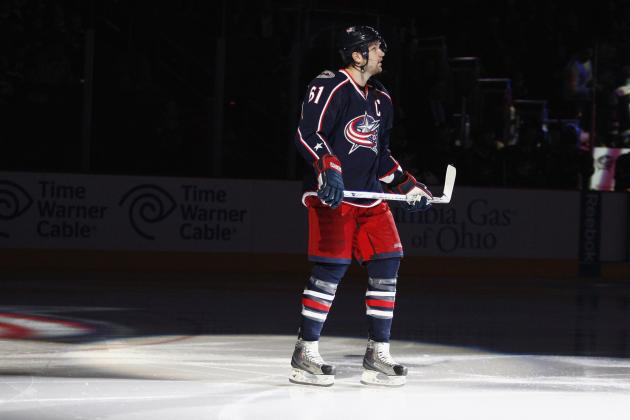 John Grieshop/Getty Images

For the first time in his career, Rick Nash will have a true No. 1 center to dish him the puck.
Nasher has ridiculously soft hands in close and a great finishing touch—Brad Richards making saucer passes to a streaking Nash will be a hard combo for opposing teams to solve.
Time on a power play that should be among the most potent in the NHL won't hurt him either. Look for some gaudy goal totals from the former scoring champion.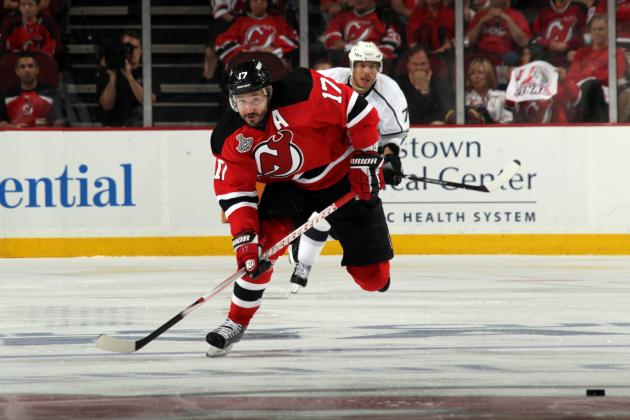 Bruce Bennett/Getty Images

Before Ilya Kovalchuk can prove me right and play without the support of Zach Parise, he'll have to prove (for the first time in his career) that he cares more about competition than money.
Pavel Datsyuk, Evgeni Malkin and Alexander Ovechkin all left $30 million on the table for a chance to compete for the Stanley Cup this season. Odd that the only guy who seems to be hung up on the cash is Kovalchuk.
He suddenly wants to finish the season in the KHL (presumably netting himself the extra money since his current NHL deal isn't lucrative enough) before returning the the New Jersey Devils.
His heart isn't in it, plain and simple. Stock down.
EDIT: Less than an hour after posting, Puck Daddy Greg Wyshynski of Yahoo! Sports posted this update on the KHL situation, saying that Kovalchuk would be coming back to the NHL in time for the season opener.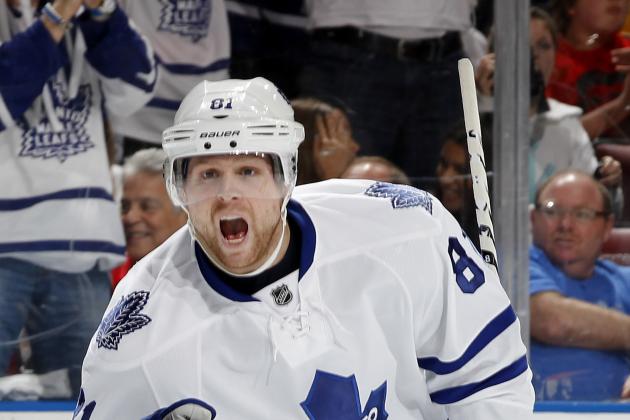 Joel Auerbach/Getty Images

I'm not quite sure who the Toronto Maple Leafs will have center a line of Phil Kessel and James van Riemsdyk, but whoever that guy is will be a lucky son of a hockey-loving parent.
There was some talk that JVR could actually end up centering that top unit, but he appears to be starting the season at left wing.
That's a pretty talented one-two punch that Kessel will be a part of and I think it could end up being one of the more explosive lines in the NHL. His numbers will only improve because of this.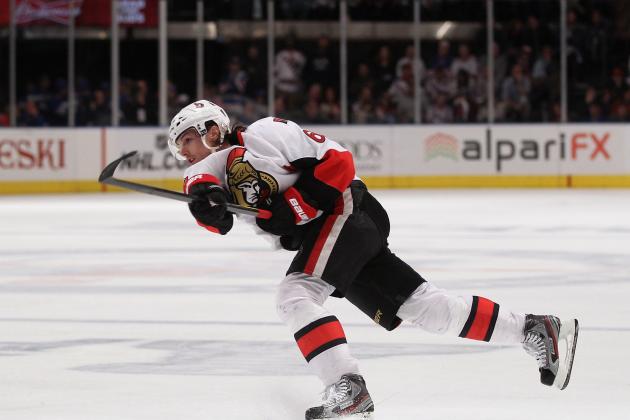 Bruce Bennett/Getty Images

Let's make one thing perfectly clear: I think Erik Karlsson is one of the most offensively gifted blueliners in all of hockey. Actually, if last season was any indication, he is arguably one of the most offensively gifted players in the game, period.
I just don't think he can pull off another 78-point season.
He put up 45 points in 2010-11, and I believe he'll settle in much closer to that pace than the one that saw him almost creep into the top 10 of NHL scoring by season's end last year.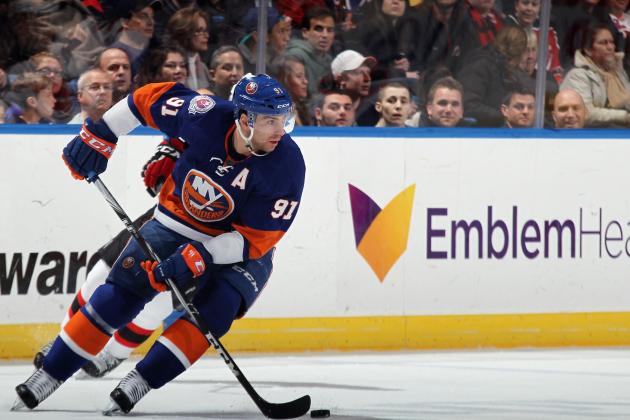 Bruce Bennett/Getty Images

John Tavares posted 81 points last season, finally capitalizing on the potential everyone knew he had. He's steadily increased his point totals every year since coming into the league in 2009-10, and I don't think he's hit his peak yet.
The New York Islanders didn't make any big moves (that stuck) during the offseason, so this will remain a young team that will continue to count on internal growth to improve the team's fortunes.
Tavares will continue to have all the chances in the world to put up points, and if Kyle Okposo can finally break out then Tavares will only benefit.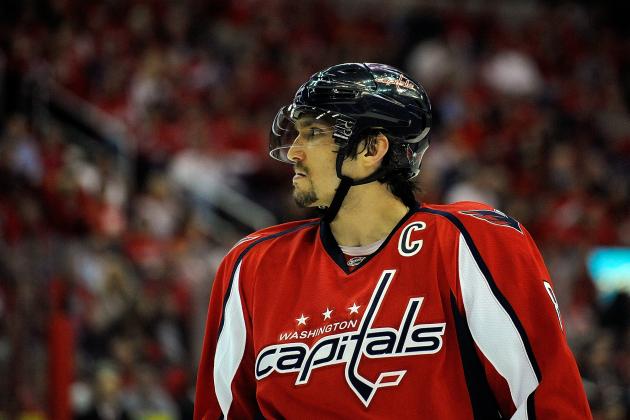 Patrick McDermott/Getty Images

Alex Ovechkin had an "off" year last year, only piling up 38 goals. That was good for fifth overall in the NHL, so he's obviously still a very effective player.
So why the stock down?
Mostly because people think that the new, offensively minded coach Adam Oates is going to return AO to the 100-plus point days that made him one of the most popular players in the NHL.
Kids, that just ain't gonna happen. Ovie is far from a flash in the pan, but his days as a truly dominant scorer in the NHL are over. Just be glad you got to witness those remarkable seasons and lower your expectations a bit.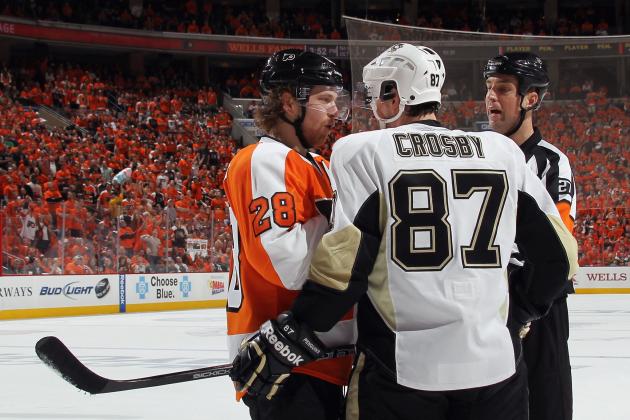 Bruce Bennett/Getty Images

Saying that Claude Giroux brought it in 2011-12 would be an understatement.
He erupted for 93 points and finished among the NHL's best in points scored, but I don't think he is quite done expanding the point totals just yet.
Giroux lost his trigger man when Jaromir Jagr bolted for the Dallas Stars over the summer, so now he'll be counted on to shoot more, thus scoring more goals. I can't see his assist total dwindling too much as he's still an extremely skillful playmaker.
Even if he maintained his shots-on-goal totals while increasing his shooting percentage just a bit, he'd still begin to pile on more points.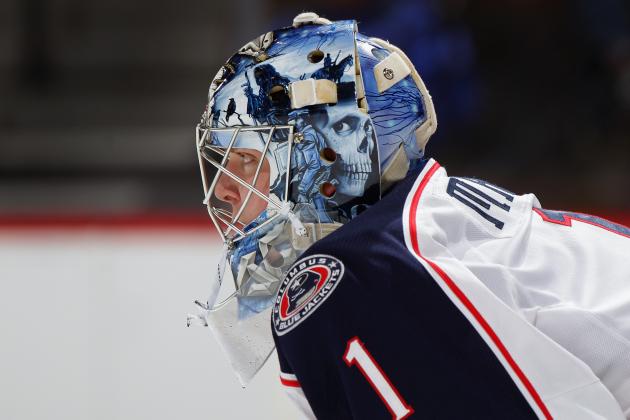 Doug Pensinger/Getty Images

Oh man! You should have seen the look on your face when you thought I was going to tell you that things could get worse for Steve Mason.
I just had to get a joke in on Mason before the season started.
Moving on...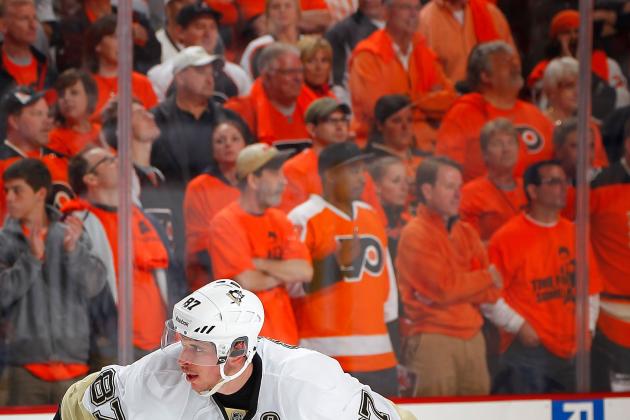 Paul Bereswill/Getty Images

Trying to talk to hockey fans about Sidney Crosby is like trying to talk to your parents about politics or your neighbors about religion. Words are being exchanged but you're never going to change anybody's mind about anything.
Love him or hate him, when Sid is healthy he is the best player in the world.
It appears that he's healthy, so he's the best player in the world. Stock up after the concussion goof up stole too much time away from No. 87.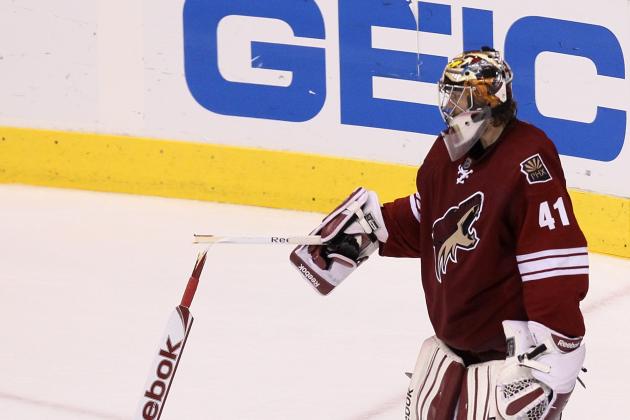 Jeff Gross/Getty Images

This season we get to find out if Mike Smith is actually an elite goaltender for the Phoenix Coyotes or if he was just an elite flash in the pan.
I lean a bit toward the latter, but not entirely. Smith isn't a bad goaltender at all, and I think he'll continue to provide solid play for the 'Yotes. He just played a bit above his head and over his pay grade in 2011-12.
Smith will come down to earth a bit in 2013, and will settle into a top-20 netminder pace. I'm just not ready to buy top five just yet.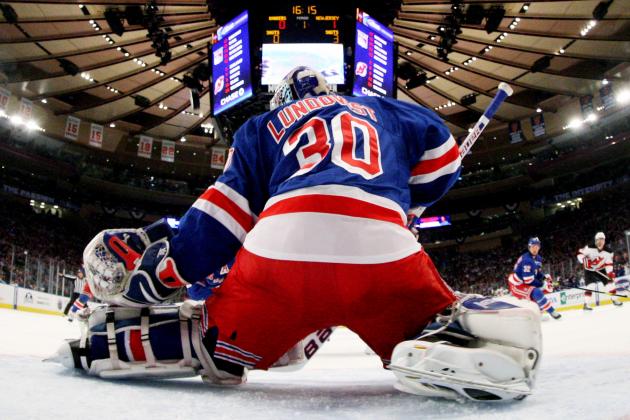 Bruce Bennett/Getty Images

Before there was Rick Nash, Marian Gaborik, Brad Richards, Dan Girardi and Ryan McDonagh giving the New York Rangers hope for a Stanley Cup, there was Henrik Lundqvist backstopping the team and keeping it above water while they reconstructed.
This is the best team King has ever seen in front of him, and I wouldn't expect him to suddenly get sloppy while the Rangers are cup favorites.
Lundqvist will do the same thing he does every season in New York. No surprises here.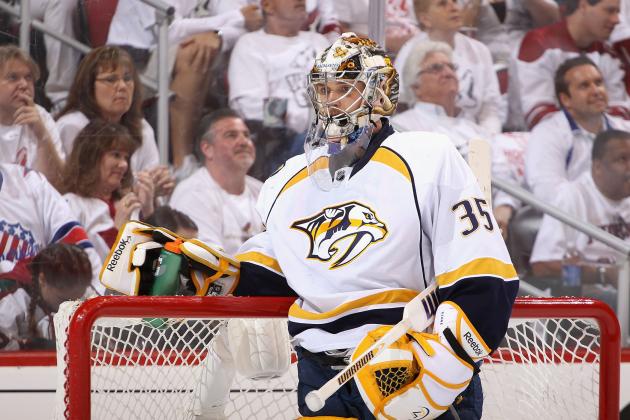 Christian Petersen/Getty Images

Pekka Rinne will arguably have to be the best player on the ice for the Nashville Predators in every game that he plays.
Shea Weber is still around, but how will the loss of partner Ryan Suter effect his game? They both brought out the best in each other, and they both may struggle to adjust to life without the other.
That leaves Rinne to hold the reins for the Preds, who will have to find a way to bear the brunt of the loss of an All-Star-caliber defender while remaining the the hunt in the ultra-competitive Central Division. Before breaking the 40-win plateau last season, he'd been a 30-win guy.
Which one will show up in 2013?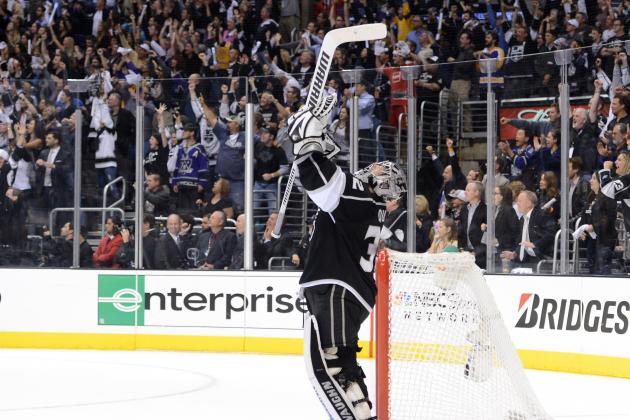 Harry How/Getty Images

If you are wondering why Jonathan Quick's stock is up, then you must be new to hockey. Welcome to the game, and I hope you enjoy the 2013 NHL season.
He just put on a clinic en route to one of the unlikeliest Stanley Cup runs in recent memory, all but building a brick wall behind the L.A. Kings every time they took the ice.
While his particular brand of dominance in the playoffs was spectacular, he was no less astonishing throughout the regular season, posting a GAA under 2.00 and putting up a .930 save percentage.
Feel free to bet against him. You won't catch me doing the same.