2013 NFL Free Agents: Biggest Red Flag Players Hitting the Market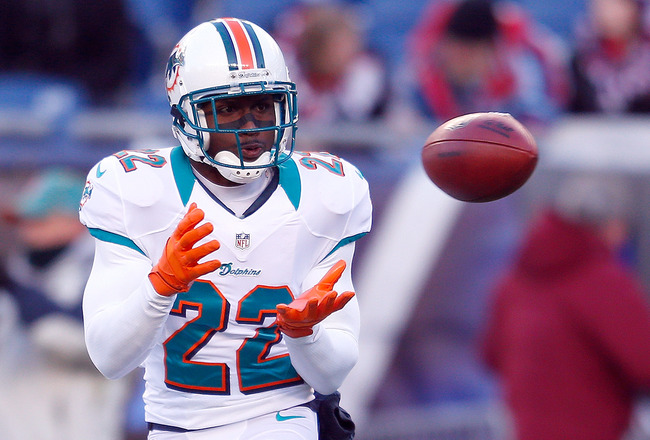 Jim Rogash/Getty Images
With the NFL Playoffs' Divisional Round set to kick off this weekend, most will be focused on what will take place on the field as opposed to how things are shaping up off of it.
However, the offseason is now the focal point of 75 percent of the league (24 of the 32 teams). And there has definitely been enough action to keep even the most casual of fans on high alert.
In the midst of head coaches and general managers being fired (apologies to Lovie Smith and Mike Tannenbaum)—then others being quickly re-hired by new teams (welcome to Kansas City, Andy Reid)—there has also been plenty of chatter surrounding the upcoming draft.
While organizations will spend the next few months trying to figure out their next move and how it will impact their 2013 season, others will have already made theirs and have everything already in place.
As with many decisions that are made in the NFL on a daily basis, some are destined to sit unfavorably within the vast landscape of each franchise—from the fanbase all the way up to the owner.
As free agency nears, teams will continue to make bad choices; those same tendencies will occur during free agency as well. Though, the successful franchises make enough good ones to tip the scales.
Failing to live up to potential, injury history, age, or a jaded hype are some of the red flags surrounding potential free agents looking for a new contract.
Here are a few players sure to be courted this offseason that could end up as bad decisions for various reasons.
Joe Flacco
Patrick Smith/Getty Images
No one can argue against the success that Baltimore Ravens quarterback Joe Flacco has amassed so far in his young career—54 career regular-season wins, played in and started all 80 possible games, and a postseason victory in each of his first five seasons (six total).
It is that type of success, however, that will drive up the 27-year-old quarterback's price tag this offseason (Flacco will turn 28 this month)—especially if teams plan on seriously competing with the Ravens for his services.
While Flacco is one of the more valuable signal-callers in the league, he certainly isn't on the level of Tom Brady, Aaron Rodgers, Drew Brees or the other elite quarterbacks in this league. But his track record will draw a huge contract.
Whichever team wins the potential bidding war better hope their investment can take things to the next level.
Felix Jones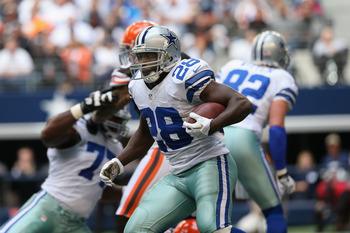 Ronald Martinez/Getty Images
While Dallas Cowboys running back Felix Jones has done little to warrant much attention on the free-agent market, he has shown enough promise to potentially pull the wool over a few eyes around the league.
When healthy, the 25-year-old Jones has amassed some respectable numbers.
He has a career 4.8 yards per carry average in 569 attempts and has proven to be a threat catching the ball out of the backfield, tallying 128 receptions for 1,066 yards as well.
Whether it is Cowboys' owner Jerry Jones throwing cash his way to keep him in Dallas or another team blinded by his potential, Jones could be in line for a decent raise in 2013—though teams should lean towards a shorter, incentive-laden deal in his case.
Reggie Bush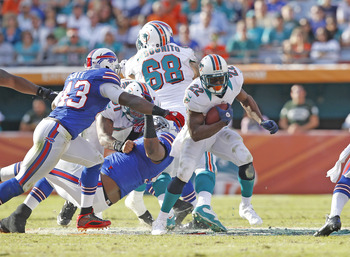 Joel Auerbach/Getty Images
After being misused in New Orleans to begin his career, Reggie Bush signed a two-year contract prior to the 2011 season to serve a much larger in the Miami Dolphins' offense.
Though his numbers over the last two season don't quite jump off the stat sheet—2,072 rushing yards, 588 receiving yards and 15 total touchdowns—his arrow is trending upward and should warrant a big contract this offseason.
Bush will be 28 years old when the 2013 starts and hasn't fully played the role of a featured back in the NFL just yet. However, some will still see his potential as a dangling carrot and overpay for his services.
Rashard Mendenhall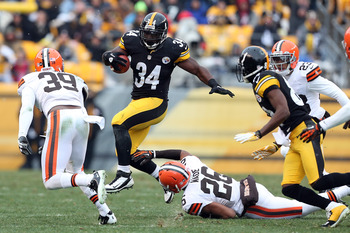 Karl Walter/Getty Images
Rashard Mendenhall's early career with the Pittsburgh Steelers has seen nominal success, rushing for 3,309 yards and 29 touchdowns from 2009-2011. However, his 2012 season was marred by injuries.
Only 25 years old, Mendenhall's injury history—along with him being suspended for not showing up to a game (via ESPN)—should be enough to steer teams away from offering a large deal.
However, teams might look at Mendenhall's 2012 season as more of the exception and not the rule as it relates to what could be in store for the running back.
Though he may be productive in spurts, the best of Mendenhall might have already been seen in Pittsburgh.
Dwayne Bowe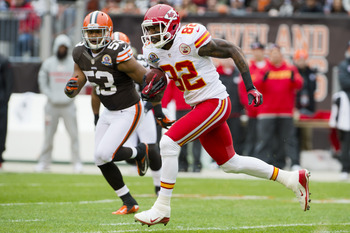 Jason Miller/Getty Images
There is no question that Dwayne Bowe has been the Kansas City Chiefs' No. 1 wide receiver since entering the league in 2007. But a further look into his production would indicate that Bowe hasn't quite been used to his full potential, or that he simply isn't a true top target in the NFL.
Giving Bowe the benefit of the doubt—which most teams will probably do—would result in a huge payday this offseason, as this league continues to evolve into its ultra-fast, pass-happy self.
The wide receiver broke out in 2010 with 1,162 yards, 15 touchdowns and a 16.1 yards per catch average. While that is a fantastic season, Bowe is unlikely to duplicate that output ever again.
Wes Welker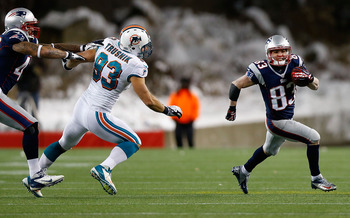 Jared Wickerham/Getty Images
Wes Welker and the New England Patriots are a perfect fit. Tom Brady has leaned on his diminutive target over the years and Welker has built a successful career out of the slot position.
Though his numbers may be indicative of one, Welker is not a true No. 1 wide receiver. But as he and New England were unable to work out a long-term deal last offseason, the team placed the franchise tag on him.
While teams will certainly be interested in his services, they would be wise to stay away from offering the 31-year-old Welker too large of a deal this offseason.
Welker is the ultimate system wide receiver. While no one can knock him for what he is, a player of his caliber isn't difficult to find in the draft or on the back end of another team's depth chart.
Mike Wallace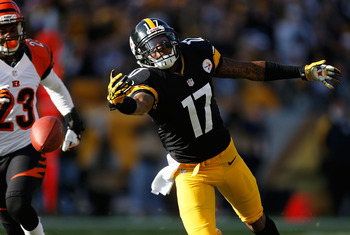 Gregory Shamus/Getty Images
Mike Wallace has been productive for the Pittsburgh Steelers since coming into the league in 2009. But to consider him in the top tier of wide receivers in the NFL would be an ill-informed opinion.
What Wallace has going for him is that this league is as pass-happy as ever. But the wideout would do well to utilize his skill-set in the slot. Potential suitors should also recognize this.
The Steelers decided to throw their cash at fellow wide receiver Antonio Brown and they would be foolish to place the franchise tag on Wallace, so it is unlikely he will return to Pittsburgh.
Though not quite on the level of the Dwayne Bowe's and Wes Welker's, Wallace will have tons of interest this offseason. How teams view his role in this league will dictate his price.
Danny Amendola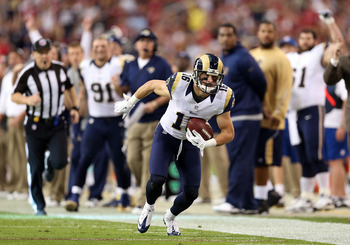 Christian Petersen/Getty Images
Plain and simple: When Danny Amendola is healthy, he is as productive as any wide receiver in the NFL. He just can't stay on the field.
While there will be plenty of interest for Amendola this offseason, most should come from his current team: the St. Louis Rams. But his injury history should prevent a huge price tag from accompanying negotiations.
Amendola has the skill-set and has shown enough promise to be the next Wes Welker. Staying healthy is the next step to turning that notion into reality.
Jake Long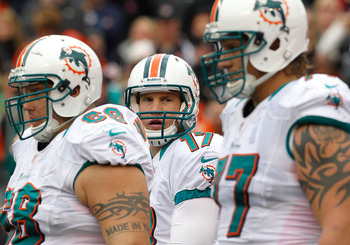 Tyler Barrick/Getty Images
Since his rookie year in 2008, there hasn't been a much better left tackle in the NFL than the Miami Dolphins' Jake Long. But ending the last two seasons on injured reserve has his arrow pointing downward.
Long is still young and should warrant tons of interest and a huge contract this offseason. His recent track record should alarm potential suitors, however.
While the left tackle might be the second-most important position on the field—behind the quarterback of course—investing in a suddenly injury-prone pass-protector who is searching for another pot of gold looks like a bad recipe right now.
Cliff Avril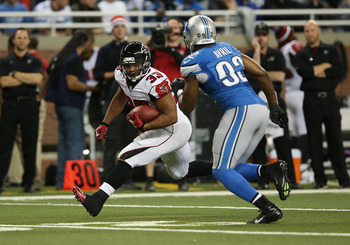 Leon Halip/Getty Images
Cliff Avril has overachieved early on in his career. The third-rounder out of Purdue has tallied 39.5 sacks in his five seasons with the Detroit Lions, and it would seem that his arrow is pointing upward.
The defensive end is about as one-dimensional as they come in the NFL, though. What is great for Avril, however, is that one dimension is coveted in a league that has become more pass-oriented recently.
While he should be more of a specialist due to his inability to perform against the run, Avril looks to cash in this offseason.
Teams should play it cautiously with the pass-rusher, by either shortening the length of any deal or mitigating too much cost.
LaRon Landry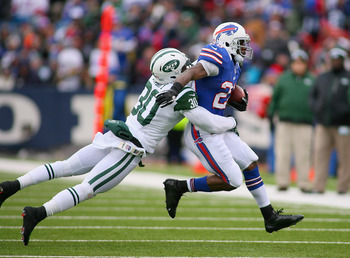 Rick Stewart/Getty Images
LaRon Landry will make his first Pro Bowl appearance this season and it would seem that his arrow is pointing upward. But that is the exact definition of inflated performance in a contract year.
The injury-prone safety wanted to get back on his feet in the NFL, so Landry signed a one-year deal with the New York Jets this past offseason after his rookie contract expired.
While the talent was there for the Washington Redskins to select him with the seventh pick in the 2007 draft, the drive for Landry to succeed seems to only be present when it is beneficial to only himself.
Teams should stay away from offering a significant chunk of money to Landry this offseason.
Aqib Talib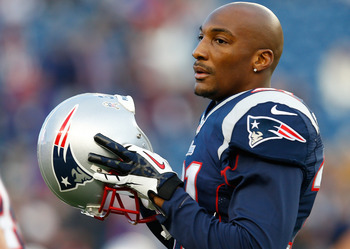 Jim Rogash/Getty Images
It looks as though the New England made the right move when acquiring cornerback Aqib Talib from the Tampa Bay Buccaneers prior to the NFL trade deadline this season. How they handle his impending free agency will be very interesting, however.
While talented, Talib's career has come with much controversy. He had his issues in college and with Tampa Bay, so the biggest question will be whether or not the corner can shake his past and finally come full circle on the field.
Teams should lean towards a smaller contract to find the answer to that question. However, Talib would do well to cash in on his successful ride with the Patriots.
Follow Jeremy on Twitter @KCPopFlyBoy.
Keep Reading