2013 NFL Free Agents: Best-Kept Secrets of the Open Market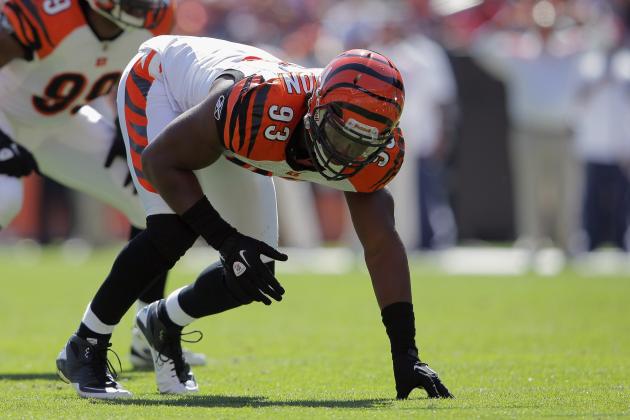 Doug Pensinger/Getty Images

Whenever NFL free agency rolls around, the nation obsesses over where the biggest names will land.
Last season, the nation was captivated by the Peyton Manning sweepstakes, and it'll be enthralled as teams pursue the likes of Greg Jennings, Dwayne Bowe, Mike Wallace and Dominique Rodgers-Cromartie this March.
While landing a star can boost a team, it's the under-the-radar signings that often elevate a team to the next level. Think BenJarvus Green-Ellis to the Bengals, Pierre Garcon to the Redskins and Ben Grubbs to the Saints. These signings didn't draw many headlines last year, but these three players delivered huge boosts to their respective teams.
Which free agents currently flying below the radar will be difference-makers in 2013?
Here's a preview.
Begin Slideshow

»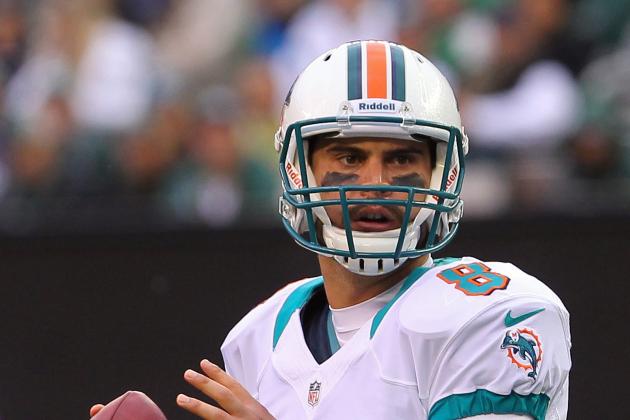 Ed Mulholland-USA TODAY Sports

Assuming both Michael Vick and Alex Smith hit the open market, you won't hear much about where Dolphins backup Matt Moore lands.
But, don't be surprised if he finds more success than his more recognizable peers do.
Moore has established himself as one of, if not the best backup quarterback in the NFL over the last two years. When Chad Henne suffered a season-ending shoulder injury in 2011, Moore resurrected a winless Dolphins team to a 6-6 record through its final 12 games.
And, when Ryan Tannehill was knocked out of Miami's Week 6 tilt versus the New York Jets, Moore stepped in and led the Phins to a win.
Although Moore is known as a "gamer"—a player who doesn't practice well but excels in games—he should receive a chance to compete for a starting job in 2013. Any team looking for a stopgap QB will be interested in his services.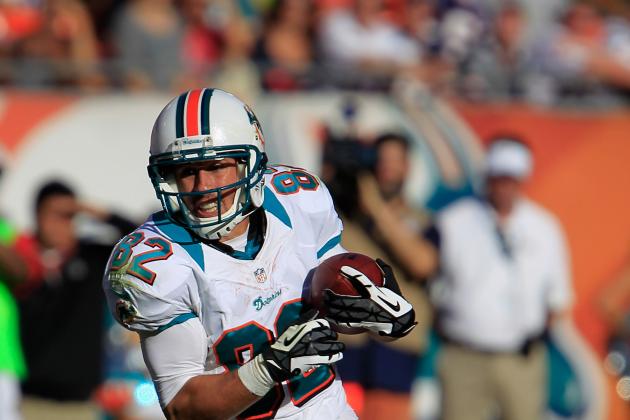 Chris Trotman/Getty Images

Because this year's free-agent class may feature a slew of big names—Dwayne Bowe, Greg Jennings, Mike Wallace, Miles Austin and Wes Welker could all hit the open market—Brian Hartline will surely fly below the radar if he too becomes a free agent.
Hartline quietly had a career year in 2012, hauling in 74 receptions for 1,083 yards.
And, mind you, he was paired up against opposing teams' best cornerbacks throughout the season. Considering Hartline isn't a top-end-caliber wide receiver and had a rookie quarterback throwing him the ball, his numbers look even more impressive.
Hartline could be a steal if he leaves Miami, but the Dolphins would be foolish to let their most productive wide receiver depart.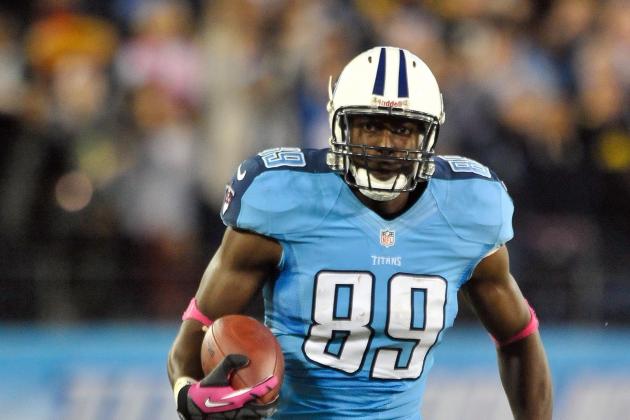 Jim Brown-USA TODAY Sports

Jared Cook is a 6'5", 248-pound tight end who ran a 4.49 40 at the 2009 NFL Combine.
Those are some jaw-dropping measurables, yet Cook has failed to capitalize on his godly physical tools, hauling in only 131 receptions for 1,717 yards and eight touchdowns in four seasons.
Why has Cook underachieved? Well, the Titans offense hasn't exactly set the world on fire since he arrived. It certainly doesn't help that Tennessee has shuffled through four different starting quarterbacks in the last four years. So, maybe a change of scenery is the spark Cook needs to achieve his potential.
Given the demand for this new breed of freakishly athletic tight ends, Cook could be a hot commodity on the open market despite his underwhelming production.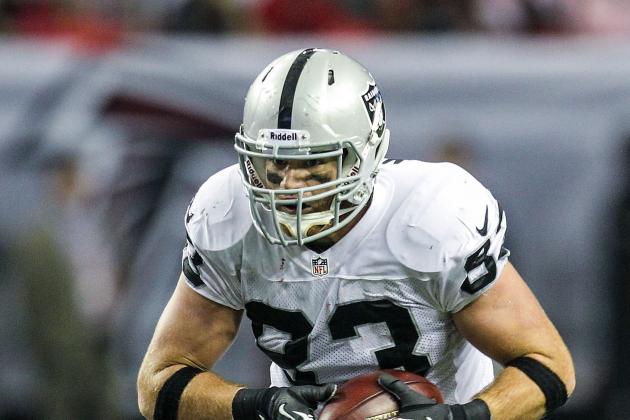 Daniel Shirey-USA TODAY Sports

Raiders tight end Brandon Myers doesn't have the otherworldly measurables of Jared Cook, but he proved that he can actually be a highly productive player in 2012.
Myers reeled in 79 receptions for 806 yards and four touchdowns, shattering his previous career highs. He's also a solid blocker, which gives him another leg up on Cook. However, Myers turns 28 next September and caught only 32 passes in his first three NFL seasons.
It's tough to envision the Raiders letting Myers walk after his breakout season, but he'll draw interest in the unlikely event he enters free agency.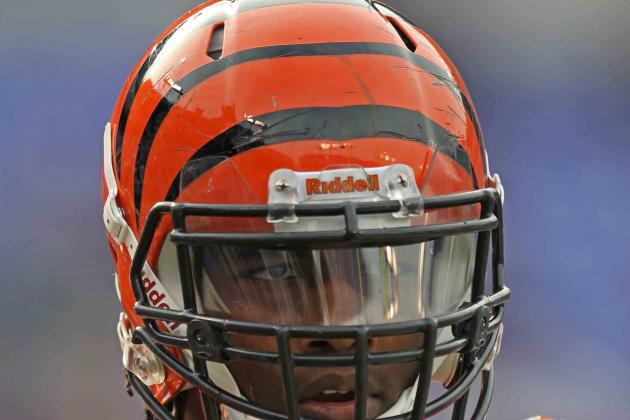 Mitch Stringer-USA TODAY Sports

Michael Johnson's 6'7", 270-pound frame and smooth athleticism made him one of the most intriguing prospects of the 2009 draft class, but it wasn't until this season that he finally learned to utilize his skill set.
He registered career highs in tackles (52) and sacks (11.5), and also recorded 34 quarterback hurries—17th-most amongst all defensive ends, according to Pro Football Focus.
It appears as though Johnson is just now scratching the surface of his potential. Consequently, he's bound to cash in big this offseason, whether it's with the Bengals or another team. Wherever he plays in 2013, don't be surprised if Johnson emerges as a perennial double-digit sack producer.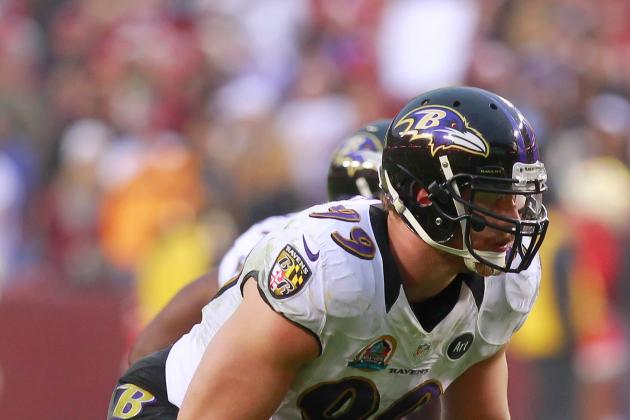 Geoff Burke-USA TODAY Sports

Ray Lewis, Ed Reed and Haloti Ngata are typically credited for the Ravens' sustained success, but another key player emerged in 2012: defensive end Paul Kruger.
The 26-year-old came into his own this season, racking up 41 tackles and eight sacks. He posted his best performance of the season during Baltimore's wild-card win over the Indianapolis Colts last weekend, racking up 2.5 sacks and a forced fumble.
Although the Ravens use Kruger as a rush-outside linebacker, he was a 4-3 defensive end in college and has the size (6'4", 270) to play there in the NFL.
Baltimore still has to re-sign Joe Flacco, so there's a very real chance it won't have the money to re-sign Kruger as well. If that's the case, then he'll have no shortage of suitors around the league.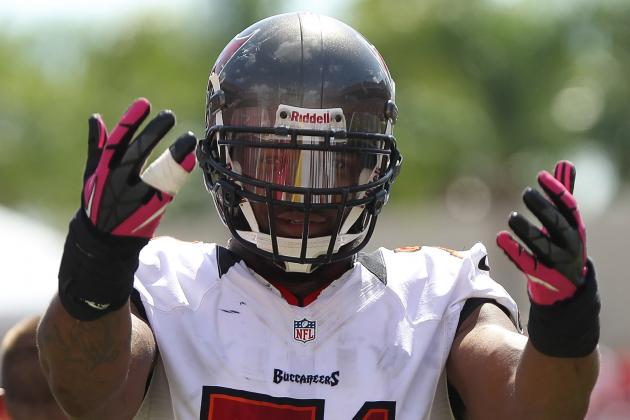 Kim Klement-USA TODAY Sports

Michael Johnson and Paul Kruger will have plenty of suitors if they enter free agency, but Tampa Bay's Michael Bennett will be the most desired defensive end if he too hits the open market.
Bennett, a four-year veteran, ended the season ranked sixth amongst all 4-3 defensive ends by Pro Football Focus. He showcased tremendous pass-rushing prowess, registering 49 quarterback hurries (third-most among 4-3 DEs) and 14 quarterback hits (fourth-most).
Expect the Bucs to make a strong push to retain their budding star.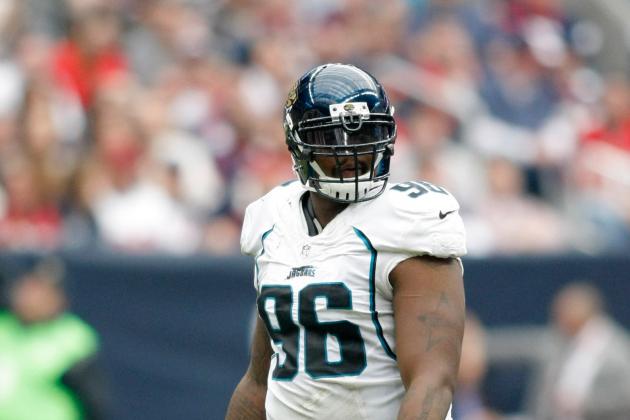 Brett Davis-USA TODAY Sports

Playing in Jacksonville has prevented defensive tackle Terrance Knighton from gaining recognition, but if he changes locations this offseason, then he might finally garner the attention he deserves.
Knighton is a powerful, 330-pound defensive tackle who has been a durable, consistent and productive mainstay for the Jaguars defense over the last four years. His best season actually came in 2010, when he registered 34 tackles, four sacks and four pass deflections. Although Knighton hasn't been quite as dynamic since, he's still perfectly productive and disruptive.
If Knighton goes to a defense surrounded by more marquee players, then he could emerge as a top-flight interior defensive lineman.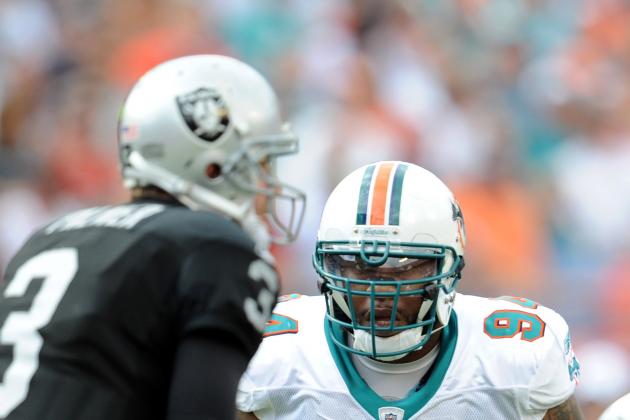 Steve Mitchell-USA TODAY Sports

Teams looking for interior defensive lineman help should look no further than Randy Starks, who has been a vital component to the Miami Dolphins' dominant run defense since 2008.
Starks was also a very efficient pass-rusher this season, racking up 21 quarterback hurries and four sacks. His ability to play the run and the pass makes him an alluring player, as does his extensive experience playing in both the 4-3 and 3-4.
Although he'll turn 30 next season and benefitted greatly from playing in between Cameron Wake and Paul Soliai, Starks is in store for a nice payday.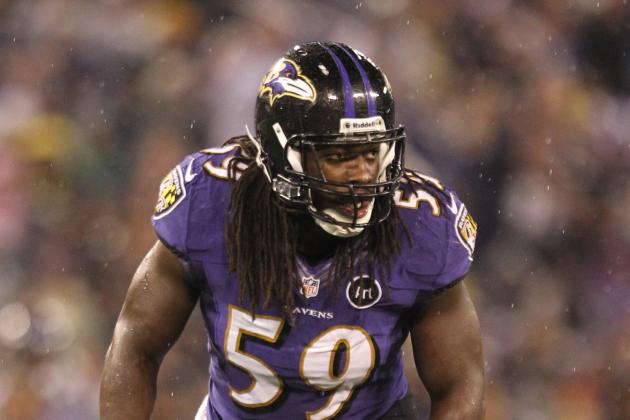 Mitch Stringer-USA TODAY Sports

Dannell Ellerbe, like Paul Kruger, was an unsung hero of the Baltimore Ravens defense in 2012.
In 13 regular-season games, the 27-year-old inside linebacker registered 92 tackles and 4.5 sacks, shattering his previous career highs. Ellerbe also had a tremendous game against the Colts last weekend, recording nine tackles before an ankle injury forced him out of the game.
With Ray Lewis' retirement, the Ravens can't afford to lose Ellerbe. However, they might not have the money to keep him around after they re-sign Joe Flacco. If Ellerbe becomes a free agent, then any team in need of an inside linebacker would be wise to give his agent a call.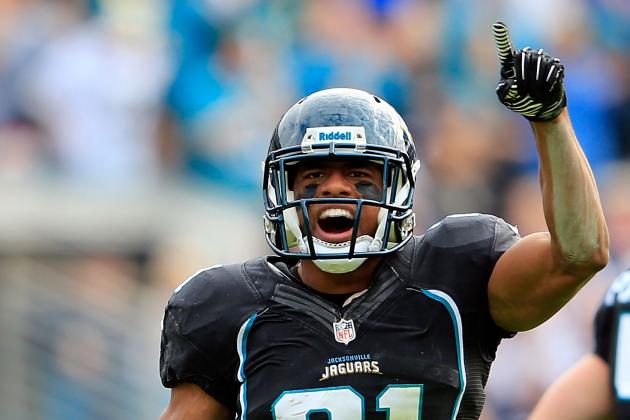 Sam Greenwood/Getty Images

This year's free-agency class is loaded with young cornerbacks who will draw the attention of teams in need of secondary help.
Jacksonville's Derek Cox will be one of the most sought-after defensive backs if he enters free agency. The fourth-year vet out of William & Mary was thrown at 89 times this season and yielded only 55 receptions. Opposing quarterbacks had a 69.0 rating when throwing into Cox's coverage, which ranks him amongst the league's best.
Cox's 6'1", 195-pound build also helps his cause as NFL teams continue searching for big, physical cornerbacks a la Richard Sherman and Brandon Browner.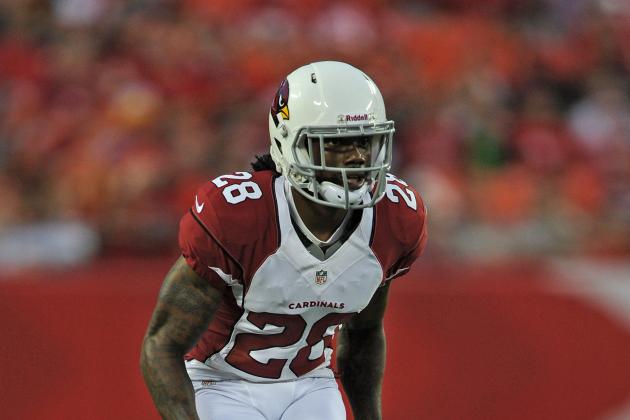 Peter Aiken/Getty Images

Another little-known cornerback who quietly had a phenomenal statistical season in 2012 is Arizona's Greg Toler.
Opposing quarterbacks had a 51.5 rating when throwing into Toler's coverage, which was good for fourth-best among all NFL cornerbacks. On top of that, he yielded a 41.5-percent catch rate, which was the best figure in the league.
However, Toler was only thrown at 41 times, so his sample size is small. Furthermore, he plays in a division that features three very pedestrian passing attacks, and he didn't even face their No. 1 wide receivers—Patrick Peterson did. Suitors interested in his services will have to consider this.
Although Toler presents a risk, he won't demand a big contract, so he could be one of the biggest steals of this year's free-agency class.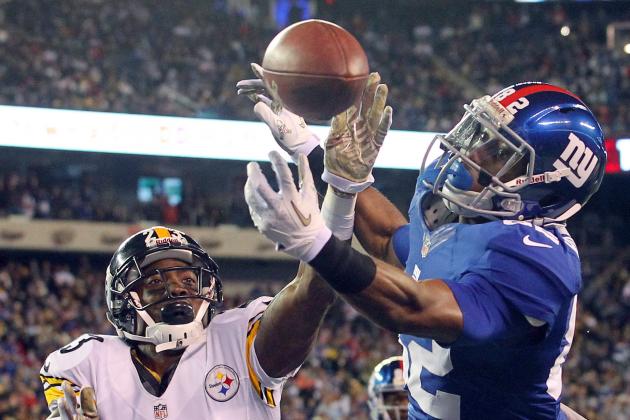 Brad Penner-USA TODAY Sports

Injuries to several defensive backs severely hindered the Steelers secondary this season. In fact, Pittsburgh's pass defense ranked dead last in the NFL, but there was at least one piece of silver lining: cornerback Keenan Lewis.
Lewis had just one start under his belt prior to this season, but he started all 16 for the Steelers this year and established himself as a quality player along the way. Only one cornerback—Miami's Sean Smith—was targeted more often than Lewis, yet he maintained a highly impressive 52.7-percent catch rate.

There's no doubt he deserves a nice raise from the Steelers in wake of his breakout season, but Pittsburgh is strapped for cash and might not be able to retain him.