New York Knicks fans feared this day was coming.
Thursday night's 81-76 loss to the Indiana Pacers exposed some flaws the team had masked during its 18-5 start.
The Pacers held New York shooters to a measly 34.8 field-goal percentage. And that perimeter attack that served as perhaps the biggest key to the team's early success didn't make the trip to the Bankers Life Fieldhouse (4-of-20 on the night).
Minus MVP candidate Carmelo Anthony (who was serving a one-game suspension for his postgame confrontation with Boston Celtics star Kevin Garnett on Monday night), the Knicks had no answer for Pacers star Paul George. The 22-year-old scorched the Knicks with a final stat line of 24 points, 11 rebounds, six steals and five assists.
New York's lack of reliable scorers brought its demise.
Super-sub J.R. Smith tallied 25 points against the Pacers, but needed 29 shots to reach that mark. Defensive specialist Tyson Chandler was the only other Knicks player to reach double digits (12 points on 5-of-10 shooting).
Without their go-to option, the Knicks looked disjointed to start the game, finishing the first quarter with just 14 points. They tallied 46 over the next two periods, but again looked lost without Anthony in the fourth quarter, where they were outscored 23-16.
Granted, the Knicks weren't the first team to struggle offensively against the Pacers. Indiana entered the contest with the NBA's second-stingiest defense (89.5 points per game).
But this also wasn't the first time the Knicks have struggled on the offensive end. New York boasted one of the league's premier offensive punches during its roaring 18-5 start. It averaged 103.2 points over those 23 games.
Since that time, though, it's managed just 98.2 points per game its past 12 games. Not coincidentally, the Knicks have come out on the wrong end of seven of those games.
Indiana's starting frontcourt of David West and Roy Hibbert never got going in this game (10 points in a combined 43-plus minutes), but coach Mike Woodson greeted the players with a front line of Chandler and Marcus Camby.
Once the defensive specialists left the floor, though, the Pacers found some interior success. Reserve center Ian Mahinmi lit up New York's second unit with 13 points (on 6-of-7 shooting) and six rebounds in a shade over 20 minutes of work.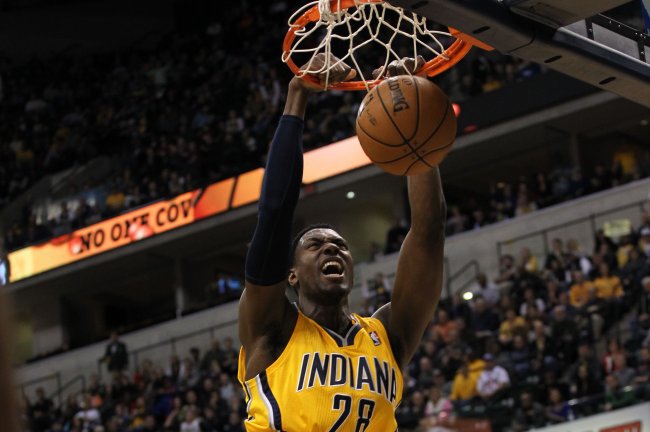 Brian Spurlock-USA TODAY Sports
Mahinmi's effort continued a troubling trend for Woodson. Without Rasheed Wallace at his disposal (who missed his 13th straight game with what the team's calling a stress reaction in his left foot), the Knicks have had problems maintaining their defense when Chandler leaves the floor.
It's the driving force behind the team's rumored interest in free agent Kenyon Martin (according to what league sources told Adrian Wojnarowski and Marc J. Spears of Yahoo! Sports). Martin could bring some veteran toughness, but he also a history of knee problems and has played just 42 games since the 2010-11 season.
New York has a wealth of talent on its roster and a path to home-court advantage in multiple playoff series. The Knicks will factor in the Eastern Conference championship, and prove a tough out for any club that they're matched up against.
But the path to the NBA Finals has never looked further this season.
And the road to the conference finals may very well take them through this same tough, physical Pacers team.