The Best and Worst of Houston Rockets James Harden So Far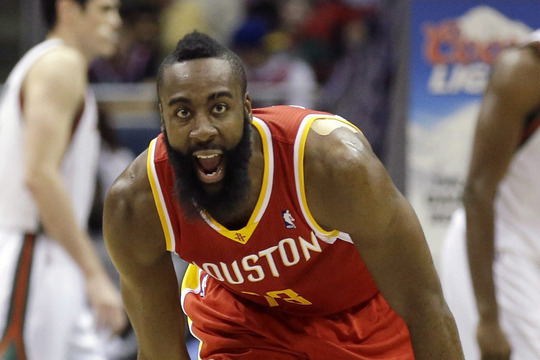 Scott Halleran/Getty Images
AP/Jeffrey Phelps
Some might say James Harden's best Houston Rockets moments resemble Rembrandts.
I would beg to differ.
Let me explain.
Browsing through a used record store in Studio City, CA, I came upon The Rembrandts Greatest Hits. The Rembrandts, in case you don't recall, sang "I'll Be There For You," the theme song from the television series Friends. I didn't know another song by them, but I sprang for the buck ninety-nine.
I should have saved my money. Beyond the Friends theme, The Rembrandts Greatest Hits are neither hits nor great.
Fortunately, James Harden as a Houston Rocket has little in common with the Rembrandts.
Harden has emerged as a scoring Tasmanian devil, averaging 26.5 points a game. It's pretty much been a season-long highlight film.
A member of the Houston Rockets has been NBA Scoring Champion exactly zero times. That probably won't change this season—Mr. Harden currently ranks fourth, behind such stiff competition as former teammate Kevin Durant, Carmelo Anthony, and Kobe Bryant—but he is Houston's first legitimate threat to win the honor since Tracy McGrady donned the red, yellow and white.
As the season nears its halfway point, let's look back at Harden's many masterpieces—along with some rare examples of motel art—thus far.
Stats accurate as of 1/10/13.
Begin Slideshow

»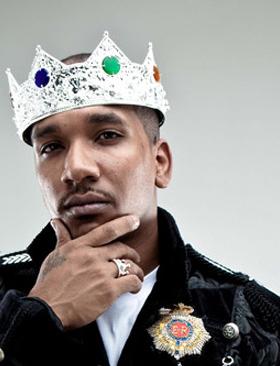 CyHi got a bum rap when Harden was traded. Source: hiphoplead.com
Finding less-than-stellar moments from Harden's season took some digging, as you can tell by this reach at number five.
G.O.O.D. Music rapper CyHi The Prynce penned an opus relating his life to Harden's. Entitled "James Harden," the song intimates that both CyHi and Harden are supremely talented, but are not given their due recognition.
CyHi references the Oklahoma City Thunder's slighting of Harden in making him come off the bench, even though he had the talent to start, with the scintillating lyric "I'm on the team / but they say I ain't startin' / but I'm still ballin' / shout out to James Harden."
"James Harden" the rap was released on October 18.
James Harden the player was traded on October 27.
To what must have been CyHi's chagrin, Harden had become a starter—and a superstar—less than two weeks after the song hit the airwaves, rendering Da Prynce's lyrics instantly dated and irrelevant.
Despite the pretty dope groove, this tribute to the Bearded One is now most likely to be found in the same bargain bin in which I found The Rembrandts.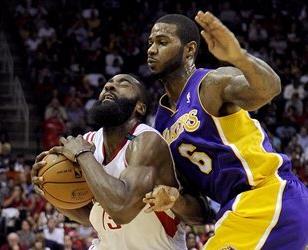 Source: ap.org
It was one James Harden personally would like to forget.
But one the Rockets team will remember fondly.
Harden had an abysmal night shooting, going 3-19, including missing all four of his three-point attempts. He did manage to get to the line 11 times and sink nine, which contributed to the 15 points Harden managed to scrape together.
And yet, the Rockets, down at one point by 17 points, capitalized on turnovers, huge games by subs Toney Douglas and Greg Smith and a Hack-A-Dwight strategy which resulted in Dwight Howard going 5-10 from the charity stripe.
At the same time, Douglas, Smith and Harden (from the stripe himself) sunk shots they needed to sink…and sank the Lakers.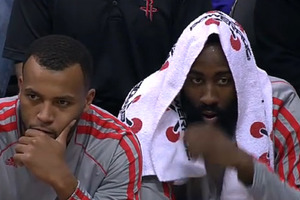 Source: nbacircle.com
James Harden had upper respiratory distress. And everybody in Rockets Nation held their breath.
During the Rockets' game against the Lakers, Harden's game seemed off. He was not as quick, and seemed to be winded.
When the diagnosis was first revealed, no one knew how long it would last. And the next game, against the Utah Jazz, was concerning: Harden was on the court a mere 17 minutes, going 1-6 and scoring just six points.
No one knew a 42-minute, 28-point, 8-14 night against the Chicago Bulls would be Harden's next game stat line. But when it happened, we all exhaled.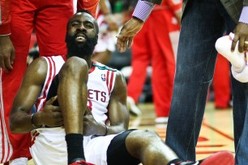 Source: chron.com
The Dallas Mavericks simply could not stop Harden on December 8. So Harden helped out...by stopping himself.
Harden rolled his ankle during the first half of the game, while he was piling up 30 points on 8-10 shooting in what was unfolding as arguably Harden's finest night as a pro.
The ankle, though, wrote a different end to the story. It had tightened in the second half, which resulted in Harden finishing the game just 2-7 for nine points.
What many Rockets fans remember most was what resulted from that ankle sprain: Harden was unable to go against the Spurs, and Jeremy Lin, with the ball in his hands, went off for 38 points on 11-21 shooting. Harden's backcourt mate seemed to regain his confidence after this game.
Ankle sprains are painful, and can sometimes sideline a player for an extended period of time. Four days after his injury, Harden was back, scoring 31 on 10-20 shooting and a perfect 9-9 from the line against the Washington Wizards.
This was a tough game all around.
In a span of less than 24 hours, the Rockets went from a game against the Toronto Raptors, to a late-night flight to Minneapolis, to paying their respects at coach Kevin McHale's daughter Sasha's funeral, to hopping another flight to Oklahoma City just hours before tip-off against the Thunder.
No one could blame the team for being tired. But I'm sure Harden wanted his return to Oklahoma City to be triumphant.
Instead, it was miserable. Harden shot 18.8 percent from the floor and was blocked six times. All game long, James faced relentless pressure, double-teams and a Thunder defense that was anything but tired, switching up on him on almost every possession.
Harden finished the first half 0-8. To make matters worse, after giving Harden a loud ovation when he was introduced, his formerly ardent fans booed him every time he stepped to the free-throw line.
After the game, Kevin Durant paid Harden a nice compliment, saying, "I...wanted to win this game...for all those times in practice that James...and the rest of the second team beat all of us on the first team."
Harden was happy to get the game behind him, saying, "It feels good to...finally get it over with. Now I can continue on with the season."
I'm with him. It feels good to get the scant lowlights behind us. Now let's get to the highlights.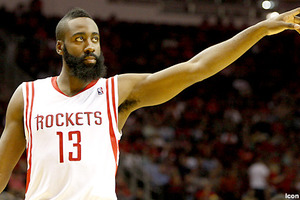 Source: sportsnetwork.com
Finding Harden's five finest moments this season is like finding five reasons to hate Justin Bieber.
There are just so many to choose from.
Let's start with this beauty. After his auspicious Rockets debut and follow-up, Harden went through a five-game stretch where he had trouble hitting the side of a barn with the side of a barn.
In the five games between November 3 and November 12, Harden shot just 33 percent—a number which would have been much worse but for a 6-14 night against the Detroit Pistons.
In Houston and around the league, there were rumblings that maybe the first two games were a fluke. That Harden didn't have what it took to carry a team. That he wasn't a true superstar.
Harden shut 'em all up with a 10-20 night from the floor, overcoming a 1-7 night from three-point land. After the game, Harden said, "It's taken seven games for me to just be the man, and know what to expect and know how to handle every situation."
I don't know about you, but to me, that's a pretty quick learning curve.
This game was a turning point for Harden. Not counting games missed or affected by injuries, Harden has scored under 20 points just three more times to date.
There's no question that Harden is a clutch player. If you took Harden's stats with less than five minutes left in regulation or overtime, and extended them out over the number of minutes Harden plays (39.3), the Bearded One would be averaging over 31 points a game.
That's well above his already impressive 26.5 per-game average.
But never this season has Harden been more impressive in the clutch than in this game against Minnesota.
When the fourth quarter dawned, Harden answered the bell. His 17 points in the period were just three points fewer than the entire Minnesota roster netted during the quarter.
Harden's drive to the basket gave the Rockets an 85-84 lead with 39 seconds left. He followed it up with another drive with 11 seconds remaining. Harden scored 15 of the Rockets' final 17 points.
This one was suitable for framing.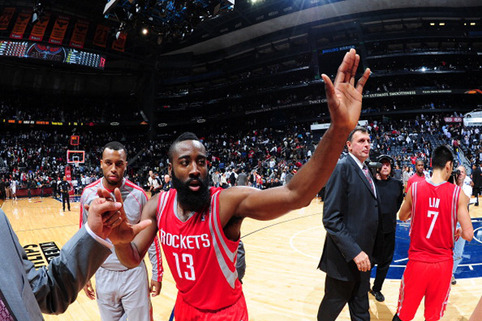 Source: GQ.com
The Atlanta Hawks and Josh Smith were a very different matchup than the Detroit Pistons.
While the NBA was buzzing over his Rockets premiere, some chalked up the accomplishment as more of an indictment of the Detroit Pistons' defense than a validation of Harden's skills.
Folks wanted to see what Harden would do against stiffer competition.
What would Harden do? Even better.
Declaring himself as Houston's franchise player, Harden scored 45 points, topping his season-opening effort by 8 and giving ESPN ample footage to add to his rapidly unfolding H-Town legend.
The Hawks, by the way, now sit at 20-13. So Harden accomplished this against a very solid squad.
Asked about his back-to-back accomplishments, Harden answered in his characteristic humble fashion: "I don't even worry about it. I just go out there and play hard."
True to his name.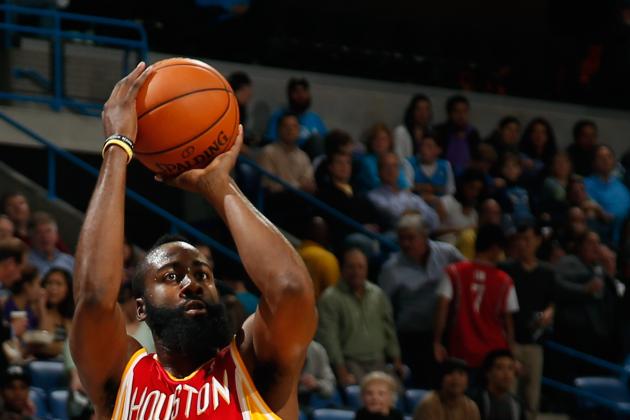 Photo by Chris Graythen/Getty Images
Next stop: Michael Jordan's record.
Harden needed a free throw with less than a minute remaining to achieve it. But achieve it Harden did, setting a Houston Rockets record by extending his streak of scoring at least 25 points to 14 games.
In doing so, Harden eclipsing the previous record of 13, held by Hall of Famer Moses Malone.
Though the Rockets lost, Harden had a terrific all-around game, notching six rebounds and nine assists to go with his 31 points.
Harden's got a ways to go to elevate to His Airness' heights. Incredibly, Jordan had 40 in a row back in the day.
But the way the Rockets' offense is devised, don't count Harden out just yet.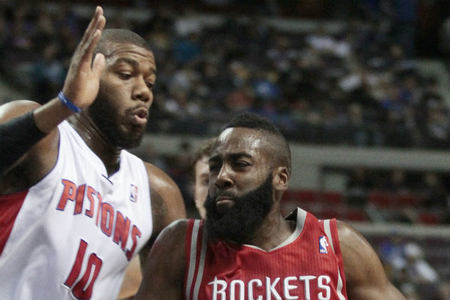 Source: AP/James Burleson
Whichever side you were on in the debate, you heard them.
The whispers.
Harden's just a sixth man. If Harden were good enough to have started, Harden would have started more than seven games in three seasons with the Thunder.
Harden's not worth a max deal.
Well, it took just one game—one 37-point, 12-assist game—for Harden to quash the whispers, prove his worth, win over Rockets' fans and stun the NBA at large. Moreover, he led the team to a comeback victory after trailing early in the fourth.
With the spotlight of the NBA on Harden so intensely, a superlative effort of this nature was quite simply transcendent.
Coach Kevin McHale, recognizing Harden had been a Rocket for just four days before this coming-out party, said, "I thought it was a challenge for James to kind of figure out what we were doing."
One could only imagine at the time what Harden could accomplish once he actually learned the offense.
One need wonder no longer.
So if you like basketball masterpieces, stay tuned.
Because based on Harden's performance thus far, they'll be there for you.