Gonzaga vs. St. Mary's: Live Analysis and Rapid Reactions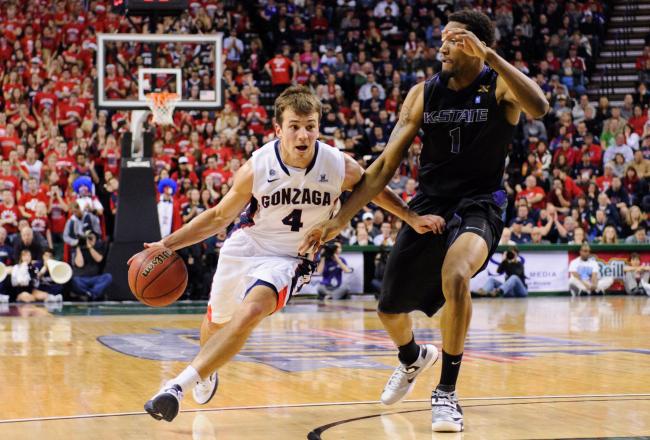 Steven Bisig-USA TODAY Sports
Gonzaga will take on St. Mary's in what will be an important game for both members of what many consider the best college basketball rivalry on the west coast.
This game will be a barometer for future success this season.
While many believe that this is Mark Few's best team at Gonzaga, they will have to prove that they can compete with the reigning WCC champs from Moraga.
Stay tuned for instant analysis and rapid reactions as the Zags take on the Gaels.
For more reactions, follow me on twitter: @hdeitrick
Gonzaga: 83 Saint Mary's: 78
Zags escape with a win. The rematch in Moraga is going to be something special.
For more Gonzaga news follow me on twitter: @hdeitrick
Will shoot two and just needs one to ice the game.
Dellavedova misses the three point shot, and Gonzaga will have a chance to push the lead with 6.9 seconds left. Pangos fouled with 3.3.
Back to back 30+ point games.
Olynyk hits the second
Olynyk is a proficient foul shooter for a seven footer. Best he can do is make it a three point game. SMC will have a shot to tie at the bare minimum.
Gaels down just one and foul Olynyk.
Beau Levesque fouls out.
GU: 79 SMC: 78
Olynyk to shoot two
GU will look to get the ball to Kevin Pangos on the inbound. Stockton in for foul shooting as well.
Going to be a crazy finish in Spokane.
Dellavedova fouled and almost hit the and one.
Can cut the lead to one.
It wouldn't be Gonzaga vs St. Mary's without a great finish. St. Mary's gets the ball back with 26.5 left on the clock.
GU 79 SMC 76
An absolutely amazing hustle play by Harris to get the jump ball. Possession back to Gonzaga. SMC could have tied the game. Instead the Zags can kill the clock down to 14 seconds.
If I'm Randy Bennet, I do not foul. GU is struggling to find an automatic shot. D-up here and look for a quick two after.
And then he hits when they need him the most.
GU: 79 SMC: 76
It is odd to think that Dellavedova is shooting just 3-13 and SMC is hanging around. Hanging around. They have the ability to win games late, and the Zags have to be smart with the ball in the final few minutes.
I feel bad for anyone not watching this game. One of the best of the season. Two seasoned teams going at it. For everyone reading these updates, thank you for being a part of a great contest.
GU 79 SMC: 73
Two misses from the corner could have pushed this game to just three.
This game could be much different if Levesque was not in foul trouble throughout
GU: 79 SMC: 71
One of the most bizarre runners I have ever seen from Kevin Pangos!
Olynyk is looking for back to back 30+ point game.
Zags looking to slow the game and limit the three point shot.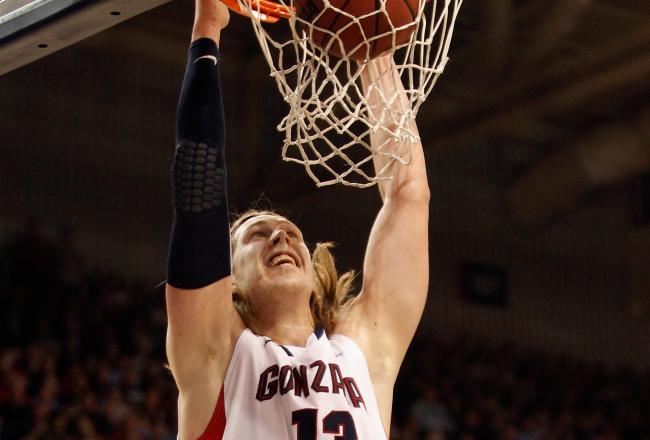 Olynyk is missing some gimmes around the rim, but hits and one trailing layups? One of the most fun players in college basketball.
GU: 76 SMC: 69
Gonzaga seems to answer every bucket down the stretch. This is exactly what happened against Baylor just a few weeks ago. Zags are mentally tough enough to keep teams down six to seven points for the final five minutes. Many teams would have broken after getting hit that hard after having a twenty point lead.
Gonzaga likes to get games up towards the 80's, and it is great to see Saint Mary's stepping up to keep up.
Stephen Holt is playing lights out.
Pangos answers with a HUGE 3! But Steven Holt answers with a short range two.
GU 74 SMC 69
This is turning out to be a true barometer of these two teams. Both are fierce competitors.
Dellevadova hits the runner off the mismatch with Harris
Olynyk starting to heat up down the stretch. Is he the leader the Zags need on offense?
This article is
What is the duplicate article?
Why is this article offensive?
Where is this article plagiarized from?
Why is this article poorly edited?