Power Ranking Each NHL GM Entering the 2013 Season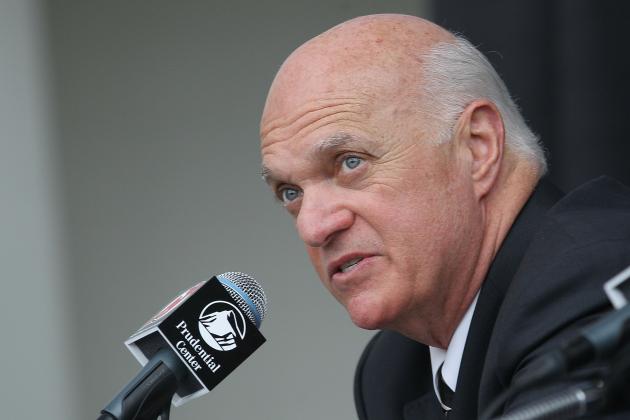 Bruce Bennett/Getty Images

The phrase "the buck stops here" refers to the fact that the success and failure of an organization have to eventually rest entirely on the shoulders of one person.
A bad coaching hire, a poor first-round draft pick, a terrible free agent signing...these are all mishaps that fall in the lap of the General Manager of a hockey team.
A GM has the ability to influence the success and popularity of his team more than anyone else in the organization, and a good GM is virtually invaluable to a franchise.
Let's take a look at hockey's 30 current General Managers and see how they rank in terms of the intelligence of their decisions, the success of their teams, and the impact of their roles.
Begin Slideshow

»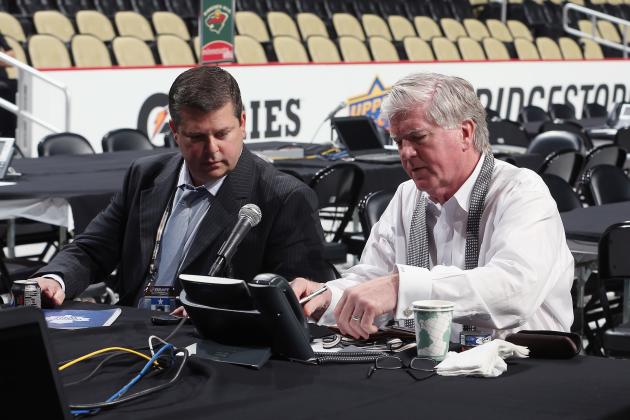 Bruce Bennett/Getty Images

Just days ago, Nonis succeeded legendary Leafs' GM Brian Burke as the General Manager of Toronto's hockey club.
Given the fact that Nonis has not technically worked a day in the league (as the CBA is yet to be officially ratified as of this writing), he rounds out the bottom of this list.
Luckily, Nonis has received high praise for his role as Director of Hockey Operations in Toronto, so Leafs fans can be optimistic that he will skyrocket up this list once he gets a chance to leave an impression on the club.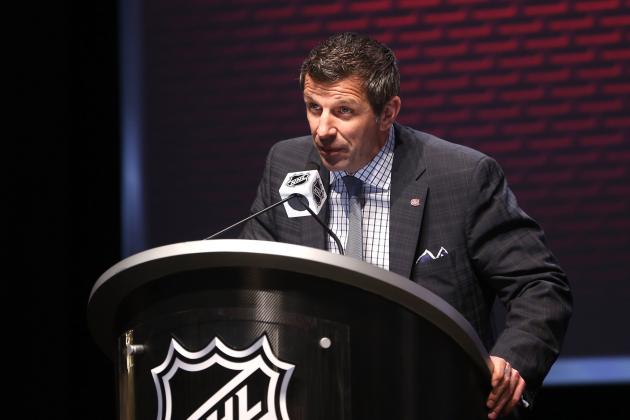 Bruce Bennett/Getty Images

Being in charge of the Montreal Canadiens is tough enough, but Marc Bergevin has inherited a team whose near-future looks bleak. Bergevin will undoubtedly be building from the ground up.
Like Nonis, Bergevin has had limited time to make his mark in the NHL, having been hired only eight months ago. He is being given a convenient get-out-of-jail card with the new CBA, as the amnesty clause will allow him to buy out the crippling Scott Gomez contract that was acquired under Bob Gainey.
That buyout will likely be the first of many moves Bergevin makes to get the Habs on the road to glory.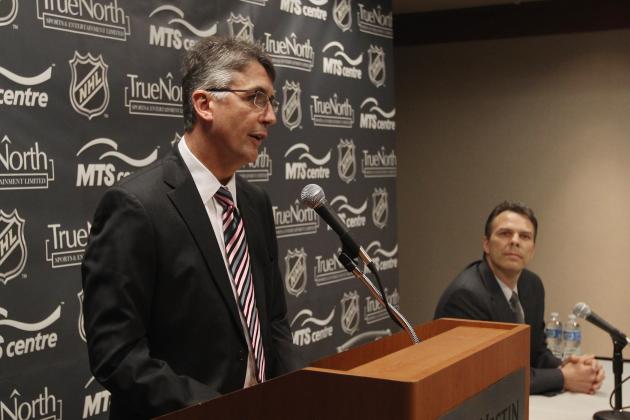 Bruce Bennett/Getty Images

Cheveldayoff, in some ways, falls under the category of Bergevin and Nonis, in that he has not had enough time to see his abilities measured.
Cheveldayoff has gotten a full season under his belt, but that season came with the responsibilities of restarting a franchise that was dead in the water. He hasn't had a truly significant move on which he can be judged, but he certainly has done nothing to hurt the enthusiasm for hockey in Manitoba.
His mission in 2013 will be to turn the Jets from a nostalgic novelty to a true competitor, and it remains to be seen if Cheveldayoff is the man for the job.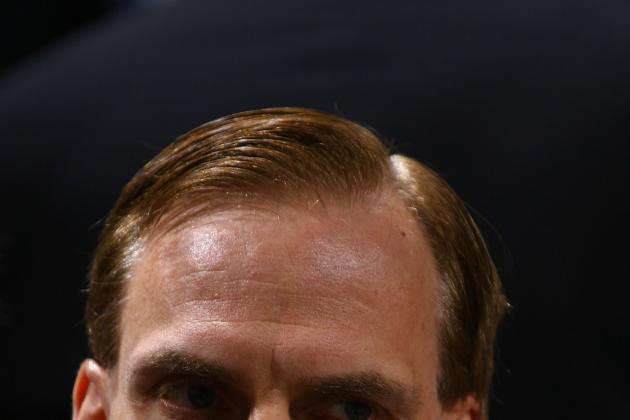 Bruce Bennett/Getty Images

Scott Howson is the worst of the truly tested General Managers, and his team's 2011-12 performance shows it.
The lowly Blue Jackets saw their team gutted over the last year-and-a-half, when Jakub Voracek and a draft pick that would become Sean Couturier were traded to the Philadelphia Flyers for Jeff Carter. Since then, Carter saw himself shipped to Los Angeles, and the Blue Jackets traded their only true franchise player, Rick Nash, for Brandon Dubinsky, Artem Anisimov and Tim Erixon.
The true testament of Howson's buffoonery as a GM? In the very trade where he gave up his biggest, most expensive asset, Howson somehow managed to lose cap space.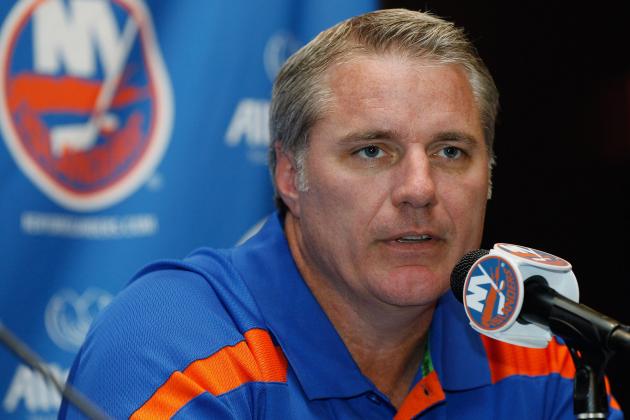 Mike Stobe/Getty Images

If it weren't for the Blue Jackets, Garth Snow's Islanders would be the laughingstock of the NHL.
Snow has consistently drafted and developed players with good potential, but rarely has that potential ever truly been realized. Kyle Okposo and Josh Bailey are key players who have failed to turn the franchise around. Only Jon Tavares's raw talent truly keeps the Islanders afloat.
The reputation Snow has given the team apparently precedes itself, because the Islanders have had trouble convincing both Evgeni Nabokov and Lubomir Visnovsky to join the squad after acquiring them.
On top of it all, Snow is responsible for hockey history's most notorious contract: Rick DiPietro's 15-year, $67.5 million bust.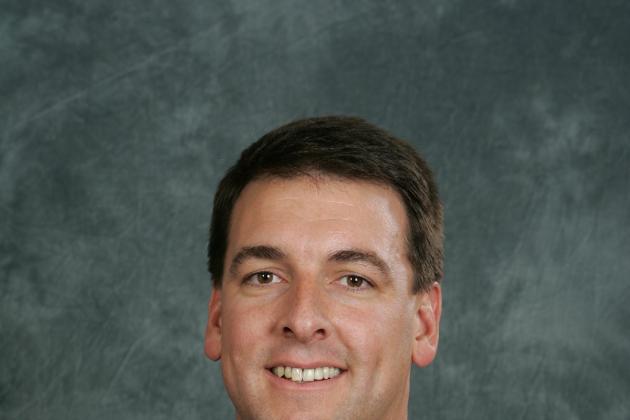 Getty Images/Getty Images

Greg Sherman inherited the Colorado Avalanche in 2009, and thus far, he has been unable to do much with the once-proud franchise.
Sherman should be given the luxury of time, as the team is clearly building a youth movement: Gabriel Landeskog is captain, and players like Ryan O'Reilly and Matt Duchene could be key components of a great leap forward.
But Sherman hasn't shown much savvy on the open market. Acquisitions like trading for Steve Downie have brought the team little success and popularity, and he seems unable to solve the squad's goaltending woes.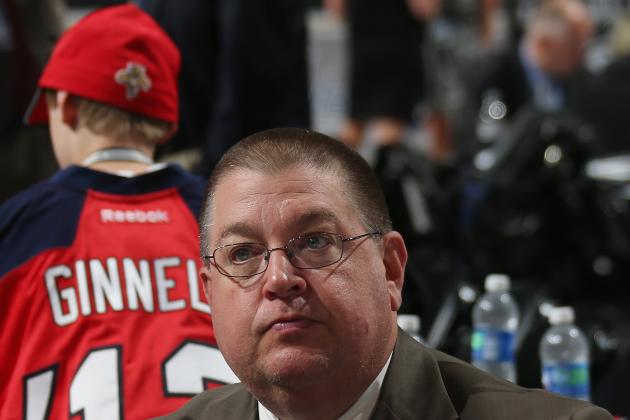 Bruce Bennett/Getty Images

Jay Feaster's tenure as GM of the Calgary Flames has not been long, so it is unfair to truly judge him just yet.
However, Feaster seems to be poised to hit the reset button on the franchise, as Jarome Iginla could depart this offseason or sooner, and the squad intends to build around players like Roman Cervenka and Sven Baertschi.
Still, he has not yet shown that he has the savvy to make a great trade deadline deal or bring in key free agents to fast-track Calgary's rebuilding phase.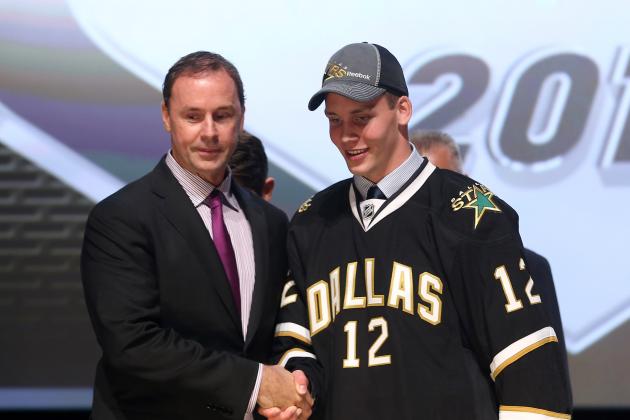 Bruce Bennett/Getty Images

Joe Nieuwendyk was one of hockey's truly great, likable players when he was on the ice, but he is proving to have his struggles in the front office.
Nieuwendyk's Stars have not made the playoffs under his watch, and some of his decisions have been quite puzzling.
This offseason, he signed two players over the age of 40 to deals worth a combined $13.5 million (Ray Whitney got $9 million over two years and Jagr received a $4.5 million payout for 2012-13). At the same time, he failed to re-sign restricted free agent Jamie Benn before the lockout, despite Benn being one of Dallas's star young players.
Thus far, Nieuwendyk's plan has not panned out.
Phillip MacCallum/Getty Images

Bryan Murray has had the luxury of good players to hang onto, but building a team has been a struggle for him.
He has managed to keep key players like Daniel Alfredsson and Jason Spezza in Canada's capital, and he found an offensive goldmine in defenseman Erik Karlsson, but Murray's tenure cannot otherwise be thought of as anything more than average.
He's done just enough to keep the Senators afloat, but nothing to truly move the franchise forward.
Jonathan Daniel/Getty Images

Dale Tallon got a lot of credit last year for his role in bringing the Panthers back to the playoffs, and perhaps he deserved it. After all, Tallon did have a busy offseason.
But many of Tallon's moves were perplexing, to say the least. He seemed to take big chances on underachieving players, including Kris Versteeg, Tomas Fleischmann, and Scottie Upshall.
The moves worked for the time being, but Tallon has done little to establish a real identity for the Panthers. It seems likely that, in 2013, Florida's lineup will revert back to being a rag-tag group of mid-range players, who may or may not have the luxury of an easy division.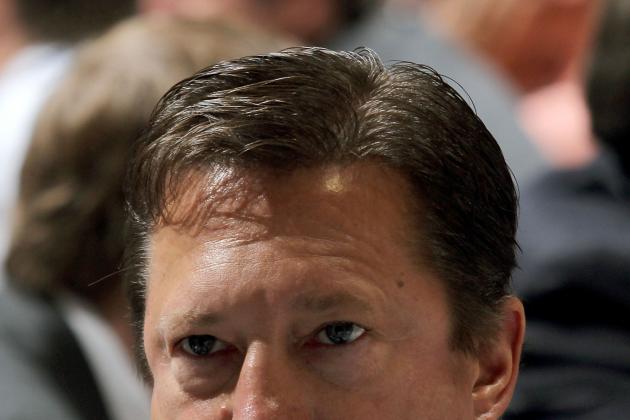 Bruce Bennett/Getty Images

Someday soon, Steve Tambellini's Oilers will have the most potent offense in the game.
Unfortunately, these days it is coming at the expense of the team's in-season success.
Tambellini can't necessarily be called a draft genius because his job is almost done for him: pick the best player with the top overall pick. Nail Yakupov, Ryan Nugent-Hopkins and Taylor Hall are all No. 1 picks that make up the Edmonton lineup.
Still, Tambellini has failed to build a defense or address his goaltending situation as the GM, so his true measure of success remains unexplored.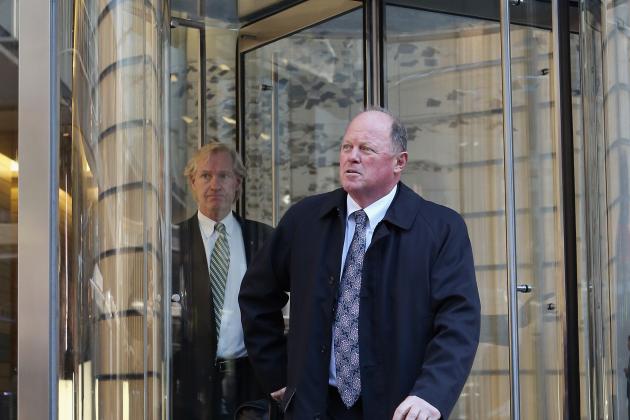 Bruce Bennett/Getty Images

Bob Murray came on board after the Ducks won the Stanley Cup, and he has had little postseason success to brag about.
However, Murray gets the 19th spot on this list because he has made some important moves toward building the team's reputation in a tough market. While his teams have ultimately been unsuccessful. he's made the focus of the club recognizable names instead of depth.
That sort of strategy wouldn't fly in Montreal, but in a place like Anaheim, names like Getzlaf, Perry, Ryan and Hiller do more to sell tickets than the sport does itself.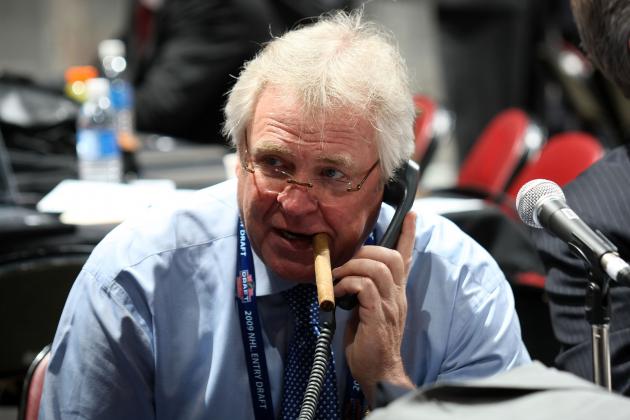 Bruce Bennett/Getty Images

Glen Sather has had a long and storied stay with the New York Rangers, and the ups and downs of his time in New York cannot fully be captured by a simple ranking on a list.
Sather became notorious for overspending to no avail in the mid-2000s, paying a high price to acquire a washed-up Eric Lindros and signing players like Scott Gomez and Chris Drury to huge contracts with nothing to show for it.
However, recently Sather has proven himself a mastermind. He has built one of the most powerful teams in hockey, a great combination of transaction pickups and homegrown talent, including the recent deal for Rick Nash that actually saved the Rangers cap space.
Bravo Sather, you evil genius.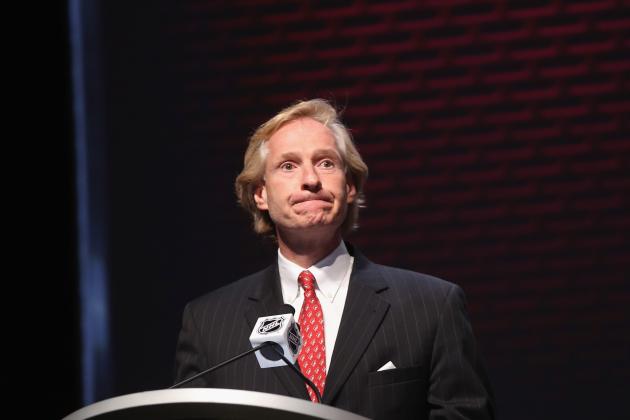 Bruce Bennett/Getty Images

Don Maloney has one of the most difficult jobs in hockey, as he tries to right a franchise that is practically dead in the water.
Considering the fact that few NHLers want to go to a place with the climate and enthusiasm for hockey that Phoenix offers, Maloney has done a good job constructing teams. He relies heavily on relative unknowns and home-grown talent, taking chances on players like Mike Smith and Antoine Vermette and cultivating guys like Oliver Ekman-Larsson and Keith Yandle.
For having so little, Maloney actually does quite a lot.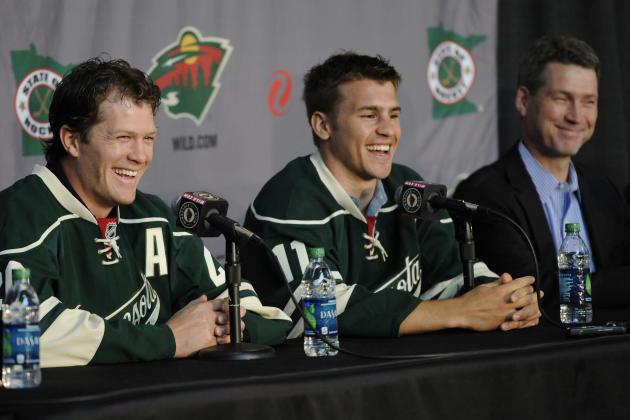 Hannah Foslien/Getty Images

Fletcher, sitting to Zach Parise's left in the photo, is about to see his legacy tarnished or cemented.
Chuck Fletcher made some of the last big-time moves in presumed hockey history, signing coveted free agents Ryan Suter and Zach Parise to identical 13-year, $98 million salaries before the 2012 lockout was instituted.
Fletcher's Wild have been an otherwise unnoticed team during his tenure, but one has to give him credit for making a splash. If Parise proves to be the perfect counterpart to underappreciated captain Mikko Koivu, Fletcher could skyrocket up this list next season.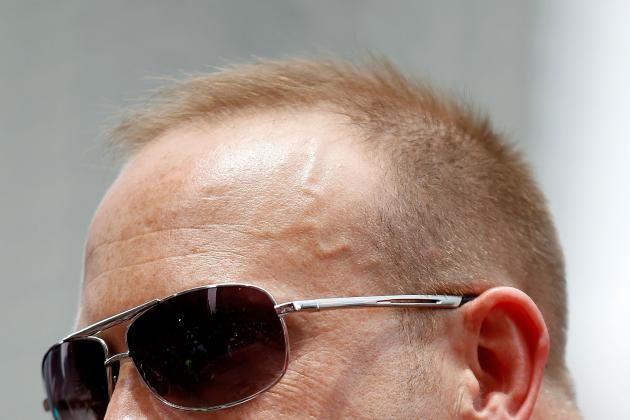 Jonathan Daniel/Getty Images

Stan Bowman gets the last laugh here because he already has a Stanley Cup under his belt, but the Chicago GM has somehow managed to look scrambled in all of his success.
He inherited some key players when he took the GM role, and he has managed to keep them around and build up a core for the team. However, Bowman has made some intriguing moves, including allowing his Stanley Cup-winning goaltender to walk just months after winning the championship and giving up players like Antti Niemi, Kris Versteeg and Dustin Byfuglien, and allowing Nicklas Hjalmarsson's extension to be dictated by the San Jose Sharks via an offer sheet.
If anyone could figure out the method to Bowman's madness, they'd have one of hockey's biggest franchises of their own.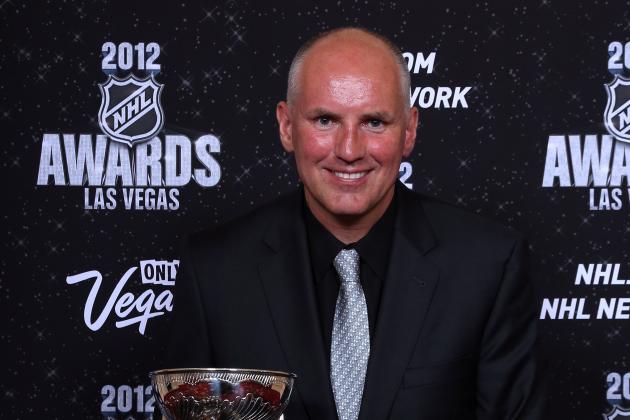 Bruce Bennett/Getty Images

Armstrong was honored with the General Manager of the Year Award, but it is hard to put him higher on this list without some real-deal success.
Armstrong inherited most of the players he now builds his squad around, so he can't claim to have drafted them. Likewise, he very talented team is yet to make a legitimate run at the Stanley Cup.
Still, Armstrong does a lot with one of hockey's most cash-strapped franchises. The defense-first St. Louis system allows them to win games and keep costs low.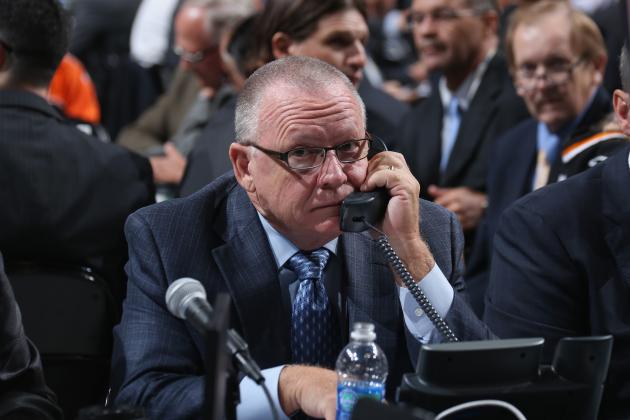 Bruce Bennett/Getty Images

To give you an idea of how long Jim Rutherford has been around, when he started this job, his office was in Connecticut.
He became GM of the franchise in 1994 and has endured many up and downs since. He won the Stanley Cup in 2006 after coming close in 2002, and he has established franchise players in Eric Staal and Cam Ward (and the acquisition of Eric's brother Jordan seems to be building a Staal dynasty).
He has managed to create in interest in hockey in suburban Raleigh, one of the most difficult tasks in the league.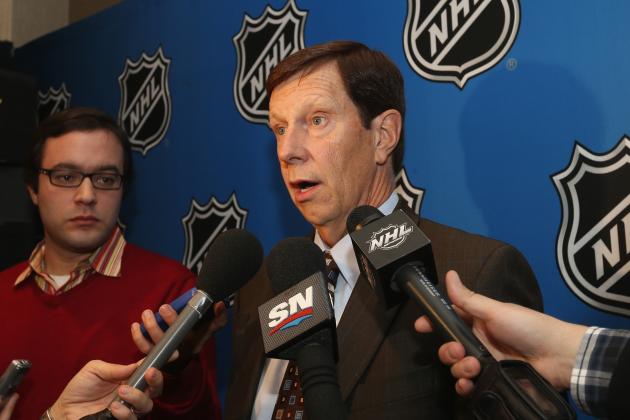 Bruce Bennett/Getty Images

David Poile's conservative approach to managing is paying off in one of hockey's most obscure markets.
The Predators are catching on in Tennessee, and Poile has a lot to do with it. He has stuck with head coach Barry Trotz since both came on board in 1997, and he signed franchise goalie Pekka Rinne to a near-lifelong contract at the beginning of last season.
His big move came this offseason, when he chose the success of the team over the business decisions by matching a massive $110 million deal for franchise defenseman Shea Weber. The conventional wisdom is that, had Poile allowed the Flyers to bully them out of Weber, Poile's Preds would have been throwing in the towel on any sort of success in the future.
Poile simply wouldn't allow that.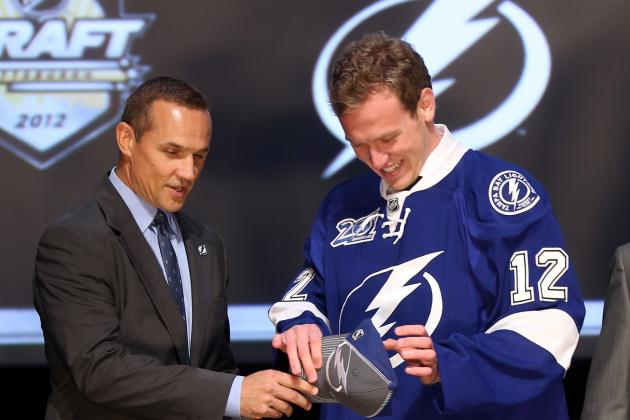 Bruce Bennett/Getty Images

Who would've thought Stevie Y would turn into a decent GM?
The former Red Wing runs the show in Tampa, and has done a good job of building a unique brand that can win. Conservative head coach Guy Boucher represents the even-keeled side of the Lightning, while Steven Stamkos's run-and-gun style is more exhilarating.
This offseason, Yzerman signed players like Matt Carle to bolster the Lightning defense. If the Bolts compete for a division crown this year, it will prove that Yzerman is as knowledgeable above the ice as he is on it.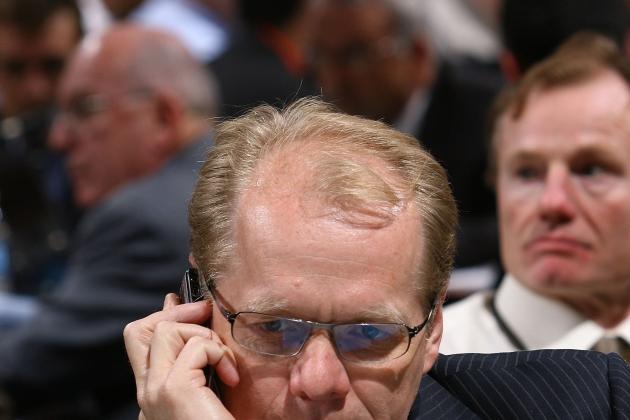 Bruce Bennett/Getty Images

Darcy Regier has held this post since the 1996 offseason, and he has done some amazing things with it. The Sabres nearly won the Stanley Cup in 1999 before the Dallas Stars knocked them off.
Since then, Regier has invested in many of his own players and the team has grown accordingly. In fact, where Regier gets himself in trouble is with players used to another kind of system. Last offseason, Regier signed Ville Leino to an unwarranted 6-year, $27 million contract.
Still, a few overhyped players on long-term deals isn't the worst thing in the world, and he has kept the Sabres very popular for a long time.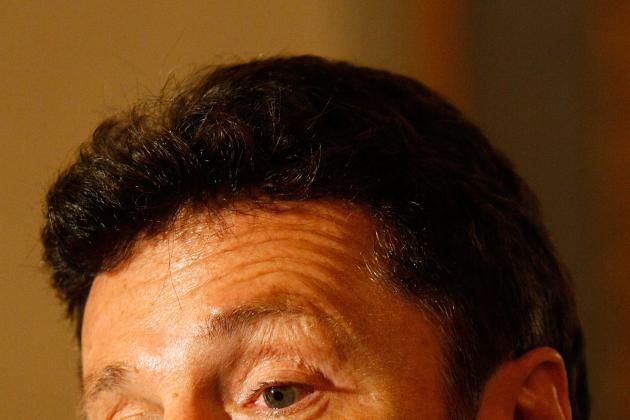 Richard Wolowicz/Getty Images

Doug Wilson always seems so close to getting it done.
GM since 2003, Wilson has acquired everyone from Dany Heatley to Joe Thornton to Brent Burns to Antti Niemi to help him get to a Cup, and it has never worked.
Still, Wilson builds some of the best teams out there. If there were some sort of legendary Sharks' Curse, there would be no contest: Wilson would be considered a great GM who got bit by the wrong dose of karma.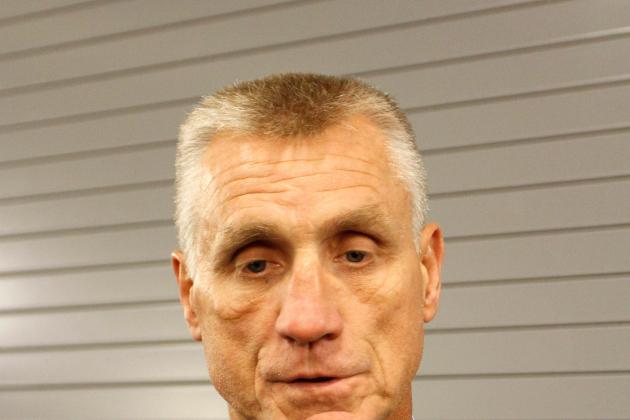 Justin K. Aller/Getty Images

Paul Holmgren has a very bizarre reputation for being involved in any major trade deal, whether it is real or not.
However, Holmgren makes the top 10 of this list because of how quickly he made the Flyers relevant. He took over the team a few weeks into 2006-07, during Philadelphia's deplorable season. During the year, Holmgren traded for Braydon Coburn and Martin Biron, plus two prospects and a first-round pick from Nashville for Peter Forsberg.
That first-round pick was traded back to Nashville to bring Timonen and Hartnell to the squad. Within a year, the Flyers were playing in the Eastern Conference Finals.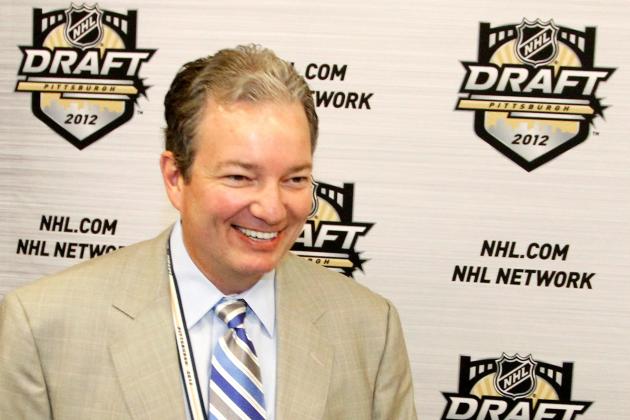 Justin K. Aller/Getty Images

Ray Shero inherited Sidney Crosby and Evgeni Malkin, but he did a great job building around them to make a championship team.
Before the Penguins won the Stanley Cup, Shero added guys like Chris Kunitz and Bill Guerin to toughen up his team and ready them for the playoffs. He has since kept some impressive depth of the Pittsburgh roster without giving up either of his two superstars.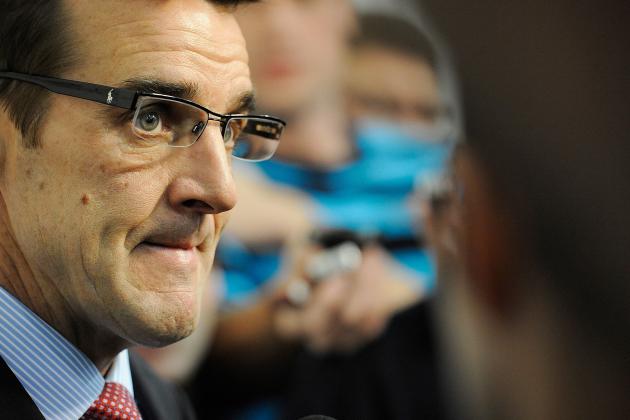 Patrick McDermott/Getty Images

Washington's GM has cultivated some significant talent.
Alexander Ovechkin is the obvious choice, but it goes far beyond that. McPhee has used home-grown players like Braden Holtby, Nicklas Backstrom, and Mike Green to carry the squad.
On top of that, McPhee has an appreciation for a hard-worker. Guys like Troy Brouwer and Matt Hendricks get a chance to thrive in Washington. He doesn't have the ring yet, but he has shown an uncanny ability to find players who fit his system.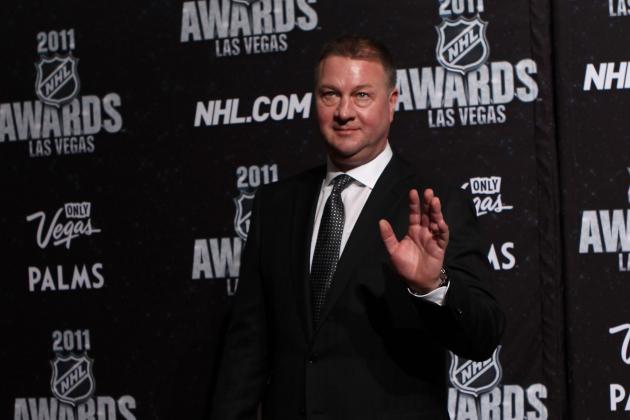 Bruce Bennett/Getty Images

Mike Gillis has put together a pretty amazing team.
Vancouver's defense seems immovable on paper, featuring the likes of Alexander Edler, Dan Hamhuis and Kevin Bieksa. The offense features the likes of the Sedin twins, as well as pests Ryan Kesler and Alex Burrows.
On top of it all, Gillis is about to trade his expensive starting goaltender and give the starting nod to backup Cory Schneider. Under the new CBA, Vancouver could be on the hook for some of Luongo's cap hit, but before the lockout occurred these rumored deals were ingenious.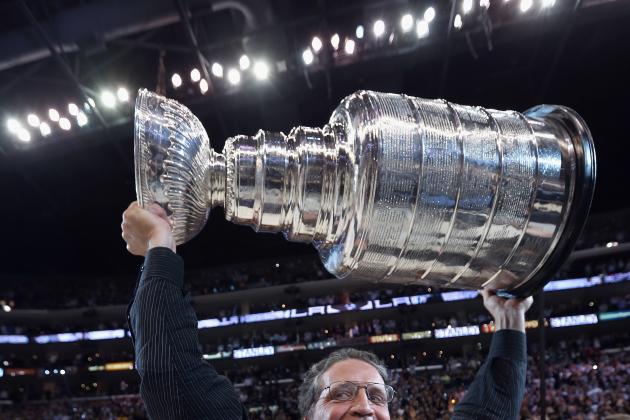 Bruce Bennett/Getty Images

Let's be honest, you can't argue with results.
Lombardi's Kings won the 2012 Stanley Cup, and it was all thanks to his moves. Having taken the role prior to the 2006-07 season, Lombardi is responsible for the presence of homegrown stars like Jonathan Quick and Drew Doughty.
But he showed his trade savvy in the 2011 offseason. Lombardi could detect that he was a piece or two away from a Stanley Cup, so he gave away future difference-makers (Brayden Schenn and Wayne Simmonds) for proven shut-down man Mike Richards. Later in the season, the addition of Jeff Carter via trade would give LA the offense it needed to seal this Cup.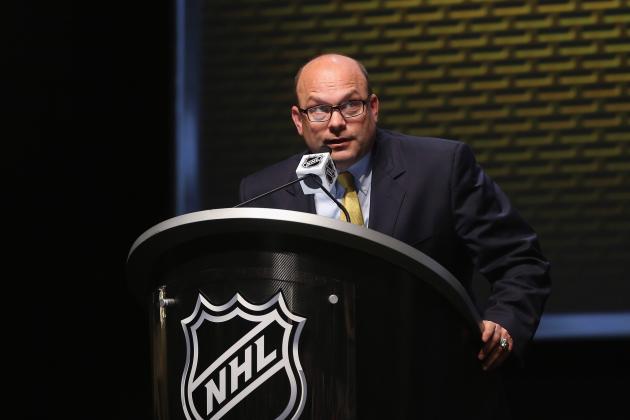 Bruce Bennett/Getty Images

Much like Lombardi, Peter Chiarelli flat-out knows how to put together a championship team.
He has taken desired free agents, like Zdeno Chara, and made them better. He has found roles for players that other GMs would struggle to find use for, including Shawn Thornton. He has made trades that set him up to draft players like Tyler Seguin.
Chiarelli knows how to get the most out of his players, from goaltenders like Tuukka Rask and Tim Thomas to powerful scorers like Milan Lucic and Nathan Horton. Few GMs know hockey the way Chiarelli knows hockey.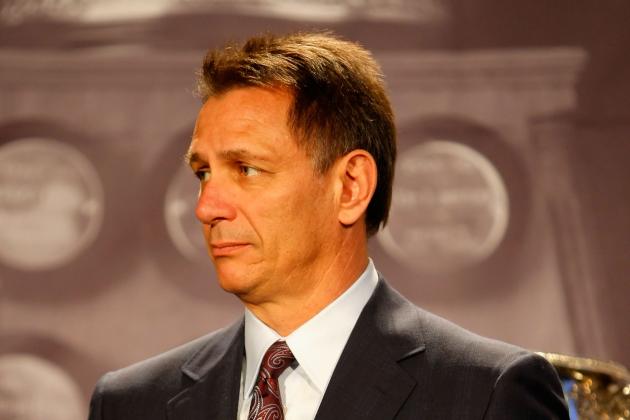 Dave Sandford/Getty Images

If you're going to be the General Manager of the Detroit Red Wings for 15-plus years, you'd better know what you're doing.
Ken Holland's team has seen a whole generation of players come and go, including Sergei Fedorov, Steven Yzerman and other members of the 1998 Stanley Cup team. Since then, Detroit has not missed the playoffs and continues to produce the likes of Pavel Datsyuk, Henrik Zetterberg, and Jimmy Howard.
Holland's Wings have one of the strongest developmental systems in hockey, and the mid-level players he drafts end up looking brilliant once Holland has gotten them into the system.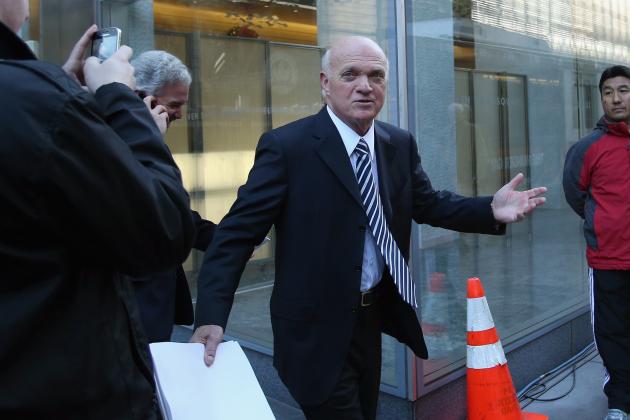 Bruce Bennett/Getty Images

Lou Lamoriello's Devils are right on par with Holland's Wings in terms of success, but the difference is, Lamoriello has had to do more with less.
The Devils don't bring in the greenbacks that the Red Wings do, and many times the Devils find themselves underfunded. Still, despite not having Ranger money or Maple Leaf money, Lamoriello always puts together a great team.
He drafted Martin Brodeur, Patrik Elias, and Zach Parise, all of whom turned into key franchise players. Lamoriello's Devils have won three Stanley Cups under his watch and appeared in two more, constantly overachieving for a team with a limited budget and a smaller fan base.
Lamoriello is truly the man who keeps this franchise performing.